Odds for the 2022 Winter Olympics at Bovada – Latest Pricing and Analysis

The 2022 Winter Games officially fire off on Friday, February 4th.
This year's Olympics have been swept up in controversy, but once the events get started, all anyone will care about is which elite athletes can climb to the top of the mountain.
While simply taking in the 2022 Winter Olympics will be plenty of fun, you also can bet on the Winter Games. Bovada continues to be one of the best sites for betting on the Winter Olympics, and they're really pushing the envelope with more props than any other site online.
On top of having betting options for all of the major categories, Bovada also features some of the best 2022 Winter Olympics odds available. I can't list them all here, but it is worth it to scour the latest odds and gauge how you may want to bet going into some of the key events.
With that, here are some of the major events going into the 2022 Winter Olympics in Beijing, along with the most updated odds.
Odds for Who Will Win Men's Hockey in 2022
Russian Olympic Committee
+150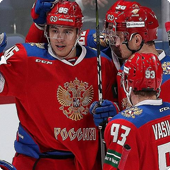 Perhaps the biggest even at the 2022 Winter Olympics is the race for the gold medal in men's ice hockey.
If you're a fan of winter sports, you're probably into hockey, and this stage has generated some memorable moments.
Few will forget the Miracle on Ice back in 1980, while the United States got back to their gold medal-winning ways by taking the top spot in Pyeongchang four years ago.
That was the first gold medal win in ice hockey since 1998 for the US, but it's not overly likely they repeat at the 2022 Winter Games.
Russia is regarded as the favorite here, and it's pretty arguable they should have more imposing odds. Their +150 odds at Bovada might indicate there is wiggle room for an upset, of course.
If you're thinking about straying from Russia and want a bold prediction for who will win gold in hockey at the 2022 Winter Olympics, consider tried and true Canada.
They came in second in 2018 and have won gold in four of their last five tries.
At their +600 price, Canada is among the best 2022 Winter Olympics underdogs to roll with.
Women's Freestyle Skiing Odds for 2022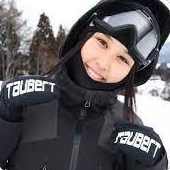 There isn't enough time or room to list odds for every 2022 Winter Olympics event or athlete. To see all the odds and place bets, feel free to visit Bovada now.
I'll focus on the women's side for freestyle skiing, largely because Michael Kingsbury (-135) looks like a pretty safe bet for the men's event.
On the women's side, Anri Kawamura figures to be the best bet, as well.
Of course, she isn't alone. France's Perrine Laffont shares the same exact odds at Bovada, while Jakara Anthony (+350) also looks to be a threat.
That said, these are likely the other three gold medal options if you're betting on who will win the freestyle skiing event this year. I think Kawamura still stands out as the likely winner, as she has two FIS Freestyle Ski Mogul World Cups to her name.
She's just 17, but she appears to be ready for the big show, and is a nice value at +175. That said, don't forget about the aforementioned Laffont.
France's @LaffontPerrine keeps the good times rolling with her second-straight World Cup win and her fourth career win in DV putting it down smooth and stylish to take today's victory and leapfrog Anri Kawamura into first place on the World Cup standings by just one point. pic.twitter.com/ySTqtuPbdP

— FISfreestyle (@FISfreestyle) January 14, 2022
Odds for Which Country Will Win in Curling (Men's)
Russian Olympic Committee
+2800
Like most 2022 Winter Olympics events, you can also hunt down the odds for the women's side, while curling odds are also available for the mixed competition.
These curling odds are for the men's competition, where Canada rolls in as the light favorite.
The +200 odds don't guarantee a thing.
After all, Canada didn't even medal in 2018. Sweden was runner-up and Switzerland landed the bronze, but it was the United States that secured the gold medal.
Due to that, it's pretty arguable there isn't a better value than the USA in this field. Of course, the pricing indicates this – and all other curling events – are fairly unpredictable.
That makes it one of the better 2022 Winter Olympics events worth betting on. For more options that could be worth your time, check out this post.
Figure Skating Odds for the 2022 Winter Games (Women's)
I grew up watching figure skating with my mom. I wasn't a huge fan and I never learned how to skate, but I quickly grew to appreciate the difficulty of the sport.
Knowing just how intense it can be, it's always interesting to see a staggering favorite like Kamila Valieva tower over the rest of the field.
The 15-year-old has already earned her stripes, though, setting records along the way.
She now appears to be ready to chase down Olympic gold, entering the 2022 Winter Games as the overwhelming favorite.
I will tune in just to see if she can keep this hot run going, and also marvel at her amazing talent.
Bettors may want to go against the grain here, though.

Top Tip
Heavy favorites don't offer much value, and you assume a lot of risk with little reward. A great tip for betting on the Winter Olympics is to hunt for value in spots where an upset could be logical.
The pressure could always get to the young skater, and you're not getting much back thanks to those -900 odds. Instead, consider throwing some cash at Anna Scherbakova or Alexandra Trusova to stage the upset.
For a little more advice for betting on figure skating at the 2022 Winter Olympics, check out some picks below.
Odds for Snowboarding in 2022 (Women's Halfpipe)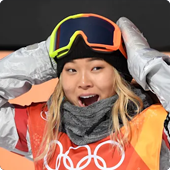 The last set of 2022 Winter Olympics odds I'll break down are for snowboarding. To be fair, there are several snowboarding events you can bet on, and there's also the men's side to consider.
I have my eye on the women's halfpipe, however. That's largely thanks to emerging superstar, Chloe Kim.
If you didn't know, Kim already claimed gold at the last Winter Olympics, and she seems dead set on adding to her collection.
Despite her talent making her look like a borderline lock, you're still getting pretty nice value with these -300 odds at Bovada.
Of course, nothing is a slam dunk when it comes to betting on the Winter Olympics.
The odds for this event indicate there could be room for someone to rise up, and Liu Jiayu may be the most compelling option.
She offers insane betting value with her +2500 odds to win the women's halfpipe, and yet she finished second to Kim four years ago.
Odds for Most 2022 Winter Olympics Gold Medals
This is probably the main Winter Olympics prop people will be flocking to. First, it's why we're all here and care about the Winter Games – you're betting on who will win the most gold medals.
Right now, logic points to Norway claiming the most gold medals at the 2022 Winter Olympics.
That shouldn't shock anyone, either. Norway has been king of the Winter Games, as they lead the next closest country (United States) by 27 gold medals, all-time.
Norway set the mark four years ago in Pyeongchang, too, when they broke the record for most medals won at a single Winter Games.
Final medal count from Pyeongchang: Norway finishes on top with a record 39 medals pic.twitter.com/5O9p77IVRi

— TODAY (@TODAYshow) February 26, 2018
That number was an emphatic 39 (14 gold!), and it's quite likely they'll be eyeing another record-setting performance.
Germany finished eight medals behind Norway four years ago, and because of that, they're next in line with +600 odds. Russia settles in at third (+900), and all indications are Norway will once again dominate the Winter Olympics.
This is for all the gold. Norway is an even bigger favorite (-800) to secure the most overall medals at the 2022 Winter Olympics. Suffice to say, they're among the best bets this year.
Other Odds for the 2022 Winter Olympics
Women's Hockey – Favorite: Canada (-120)
Women's Luge – Favorite: Julia Taubitz (+175)
Nordic Combined (Men's) – Favorite: Jarl Magnus Riiber (-188)
Alpine Skiing (Men's) – Favorite: Marco Odermatt (+110)
Women's Skeleton – Favorite: Kimberly Bos (+300)
Women's Slalom – Favorite: Petra Vlhova (-110)
Men's Ski Jumping – Favorite: Karl Geiger (+275)
Men's Bobsleigh – Favorite: Francesco Friedrich (-700)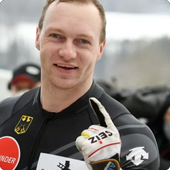 The list goes on and on, but this list gives you the top favorites (and odds) for a few more key categories going into the 2022 Winter Olympics.
There are so many other props and wagers that you can bet on when it comes to the 2022 Winter Games.
You can go so many ways with your Winter Olympics betting, too. You can go with a massive favorite like Francesco Friedrich, or you can aim for more value with an athlete like Kimberly Bos.
These are just the favorites, too. Be sure to consider thinking more outside the box when looking at the latest 2022 Winter Olympics odds.
My goal here is two-fold; to show you some updated Winter Olympics odds, and to remind you that Bovada is perhaps the best site for betting on the Winter Games in 2022.
I've provided you with some of the latest 2022 Winter Olympics odds for the biggest events, while offering a little insight as to how you could bet.
As noted, Bovada offers a litany of Winter Olympics props, as well as competitive odds.
Time is running out to bet on the 2022 Winter Olympics, but when you look at wagers, pricing, and overall features, Bovada really is at the front of the line.
Odds aside, you probably want to know how to bet on the Winter Olympics. For extra insight and predictions, be sure to bookmark our Winter Olympics picks page.
Advice for Betting on the 2022 Winter Olympics in Beijing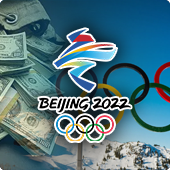 Okay, so you've got a taste of the latest odds for the 2022 Winter Olympics.
I've also connected you with some other excellent content, that should detail some terrific wagers, or at least provide analysis that should help you decide how to bet.
Betting on the 2022 Winter Olympics is made easiest when you research the events and athletes, use the best Winter Olympics betting sites, and access the best odds.
Of course, the research part should be pretty extensive.
Even the favorites are no sure thing in something as volatile as the Winter Games. Well, except for maybe Norway racking up the most hardware.
Kidding aside, be sure to give yourself a chance to win big by utilizing these 2022 Winter Olympics betting tips below.
September
Casino of the Month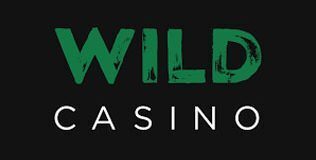 Welcome Bonus
250% up to $5,000