Hide Bonus Offers
| | | | | |
| --- | --- | --- | --- | --- |
| #1 | Bovada Sports | 50% Up To $250 | Visit Site | Bovada Sports |
| #2 | BetUS | 125% Up To $2,500 | Visit Site | BetUS |
| #3 | MyBookie | 100% Up To $1,000 | Visit Site | MyBookie |
| #4 | Everygame | 100% Up To $500 | Visit Site | Everygame |
| #5 | BetOnline Sports | 60% Up To $1,000 | Visit Site | BetOnline Sports |
Odds to Be the First Pick in the 2022 NFL Draft – October 2021 Update

As we head into October and enter the meat of the college football season, it's a good time to look ahead to the 2022 NFL Draft. Specifically, the odds to be the first pick.
I touched on this subject in May, so you can look back and reflect. Who's climbed the betting sheet? Who's falling off?
Let's start by diving in for the 2022 NFL Draft 1st pick odds below.
Oregon's Kayvon Thibodeaux is Now the Favorite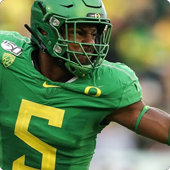 After kicking off the NCAAF season second in line at +275, Kayvon Thibodeaux is now the odds-on favorite to be the first pick in 2022.
And frankly, I'm a little bit miffed as to why his stock has risen so distinctly.
The Ducks defensive end left early in the opener with an ankle injury and didn't play a single snap in the second half. The injury was serious enough that it caused him to miss the next two games, including not being present in Oregon's signature win over Ohio State.
Thibodeaux was on a strict snap count in his return last Saturday versus Arizona.
Sure, Kayvon registered a strip sack against Fresno State and is an absolute beast coming off the edge. However, a lower leg injury forcing him to miss time doesn't strike me as a reason to push him up the board. Unless of course this is directly correlated with Spencer Rattler's slow start.
Is Spencer Rattler Declining?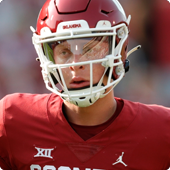 Before we start panicking about Spencer Rattler's abilities, let's not lose sight of the facts.
The Sooners are 4-0 and Rattler's completing over 74% of his passes. Through four games in 2020, Oklahoma was 2-2 and Spencer's completion rate was 71%.
Having said that, Rattler's averaging a pedestrian-like 237.7 passing yards per game over his last three contests. Removing Oklahoma's 76-0 win over Western Carolina from the equation, he's has thrown three touchdowns and three interceptions this year.
With just 71 rushing yards on 27 carries this season, the days of considering Rattler as a genuine dual-threat QB are starting to fade away.
Those wondering how much of a negative impact Rattler's poor start has had on his draft status, check in with what Mel Kiper Jr. had to say when asked that very question.
"Definitely. His decision-making hasn't improved. He has thrown some really poor interceptions. The preseason Heisman Trophy favorite doesn't look like a franchise quarterback right now."
The good news is Rattler has plenty of time to prove Kiper and any other naysayers wrong.
Malik Willis is Getting Noticed
Start getting used to hearing the name Malik Willis. Liberty's junior signal-caller burst onto the scene last year registering 34 total touchdowns in 9 games. The Auburn transfer was firmly on the radar of NFL scouts.
Four games into the 2021 campaign and the Flames electric QB has thrust his name into the conversation to be the top pick in the 2022 NFL Draft. Willis has 14 touchdowns and 0 interceptions so far this season.
Hailed as "Houdini in a Liberty uniform," Malik possesses a lot of the traits NFL GMs are looking for in a franchise quarterback. Have a look at his six-touchdown performance two weeks ago versus Old Dominion and you'll start to catch on.
The only knock on this kid is that he's only 6'1," however, the fact that he's playing against inferior competition is worth noting.
Two Surging QBs – Carson Strong and Matt Corral
While Spencer Rattler's draft stock is heading in the wrong direction, Carson Strong and Matt Corral are ascending.
Nowhere to be found in May when I assessed the first pick in the 2022 NFL Draft odds, Strong and Corral have decided to throw their hats in the ring.
Let's start with Strong, Nevada's 6'4" pocket passer who's as polished as any QB prospect in college football. Rather than draft Carson and stash him as a developing project (i.e., Trey Lance), teams will be pursuing Strong to be their starter in 2022.
Perhaps not the most athletic QB in his class, his speedy release and ability to process information quickly will be attractive to GMs. Playing in a high-octane offense against a fairly soft schedule, Strong's case will be aided by video-game-like numbers.
Speaking of putting up video-game-like numbers, I can't wait to see what Matt Corral's stat line looks like at the end of the season.
Guided by Lane Kiffin in Oxford, the Ole Miss QB is off to a flying start.
Matt Corral – By the Numbers in 2021
Games
Completion %
Passing Yards
Passing TDs
Interceptions
Passer Rating
3
68.8
997
9
0
186.9
That's an average of 332.3 passing yards per game, and let's not forget that he's added 158 rushing yards and five more scores on the ground. Just like Malik Willis, Corral is sitting on 14 touchdowns and 0 interceptions.
Slated for a showdown at Alabama on Saturday, a big performance in Tuscaloosa could propel Corral to the top of the betting sheet.
Going Away – Talking Sam Howell and Derek Stingley Jr.
Let's shed light on the other two names the top NFL betting apps have included in their latest odds sheet.
Sam Howell isn't completely out of the mix, although the UNC QB has a lot of catching up to do. Howell tossed three picks in a loss against Virginia Tech, and it didn't help that the Tar Heels got spanked by Georgia Tech.
Derek Stingley Jr. is lined up for a promising career on Sundays, but it's hard to envision him being the first pick in the 2022 NFL Draft under any scenario.
Simply put, the league doesn't value shutdown cornerbacks as they do franchise quarterbacks and blue-chip pass rushers.
If whoever ends up with the top pick in April decides to pass on a QB, it'll almost certainly be because they're plucking Kayvon Thibodeaux off the board. The way things are looking for the Jaguars and the Jets, that's exactly how things could pan out.
For more information on college football odds and picks, check out our picks page.