AL Cy Young Odds Update and Analysis for July 2022

The All-Star Game has come and gone, which means the second half of the MLB season is officially underway. That said, it's a perfect time to take another look at the updated 2022 AL Cy Young odds.
As you probably know by now, the odds for season-long bets like the World Series, MVP, and Cy Young awards are constantly being updated. Now that we are halfway through this season, it might be a good time to consider a new AL Cy Young prediction.
AL Cy Young betting can be done on the top US betting sites, so let's see which pitchers' prices look appetizing.
2022 AL Cy Young Odds Following the All-Star Break
Here are the top 15 options for the odds to win the 2022 AL Cy Young award at MyBookie. If you are interested in seeing the rest of the list, create an account and take advantage of their 50% welcome bonus (up to $1,000) while you're at it.
We have a close race between the two top pitchers in the American League right now. The frontrunner is none other than the young Rays' lefty Shane McClanahan. He was the first MLB pitcher to make his debut in the postseason (2020) and has been incredible ever since.
Right behind the 25-year-old is the veteran Astros' ace, Justin Verlander. After missing the entire 2021 season, he's come back with a vengeance.
Currently, these two pitchers are having incredible seasons and are in serious contention for winning this year's award. With that said, are the less profitable odds worth the risk? It's a long season, and if these pitchers stumble in any way, another pitcher could jump ahead of them.
The reigning AL MVP, Shohei Ohtani, is next in line after McClanahan in Verlander. Although he is third behind Verlander, his odds are not as close as Verlander is to McClanahan.
It would be quite the accomplishment for Ohtani to follow up his MVP season with a Cy Young award, and he's shown us repeatedly that he has unlimited potential.
Gerrit Cole and Dylan Cease aren't too far behind Ohtani, while there is a significant drop-off until we reach Kevin Gausman.
McClanahan and Verlander have been incredible in the first half of the 2022 season, but many great pitchers in the American League are capable of winning the Cy Young.
Before we take an in-depth look at the top two candidates first to see if they are truly the best options right now, but sure to head to the top baseball sites to place your AL Cy Young predictions.
How We Rate

Safety & Security
You should be able to gamble online without fear. So we only recommend licensed sites that use the latest security and encryption techniques.

Bonuses
Maximize your bankroll with fantastic bonuses. Our recommended sites offer valuable bonuses with fair terms and conditions, including manageable wagering requirements.

Games & Betting
The best sites have the best wagering options. That's why you will find extensive games and betting opportunities on our recommended sites.

Banking
Getting your money to and from your account shouldn't be a hassle. We only recommend sites with a variety of convenient banking methods, including cryptocurrency and e-wallets.
Analyzing Why McClanahan and Verlander Are the Top Dogs
You can say this about nearly any type of bet but taking a close look at the favorite for the AL Cy Young is the first step before making your prediction. In our case, Shane McClanahan is the favorite to win it this year, but Justin Verlander is close on his tail.
If you think it's a clear two-person race the rest of the way, you still have to decide who you want to rely on here. Let's get right into these two top-tier pitchers to see which one makes a stronger bet or if you should consider a sleeper instead.
Shane McClanahan (+200)
The Rays have found incredible talent in their farm system, and McClanahan is no exception. McClanahan was incredible in his first real season in the league, and he's been even better in his second.
He pitched 123.1 innings in 2021 to a respectable 3.43 ERA. His win-loss record was 10-6 after 25 starts, which is a very solid year for a first-year player. Tampa Bay seems to be able to find the diamond in the rough regarding their prospects, and McClanahan has "ace" written all over him.
Following a stellar 2021, McClanahan kicked it up a notch in 2022. He has 110.2 innings pitched at the halfway point with a league-leading 1.71 ERA among qualified pitchers. He's also striking out 11.95 batters per 9 innings, which ranks 3rd best in the MLB.
Lefties are batting just .211 against McClanahan, while righties have been even worse at .171. Even though left-handers have a higher batting average, they have just four extra base hits off him compared to 16 for righties.
What makes McClanahan so hard to hit? Well, his fastball can hit triple-digits, and he's also got some tough off-speed pitches. For example, opposing hitters are hitting a minuscule .129 against his curveball.
Shane McClanahan, Wicked 81mph Curveball. 🤢 pic.twitter.com/47XYWsUIsk

— Rob Friedman (@PitchingNinja) July 8, 2022
His high-90s fastball and nasty curve are tough enough to hit, but he's also mixing in a slider and changeup this year. It's safe to say that when McClanahan's on the mound, the opposing offense should be in for a very rough day.
Health and stamina are going to be McClanahan's biggest concerns moving forward. He's got more than enough stuff, but he will be pitching a career-high in innings this year. Young pitchers could see their stats take a hit due to the added-up innings by the end of the season.
His arm also hasn't thrown this much in a single season, which could mean that he's also at a higher risk for an injury as well. If he can overcome these potential issues, it could be smooth sailing the rest of the way.
Justin Verlander (+275)
Unlike McClanahan, Verlander has pitched a full MLB season many times in his career. The Astros' ace has pitched 200+ innings a whopping 12 times, dating back to his debut in 2005. Verlander is coming off a major injury with the infamous Tommy John surgery.
He looks incredible right now, but could pitching a full season directly after a major surgery makes him a potential injury risk as well? Maybe not, but it could certainly play a role.
If Verlander can last the entire season, there's a good chance he has his best season in the MLB, which is saying something. 2011 was Verlander's best season in terms of ERA, which was back when he was with the Detroit Tigers. That year he finished with an incredible 2.40 ERA, which was also the year he won his first Cy Young.
He also won the Cy Young in 2019, when he pitched 223 innings with a 2.58 ERA with the Astros. As of right now, Verlander's ERA is a sparkling 1.89. If he beats out his ERAs from the two seasons he won the Cy Young, he should be able to win it again, right?
With how the odds look right now, McClanahan could be Verlander's only competition. If McClanahan's stats take a hit in the second half, it could be Verlander winning his 3rd Cy Young by the end of the season.
Justin Verlander, 97mph on his 101st pitch.

And is Fired up. Inject this into my veins. 🔥 pic.twitter.com/cThY0066OG

— Rob Friedman (@PitchingNinja) July 23, 2022
Motivation is another thing that can fuel a player to have an incredible season. Verlander missed almost all of the last two seasons and is a free agent at the end of this year. He certainly has the stuff to keep going, so he could be playing for his next contract.
Check out our update below if you're wondering who's in the lead for the NL Cy Young award.
Top Sleeper Bets to Win the 2022 American League Cy Young
Not sold on McClanahan or Verlander yet for your AL Cy Young prediction? Even though they both are excellent pitchers and have strong chances to win this year, there's still a lot of time left, and anything can happen.
There's also more incentive for betting on another option. It's a big difference from McClanahan's odds (+200) to someone like Dylan Cease (+1000). Let's look at some pitchers with more bang for your buck and decent chances to win the award.
Alek Manoah (Odds Unavailable)
One of the rising stars in the MLB could make for an interesting AL Cy Young bet, but his odds aren't up right now. Alek Manoah has been a star pitcher for the Blue Jays in his first full season in The Show.
It's not clear why Manoah's odds aren't up right now, but he should be available soon with the odds constantly updating.
The 24-year-old made the All-Star roster this year and even struck out the side in his one inning. Blue Jays fans should be very excited to have Manoah on their roster. We already know about the talented Vladimir Guerrero Jr., but you need pitching if you want to win championships.
His rookie season was phenomenal, with a 3.22 ERA in 111.2 innings. He's been even better this year, with a sparkling 2.24 ERA after the first half.
You might not be that intrigued by his 8.20 K/9, but his arsenal isn't about getting a bunch of strikeouts. Manoah's mainly a sinker/slider pitcher who does very well with inducing weak contact.
Alek Manoah, White Castle Special. 🤮🍔🍔🍔 pic.twitter.com/uoWK2SZKL3

— Rob Friedman (@PitchingNinja) July 15, 2022
Opposing right-handed batters haven't touched him this year .167 batting average. Lefties have been better at .250 but only have 13 extra-base hits in 247 tries.
Like Shane McClanahan, Manoah's a very young pitcher. It's only his second season in the Majors, while he only pitched 35 innings in the Minors to boot. It will be interesting to see how his stamina, health, and performance holds up with the career high in innings he's sure to reach.
Nonetheless, Manoah looks to be a great young candidate to win his first AL Cy Young award this year. He could be a sneaky bet to win the award if he keeps up this level of play in the second half.
Shane Bieber (+3500)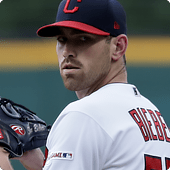 What if a "Shane" pitcher does win the award, but it's not the one you're thinking of? Cleveland's ace, Shane Bieber, has won the award before (2020) and has exciting 2022 AL Cy Young odds.
Yes, Bieber's previous Cy Young win was the shortened COVID-19 season, but it was still a noteworthy achievement. That season, Bieber pitched to an incredible 1.63 ERA in 77.1 innings with an 8-1 record.
He isn't on par with that right now, but he should be a top pitcher by the end of the season. Bieber has started 17 games so far this season, totaling 105.2 innings and a respectable 3.24 ERA.
His strikeout numbers are a bit down this year, but his career stats imply they should increase as the season progresses. In the last three seasons, Bieber's K/9 has been 10.88, 14.20, and 12.48. This year he's sitting at 9.03, so you'd think that number would climb in the second half.
The best thing about Bieber is his ability to pitch with a great amount of accuracy. Lots of pitchers have great "stuff," but that's not all it takes to be a top-tier pitcher in the MLB. If you leave a fastball in a hitter's sweet spot or hang a slider, your opponent can do some serious damage and hurt your ERA.
With Bieber, he's been able to limit his opponents to 0.6 home runs per 9 innings. His main pitches include a 4-seamer, slider, and knuckle-curve, but he can also throw a changeup and cutter. His full arsenal allows him to be a tough pitcher to hit for any type of batter.
At the end of the day, Bieber is a consistent pitcher with valuable odds. If the other top pitchers see a decline in their play, Bieber could sneak up on them.
Robbie Ray (+7000)
Now we are getting into the real sleeper territory range. If you're looking for a huge longshot for your AL Cy Young betting needs, look at Robbie Ray. Ray is the reigning AL Cy Young winner, so his odds seem disrespectful.
He came off a slower start to begin the year, but he's settled in now. Here's how the big lefty's ERA has looked on a month-to-month basis in 2022.
March/April (30.1 IP): 4.15
May (30.1 IP): 5.34
June (37.0 IP): 2.19
July (19.1 IP): 2.33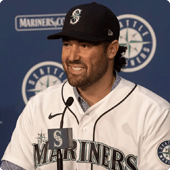 As you can see, Ray's ERA over the last two months has been spectacular. If he has found his groove in Seattle, he could be right back into the form which won him the award last year. His total ERA is 3.54, but it's been lowering steadily.
He won the award with a 2.84 ERA last year, which is still a very reachable mark for him. Maybe you'll find Ray's numbers intriguing if you aren't buying into Bieber because of the lower strikeout rate.
Ray has a good 4-seamer with a nasty slider, mixing in a sinker, knuckle-curve, and changeup. His main two pitches (4-seam, slider) account for almost 90% of his pitches, but his high number of strikeouts means it's working.
Strikeouts per 9 innings is a statistic that Cy Young voters will consider, so Ray's 10.38 mark is noteworthy. He's always been able to get punchouts in his career, but the ERA has been too high.
Ever since leaving Arizona, it's like Ray has been a different animal. Seattle is a team that was very underrated coming into this season, but a recent 14-game winning streak has put them on the map.
Their ace's improvement over the season has played a large role in their recent success. Ray could be a great value bet if he continues to dominate like he has been in the last two months.
Betting on the AL Cy Young in 2022
With the update to the 2022 AL Cy Young odds, there are still a lot of pitchers who you should consider betting on. Yes, McClanahan and Verlander are in great positions to win it, but they will still have to execute in the second half.
Other pitchers who could be underrated bets right now include Shohei Ohtani, Gerrit Cole, Dylan Cease, Kevin Gausman, and possibly more. You might not see all the pitchers on the 2022 AL Cy Young odds list right now, but the list is constantly being updated.
Personally, I am going to shy away from the favorites right now, primarily because of the low payout and decent risk. Instead, my AL Cy Young prediction will be someone with more profitable odds.
Dylan Cease (+1000) will be motivated to prove just how good of a pitcher he is in the second half. He was one of the biggest All-Star snubs this year with his 2.15 ERA through 104.2 innings. On top of an incredible ERA, his strikeouts per 9 innings is a stellar 12.90.
You could make a case for many different pitchers right now because there's still a ton of baseball left to play. Be sure to make your own prediction about the pitcher you think has the best chance of winning the award.
To place your bets on the MLB this year, make sure you go to the best MLB betting sites.
September
Casino of the Month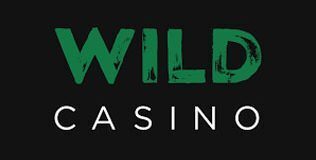 Welcome Bonus
250% up to $5,000