Odds and Analysis for Edwards vs. Diaz at UFC 262

Leon Edwards takes on Nate Diaz on Saturday, May 15 at UFC 262.
The fight has been slotted in as the co-main of the card headlined by Charles Oliveira vs. Michael Chandler. As far as supporting roles go, this is a fight that will catch the attention of bettors looking to make money.
With that in mind, I'll be sharing the best odds for Edwards vs. Diaz, as well as breaking down where the early betting value is in this fight.
The Englishman is the favorite to take the win at the Toyota Center in Houston, Texas, and you count on me to explain why that is below.
If you're hoping to win your bets on Edwards vs. Diaz, it's a good idea to get to know how both guys size up. You'll be happy to learn that I will be breaking both fighters down for you, as well as providing a bit of analysis around the stylistic matchup on the night.
But before we cover any of the above, here's your chance to check out the top odds for Edwards vs. Diaz online now.
Best Odds for Edwards vs. Diaz
I have nailed down the top online betting odds for Edwards vs. Diaz, which you can find above.
If you're wagering on Edwards, you can find his best odds to beat Diaz at Bovada. The Brit is a strong favorite to win and I'm expecting his huge price to put some bettors off.
Conversely, Diaz's best odds to beat Edwards might lead to some gamblers backing the Stockton man with BetOnline. But is there real value in Diaz's odds, or is this a true representation of his chances in the fight?
I believe Edwards to be the superior fighter. An excellent all-rounder, the Birmingham resident is arguably the toughest test out there for Kamaru Usman.
But nothing less than a commanding performance will see "Rocky" put his marker down for a scrap with "The Nigerian Nightmare" after Colby Covington gets his second bite of the cherry.
Betting on Edwards vs. Diaz
If you are looking to place bets on Edwards vs. Diaz, this preview will serve you well.
We've already covered the best bets for UFC 262's co-main so feel free to get your wagers down now if that's what you want to do. Edwards' odds will likely settle close to the -500 mark on the night, making Bovada's price worth taking.
As for Diaz's price to beat Edwards? I'd recommend taking that price now if you believe he wins this fight.
Diaz is a huge fan favorite and tends to inspire a lot of action from casual UFC bettors, and those who tend to overestimate his prowess based on his victory over Conor McGregor in 2016.
I will be providing my Edwards vs. Diaz predictions and betting pick in another piece. You can find that on our UFC picks section closer to the fight.
But if you're ready to put your bets down immediately, check out our recommended UFC betting sites for some of the best odds online.
Edwards vs. Diaz Tale of the Tape
Before I break down Leon Edwards and Nate Diaz, look over the details below.
| | | |
| --- | --- | --- |
| Nate Diaz | Tale of the Tape | Leon Edwards |
| 20-12 | Record | 18-3-0-1 (NC) |
| USA | Nationality | England |
| 6'0" | Height | 6'0" |
| 170 lbs. | Weight | 170 lbs. |
| 76″ | Reach | 74″ |
| Southpaw | Stance | Southpaw |
| April 16, 1985 | Date of Birth | August 25, 1991 |
Physically, Edwards and Diaz match up well.
Both guys are southpaws that stand at 6'0″ tall. Diaz has a slight advantage in reach, but Edwards is the younger man by almost seven years.
The Brit has also taken far less damage over the years and has accumulated nowhere near as many miles on the clock.
Even before I break Edwards' strengths and weaknesses down for you, it's clear to see that his better record and standing in the welterweight division make him a discernible favorite on paper.
But will that be enough to beat Nate Diaz? Let's take a look.
Breakdown of Leon Edwards' Skillset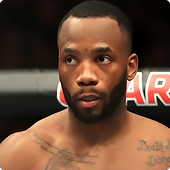 Two guys I have been harping on about for years at 170 are Kamaru Usman and Leon Edwards.
In Usman's case, he's proven to be the fighter I said he would be.
His knockout victory over Jorge Masvidal should have finally convinced his detractors that he is the real deal and that beating him is going to take something, or someone, very special.
Now, with Edwards, he hasn't quite had the opportunity to show how much he has been underrated by the wider fanbase.
So linking him up with Diaz is a stroke of genius on the part of the UFC matchmakers, as it will pretty much expand the Jamaican-born fighter's fanbase overnight. And that will be a good thing for the division.
Edwards walks into this fight on the back of eight straight wins and a no-contest against Belal Muhammad.
The only man to beat Rocky in his last ten in the UFC is Usman, as it happens, and that fight went down all the way back in December 2015. Since then, he has added Vicente Luque, Donald Cerrone, Gunnar Nelson, and Rafael dos Anjos to his growing list of victims.
Now, as for how he matches up Diaz. Well, you could say that he is, stylistically, a very tricky opponent for the Californian.
Not only is he tough, durable, and capable of matching Diaz's output and cardio, but he can pretty much live with anything the fan-favorite throws his way.
Let's break down what he does (and doesn't) do well.
Edwards' Strengths and Weaknesses
| | |
| --- | --- |
| Main Strengths | Main Weaknesses |
| Good All-Round Skillset | Stoppage Power |
| Kickboxing | No Real Specialty |
| Wrestling | Inactivity |
| Strength | Submissions |
The table above breaks Edwards down in a simplistic fashion.
First, he is an excellent all-rounder with few real weaknesses to exploit. Edwards is strong and built very well for the division, and he makes the most of his physical gifts both on the feet and the mat.
In terms of striking, he is dangerous on the counter. The Brit mixes his shots up well and has a nasty roundhouse that could slow anyone down.
Edwards' biggest weaknesses are his lack of stopping power and his pretty non-existent submission game.
This leaves him with little in the form of an X-factor to threaten Diaz with. Perhaps more concerning for his fans is that he has fought just six whole rounds since July 2019, which is not really his own fault.
Still, I don't expect Edwards to be in anything but excellent shape ahead of his fight with Diaz.
Nate Diaz Breakdown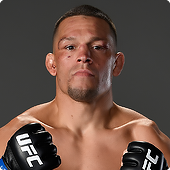 For years I have judged Diaz as a fighter in stages.
He appears to be that type of competitor that has struggled for consistency. That makes for interesting reading if you look over his record, which you can almost cut into blocks of five fights.
His TKO win over Manvel Gamburyan on The Ultimate Fighter in 2007 marked the first of five straight victories for Diaz.
This is something that he has never been able to replicate since. In fact, his next five fights resulted in a record of 2-3 with losses to Clay Guida, Joe Stevenson, and Gray Maynard.
His next five would yield a better result of 3-2, but losses to Dong Hyun Kim and Rory MacDonald pretty much resigned him to journeyman status.
And that's what Nate Diaz is, a journeyman. I mean, let's not pretend that Diaz has ever been anything more than a fringe contender. If it wasn't for his win over Conor McGregor in 2016, he would have likely hung his gloves up years ago.
Diaz's record of 20-12 clearly shows that he is not in the same league as some of the top contenders at welterweight. For a start, he's a pumped-up lightweight with just five knockouts to his name.
Now, he meets a guy on May 15 with similar power (6 KOs), but Edwards is a genuine welterweight who is very well-rounded.
At 36-years-old, Diaz's best days are behind him. That makes me think that he's at a serious disadvantage in this fight, as Edwards is almost seven years younger and on a more positive trajectory.
If Diaz is to win this fight, he's going to need to pull out the signature performance of his career.
Diaz's Strengths and Weaknesses
| | |
| --- | --- |
| Main Strengths | Main Weaknesses |
| Cardio | Stoppage Power |
| BJJ | Mileage on Clock |
| Toughness | Age |
| Boxing | Easily Hit |
Fans love Diaz as he is a game fighter that is always ready to throw down.
A tough pressure fighter with solid boxing and excellent jiu-jitsu, the Stockton bad boy is also extremely tough with excellent cardio.
His chin is up there with the best promotion has ever seen, but at some point, even the best chins get taken out.
In this fight, I believe we will see more of Diaz's weaknesses than his strengths. For example, he's not going to lay Edwards out with power, and will likely find himself being pinched up in the clinch.
The most worrying thing from Diaz's perspective will be his scar tissue being opened again. Edwards' precision and consistency could cause enough damage to his opponent's face to stop the fight, just as Masvidal did back in November 2019.
It's also worth mentioning that Diaz hasn't fought since then. And while his famous lung capacity should see him through, there's a chance this could have some effect on his performance.
More Betting Advice for Edwards vs. Diaz
That brings this betting preview for Leon Edwards vs. Nate Diaz to a close.
I covered the best Edwards vs. Diaz odds, where to bet on the fight, and finished things off with a breakdown of both guys.
All in all, the information above should see you in good stead when it comes to gambling on UFC 262's co-main on May 15.
But before you go, I think it is worth leaving you with some more betting advice for this one.
First, you will find some helpful betting tips for Edwards vs. Diaz — or any other UFC fight for that matter. Additionally, there's our UFC betting guide for those wanting to learn how to bet on the fights.
What's more, you can check out our UFC picks section, where you will find my predictions for Edwards vs Diaz closer to the fight.