Odds and Analysis for Betting on the Next No-Hitter – 2021 MLB Player Props

This has been a weird year for baseball. Offenses are under-performing, and pitchers are racking up no-hitters at a torrid pace.
It hasn't just been the elite arms making history, either. Retreads like Joe Musgrove, Corey Kluber, and even Spencer Turnbull – guys that are good, but not necessarily elite – are collectively dropping our jaws.
That does beg the question; is a no-hitter even impressive anymore?
I still argue it is, but it's starting to happen with more regularity. Despite there only being 311 total no-hitters thrown in MLB history, a whopping six have already come in 2021 alone.
That's a pace threatening the single-season record (seven), and poised to place a few more hurlers in would-be elite company. As remarkable as that is, the magic may not be done yet, and you can actually bet on who tosses their way into MLB lore in the not too distant future.
Let's look at the latest MLB no-hitter odds, and decide which pitchers are the best bets to join the prestigious club.
Odds for Who Will Toss the Next No-Hitter
I'll stop the odds for who will toss the next no-hitter at the top-10 options. If you want to see who else you can bet on (and what their odds are), just check out this prop at BetUS.
Mets ace deGrom understandably leads the way. This season's string of no-hitters has largely felt pretty random, as it likely should.
That could work against a pitcher even as dominant as deGrom, but he is the most logical favorite thanks to a sparkling 0.71 ERA.
As amazing as deGrom is, he's far from the only pitcher capable of doing this. Burnes has really stormed out to an impressive season for the Milwaukee Brewers, while Bauer, Mad Max, Cole, and Bieber are some of the nastiest strikeout pitchers the majors have to offer.
These are the arms with the best odds to pitch a no-hitter the rest of the way in 2021, but who is the best bet?
Top Threats to Pitch a No-Hitter
It's difficult to say who is really "in the lead" here, when all of these pitchers are so dominant. They miss bats at an elite rate, and most of them don't give up all that much contact.
There can be a separation in that regard, of course, and bettors absolutely have to account for the fact that not-so-elite hurlers have been accomplishing this rare feat.
Even so, these three arms stand out as some of the best bets for me right now.
Jacob deGrom (+500)
I don't think you need to do a deep dive to realize how good deGrom is, or why he has the best odds to get the next MLB no-hitter.
The dude is honestly such a machine, that he's even been a huge asset at the plate as a hitter.
Jacob deGrom is hitting .474 this year. pic.twitter.com/gmCx10lwCH

— MLB (@MLB) June 1, 2021
Just ridiculous, right? deGrom has an absurd 0.71 ERA at the time of this writing, and he is probably the least hittable pitcher in baseball on a consistent basis.
The 32-year old has one game with just one hit already this year, and he's allowed three or fewer hits in seven of his eight starts. He's the best ace in baseball, so yeah, he's a legit contender to be the next pitcher to throw the next no-hitter in 2021.
Corbin Burnes (+600)
I also really like Corbin Burnes for this bet. He isn't nearly as established as deGrom – and he's been a bit more hittable in recent weeks – but he's enjoying one heck of a start to 2021.
Burnes flashed immense upside earlier in the year, when he allowed eight total hits and one run across his first four starts. Needless to say, he was a huge reason why the Milwaukee Brewers made my early list of 2021 MLB World Series sleepers.
Burnes has obviously been much more hittable since that insane start, but even after a little regression, he still boasts 81 strikeouts, a blistering 2.24 ERA, and a 0.73 WHIP.
The guy has already teased no-hitter potential, too, as his first two games of the year saw him give up just one hit a piece. In recent games, he's pitched two more outings where he only allowed two knocks, as well.
Burnes is the total package, as he can miss bats, and he keeps the ball in the park. In the right setting, he has the skill-set to make history.
Shane Bieber (+900)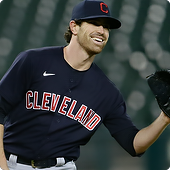 One of the other top contenders to pitch the next no-hitter has to be The Biebs. Bieber has been a lot more hittable this year, and you can see it in his ho-hum 3.08 ERA.
That ERA doesn't jump out at you, and he's had some major issues with home runs and contact in general. Still, Bieber began the year with 11+ strikeouts in five of his first six games, and he has the ability to miss bats as well as anyone.
Bieber also flashed his no-hitter upside pretty recently, when he gave up just one hit in a win against the Detroit Tigers. With future battles against the Orioles, Mariners, and Pirates on the horizon, he looks very appealing at this price tag.
Sleeper Bets to Consider
You can absolutely target the stud aces I broke down above, or even go rogue and try some elite arms that I didn't dissect.
Eyeing some elite betting value may also make sense, though. To seek out a little more return on investment, here's a batch of sleeper picks that look good for this wager.
Tyler Glasnow (+1400)
If you're looking for some value, you can stop at Glasnow. He's one of the few elite pitchers priced over +1000 at the best MLB betting sites, even though he whiffs like crazy.
Glasnow is easily the best arm the Rays have to offer, and he comes into this post with a dazzling 2.69 ERA, a 0.92 WHIP, and 106 Ks.
His main issue has been the long ball at times this year, but when Glasnow is on, he's pretty tough to hit. He showed that in his first start of the season (one hit allowed), and he added three more outings with just two hits given up.
The downside with Glasnow? The hard contact issues are somewhat there, and Tampa Bay is known for imposing short leashes on their pitchers.
Lance Lynn (+1800)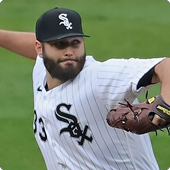 Lynn gives bettors even more return on their investment, with every $100 potentially bringing back $1,800 back if he's the next pitcher to deal a no-hitter.
He's really not a bad bet, either, as the dominant righty stands in with a staggering 1.37 ERA.
The whiffs aren't quite as prevalent with Lynn compared to some of the other big names in this post, but he still keeps the ball in the park, and is not an easy guy to hit against.
Lynn had a nice one-hit gem back on May 8th, and he's enjoyed three other outings with three hits allowed or fewer. With a nice schedule including matchups with Detroit (twice) down the road, he could be a name to watch.
Shohei Ohtani (+3000)
Ohtani is a great value bet to consider here. Especially with Mike Trout sidelined with an injury, he's taken it upon himself to do all he can to keep the Angels competitive.
He's largely made his name as a hitter, as his 15 home runs have him looking like the early favorite to win the 2021 AL MVP.
Of course, Ohtani isn't just an MVP darling due to his awesome hitting. It's also because he's doubling as a pitcher, and a darn good one at that.
Ohtani has been rather good in that department, as he's pieced together a nice 2.72 ERA and 50 strikeouts in just seven starts.
He can have issues with contact and walks, but when he's dialed in, he's extremely tough to beat. Ohtani has shown that with a one-hitter earlier this year, while he's held opposing offenses to three hits or less in five of his starts.
Ohtani isn't as safe of a bet as some of the other pitchers listed here, but his talent and +3000 odds do make him an attractive flier bet.
Will Any Pitcher Throw Another No-Hitter?
Six guys have taken a trip to the mound this year, in hopes of simply doing a good enough job to help their team get a win. They exited as gods.
This bet is out there, as it asks if any of those six pitchers can accomplish this rare feat a second time in 2021.
Here are the odds for all six guys to somehow do it again this season.
The only arm not granted odds here is Carlos Rodon. I'm not sure why, but then again, I also don't think anyone is doing this twice in the same season.
Yes, it's happening at a more rapid rate than we're used to seeing, but assuming pitchers can just waltz out there and completely blank professional hitters whenever they want is bold thinking, to be sure.
I don't like anyone in here to get it done, but in terms of sheer talent, Kluber at least in theory has the most to offer. The former Cy Young winner is probably the best pure talent in this list, but I still wouldn't bet on him or anyone else for this MLB prop.
Betting on No-Hitters in Baseball in 2021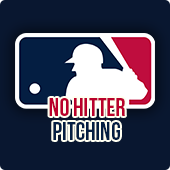 It is absolutely wild that I am even writing this. The record for no-hitters in a single season is on the verge of being tied, and it's quite likely it will eventually be broken in 2021.
That said, predicting who will pitch a no-hitter, against which team, and when, is all next to impossible. The fact that the no-hitters do not belong to the truly elite aces this year tells you all you need to know.
Because of that, betting on this wager is going to take a little luck, so you should probably aim for a capable pitcher that offers some nice value.
All things considered, my favorite bet is Bieber. He's a nice +900 price, he's perfectly capable of doing this, and it's a box he'd surely like to check for his career as he continues his rise to be among baseball's most lethal pitchers.
Even Bieber isn't a lock, of course. The best bet of all may be to simply find a wager that gives a timeline on when the next MLB no-hitter will happen, whether one will happen again in 2021 at all, or whether or not the single-season no-hitter record will be broken.
I think the "yes" side of the latter two bets is the best play, if you can find it at the top MLB betting sites.
Whatever happens, it's been pretty crazy so far in this 2021 MLB season, and I doubt the drama will slow down anytime soon. For more MLB betting markets, odds, and picks, be sure to bookmark our MLB betting blog.