Hide Bonus Offers
| | | | | |
| --- | --- | --- | --- | --- |
| #1 | Bovada Sports | 50% Up To $250 | Visit Site | Bovada Sports |
| #2 | BetUS | 125% Up To $2,500 | Visit Site | BetUS |
| #3 | MyBookie | 100% Up To $1,000 | Visit Site | MyBookie |
| #4 | Everygame | 100% Up To $500 | Visit Site | Everygame |
| #5 | BetOnline Sports | 60% Up To $1,000 | Visit Site | BetOnline Sports |
Odds for 8 World Series Matchups Worth Betting on in 2019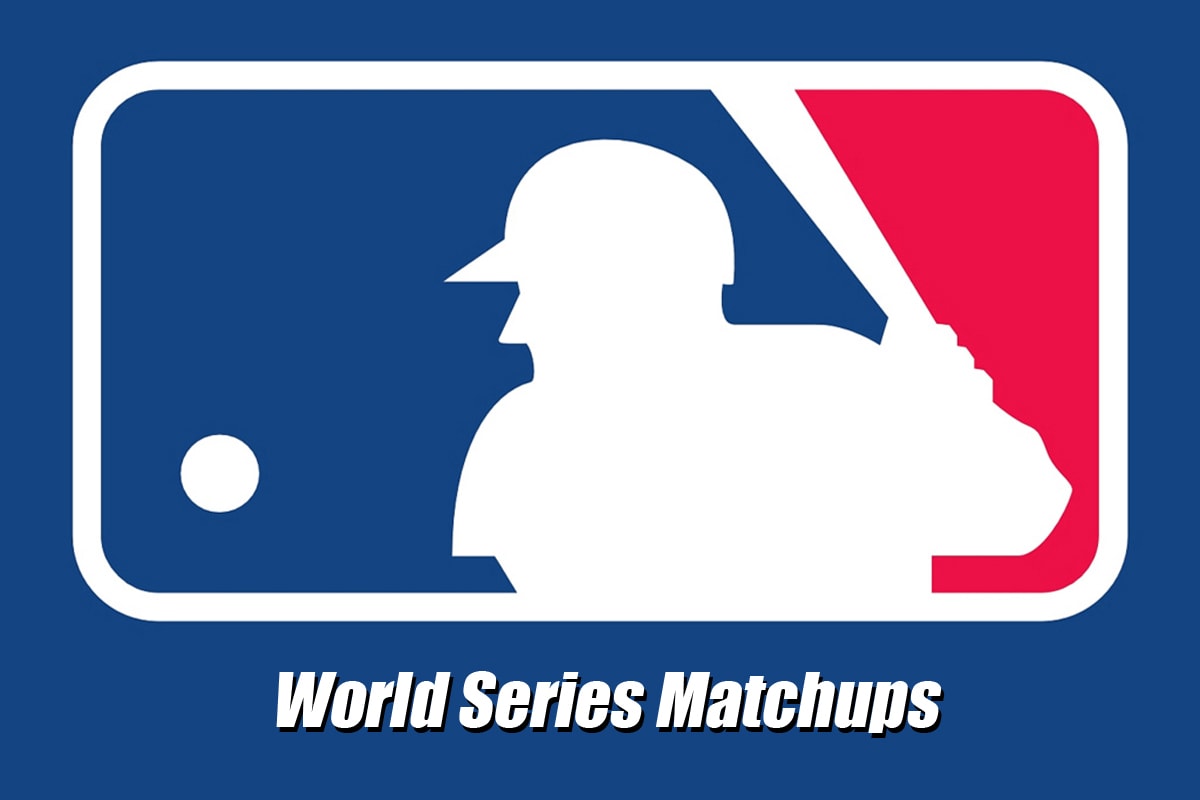 The 2019 World Series isn't even a thought for most baseball fans right now.
Some already see slow starts for their favorite teams and are ready to look to next year. Others just note that the most important series of the year is still months away.
It's only natural to think the latter. The 2019 MLB season did just get going.
The defending champion Boston Red Sox have been awful, too, while the Detroit Tigers are first in the AL Central, and the Chicago Cubs are inching toward the bottom of the NL Central.
Everyone can drop their jaws at some things that have gone down so far. It's all still real, and it's most certainly happening. But it also isn't set in stone. There are still roughly 150+ games left for just about every team in baseball, and a lot can happen.
Due to that, baseball bettors may want to be careful how they react to the early portion of the season. Of course, allowing yourself to get sucked into the madness can also open the door to some elite MLB betting value.
Latest 2019 World Series Odds
The first way to do that is to monitor the always fluctuating World Series odds.
That means checking up to see who the best MLB betting sites price as the favorite, who the would-be top contenders are, and which viable World Series sleepers could be had at amazing prices.
Now that we've gotten going a bit, we can already see a change in pricing. Here's a look at the latest 2019 World Series odds, per SportsBetting.ag.
Philadelphia Phillies
+1000
Washington Nationals
+2000
Arizona Diamondbacks
+5000
San Francisco Giants
+6600
You can look at the most updated World Series odds in one of two ways; some supposedly elite teams are egregiously overpriced right now, or other teams showing their true colors are offering ridiculous value.
It's too early to know for sure, but considering their weak starts, teams like Boston, Houston, Chicago, Washington, St. Louis, and Colorado could get inflated prices in the not too distant future.
Likewise, squads like Seattle, Detroit, Tampa Bay, New York (Mets), and San Diego could all offer upside worth chasing.
We can embrace the hot starts and/or deny the early struggles from the more proven commodities. Whether you're betting on a World Series winner or just trying to predict which two teams get to the World Series, though, there figures to be some nice wiggle room here.
Right now, I'm not too eager to stray from the Dodgers as my winner, but picking up some of the obvious value out there could be worth a look when it comes to World Series matchup odds.
Wild MLB Series Matchups to Consider
MyBookie.ag tends to issue this prop a ton, and right now some of the best MLB betting sites are offering this wager with pretty compelling pricing.
I still think the Los Angeles Dodgers are winning it all this year, but what if some of these surprise teams are for real? What if the favorites coming into 2019 just don't get it done?
Add some crazy odds to the table, and there's an argument for aiming high with your World Series betting this season. The best part is you don't need to predict a winner to capitalize on a little insanity.
With that, here are my favorite World Series matchups that probably aren't what you would have wagered on before the season started, but they suddenly look relatively realistic.
New York Mets vs. New York Yankees (+2600)
This one is pretty realistic, actually, as the Yanks boast some of the best odds to win the 2019 World Series. Aaron Judge heads a positively loaded New York offense, while James Paxton comes in to solidify the pinstripe defense.
Betting on the Yanks getting to and even winning the World Series this year really isn't much of a reach. Banking on it coming against the New York Mets could be risky, though.
I still think a rematch of the iconic Subway Series is possible, especially if the Mets can stay healthy. Rookie Pete Alonso is on fire, while veteran mashers like Robinson Cano and Wilson Ramos add to an already talented offense.
The Mets are already in a dance with the Phillies atop the NL East, and they have the pitching via Noah Syndergaard and Jacob deGrom to match wits with anyone. It's entirely possible they hold off the Braves and Phillies for the NL East crown and fight their way to the 2019 World Series.
The beauty with this wager, of course, is you don't need the Mets to win. A sheer matchup of both New York franchises gets you nice return thanks to these +2600 odds.
Milwaukee Brewers vs. Boston Red Sox (+3000)
Here is another possible World Series matchup that isn't crazy, so much as it may provide surprising value.
Consider these first two World Series matchups compared next to showdowns like Dodgers/Yankees or Dodgers/Astros, which lead the way with prices of +1200 and +1500, respectively. By dropping down to a supposedly less likely matchup at this point, you could double your returns.
Milwaukee is still a very strong contender to at least reach the 2019 World Series. A staggering 8-2 start has them on title watch, while playing their way to a win from last year's title series already had them looking like a viable threat.
The Brewers have one of the best bullpens in baseball and an explosive offense. If they can add another arm by the MLB trade deadline, they could absolutely push their way to the World Series.
Boston shouldn't be written off just yet, either.
I'm not down for betting on their current price, but they're off to a slow start and could eventually return absurd value. Let's keep in mind just how dominant they were last season, so if their bats come to life and Chris Sale gets his mind right, they could end up being a crazy steal.
Philadelphia Phillies vs. Cleveland Indians (+4500)
Some bettors will want to look to the future immediately, so Bryce Harper and the Phillies are surely in line for some World Series love. They're already fighting for positioning on top of the NL East, too, so early signs indicate they're here to play.
Harper gives the Phillies the star power they lacked, but he's one of many nasty bats in a loaded offense. Philadelphia has Aaron Nola striking fear into the opposition from the mound, while the Phillies may have enough in the way of pitching to push their way to the final series of the year.
The AL is a tougher sell when you look at the Tribe. They have what looks like an easy path to the playoffs in the weak AL Central, but both the Tigers and Twins (for now) could be minor roadblocks.
The American League is also loaded with elite offenses. When at full strength, teams like the Yankees, Red Sox, and Astros could all keep Cleveland from making a title run.
Cleveland's offense isn't what it once was. They could be nasty again once Francisco Lindor is healthy, but they may need to make a move or two to get there.
That being said, the Indians have some of the best pitching in the majors, and they still operate out of a division they should eventually dominate. If that happens and they make the right deals to beef up their hitting, they could combine with the Phillies to offer pretty fun World Series betting value.
Los Angeles Dodgers vs. Seattle Mariners (+6000)
I'll bump the "realistic" factor back up a bit on one side. I am a believer in the Dodgers getting back to the World Series and finally finishing the job this year, but even if they don't, they're a solid bet to at least reach the promised land for the third year in a row.
The trick could be deciding who they'll meet on the other side.
Like I said, the AL is loaded, and several teams will be vying for World Series real estate, but what if it's someone nobody expected prior to the start of the season?
Perhaps that ends up being the Mariners, who are owning the AL West at the moment and swinging bats as hot as anyone in baseball.
Seattle has always been known for their collective power, and even after losing star hitters like Nelson Cruz, Jean Segura, and Robinson Cano, they remain as deadly as ever.
Some think the hitting will cool down and that their weak pitching rotation will get exposed. That certainly is possible, but if the Mariners can add a big arm prior to the deadline and if this elite offense is here to stay, they might actually have something here.
Milwaukee Brewers vs. Tampa Bay Rays (+9500)
You can go hunt for other World Series matchups including the Brewers. As the best team in the NL as I write this, they're certainly a top contender and a viable bet.
I'll slot them right back in there and include the Rays, who deserve some recognition for taking over the AL East. I am with everyone who is slow to trust Tampa Bay, but hey, they have good pitching, and they know how to manage games.
Blake Snell and Charlie Morton give the Rays two legit aces to work around defensively, while they have some nice offensive talent around a budding star in Austin Meadows.
I personally need to see more to buy the Rays, and they will probably need a splash move to bring in a stable bat, but they aren't exactly fool's gold. Tampa Bay was already grinding out wins late last year and introduced the "bullpen starter" pitching approach with solid success.
The question with Tampa Bay, especially in the brutal AL East, is if this is all actually sustainable. If you think it is, betting on the Rays to battle the Brewers, Dodgers, or Phillies in the World Series has its appeal.
New York Mets vs. Seattle Mariners (+14000)
Let's bring it back to the Mets, who honestly look absolutely loaded now that they've gotten off to such a nice start. It's one thing to look at someone with a raised eyebrow on paper, but when positive results come to pass early in the year, people start paying attention.
New York isn't without their question marks, but they're succeeding, and they're not even at full strength yet. Useful sticks like Todd Frazier, Jed Lowrie, Travis d'Arnaud, and of course Yoenis Cespedes will all eventually be active and offer even more pop to a deadly lineup.
Betting on the Mets isn't crazy, and if you're a believer in the Mariners as well, watch out.
It's still dicey to bet too hard here, but the upside in this wager may make up for it.
San Diego Padres vs. Tampa Bay Rays (+50000)
I think there are concerns with the Rays, but as I mentioned, there's also some reason to like them. I wouldn't spend too much energy (or money) willing them to the 2019 World Series, though, and if you think they get there, I'd largely bet on them facing a reliable option.
The Dodgers, Phillies, and Brewers make the most sense, but given their deep wallets (Manny Machado) and nice young pitching, San Diego shouldn't be so quickly dismissed.
I'll be the first to admit I shrugged their solid free agency moves and elite farm system off, but a solid start out of the gates has caught my interest. I'm not fully on board here just yet, but World Series matchups including the Padres are going to offer awesome betting value.
Just like you shouldn't invest too much in World Series matchups involving Tampa Bay, you may want to roll with the Padres against teams like Boston and Houston more often than not.
Still, this Padres vs. Rays World Series bet has a disgusting +50000 price tag, and as I write this, both teams are in the mix for their division lead. I doubt it keeps up and/or these teams march all the way to the World Series, but at +50000, you have to at least consider the possibility.
Los Angeles Dodgers vs. Detroit Tigers (+120000)
Lastly, I don't think I can completely ignore the Detroit Tigers. I know I probably should, but as I write this, Detroit already has seven wins and is in first place in the AL Central.
Cleveland usually owns this division and probably will again this year, but they do have their flaws. Most specifically, the Tribe lost some key bats in free agency, and if something tears them down and keeps them from winning the AL Central, it actually could be their offense.
Could that be enough to allow someone like the Tigers or Twins to sneak up and steal the division crown? Maybe, while it's tough to ignore Detroit's elite defense to this point.
It is incredibly early, but the Tigers are ranking second in ERA on the year and are getting some turn-back-the-clock performances out of guys like Jordan Zimmermann and Tyson Ross. That's not likely to be sustainable, but what if it is?
Even if Detroit's defense is here to stay, their offense is likely too putrid to allow them to inflict any serious damage. However, if the Tigers realize they're just 1-2 big bats away from a deep playoff run, a big call-up and/or momentum-swinging trade could be in play.
If you think for a second the Tigers have a shot (and heck, even if you don't), you could pair them with the Dodgers or another viable contender out of the National League. LA is the best bet and combines with Detroit to give you a sweet +120000 price tag, and that may be a dream worth chasing.
Who Will Play in the 2019 World Series?
All of these World Series matchup odds are very interesting and definitely tempting.
I think some of these teams getting off to hot starts are owed some respect and perhaps could be worth a bet when it comes to division winners and playoff contenders. But making the World Series?
Maybe I'll just leave it at "I'm not there yet" with the likes of the Tigers, Rays, and Padres.
Ultimately, I still think the Dodgers are a team of destiny. They're also a team stacked with offensive talent, and when they have a healthy Clayton Kershaw leading the way, they're arguably the most talented club in baseball.
I'm sticking with the Dodgers to win out of the NL, but the AL does seem pretty wide open right about now. Once the dust settles, though, I feel like the Yankees have done enough to inch past Boston and finally get themselves back onto the biggest stage.
I doubt it ends in a title, but the Yankees vs. Dodgers is a pretty realistic World Series matchup, and it also happens to return solid value for bettors.
PICK
Los Angeles Dodgers vs. New York Yankees
+1200