Hide Bonus Offers
| | | | | |
| --- | --- | --- | --- | --- |
| #1 | Bovada Sports | 50% Up To $250 | Visit Site | Bovada Sports |
| #2 | BetUS | 125% Up To $2,500 | Visit Site | BetUS |
| #3 | MyBookie | 100% Up To $1,000 | Visit Site | MyBookie |
| #4 | Everygame | 100% Up To $500 | Visit Site | Everygame |
| #5 | BetOnline Sports | 60% Up To $1,000 | Visit Site | BetOnline Sports |
NL MVP Betting in 2021 – Assessing the Wide Open Field

Players who aren't outfielders or first basemen can win the NL MVP trophy. It's just not very likely. Case in point – the last six National League MVP winners were either an outfielder or a first baseman.
To take that a step further, just three guys who weren't an outfielder or a first baseman have won the NL MVP award in the last 20 seasons.
2007 – Jimmy Rollins, SS
2012 – Buster Posey, C
2014 – Clayton Kershaw, SP
Certainly, something to keep in mind as you approach NL MVP betting in 2021. I'll introduce some of the main contenders before ultimately revealing a prediction.
NL MVP Odds in 2021
Among all the MLB player futures in 2021, the NL MVP is the market with the most distinguishable price discrepancies. For example, Juan was installed at +750 at some of the top baseball sportsbooks online. I've seen Mookie Betts listed at +650 and Fernando Tatis Jr. at +800.
At the same time, BetUS doesn't always reign supreme when it comes to betting odds for the NL MVP. Mike Yastrzemski, who I'll elaborate more on later, is available at +8000 if you head to SportsBetting.ag.
First-Class Contenders for 2021 NL MVP
There's a handful of guys grouped at the top who are all worthy candidates. Having said that, certain names intrigue me more than others.
Mookie Betts
Fernando Tatis Jr.
Juan Soto
Ronald Acuna Jr.
Starting with Mookie Betts, the guy who led all MLB batters in WAR in 2020. Gold Gloves in each of the last five years and a Silver Slugger honoree four times, the Dodgers right fielder is the best five-tool player in the game. I'm not forgetting about Mike Trout either – Betts is that special.
Fernando Tatis Jr. has racked up 39 homers, 98 RBI, and 27 stolen bases, and yet he's only played in 143 games. Sandwiched between Trent Grisham and Manny Machado in one of the best batting orders in baseball, the charismatic shortstop currently has an ADP of 3.2 in fantasy baseball drafts (according to fantasypros.com).
Juan Soto was marvelous during his age-19 and age-20 seasons. At 21-years-old this past year, Soto went absolutely bonkers. Juan's .351 clip at the plate ranked 1st in the National League, and he led both leagues in OBP, SLG, OPS, and OPS+. Removing Barry Bonds from the equation, Soto's eye-popping .490 OBP was the highest single-season on-base % since 1957.
Now 313 regular-season games into his big league career, Ronald Acuna Jr. has essentially played two full seasons. His per-162 game averages are staggering (42 HR, 100 RBI, 32 SB) and he hits in front of two legitimate NL MVP candidates. The 23-year-old Venezuelan is likely to lead the majors in runs scored, and he's a good bet to tally 35+ HR and 35+ steals.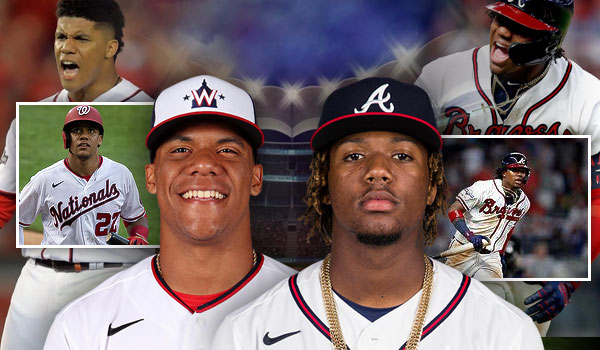 Meet the Second-Class
Nolan Arenado and Christian Yelich are both perennial NL MVP candidates. They're right on the cusp of being first-class contenders and lead the way in the second tier. They're joined by four others.
Freddie Freeman
Bryce Harper
Trevor Story
Manny Machado
Seeking his second straight NL MVP trophy, Freddie Freeman stuffed the box score in 2020 and is now widely regarded as one of the best all-around players in baseball. The Braves 1B topped all MLB players in doubles and runs, and he finished second in OBP and SLG. The cherry on top is his durability.
Freeman has missed a total of four games since the start of 2018.
Another former winner of this award who could enter the discussion in the upcoming year is Bryce Harper. The MLB walks leader in two of the last three seasons accounted for 35 homers and 114 ribbies during his first year in Philly with a slash line of .260/.372/.510. He was on the uptick in 2020 (.268/.420/.542) – I'm expecting an even bigger 2021.
Bryce Harper says he feels he can speak more freely and honestly in Philly "I love playing in Philadelphia. I feel like I can be Bryce. They have let me be me" He says Phillies have never asked him to dial it downFebruary 25, 2021
Trevor Story is a power-hitting shortstop who has the luxury of playing half of his games in Coors Field. On the heels of 37 jacks in 2018 and 35 more dingers in 2019, Trevor was voted as a Silver Slugger on both occasions. The fact that he led the NL in triples and stolen bases this past season tells me he belongs on the shortlist of sincere NL MVP candidates.
Fresh off finishing third in NL MVP voting, Manny Machado was a beast for the Padres in his second year in San Diego. Settled in full-time at the hot corner, Machado blasted 16 homers and 47 RBI in a 60-game sample size. That paces out to around 43 homers and 127 RBI over a full season.
Four NL MVP Sleepers for 2021
As stout as the aforementioned names are, the NL MVP can emerge from the depths of the betting sheet. In fact, of the four most recent NL MVP winners in the National League, all began the season well outside of the radar.
NL MVP Award Winners (2017-2020)
Season
NL MVP Winner
MVP Odds in Spring Training
2017
Giancarlo Stanton
+4500
2018
Christian Yelich
+15000
2019
Cody Bellinger
+3000
2020
Freddie Freeman
+2500
That leads me to another four-pack of names.
Marcell Ozuna
Trea Turner
Mike Yastrzemski
Dominic Smith
Why Marcell Ozuna is lurking at +5000 at multiple sites is beyond my comprehension. The "No DH' rule in 2021 is going to force Ozuna into left field, and he's coming off a season in which he nearly won the Triple Crown (1st in HR, 1st in RBI, 3rd in BA). A price tag in the range of +2000-2500 would be much more appropriate.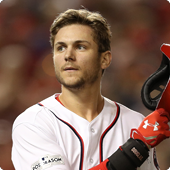 Speaking of a price tag that's in "must-bet territory," Trea Turner's +3300 number at BetOnline can perhaps be justified. Trea's +5000 number at BetUS has me scratching my forehead.
A speedster who swiped 33 or more bags in four straight seasons just led the majors in hits. He batted at least .335 for the second time in his career. The most exciting part is after sending 19 balls over the fence in 112 games in 2019, Turner watched his power numbers skyrocket in 2020 (12 HR in 59 games).
Now for a couple of unheralded NL MVP sleepers, one who's not even listed on most MLB betting sites.
Not many are going to be willing to pull the trigger on Mike Yastrzemski, but I'll quickly shine a light on why it's not such a bad idea.
Mike Yastrzemski's MLB Career – By the Numbers
Games
Batting Avg.
Runs
Doubles
Triples
Home Runs
RBI
161
.281
103
36
7
31
90
After splitting time between leadoff and the two-hole in 2020, "Yaz" is expected to bat third in 2021. I've got him pegged at #14 in my fantasy baseball outfield rankings, and that's probably not bullish enough.
Dominic Smith doesn't even have odds for NL MVP betting, and that's really a crying shame. Four other Mets batters are featured (Lindor, Alonso, Conforto, McNeil), although it was Smith who led New York in total bases in 2020. Dominic hit .316 and clocked in 2nd in the National League in doubles and 4th in slugging, plus he drove in 42 runs in a total of 50 games. I'm intrigued to see where Luis Rojas winds up slotting Smith in the order.
2021 NL MVP Prediction
I didn't forget about Cody Bellinger, I'm just in tune with the way he's been trending. Cody's .239 BA last season isn't that surprising when you realize he hit .259 over his final 105 games in 2019.
The way I see it, Belly can't even "lick the dirt off" Juan Soto's cleats.
The Nationals 22-year-old phenom put up historic numbers at the dish last season, which is right on par for everything he's achieved thus far in his career. 40 home runs and 115 RBI are pretty fair projections, as are 15 stolen bases and another ungodly slash line.
Thanks to possessing a rare combination of power and patience at the plate, Juan Soto has evolved into the most feared hitter in baseball. Hence, I'm locking him in for my 2021 NL MVP prediction.
However, you may be surprised when you find out who I'm backing in the American League.