Hide Bonus Offers
| | | | | |
| --- | --- | --- | --- | --- |
| #1 | Bovada Sports | 50% Up To $250 | Visit Site | Bovada Sports |
| #2 | BetUS | 125% Up To $2,500 | Visit Site | BetUS |
| #3 | MyBookie | 100% Up To $1,000 | Visit Site | MyBookie |
| #4 | Everygame | 100% Up To $500 | Visit Site | Everygame |
| #5 | BetOnline Sports | 60% Up To $1,000 | Visit Site | BetOnline Sports |
8 NFL Win Total Bets to Target in 2022

The USFL reboot and the 2022 NFL Draft probably has had you yearning for the 2022 NFL football season in the fall. You aren't alone there, as the offseason is fun, but nothing beats Sunday football. One thing we can do to help kill time is place some bets on NFL win totals.
NFL win total bets are always a fun way to make predictions for an upcoming season, and it's always a great feeling when you nail your picks. We have 8 NFL win total predictions to help get you ready for football season.
We have a good mix of teams with great chances to hit their overs and teams who can struggle and hit the unders. These NFL win total odds are from Bovada, so head over there to place your bets.
Without further ado, let's get right into our NFL win totals for 2022.
Denver Broncos Over 10 Wins (-125)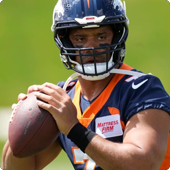 The Denver Broncos said enough is enough this offseason. They made a massive trade with the Seattle Seahawks, acquiring superstar quarterback Russell Wilson. Denver was able to win seven games last year, which was already a bit more than most people expected.
The reason for that is because of their lack of a high-level quarterback. They've seemed to have great players up and down throughout their roster, but the lack of a great quarterback has put a cap on their potential.
The acquisition of Wilson should have that argument out the window, as the top Super Bowl betting sites have Denver coming in with the 8th best odds for 2022. He's set to take their offense to another level, while their defense has been their strength for quite some time now.
The Broncos' offensive playmakers will see a massive jump in their numbers with Wilson at quarterbacks. Courtland Sutton, Jerry Jeudy, Tim Patrick, Javonte Williams, and more should be in for great seasons.
The departure of defensive guru Vic Fangio might hurt their defense a bit, but they still have players who can get the job done. Nathaniel Hackett is the new head coach in town, so the pressure will be on him for his first-ever head coaching position with an incredible roster.
Their secondary has the potential to be the best in the NFL, while their pass rushers are very underrated as well. In the offseason, they signed Randy Gregory to a 5-year, $70 million deal.
Gregory will be on the opposite side of Bradley Chubb, giving the Broncos a lethal defense all around.
Denver already had a solid overall roster, so the addition of Russell Wilson takes them over the top. That makes them my first top NFL win total bets for 2022.
Seattle Seahawks Under 6.5 Wins (-165)
The opposite effect of that Wilson trade will happen to the Seahawks. They now begin their rebuild and say goodbye to Wilson and the great years that they had together.
It will be a substantial rebuild for the Seahawks, and they will be on the hunt for a long-term replacement at quarterback. Drew Lock came over in that trade with other players and picks, but he hasn't shown superstar potential.
As of right now, Tyler Lockett and D.K. Metcalf are still on the team. They are very hot commodities to have in the trade market. They should be dealt sooner rather than later, and the Seahawks will likely get many picks in return.
Seattle also let go of the heart of their defense in Bobby Wagner. They released one of the best linebackers in the league due to financial reasons, so their defense should see a dramatic step back in 2022-23.
Both sides of the ball should be significantly worse this season. They also are in one of the best divisions in football and have a tough schedule overall.
Seattle plays the 49ers, Cardinals, and Rams for 6 of their 17 games. This season, they also have to play the Broncos (Wilson revenge game), Raiders, Chiefs, Chargers, and Buccaneers.
So 11 of their 17 games are against powerful opponents, while they might not even be favored to beat their other six opponents on the best NFL betting sites.
Buffalo Bills Over 11.5 Wins (-150)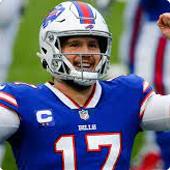 The NFL had one of the most exciting games to happen in recent memory ruined by another coin toss. Buffalo and Kansas City were going blow for blow in the AFC Divisional Round last year, and the game went to overtime.
It was 36-36; the Chiefs won the coin toss, drove down the field, and scored a touchdown. Josh Allen had to watch from the sidelines as his offense didn't even get a chance to get on the field.
Buffalo is one of the best put-together rosters in the NFL. They have talent on both sides of the ball and one of the best players in the league in quarterback Josh Allen to top it all off.
It's a shame they couldn't get a chance to get their offense on the field against Kansas City, but maybe that fuels them even more for this season.
They didn't lose anyone significant in free agency; they added some great players. Von Miller just won a Super Bowl with the Rams last season and could be back in it with the Bills in 2022-23.
Star cornerback Tre'Davious White also suffered a season-ending injury last year and couldn't play from Week 13 on. White and Miller can be the defensive pieces they need to possibly stop a team like the Chiefs when they need it this year.
It's hard to say if any other team would have the upper hand in a head-to-head matchup with the Bills. They have a tough schedule, but they do have some very winnable games this year. They also are the favorite to win the AFC East, and that's always a good start.
For their division odds and more, check out our 2022 NFL division winner predictions.
New Orleans Saints Under 7.5 Wins (+140)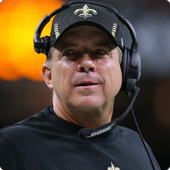 The Saints will look a lot different than they did five years ago. Drew Brees is retired, and Sean Payton just joined him over the offseason. That QB and head coach combo were incredible for New Orleans over the years, but no longer.
They still have some talent on their roster, but I think they are in for real struggles this season. Jameis Winston is projected to be the starter for the Saints this season. Being the most entertaining starter in the league doesn't mean you're performing well exactly.
Winston's infamous 30 touchdown, 30 interception season is the epitome of his career. He's probably not going to turn into a completely different quarterback at this point in his career.
They haven't had good wide receiver depth for a while now, and they lost their talented left tackle Terron Armstead to free agency. Alvin Kamara and Michael Thomas are incredibly talented, but that's about it for their offense.
They also lost veteran safety Malcolm Jenkins to retirement this offseason.
Their division has two other teams (Panthers, Falcons) who aren't threatening, but the Buccaneers will be trouble. This year, they also have the Ravens, Bengals, Raiders, Rams, Cardinals, Browns, and 49ers on the schedule.
The lack of an elite head coach like Sean Payton will hurt the Saints tremendously. Their team's problems will also be amplified even more when they struggle.
Tampa Bay Buccaneers Over 11.5 Wins (-115)
Tom Brady's back, and the Buccaneers can breathe again. They were inches away from a rebuild, but Brady's unretiring brought them back into contention.
Tampa Bay also had a lot of impending free agents over the offseason. Brady coming back could have played a major role in their ability to resign some impactful players.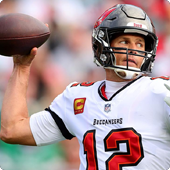 Chris Godwin, Leonard Fournette, and more were able to sign extensions. The loss of Ndamukong Suh and Ali Marpet due to retirement will hurt their trenches, but they still have a lot of talent on their roster.
The Bucs' are sure to make some more moves to try and get back in the Super Bowl. They could have some holes right now and still be okay with Brady, though.
Their defense has talent at all three levels with Vita Vea, Lavonte David, Devin White, Carlton Davis, Antione Winfield, etc. They could get active in the draft to help out with some depth issues, but there isn't a talent shortage across the board.
They get six matchups with their division rivals, who all have reasons to struggle this year. They also play the Seahawks and Steelers this season, both in rebuilds. So 8 of their 17 games are very winnable.
Indianapolis Colts Over 9.5 Wins (-150)
One of the biggest moves that happened this offseason didn't get much media attention. Veteran Falcons quarterback was traded to the Colts this offseason, giving their team a great boost.
Trade now official: Falcons have traded QB Matt Ryan to the Colts for a 2022 third-round pick.

— Adam Schefter (@AdamSchefter) March 21, 2022
Carson Wentz had a better year than his last couple of seasons in 2021-22, but he still couldn't take his team to the next level.
Ryan has had his struggles, but a lot of that comes with his surrounding talent. Atlanta's offensive line has not been great, leading Ryan to be sacked a lot and their offense to struggle. Atlanta's playmakers have also been banged up for a good portion of the last couple of years.
Their defense wasn't doing them any favors either.
Now, Indianapolis has one of the best offensive lines in the league paired with a tough defense. Ryan will go to an amazing running offense, where he can have more room to work with.
Jonathan Taylor and the Colts' offensive line almost surged them all the way to the playoffs and even made Carson Wentz look good.
Ryan should be a significant step up from Wentz, giving them a great chance to hit their over in their win total.
Houston and Jacksonville are projected to struggle yet again in 2022-23, giving four very winnable games to the Colts. They also play the Steelers, Commanders, and Giants this year. That's seven very winnable games in total.
It seems reasonable for them to win 3 of their remaining ten games, as they look to be a very underrated team this year.
Green Bay Packers Over 11 Wins (-125)
This might surprise some people this year, but the Packers should be in for another big season. They made a huge move trading Davante Adams to the Las Vegas Raiders and have yet to replace him (pre-draft).
? BLOCKBUSTER TRADE ?

Packers are trading Davante Adams to the Las Vegas Raiders, per @AdamSchefter pic.twitter.com/D1sEnwtEiK

— PFF (@PFF) March 17, 2022
They did agree on an extension with Aaron Rodgers, so at least they have him still. Talented running backs Aaron Jones and A.J Dillon are huge pieces of their offense, while Allen Lazard, Sammy Watkins, and Robert Tonyan can also contribute.
One of the biggest blows to the Packers' season last year was the injuries to Jaire Alexander and Za'Darius Smith. Both of those players played major roles in the Packers' defense, and they should be healthy for this season.
Green Bay is loaded with four picks within the first two rounds after the Adams' trade, and this draft is loaded with top-tier wide receiver prospects. If the Packers can land one and get some more offensive line depth, they can be the Super Bowl contender they usually are.
Detroit, Chicago, and Minnesota aren't on the same level as Green Bay just yet. That gives them six very winnable games for this season. They also have the Jets, Giants, and Commanders on their schedule as well.
They could very well go 9-0 against those teams, leaving them with just three more wins (or 2 for a push) against the remaining eight more formidable teams.
Atlanta Falcons Under 5 Wins (-135)
Like the Wilson trade, the Matt Ryan exit will hurt the Falcons this year. Their star wide receiver in Calvin Ridley was busted for betting on NFL games and suspended for the entire season.
They also traded Julio Jones to the Titans last year, so the offensive weapons they have left include Kyle Pitts and Cordarrelle Patterson.
Marcus Mariota signed with them over the offseason and is the projected starter. They might draft a quarterback, but Mariota will likely be the starter for most of the year. He's a great runner, but there's a reason why his career has gone the way it has.
I think the Falcons will now be easily the worst team in the NFC South, and there probably won't be any matchups this season that they will win easily or at all.
Their 2022-23 opponents aren't much easier, though. This year, they have to face the Ravens, Cardinals, Browns, Chargers, 49ers, Bengals, and Rams. I'm not expecting the league's first-ever 0-17 season, but betting the under on their win total seems smart.
Don't be surprised if the Falcons end up trading more of their players away in favor of draft picks, making them possibly even worse for this season. That would make them an even better under bet for our NFL win total picks.
Advice for Betting on 2022 NFL Win Totals
These are my eight NFL Win totals picks for this upcoming season. This season is shaping up to be another exciting one for select teams, while others are heading towards a miserable season.
The one NFL win total best bets I like the most out of any on this list has to be the Indianapolis Colts Over 9.5 Wins (-150).
Matt Ryan will love playing behind that offensive line, and they have a very favorable schedule. They got nine wins last year, so adding one more with a better quarterback seems reasonable.
Feel free to bet along with as many or as few picks as you like this season. With the NFL Draft starting soon, many of these teams will make even more big moves. That could shake these up even more, but I've made my selections where each team has already shown signs of heading in either direction (selling or buying).