NFL Week 8 Recap – Significant News and Notes Heading into Week 9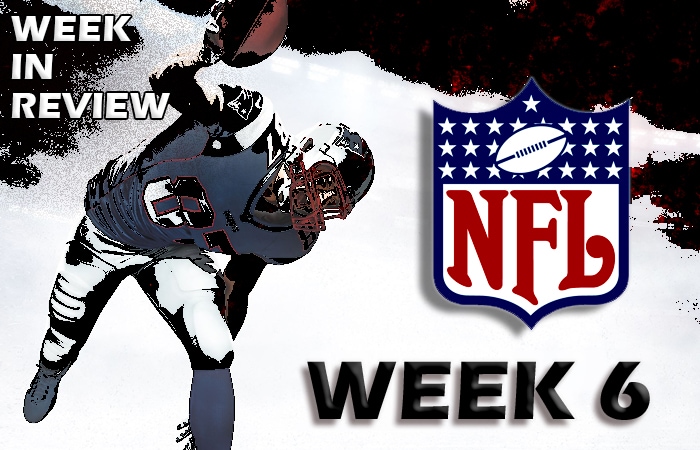 We're nearly halfway done with the NFL's regular season, and several things are coming into plain view.
What happened across the league in Week 8 told me a lot about the state of certain teams, and it's not all roses everywhere.
Perhaps the biggest news, although it should come as no shocker, was the fact that Jimmy Haslam finally decided to part ways with Hue Jackson and move his team in a different direction. This should come as no surprise, as anyone who thought that Jackson's regime was working in Cleveland is just in pure denial.
And while some teams made positive strides in their playoff pursuit, others took an ugly step back.
I know it's almost time to start betting Week 9's NFL games, but it makes a lot of sense to get caught up with all the action from Week 8 first!
Hue Jackson Booted from Cleveland
As I mentioned above, Browns owner Jimmy Haslam finally relieved Hue Jackson of his head coaching duties on Monday afternoon. The firing of Hue Jackson was long overdue if you ask me, as the National Football League is a "what have you done for me lately" type of business.
Well, I'll tell you exactly what the 53-year-old alleged offensive guru has done for the city of Cleveland since taking over in 2016.
The Browns are an inexcusable 3-36-1 in the 40 games coached by Jackson. And ready for this?
Cleveland went 0-20 on the road under his guidance.
The fact that his leash was as long as it was and that he lasted this long has actually been quite the anomaly.
Because I could swear that any coach who went 1-31 over his first two seasons wouldn't have even had an opportunity to march back out there for a third term.
My colleague Noah should be given some credit at this stage. He wrote a blog post back in July this year looking at the betting market on which NFL coach would be fired first this season, and recommended putting money on it being Jackson.
I think the straw that finally broke the camel's back was the simple fact that franchise quarterback Baker Mayfield wasn't seeing eye to eye with his head coach.
After spending the number-one overall pick of the 2018 Draft on Baker and him showing some glimpses of stardom, there was no question as to who would go first. And it didn't take long for the second domino to fall, either.
The Browns front office wasn't done cleaning house with this move, as they fired offensive coordinator Todd Haley on Monday as well, effective immediately.
I think that Cleveland's ownership wants to give Mayfield an honest and fair shot at being successful, and they finally came to the obvious conclusion that Jackson and Haley weren't the combo that was going to take him to the Promised Land.
Rumblings around the Browns locker room stated that the Browns HC and OC never got on the same page with one another and that the rapport between the two was growing colder. Something had to happen, and Haslam made his intentions clear with a simple statement he released yesterday at a news conference.
"The message today is that we're not going to put up with internal discord."
Quite frankly, I think axing both was the right decision.
As for what's next for this organization?
Defensive coordinator Gregg Williams takes over for the interim, but I can't imagine this is anything other than just a temporary solution.
We'll have to see how the rest of the year plays out, but expect a laundry list of names to start emerging as potential candidates for this head coaching position.
In terms of the rest of 2018, Cleveland will be fortunate to win a few more games. But unfortunately, any serious progress is likely just delayed until next year.
Packers Fumble Away Chance at Victory
It was all set up for another Aaron Rodgers comeback.
Rams kicker Greg Zuerlein kicked a field goal with 2:05 remaining in the fourth quarter to put Los Angeles on top, 29-27. Rodgers and the Packers offense appeared to have a full two minutes to gain about 40 or so yards and give Mason Crosby a chance to win the game.
But then in a flash, all hell broke loose on the Green Bay sidelines thanks to an idiotic decision from a player who decided to take matters into his own hands.
Ty Montgomery, despite receiving strict orders to take a knee in the end zone, made a split-second decision to try and run the ball out and make a play during the return.
Instead, Montgomery fumbled the ball inexcusably and relinquished any opportunity his team had at securing a victory.
Aaron Rodgers was among the Packers players that were less than pleased about Montgomery's choice.
"Aaron was hot," a Packers coach told Mike Silver of NFL.com. "And he had a right to be. He yelled, 'Take a [expletive] knee!' He was very, very mad."
Several other players offered their two cents after the game, and some didn't hold back when the media asked the obvious questions.
The aftermath of this has led Montgomery to feel disappointed and angered that his brotherhood hasn't kept the matter "in-house."
However, Montgomery need not worry how his now-former Packers teammates view him, because Ty was essentially let go on Tuesday afternoon.
In return, Green Bay gets a seventh-round pick from the Bears in the 2020 draft , but it is indisputable that the Packers wanted nothing to do with Montgomery after his mysterious gaffe.
As Green Bay looks ahead to Week 9, it won't get any easier for Mike McCarthy's squad, as they'll face the red-hot Patriots in a Sunday Night Showdown on NBC. This game will be played in Foxborough, so there was absolutely no time for the "Green and Gold" to be pointing fingers and causing uproar anyway.
They can somewhat hang their hats on the fact that they traveled to LA and were able to keep pace with the only undefeated team in the NFL for the most part.
The bad news is that this is the National Football League, and it's 2018.
There are no moral victories.
Raiders Disappear in the Fourth Quarter
Heading into the fourth quarter of Sunday's game in Oakland, the Raiders held a 7-point lead over the visiting Colts. It was looking like Jon Gruden was going to get a W and erase some of the noise and questions surrounding his "dismissal" of star wideout Amari Cooper.
But it didn't turn out that way, and now the fire is burning even hotter in the Bay Area.
The Colts blanked the Raiders 21 to zip in the final quarter of play and ran away with the ball game. Oakland fell to 1-6 in the process.
Marlon Mack abused the Raiders' front 7 on 25 carries for 132 yards and a pair of scores, not to mention Nyheim Hines ran wild during his attempts.
In all, Oakland gave up 222 yards on the ground to a Colts team that held onto the ball for 36 and a half minutes.
I could sit here and walk you through all of what's not going right in Oakland, but I don't imagine you have time to read a novel.
However, I could summarize things and point out that the Raiders are scoring a measly 19.7 points per game (27th in the NFL) and allowing an egregious 31.1 points per contest, which ranks 31st.
The transactions that this franchise has made since acquiring Gruden in January tell me that Jon isn't interested in fixing the current problems in Oakland.
It's more than evident that he wants to build this thing from the ground up, and that means turning the roster upside down.
By this time next season, who knows how many of the current players will even be in Raider uniforms?
For now, it's hard to imagine we'll see any semblance of a competitive product on the field in Oakland because there are holes everywhere you look. Now take into account the apparent lack of leadership and communication at the top, and it's not a very pretty situation right now.
Owner Mark Davis has all the trust and faith in Jon Gruden, so don't expect any swift moves that shake up the chain of command to come any time soon.
But that doesn't mean we won't see a bunch of restless players and fans in Oakland for the remainder of 2018.
The QB Carousel in Tampa Continues
First it was Jameis Winston getting suspended to start the year for acting like a spoiled child who has no manners. Then it was Ryan Fitzpatrick taking the league by storm the first three weeks of the season when he threw for over 400 yards in each game.
Some were even hailing the Harvard graduate as the frontrunner for the 2018 league MVP.
But after that, "Fitzmagic" returned to Earth and regressed to his typical self, leaving the Tampa Bay coaching staff no choice but to turn back to the guy they drafted first overall back in 2015.
And despite Jameis looking serviceable for a couple of weeks, it was only a matter of time before they realized once again that this dude isn't cut out to be a starting quarterback in the National Football League.
Jameis threw four interceptions while completing just 51% of his throws for a disgusting QBR of just 31.4. Fitzy came on in relief and actually looked sharp, tossing two touchdowns on 11/15 for 194 yards.
Once again, Dirk Koetter has announced a change at QB, this time reverting back to the 35-year-old journeyman who began the year scorching. Not only is this yet another bump in the road for Winston, but this likely marks the end of his tenure in the western region of Florida.
The natural thought and what seems to be the only realistic resolution at this point is that the Bucs will be searching for a new franchise quarterback in the 2019 NFL Draft.
Anyone who thinks that Winston or Fitzpatrick are the long-term answers in Tampa Bay just isn't seeing the writing that's on the wall.
Trades Galore! Two Bigtime WRs on the Move!
The NFL trading deadline came and went yesterday, but not without a flurry of deals that will immediately impact certain division races.
Golden Tate Heading to Philly
Carson Wentz and the Eagles had been lacking a consistent option out of the slot, but that problem has now vanished. Golden Tate is on his way to Philadelphia after Howie Roseman decided that a third-round pick was worth surrendering for the services of the 30-year-old proven wide receiver.
Tate had been the favorite target of Matthew Stafford since he signed with Detroit in 2014, but obviously Bob Quinn and Matt Patricia feel comfortable enough with Marvin Jones and Kenny Golladay to move on.
The Lions get an additional pick in next year's draft, but was it really worth vacating a guy who's hauled in 90 or more balls in each of the four years he's been in the Motor City?
I'm not sure I agree with the move, but I'm happy if I'm an Eagles fan (which I am!).
This move should help expedite the process of the Eagles offense getting on track, as they currently clock in as just the 21st most productive unit in the league.
Demaryius Thomas Dealt to Houston
John Elway isn't happy with the current state of the Denver Broncos, and a move like this tells me he's ready to embrace a rebuild on offense.
Demaryius Thomas had been prolific during his time with Peyton Manning at the helm, but this isn't 2013 anymore, folks.
Thomas will turn 31 on Christmas Day and hasn't been able to create the necessary separation off the line of scrimmage to put up the beefy numbers he once did.
Here's a guy who averaged 100.5 catches for 1,446.7 yards and 10.3 TDs per year from 2012-2015, and now all he's worth is a fourth-round pick!
The Broncos offense will be looking toward their rookie WR Courtland Sutton to pick up the slack and turn into a reliable option on the outside, hopefully something similar to what "DT" had been for the better part of his run in Denver.
The Houston Texas are hoping Demaryius can replace Will Fuller as the #2 wide receiver in this offense after Fuller sustained a season-ending knee injury during their Week 8 win over Miami.
This was a big blow for the Texans' passing attack considering Will had been starting to really click with Deshaun Watson.
With that being said, the arrival of an established commodity like Thomas should give Watson a legitimate weapon to pair with DeAndre Hopkins.
As wide open as the AFC South currently stands, this was a move I think Bob McNair and Brian Gaine had to make.
Have Fun Watching Week 9!
One intriguing matchup right off the bat will be the 4:05 pm EST kickoff between the aforementioned Broncos and Texans. Perhaps we'll see right away if trading Demaryius Thomas will come back to haunt Denver.
But we have a couple of marquee matchups taking place as well, starting with the Rams and the Saints in the Big Easy!
I can't wait for the plethora of highlights that are bound to ensue in that one, and that's just a warm-up for the SNF game between the Packers and the Patriots!
Week 9 promises to deliver plenty of drama, especially thanks to all the movement yesterday afternoon.
The best part is that you and I get to watch it all play out!