NFL Week 6 – Reviewing The Week's Action and Talking Points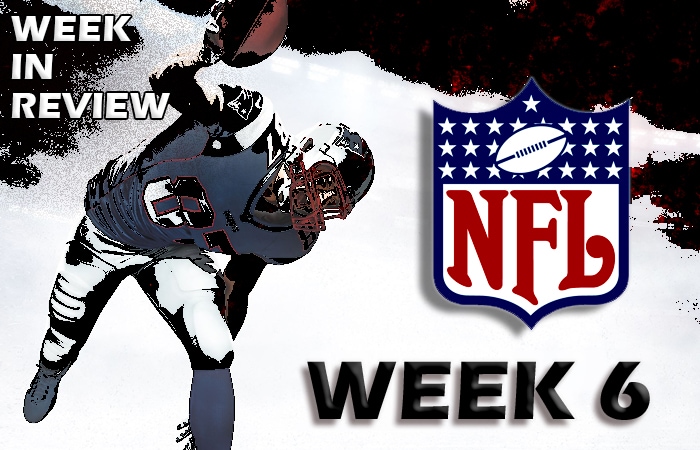 If the Sunday and Monday night football games didn't get you excited about the NFL season, perhaps you just aren't as big of a football fan as you thought you were.
The Patriots beat the Chiefs in the first "43-40 game" in NFL history- in a matchup that included one of the most invigorating finishes you'll see all season long.
Then we were treated to another shootout on MNF as we witnessed Aaron Rodgers drop dime after dime to avoid what would have been a detrimental home loss for the Packers.
But other than the highlights and fantastic endings, what else happened in Week 6? What other significant things took place that give us an idea of what to expect moving forward?
Before you start placing your NFL Week 7 wagers, it's a good idea to quickly get caught up with the major storylines to take away from this past week.
Here are 5 that stuck out to me.
It's Time to Relax, Jalen Ramsey
I used to say lots of silly things when I was 23, and I'm sure I still do now to an extent.
But it's time that Jaguars cornerback Jalen Ramsey pipes down a bit and stops talking all this trash because he and his teammates aren't backing it up on the field.
In Week 5, Ramsey was busy chatting about Tyreek Hill not being "a legitimate wide receiver," and we can all see how that premonition is turning out.
Then, after yapping his mouth some more, Jacksonville got lit up for 40 points by a suspect Dallas offense in a game where "Ramsey's prowess" was nowhere to be found.
So finally, after two embarrassing losses in a row, it seems as if Jalen is out of gibberish to blab about. So much so that it got to the point this past Sunday where he literally couldn't say anything intelligent whatsoever and just mocked the situation.
Look for yourself.
We all thought that the Jaguars defense was going to be stout this season, and they had been through the first four weeks. But hey, Jalen, I've got news for you.
It isn't smart to talk a bunch of trash while you'rein the midst of giving up 70 points over the past two weeks. It's just not a very good look.
Perhaps he's finally learned a lesson, and the Jags secondary shows up this weekend. But if DeAndre Hopkins lights him up, expect another somber and disinterested Ramsey during the post-game news conference.
The Chargers Are Sneaky Good
A lot has been going on in the NFL that has kept the Chargers' success under the radar.
For starters, the other team in Los Angeles is 6-0 and playing tremendously in the process. Secondly, Patrick Mahomes and the Kansas City Chiefs have demanded all the attention in the AFC West thanks to their electrifying start.
So nobody seems to notice that the Chargers are sitting at 4-2, and their only two losses are against the two aforementioned teams!
Philip Rivers has thrown 15 touchdowns compared to just 3 interceptions, and Melvin Gordon is ripping off 5.1 yards per carry.
Despite being undermanned on defense, the Chargers are figuring out how to get a pass rush without Joey Bosa.
While this time of year is generally filled with Bolts fans panicking and wondering if it'll be another lost season, the Chargers are instead in a prime position to win 11 or more games and secure a spot in the postseason.
Not that the Browns are one of the upper-echelon teams in the NFL by any means, but traveling cross-country and blowing out a non-conference opponent like that is cause for any LA fan to be excited.
Going 1-9 on 3rd down and passing for 203 yards generally isn't a recipe for success in this league, but guess what?
The Chargers rushed 36 times for a staggering 246 yards, which included 3 trips to the end zone from Mr. Gordon.
So despite the ugly 3rd down numbers and the inefficiency in the passing attack, Anthony Lynn's squad was still able to bludgeon their opposition on the road. In essence, they won going away without playing anywhere near their best football.
To me, that's the sign of a high-quality team.
The Debacle in Oakland Continues
I live in Las Vegas and can see the Raiders' new stadium being built. My friends and I have been uber-excited about this franchise coming to town, especially under the direction and leadership of Jon Gruden.
So what the heck is going on right now?They look like the worst team in the entire league!
Other than an overtime victory against Cleveland in Week 4, this team hasn't won a game. To be truthful, they didn't even look halfway competitive in London against the Seahawks in Week 6.
With nearly 85,000 on hand at Wembley Stadium looking for a fun atmosphere, Oakland hardly did anything other than roll out of the tunnel and take the field. The Raiders offense held the ball for almost the same amount of time as Seattle's, but they were only able to muster up 185 total yards.
Derek Carr, who Gruden has habitually praised, was downright awful. Completing 23/31 passes can sometimes get it done, but not when you only throw for 142 yards and lose 2 fumbles.
Forget about scoring touchdowns- the Raiders ran just a single play in thered zone all game. And it was a "Derek Carr sack" that resulted in a loss of 6 yards!
By the time this 4th quarter got going with Seattle leading 27-0, many who had spent their hard-earned money for a ticket had already abandoned their seats.
Not only was their horrific performance disappointing for the Raiders'players, coaches, and fan base, it was discouraging for all the fans in the UK who had been amped up to see this game.
Oakland is currently on a bye, and they better start figuring things out quickly.
I know Gruden is inked in for the next 10 years, but I can assure you that winning 1 out of every 6 games is going to keep his seat a lot hotter than he'd like it.
The Pats Are Who We Thought They Were
Belichick and Brady hate each other. The Pats dynasty is coming to an end.
It's a bit comical that both of those statements were being uttered leaguewide during the offseason, and especially after New England started 1-2.
But 3 wins later, including the impressive performance against Kansas City in Week 6, and suddenly now folks are jumping back on the Pats bandwagon.
Anyone who was naïve or mindless enough to say that "Brady was done" or that the team was falling apart apparently just hasn't been watching the NFL for the last, I don't know, about 18 years!
There is no machine in the league that is as well-oiled and as well-sustained as what this franchise brings to the table year in and year out.
Sure, Tom turns another year older, and new faces are forced to emerge and play big roles.
But as long as Brady and Belichick are commanding the ship in Foxborough, we all know how the AFC Division is going to play out.
The only question is if any team in the AFC will have enough to keep pace with them come December and January.
The Chiefs and Chargers are playing great football, and teams like Jacksonville and Pittsburgh still have a lot to prove.
But when it comes to the New England Patriots, stop asking all these foolish questions.
You know exactly what this team is about and the leadership that's in place. Tom is still playing at an MVP-caliber level, regardless of what year his driver's license says he was born in.
I told people not to panic after they dropped to 1-2, and now I'll tell you this.
All of you haters who are hoping New England falls out of the Super Bowl picture are just going to have to wait until "Tom Terrific" decides enough is enough and hangs it up for good.
And So Are the Bucs!
It wasn't long ago that the Tampa Bay Buccaneers were sitting at 2-0 and people were hailing Ryan Fitzpatrick as the frontrunner for league MVP.
But oh, how times have changed.
Now we are entering Week 7, and the Bucs are still stuck on 2 wins, and Ryan Fitzpatrick is holding a clipboard on the sidelines.
I'd love to tell you that this defense is just a below-average unit, but I don't want to lie to you.
The 24.6 points per game that Tampa is allowing ranks 32nd in the NFL, and the 439.8 yards they give up per contest ranks 31st. When there are just 32 teams in the entire league, this means that the Bucs defense is really, really bad.
So while some were getting excited after their 2-0 start, I promised you all that this team would come back down to Earth and start playing poorly and undisciplined.
And that's exactly what has happened, showing us that the Buccaneers are exactly who we thought they were!
They'll get a home tussle with the reeling Browns this Sunday, so perhaps they can get back to the winner's circle. Because after that, it's on the road to Cincy and Carolina, and we all know how those games are likely to pan out.
The Rundown
Week 6 was exactly what you should expect out of the NFL this time of year.
Teams are starting to feel pressure, and while some are equipped to rise and deal with all the adversity, others simply are not.
For example, we learned that the Jacksonville Jaguars are still a ways away from being a serious contender in the AFC, and we know that the Raiders aren't even in the discussion for being a team "on the rise."
The battle between the Patriots and Chiefs reminded me why I should never miss Sunday Night Football games with Cris Collinsworth and Al Michaels on the call.
The bottom line is that we are entering the meat of the NFL season, and the drama and high-tension situations aren't going anywhere. Expect highlights and bigtime plays to continue from here on out, because that's what this league is all about!
You can check out my NFL Week 7 picks right here on Friday.
Until then, good luck prepping for the weekend!