NFL Week 3 Betting Lines (2021) – Analyzing Early Odds for Every Game

The NFL continues to be as weird as possible. The perceived top shootout of week two was anything but, the Vikings missed a 37-yard field goal to win their game, the Titans took the Seahawks to overtime (and won), and a would-be TNF defensive battle resulted in a 30-29 firefight.
Week two isn't officially in the books as I write this, but in an effort to take a look at the early week three NFL odds, I'm bypassing the Monday Night Football game.
The odds will undoubtedly change drastically between now and when you may place your bets later in the week, but an early look can be useful. It may even reveal a price so alluring that you bet earlier than usual, too.
Regardless of when you bet, I'll be your guide to kick off week three. Here's a breakdown of the early week three NFL betting lines, with quick analysis for every matchup.
Early Week 3 NFL Betting Odds
Panthers (-7) -120 @ Texans (+7) +100
Cardinals (-7) -115 @ Jaguars (+7) -105
Colts (+5) -108 @ Titans (-5) -112
Washington (+9.5) -112 @ Bills (-9.5) -108
Saints (+3) -108 @ Patriots (-3) -112
Falcons (+3) +100 @ Giants (-3) -120
Bears (+7.5) -110 @ Browns (-7.5) -110
Dolphins (+5.5) -105 @ Raiders (-5.5) -115
Bengals (+4.5) -110 @ Steelers (-4.5) -110
Jets (+11) -110 @ Broncos (-11) -110
Buccaneers (+1) -110 @ Rams (-1) -110
Seahawks (-1) -115 @ Vikings (+1) -105
Packers (+4) -115 @ 49ers (-4) -105
Eagles (+3.5) -113 @ Cowboys (-3.5) -107
Last week there were two-point spreads over 10 points, but this week there is just one. That's New York on a road trip against the undefeated Broncos.
After a horrific week two start by Zach Wilson, it's hard to refute the logic there.
Nothing else for week three is too egregious at first glance, though. Chicago is a touchdown underdog on the road against the Browns, while the Panthers and Cardinals are the only other touchdown favorites on the slate.
BetOnline is one of the best sites when it comes to pricing and pushing out early odds, and that's where you can find the week three NFL odds you see above.
Who can you trust, and which odds pop off the page going into week three of the 2021 NFL season? Join me as I take a quick, initial look at each matchup.
Carolina Panthers @ Houston Texans
Panthers (-7) -120
Texans (+7) +100
Panthers to Win (-330)
Texans to Win (+275)
Over 43 (-110)
Under 43 (-110)
The first game of week three goes down in Texas, where Christian McCaffrey and the (gasp) undefeated Panthers visit the Texans.
C-Mac hasn't even been that amazing so far in 2021, and here Carolina rests at 2-0. The Panthers barely beat the Jets in week one, but they handled the Saints convincingly, and suddenly they look like one of the more balanced teams in the league.
Normally I'd still be worried here, as they are touchdown favorites on the road on a short week.
That still is a collective red flag, but Houston will be without starting quarterback Tyrod Taylor.
#Texans QB Tyrod Taylor will have an MRI on his hamstring injury and he'll know more tomorrow. But Taylor won't play Thursday night, source said. Davis Mills should get his first start on TNF.

— Ian Rapoport (@RapSheet) September 19, 2021
Taylor had been playing very well before getting hurt, and now Houston's seemingly underrated offense is in the hands of rookie passer, Davis Mills.
That's a bad thing. Houston has the edge at home, and they've played well to start the 2021 season, but they'll be a tough sell here. I hate the spread, but all signs indicate you're betting on the Panthers or avoiding this Thursday Night Football affair, altogether.
Arizona Cardinals @ Jacksonville Jaguars
Cardinals (-7) -115
Jaguars (+7) -105
Cardinals to Win (-325)
Jaguars to Win (+270)
Over 51.5 (-110)
Under 51.5 (-110)
Arizona enters this week three tilt with the Jaguars at a perfect 2-0. They stomped the Titans in week one, but got absurdly lucky as they watched the Vikings shank a 37-yard field goal as time expired.
Kyler Murray continues to be a cheat code, though, as he's helped the Cardinals put up 34 and 38 points to start the season.
It's rather unlikely his hot start ends against the Jaguars, who haven't done much of anything through two weeks.
Jacksonville's spread should arguably be thicker. You're not betting on the Cards straight up here, but the spread looks palatable (for now), and any Arizona game with a total under 55 has to be on the table for bettors.
Indianapolis Colts @ Tennessee Titans
Colts (+5) -108
Titans (-5) -112
Colts to Win (+198)
Titans to Win (-225)
Over 50.5 (-103)
Under 50.5 (-107)
This feels like a smash play for bettors. Indy is in trouble, as they're looking at an 0-3 start with a crucial divisional road clash in Tennessee.
The Colts aren't a bad team, but they're quickly trending in the wrong direction. They blew a lead at home against the Rams, and now they might be without starting quarterback Carson Wentz.
He didn't say much in his postgame presser to suggest he's a lock to play in week three. Here's what he said when asked if his ankle was broken.
"I'm not sure at this point, honestly. I don't think so, but we'll find out. I've sprained my ankle 100 times probably since I was a kid. This one I just couldn't play through at the end of the game."
Yeah, that doesn't sound great.
If he's out, Indy's week three hopes are in the hands of Jacob Eason, who finished the game 2-for-5 with a pick in relief of Wentz.
He would get to face a bad Titans defense, but I think with this game being in Tennessee, the Titans would have all the edge they need. Tennessee at -225 looks good, the Titans at -5 feels like a steal to start the week, and the Over also stands out.
Washington Football Team @ Buffalo Bills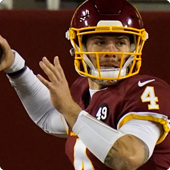 Washington (+9.5) -112
Bills (-9.5) -108
Washington to Win (+345)
Bills to Win (-425)
Over 47 (-108)
Under 47 (-112)
Washington is a tough team to peg. Their offense has new life with the dynamic Taylor Heinicke leading the charge, but their formerly elite defense did not look the part in week two.
I have to think the Football Team still comes to play here. Given their underrated offense and talented defense, Washington stands out as an against the spread play.
Buffalo is one of the more explosive teams in the league, but they've yet to fully get it going in 2021. They'll be at home and did inch closer to what we expect to see out of them last week, however.
I think the Bills win and this one feels like an ugly game waiting to happen, but it may be one to stay away from.
New Orleans Saints @ New England Patriots
Saints (+3) -108
Patriots (-3) -112
Saints to Win (+135)
Patriots to Win (-155)
Over 43 (-110)
Under 43 (-110)
It's official; nobody knows what to think of Jameis Winston now. He shredded the Packers in week one but came crashing back down to earth in a weak showing against the Panthers.
Alvin Kamara was also rendered useless, so bettors really have to wonder what they'll be getting out of this Saints offense from week to week.
I tend to trust Sean Payton, but history demands I trust Bill Belichick a little more.
Belichick embarrassed Zach Wilson last week, and the Pats get Winston and a suddenly sulking Saints offense at home. The top NFL betting sites are right to call this one close to the chest, but New England feels like the way to go here.
Atlanta Falcons @ New York Giants
Falcons (+3) +100
Giants (-3) -120
Falcons to Win (+145)
Giants to Win (-165)
Over 48.5 (-108)
Under 48.5 (-112)
Atlanta is struggling these days. The Falcons are only known for their offense, and they haven't been able to even get that right.
Matt Ryan and co. scored just six points in week one, and last week they imploded after cutting Tampa Bay's once large lead to 28-25.
There is potential here, and something has to break with the Dirty Birds and G-Men both winless at 0-2.
Picking a side feels like a quick way to lose in week three, but there could be value with the Falcons and their +145 moneyline. New York's defense should be better, but they did just give up a good amount of points to Washington on TNF.
The Falcons and the Overlook appealing here, but this is another week three NFL game that bettors may want to simply leave alone.
Chicago Bears @ Cleveland Browns
Bears (+7.5) -110
Browns (-7.5) -110
Over 47 (-110)
Under 47 (-110)
Week two was the week of quarterback injuries. Baker Mayfield went down before helping his Browns to a clutch week two victory, and Andy Dalton may be down for the count.
Oddly enough, the Bears and Browns face off in week three, with both teams hoping to avoid a 1-2 start.
Chicago is the clear underdog, as it looks likely that the Bears will be forced to turn to rookie Justin Fields a bit earlier than expected.
Here's what Matt Nagy had to say about the team's prospects with Fields under center.
"He's farther along than we thought he'd be at this point. We feel good with him."
Of course, I'm not sure he'd say anything negative about his rookie passer that may be thrown into the fire.
While that probably gives the Browns all the edge they need at home, consider Fields returns to Ohio for his first NFL start, and he's a dynamic player Cleveland doesn't know yet.
There could be value with the Bears at +7.5 in week three.
Miami Dolphins @ Las Vegas Raiders
Dolphins (+5.5) -105
Raiders (-5.5) -115
Dolphins to Win (+200)
Raiders to Win (-240)
Over 45.5 (-110)
Under 45.5 (-110)
Miami was rock solid in week one, but completely fell apart in a harrowing 35-0 shutdown loss to the rival Bills.
The Dolphins defense wasn't up to snuff, but the offense may have largely sputtered due to starting quarterback Tua Tagovailoa going down with a rib injury.
X-rays on Tua Tagovailoa's ribs negative. https://t.co/tfQdsAw1eo

— ProFootballTalk (@ProFootballTalk) September 19, 2021
Heading into week three, Tagovailoa's status is uncertain. Without him, Miami would be a tough team to back against a 2-0 Raiders team that is booming with confidence.
Las Vegas isn't appealing at -240, but this spread is a bit light if bettors are to believe Miami will be without their top passer.
Cincinnati Bengals @ Pittsburgh Steelers
Bengals (+4.5) -110
Steelers (-4.5) -110
Bengals to Win (+185)
Steelers to Win (-215)
Over 44.5 (-110
Under 44.5 (-110)
Joe Burrow came into a tilt with the Bears having not tossed a pick in nearly 200 passes. He tossed two in a row in a crushing road loss, however.
The Steelers endured their own misfortunes, as they couldn't get much going offensively in a tough home loss to the Raiders.
Suddenly the entire AFC North is looking for answers.
Historically, young quarterbacks don't fare well when traveling to Heinz Field, so demanding Burrow and the Bengals come in and get the win feels like a reach.
Both teams are viable ATS, but division rivalries are always tough to figure out. This could be another rare week three game bettors' glance at and move along.
New York Jets @ Denver Broncos
Jets (+11) -110
Broncos (-11) -110
Jets to Win (+500)
Broncos to Win (-650)
Over 41 (-110)
Under 41 (-110)
Week two was one to forget for Zach Wilson. Bill Belichick's historical run against rookie NFL quarterbacks continued, as he flustered the BYU alum all day, en route a four-interception debacle.
Bill Belichick's reign over rookie QBs continues vs Zach Wilson ? pic.twitter.com/9xDcwKGn3p

— PFF (@PFF) September 19, 2021
Wilson won't get it much easier in week three, as he turns around to battle the Broncos in Denver.
New York needs to be careful not to fracture their young franchise passer's psyche, but I don't see him getting out of this game unscathed.
The point spread feels a bit harsh, but Denver's defense and balanced offense just might be able to live up to the lofty expectations.
Tampa Bay Buccaneers @ Los Angeles Rams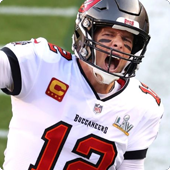 Buccaneers (+1) -110
Rams (-1) -110
Buccaneers to Win (-105)
Rams to Win (-115)
Over 54.5 (-110)
Under 54.5 (-110)
Tom Brady has been unstoppable to get the 2021 NFL season going. He tore apart the Cowboys for four scores in week one, and for an encore he dropped five more on the Falcons.
He gets his first tough assignment in week three, as he and his loaded offense head to L.A. to battle the Rams.
Both teams are 2-0 so far, setting up a clash of NFC titans, and also giving viewers a rematch of a 2020 tilt that did not go in Tom Terrific's favor.
Still, the Bucs can be had at +1 against the spread or -105 straight up. Those are awfully tempting prices for bettors, and it will be interesting to see how the lines adjust.
Seattle Seahawks @ Minnesota Vikings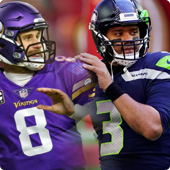 Seahawks (-1) -115
Vikings (+1) -105
Seahawks to Win (-120)
Vikings to Win (+100)
Over 55 (-110)
Under 55 (-110)
The Seahawks look to rebound from a tough overtime loss in week two, while the Vikes may be beyond that after missing a gimme field goal.
Minnesota is 0-2 and looking at a realistic 0-3 start here, although they're at home in a clear must-win game.
Team morale is as low as it could be, of course, as the Vikings played brilliantly on offense, only to fall to the Cardinals, 34-33.
Seattle did the same, as they should have beaten the Titans, but choked late and fell in OT. It will be interesting to see how both franchises respond, which also may make betting on this game difficult.
The explosive offense and magnitude of the game could create a tense environment, however, which makes the 55-game total appealing.
Green Bay Packers @ San Francisco 49ers
Packers (+4) -115
49ers (-4) -105
Over 48 (-105)
Under 48 (-115)
It isn't known yet if the Packers responded to their week one drubbing like a true title contender, but no matter what they do on Monday Night Football, week three feels daunting.
The hated 49ers are off to a nice 2-0 start, and the last two times a healthy San Francisco team faced Green Bay, they won easily.
With so many questions surrounding Aaron Rodgers and the Packers, another cross-country road trip is the last thing they need.
There is no moneyline available for this game just yet, but I'd be very interested in the 49ers' price. For now, San Francisco at -4 on a SNF home game stands out more than anything else.
Philadelphia Eagles @ Dallas Cowboys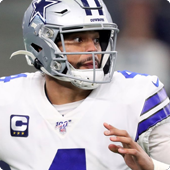 Eagles (+3.5) -113
Cowboys (-3.5) -107)
Over 52 (-110)
Under 52 (-110)
The last game of week three goes down in Big D, where the Cowboys hope to dispatch the rival Eagles.
Dallas got their 2021 season on track with a clutch road win against the Chargers in week two, while Philly hit a wall in a 17-11 loss to the 49ers.
Something has to break with these teams both coming in at 1-1, and the right to the top of the NFC East hangs in the balance.
I side with the Cowboys going into this one. They're at home, they're confident after almost beating the Buccaneers and snagging a week two win, and they're simply more talented.
The Dallas defense isn't quite up to part with their offense, but it does look better than it did a year ago.
Fans may see the balance shine through a bit more here, but the Over is a nice bet to marry with any Cowboys wagers in week three.
Betting on the NFL in Week 3
The NFL remains as volatile as ever. Add some injuries to the mix, and madness is sure to leak over into week three, as well.
While betting on pro football in the early weeks remains unpredictable, it's still not impossible to turn a profit. You just have to do your best to take advantage of matchups and betting trends, while also avoiding pitfalls.
What are those in week three? There should be more content coming out of our NFL betting blog to point you in the right direction. For now, hopefully my look at the early week three NFL odds sets the tone for a profitable week of betting.
If you're looking to bet on the NFL in week three, but could use more advice, be sure to check out these NFL betting strategies.