NFL Week 2: 49ers vs Seahawks Betting Picks and Preview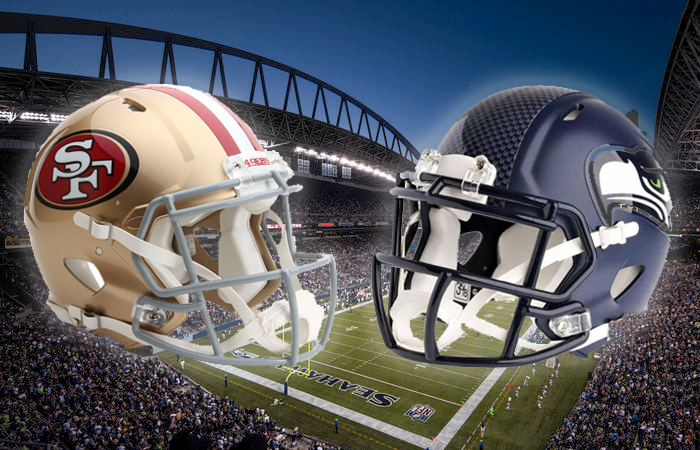 The 2017/18 NFL regular season is upon us. And with the return of football comes the return of divisional rivalries.
Experienced NFL fans know that of the 16 regular season games that every team plays, 6 of those games are played against the other three teams in one's division: 3 at home, 3 on the road. What this means is that every team plays every team in their division twice a year, every year.
With so many accumulated matchups, divisional teams get to know each other pretty darn well.
Who: San Francisco 49ers (0–1) vs. Seattle Seahawks (0–1)
Where: CenturyLink Field. Seattle, Washington
When: Sunday, September 17, 2017. 4:25 PM (EST) on FOX
This familiarity breeds two main consequences:
Teams develop rivalries with basically every team in their division. (I mean really, how would you feel if you were forced to battle with someone twice a year, every year?) Most all of the NFL's premier rivalries – Eagles/Giants, Packers/Bears, Steelers/Ravens – are intra-divisional.
Divisional games are often more competitive than other games. Football is a team sport, but its individual plays are comprised of a collection of one-on-one matchups. After years of lining up one-on-one against the same guy, the familiarity you gain makes those matchups competitive.
It's important to note that due to these two consequences – heated rivalry, and competitive advantage – we often see a curious phenomenon in divisional games:
Divisional games are often competitive even when there is a dramatic disparity in how good the teams are.
Even when a team is bad – even when they are so bad that they only win a handful of games – a team can often still give their division opponents a run for their money. There are several reasons for this:
Divisional games provide a degree of internal motivation. When a bad team faces a playoff-bound opponent that they haven't matched up against in 10 years, it's easy to think of the game as pointless. But when there's pride on the line, everyone starts playing hard.
Divisional games are full of spoilers. In divisional games, more than any other situation in the NFL, a bad team can be motivated simply to keep their opponent from succeeding. It doesn't matter whether they make the playoffs, so long as their hated rival misses the playoffs also.
In this way, even when a game appears by all accounts to be very one-sided – such as this Sunday afternoon matchup between the San Francisco 49ers and the Seattle Seahawks – knowing that it's a divisional game makes it much more interesting.
And for some reason, the NFC West seems to have the closest divisional games of all.
Consider last season. Despite the fact that the NFC West was one of the worst divisions in football, we saw the following out of the division:
The 49ers only won 2 games all season, and both wins came against the Los Angeles Rams
The Rams, in turn, first beat the Seahawks 9–3 and then later lost to them 3–24
The Seahawks, then, stalemated the Cardinals in a 6–6 tie, and later lost to them 31–34
The Cardinals, finally, lost to the Rams, but also ended up with the best divisional record
This is the kind of crazy, nonsensical logic that the NFC West will often follow: The Rams beat the Cardinals, who beat the Seahawks, who beat the 49ers twice, who beat the Rams twice. There's some sort of huge non sequitur in there that defies the laws of syllogism.
More specific to this game, last seasons' Week 17 matchup between the 49ers and Seahawks (in San Francisco) ended up decided by less than a field goal. While granted, it was Week 17, the Seahawks were still playing for postseason seeding, making the game meaningful, and they only just squeaked by.
But things are very different now, in 2017/18: These two franchises have diverged even further.
Despite their bad loss in Week 1, most folks around the league expect the Seattle Seahawks to be back to business as usual this season, meaning dominant in-season performances and a legitimate shot at a Super Bowl down the line. Seattle has a whole slew of long-term goals they're trying to accomplish.
Whereas the 49ers completely blew it up this offseason, bringing in a new GM (former safety-turned-broadcast-announcer John Lynch) and a new head coach (former Falcons' coordinator and offensive savant Kyle Shanahan). San Francisco is merely trying to begin the process of putting pieces together.
But even though these two teams are following very different trajectories, it's still entirely possible that this divisional NFC West matchup on Sunday afternoon could be just as competitive as ever.
And we've got you covered with all of the gambling tips you'll need to wager on this game. Specifically, we'll cover the following bets:
The moneyline bet
Bets against the spread
The total score over/under bet
Any prop bets or futures that might hold interest
Regardless of how good or bad teams in the NFC West are, the games they play against teams within the division somehow always end up being competitive and engaging. Here's hoping that America's Game of the Week: Week 2 Edition is nothing less!
49ers vs. Seahawks Betting
MoneyLine
49ers +600
Seahawks -1000
In order to pick games straight-up for moneyline odds, our philosophy always involves trying to determine which team wants it more.
When a team gains and maintains a mental edge, they simultaneously gain a real and tangible strategic advantage that you can see on the field. The team with momentum on their side wins more one-on-one matchups (particularly in the trenches) and makes fewer mental mistakes, which ultimately contributes to the victory.
In this case, it's pretty clear that the Seahawks have the mental advantage, for several reasons.
It is true that Seahawks did not look good in their Week 1 loss to the Green Bay Packers. And we should also remember, as we mentioned above, that in Week 2 last season the Los Angeles Rams ended up beating the Seahawks 9–3, keeping them from scoring a touchdown just as the Packers kept them from scoring a touchdown last week.
For whatever reason, Seattle has shown themselves over the past few years to be more vulnerable early in the season than late.
However, the first key difference between last season and this season is that last year the Seahawks won their Week 1 game, meaning that the team headed into Week 2 with a little bit more breathing room. This year, they'll go into this game against the 49ers with a bothersome record of 0–1.
On the one hand, it may seem rather flippant to point out the difference between being 0–1 and being 1–0. After all, it's only 1 game in a 16-game season. Consider the similar split between being 4–5 and being 5–4: It doesn't seem to make that big of a difference.
But in reality, the difference between 0–1 and 1–0 matters a whole heck of a lot in NFL locker rooms. In fact, reports from former players indicate that there is rarely a tenser time in an NFL locker room than when a team is 0–1.
The reason why being 0–1 is so meaningful is because it means that one more loss puts you at 0–2, teams rarely make the playoffs after starting 0–2.
And this isn't just some blind superstition, either. The statistics are quite clear.
Specifically, over the last ten years a total of 75 teams have had their seasons start 0–2. This is roughly one-quarter of the total seasons in this period, which makes sense: The four options for a team to start the season are lose-lose, win-win, lose-win, or win-lose, so you would expect each of those four options to happen roughly 25% of the time, in aggregate.
Of the 75 teams that have started 0–2 in the last ten years, only 8 (9.4%) have made the playoffs.
So, in essence, if you lose your first two games you have less than a one-in-ten chance of making it to the postseason.
It is important to note that one of these 8 teams who did make the playoffs after starting 0–2 happened to be the Seattle Seahawks last season, coincidentally. But given the struggles and adversity the team had to face in order to secure their playoff spot, and the way that their seeding fell late in the year, Pete Carroll and Russell Wilson will undoubtedly be eager to avoid having to repeat that difficult experience.
When a quarterback is as experienced as Russell Wilson, and when a team has had as much Super Bowl experience as the Seahawks have had, the ups and downs of the NFL season matter a whole lot.
You don't make the Super Bowl multiple times in a five-year period without having an acute awareness of how to ride the waves of an NFL season. And the Seahawks might be better at it than anyone. For this reason, every single person in the locker room will be locked in and laser focused this week.
But the mental element of avoiding going 0–2 isn't the Seahawks' only advantage.
We do believe that there is no more significant mental factor in this game than the simple fact that the Seahawks believe that they must not lose. Regardless of what the players and coaches say in interviews to discredit the 0–2 theory, deep down inside every player they understand how important Sunday is.
But in addition to this game being a must-win, the Seahawks are also playing at home.
It's well-known that the Seahawks have one of the best home-field advantages in the country. Not only is the "12th Man" alive and well, but CenturyLink Field also happens to hold the Guinness World Record for the highest decibel count in an outdoor stadium.
And not only is it loud – it's disruptively loud. The statistics collected on Seattle's home field advantage back up the fact that Seahawks' opponents do commit more offensive false starts and other pre-snap penalties than they would otherwise.
Not to mention that the team coming into Seattle isn't exactly one of the most disciplined in the league.
The 49ers have a brand-new head coach that obviously struggled with time management in his first game, as would be expected of any first-timer. Most of the units on their team are cobbled together from mixtures of old and new players, and really none of them has a whole lot of experience.
While the 49ers may be aware of the dangers of falling to 0–2 just as the Seahawks are, we believe that they just won't be able to avoid it. Despite the faith we have in John Lynch and Kyle Shanahan's long-term ability to turn the franchise around, there are certainly going to be some growing pains.
In the end, combining together the urgency that the Seahawks will be playing with to avoid going 0–2, the home field advantage the Seahawks get in Seattle, and the youth and inexperience of the San Francisco 49ers both on the field and among the coaching staff, and we think there's absolutely no way that the Seattle Seahawks don't win this Week 2 matchup on America's Game of the Week.
Spread
49ers +14 (-105)
Seahawks -14 (-115)
At this point, we've made our moneyline pick for the Seahawks to beat the San Francisco 49ers. And as it turned out, it wasn't really a difficult decision – there are a host of factors that will contribute to the Seahawks being able to maintain their mental advantage throughout the game.
In fact, the gambling public is so certain that the 49ers will win this game that odds-makers have set the line at a whopping 14 points. And even spotting San Fran two touchdowns, the odds are pushing Seattle.
This decision of whether or not to take the Seahawks against the spread is much tougher than the decision to take them for moneyline odds. Generally speaking, our philosophy in picking games against the spread involves looking at the winning offense and trying to determine whether or not they will be able to score enough points to not only win, but to win against the spread as well.
However, in this matchup, we believe that the Seahawks' defense matters more than their offense.
The Seahawks' offense looked bad in Week 1 against the Green Bay Packers and struggled to score an offensive touchdown. While the Packers did play very well on defense, the fact of the matter is that there are some holes for the Seahawks on offense, particularly on the offensive line.
We'll go into the Seahawks' offense in more detail in the next section. But in this case, we feel that discussing the way that the Seahawks' defense matches up against San Francisco's offense is actually much more important for a discussion of the bet against the spread.
If the Seahawks are going to score points this week, they'll be relying on their D.
First off, there is a definite possibility that Seattle could score points with their defense in this matchup.
Last week, even going up against the always-stingy Aaron Rodgers (who threw a total of 0 interceptions in the Packers' final 6-game regular season "Run the Table" win streak last year), the Seahawks' defense had scored a pick-6 after only 5 minutes and 23 seconds of regular season game time had elapsed.
Unfortunately, the play was called back. Rookie defensive lineman Nazair Jones stepped in front of a short screen pass and took it all the way to the house, with Rodgers in pursuit unable to catch him, but a questionable block-in-the-back call wiped the score off the board, and Seattle was left with only the interception (which they were ultimately unable to turn into points).
If the Seahawks can get a pick-6 off of Aaron Rodgers, they can certainly get one off of Brian Hoyer.
Last week, in the 49ers' bad loss to the Carolina Panthers, 31-year old quarterback Brian Hoyer (who spent last season as the backup to Jay Cutler in Chicago) threw an interception to Luke Kuechly, and he could easily throw a couple more to the Legion of Boom.
In fact, Hoyer in a Kyle Shanahan offensive system matches up particularly well against Seattle in terms of their ability to catch interceptions.
Last week, Brian Hoyer threw into tight coverage more than any other QB in the league. This defines any situation in which the receiver being targeted has a defender on him within one yard, and a whopping 48% of Hoyer's throws ended up going towards receivers blanketed by this type of tight coverage.
Last season, in his starts for the Bears while Jay Cutler was injured, Brian Hoyer finished 7th in the league in the number of throws going into tight coverage. And Kyle Shanahan's quarterback, MVP Matt Ryan, ended up 10th in the league. So now with Hoyer and Shanahan back together again (after formerly working together in Cleveland), there's a good chance those throws in tight coverage increase.
Not to mention that there's also a good chance that San Francisco will be playing from behind early and often in the 2017/18 season.
Last week, the 49ers went for it on fourth down a whopping 4 times and were unsuccessful each time.
Combine together a quarterback that loves to throw into tight coverage, an offensive scheme that often has plays specifically designed for that type of throw, a whole lot of high-pressure throwing situations when the team finds themselves in 3rd-and-long or 4th-down situations, and then add that together with the Legion of Boom, and you've got yourself a recipe for interceptions and potentially defensive scores.
And let's not forget that Brian Hoyer could be under pressure for the entire game.
With the addition of Sheldon Richardson to the Seahawks' already-stellar defensive front, the unit could soon become downright unblockable.
Even against one of the better offensive lines in the league last week, the Seahawks brought down Aaron Rodgers for multiple sacks. And the 49ers do not have one of the better offensive lines in the league. In fact, 4th-year left guard Zane Beadles looked downright terrible last game, and with Kyle Shanahan's scheme being primarily predicated on the offensive line, this doesn't bode well.
Look for the Seahawks to bring a lot of blitzes in this game against the San Francisco 49ers.
Generally, teams blitz because they need to, because their secondary can't hold up for very long and the only way to keep from being torn apart in the passing game is by limiting the opposing quarterback's time spent in the pocket.
This is obviously not the case for the Seahawks, who oftentimes get sacks simply because the opposing quarterback's receivers were so well-covered that he couldn't find anyone to throw to.
But noting that Brian Hoyer was blitzed 53% of the time by Carolina last week – to great effect – and further noting that last week the Seahawks blitzed Aaron Rodgers 11% more often than their average from last season, we just might see some heavy blitzing from Seattle at home against the 'niners.
Ultimately, if the Seahawks dominate on defense so much that their offense controls the time of possession and tires out San Fran's D, Seattle could run up the score. Tack on a pick-6, and it's over.
Pick: Seahawks to win by 14 or more points
Total Score
Over 42 (-105)
Under 42 (-115)
Now that we've established our prediction for the game – that the Seattle Seahawks will win by more than two touchdowns, relying on their defense to give the ball back to their offense by generating turnovers or defensive stops (and potentially even creating points of their own) – let's turn our attention to the total score over/under bet.
Generally speaking, our philosophy in picking the total score over/under bet is to look at the way that the opposing team's offense matches up against the winning team's defense.
However, as we mentioned above, in this case, the Seahawks' struggles on offense makes their defense much more important in terms of winning or losing the game and in cleaning up against the spread. Concordantly, it also makes their offense much more important for the total score bet.
Specifically, we believe that the only way this game goes over is if Seattle's offense goes off.
Seahawks fans are no stranger to offensive line woes. For years now, the offensive line has been the biggest problem with their team, and the primary reason why they are forced into a play style that relies on Russell Wilson's ability to make throws out of the pocket and to scramble.
Last season, when Russell Wilson's mobility was taken away due to injury, the team genuinely struggled to move the ball in the passing game.
This year, after once again spending insufficient draft capital to fix their offensive line, the issue was forced when putative starting left tackle George Fant tore his ACL in the Seahawks' second preseason game and was ruled out for the season. The Seahawks once again found themselves in need of a new blind-side protector.
The team is still struggling to pick up the pieces at offensive line, and the results were evident last week.
On the television broadcast of the Seahawks-Packers game, there were multiple shots of Russell Wilson more than 10 yards behind the line of scrimmage, with three different Green Bay defenders closer to him than any of his five offensive linemen.
Furthermore, the statistics don't lie. Through three possessions back and forth, the Packers had gained 100 total yards of offense; Seattle had gained 0.
Russell Wilson was running for his life. Wilson threw a whole third of his passes from outside the box last week, which is a whopping 23% more than league average. And these weren't designed rollouts either: these were times when the offensive line simply didn't give him the choice of staying in the pocket.
Not only did the Seahawks' offensive line not do its job in pass protection in Week 1, but their run blocking wasn't great either.
The Seahawks' top three running backs carried the ball only 15 times for an abysmal 53 yards (good for just over 3.5 yards per carry). Though Seattle claims that it is trying to become a run-first team, and acquired former Green Bay Packer Eddie Lacy this offseason to help replace Marshawn Lynch and move in that direction, their offensive line may well keep them from being able to accomplish this goal.
However, this game against the 49ers should provide a much easier test for Seattle's offense.
Undoubtedly, the Seahawks will have a whole lot of corrections to make upon watching the film from Week 1. But with the 49ers being so young and so inexperienced, they are certainly not going to pose as much of a challenge as Green Bay did. And with their defense likely to make lots of mistakes, the offensive line will likely have some leeway.
In the end, we believe that the Seahawks will be able to use this game against the 49ers to help get back on track on offense. However, we don't believe that they'll be able to score so many points that they push the total score over 42 points.
Pick: Seahawks 30, 49ers 6
Prop Bets
Now that we've established our overall view of the game – that the Seahawks will win by more than two touchdowns by relying on their defense to generate stops, turnovers, and potentially points, but that their offense will be unable to push the total score over 42 points – let's now see if we can't profit off of this view of the game by wagering on prop bets.
Specifically, we believe that the following prop bets hold good value in this Sunday afternoon game:
There will be a defensive or special teams touchdown – As we described in detail above, we feel very confident that the Seahawks will blitz Brian Hoyer until he is very uncomfortable, and when he tries to fit the ball into tight coverage (as he does often), the Legion of Boom will be there.
Russell Wilson to go over his posted total for rushing yards – As the 49ers are a very young team on defense with a lot of growing pains, we have no confidence in their ability to remain gap-sound and to prevent Russell Wilson from getting outside the pocket. Look for lots of scrambles.
Total sacks in the game to go over its posted total – We saw quite clearly last week that the Seahawks still have lingering concerns on their offensive line, and we also believe that their defensive front is going to get after Brian Hoyer all day. We could easily see a ton of sacks.
In addition to these in-game prop bets, which we'll get to watch unfold live, also keep an eye out for the following future bets, for which this game will have an impact:
Kyle Shanahan for Coach of the Year – While this certainly seems highly improbable, as the 49ers would probably need to get up to at least 9 wins, because of that the payouts in this case would be astronomical. We believe in Kyle Shanahan, so consider wagering on this massive long shot.
Russell Wilson for MVP – For years now, the shtick about Russell Wilson has involved how valuable and how necessary is his ability to make plays with his legs, given the Seahawks' constant struggles at offensive line. If he has another stellar season, he'll be 'in the running.'
49ers to go under 4.5 total wins – The Coach of the Year bet for Kyle Shanahan is an immensely improbable outcome, dependent on the 49ers surging into relevance. On the flip side of that coin, the team could also potentially end up losing 12 games and going under. Watch and see!
Experienced gamblers know that you can't just watch games to watch games. Keep constantly vigilant for future bets that you might want to take down the line, and watch this game specifically to see if anything during the game supports one side of the bets we list above.
Summary: Best Bets
With the return of football comes the return of divisional games, which account for well over a third of all the games we see throughout the regular season. Divisional games are always competitive, but for some reason, the NFC West always seems to offer particularly wonky matchups, where even the worst teams in the division keep games close.
Even still, we believe that this won't be the case in this game. With the Seahawks defending both their home turf and defending against the possibility of going 0–2, the team should come out with guns blazing. We like Seattle's defense to generate pressure, stops, picks, and potentially even points, and for the offense to get clicking more than they did last week as a result of the increased opportunities.
In order to profit off of this view of the game, here are our best bets:
Seahawks -1000 moneyline
Seahawks -14 against the spread (-115)
The total score to go under 42 points
There will be a defensive or special teams touchdown
Russell Wilson will go over his posted total for rushing yards
The total number of sacks in the game to go over
The NFC West surely does have some tricks up its sleeve for the remaining intra-divisional games this season, but this shouldn't be one of them. Look for the home team to take care of business in America's Game of the Week.