NFL Week 13 Betting Preview and Picks – Redskins vs. Eagles on MNF and Six More Games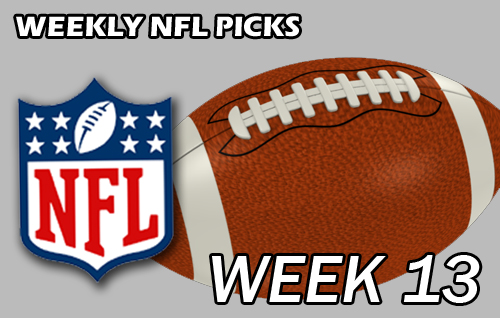 The NFL playoff picture is looking a bit muddled with several teams still in the mix for a postseason berth. Sunday's games are going to clear some of that confusion out of the way, as will Monday night's tussle in Philly between the Eagles and the Redskins.
If you are looking for insight and/or want to bet on some of the games, you're in a good spot. The top NFL betting sites have posted their lines, and they're waiting for your action. And I'm here to help you decide where to put your money.
In this NFL Week 13 betting preview, I'll be looking at the odds and lines for seven games. I'll analyze each matchup, make a prediction, and provide a betting pick. My goal, as always, is to help you find the best value in this week's football betting markets.
I'll jump right in by diving into the all-important clash taking place on Monday night.

The MNF Game – Washington Redskins at Philadelphia Eagles
The NFC East Division is bunched up, as no team has been able to separate themselves from the pack like Philadelphia did a year ago.
Now the Eagles find themselves in a virtual must-win scenario playing at home again against the depleted Redskins. If Philly can't find a way to get it done at Lincoln Financial Field versus a Colt McCoy-led squad, then they don't deserve to be in this race anyway.
Redskins vs. Eagles Betting Lines and Odds
Philadelphia Eagles (+6)
-115
Washington Redskins (+6)
-105
The season-ending injury to Alex Smith has flipped the script in this one, turning it into a game that now everybody thinks the Eagles have the huge leg up in.
Being that Colt threw three interceptions and was sacked three times during his Week 12 start in Dallas, I totally see where they are coming from.
The fact that the total is down at 45 is a direct reflection of Washington's ineptness when it comes to throwing the ball downfield, as Jay Gruden's club averages a putrid 213.7 passing yards/game.
That translates to scoring just 20.0 points per contest, good for 27th in the NFL. Being that the Eagles clock in at just 20.9 points per game and give up 23 points every time they take the field, you'll see that the total set at 45 is actually quite appropriate.
Redskins vs. Eagles Matchup
Washington might be averaging just 20 points, but the good thing is that they only allow 20.8. That ranks seventh in the league, a notch above their eighth-ranked rushing defense.
So despite not having a supreme aerial attack, the Skins have been winning games by making plays on the other side of the ball.
Washington's D is in the top ten in sacks and interceptions, and they're tied for the league lead with 17 forced fumbles.
They are going to need to bring their "A-game" tonight because the boys in Philly are beaming after their comeback win against the Giants last week. Rookie running back Josh Adams has surged to the top of the depth chart and doesn't look to be losing his grip on the starting job anytime soon.
Eagles head coach Doug Pederson had this to say.
"Listen, it's not to discount Corey or Wendell because they do a lot of great things as well. It's just that Josh now has kind of taken that lead, and we continue to grow and try to increase his touches each week."
Philly already owns the second-highest time-of-possession advantage in the NFL (behind New Orleans), so we know they won't be shy about running the football and draining the clock. They're still trying to work in recently acquired Golden Tate, as the slot receiver has more than enough skill and speed to be an asset for Carson Wentz.
Should Tate get going, Philly has a chance to really to start churning out points in bunches. Zach Ertz isn't just the most productive tight end in football – he's more than that. The Stanford product has reeled in more balls than every player in the league not named Adam Thielen or Michael Thomas.
Throw in Alshon Jeffery, Nelson Agholor, and a dynamic target in Dallas Goedert, and you'll quickly understand why this offensive unit has so much promise.
The momentum this squad picked up by storming back against New York last week combined with playing this "must-win" game in their own building – it might just be too much for Washington to overcome.
Redskins vs. Eagles Prediction
It's only a matter of time before the Eagles get their act together and play the type of football we know they are capable of playing.
The Redskins made headlines this week by signing disgruntled and troubled linebacker Reuben Foster, but if and when he suits up remains to be seen. I'm not necessarily saying this addition will be an ongoing distraction, but I'm not sure it does anything positive, either.
Philly is due for a big game where they run an opponent off the field, and I think we at least get a taste of that on Monday.
Redskins 13, Eagles 31
Redskins vs. Eagles Betting Pick
I feel comfortable taking Philly and laying the points here, but the over/under seems a bit too tight to call.
Baltimore Ravens at Atlanta Falcons
Baltimore has won two straight games and is right in the thick of the wild card race in the AFC. Atlanta likely needs to run the table and receive some outside help, so there is plenty up for grabs in this cross-conference tilt.
Ravens vs. Falcons Betting Lines and Odds
Atlanta Falcons (-1.5)
-110
Baltimore Ravens (+1.5)
-110
Generally a lights-out team at home, the Falcons are just 3-3 when playing inside the Mercedes-Benz Stadium in 2018. You could blame that on injuries, as Atlanta has sent seven players to the Injured Reserve (IR) list already this year.
But you could also point to a dismal defense and poor coaching (at times) because the Falcons have lost some extremely winnable games despite the unjust circumstances.
Now they'll have to go up against the league's number-one scoring defense and a team who is riding high after making a change at the quarterback position.
Joe Flacco is out, Lamar Jackson is in, and boy, does the Ravens offense look alive. Fans in Charm City are pretty amped up, but I would like to unveil something that may temper those expectations.
Jackson's first two starts both came at home against the Bengals and the Raiders, the league's 32nd and 30th-ranked defenses respectively. How Lamar plays in the raucous environment that he'll encounter in the A-T-L, that's what we have to try and figure out.
Ravens vs. Falcons Matchup
As I alluded to, let's not get too riled up with the Ravens winning back-to-back games under the guidance of the 21-year-old rookie out of Louisville.
Those games took place in Baltimore against the Bengals and the Raiders, so let's not start praising Jackson just yet.
There is actually another rookie on this offense who we need to start paying attention to because the kid out of Rutgers has strung together consecutive 100+ yard performances on the ground.
Gus Edwards will again be utilized for 15+ touches in Atlanta, but I'll be paying close attention to game flow. His lack of usage in the passing game could deter him from seeing the field if the Falcons are able to build a double-digit lead at any point.
Matt Ryan is a beast at home and should be able to keep Jackson, Edwards, and the Baltimore offense off the field. You'll be hard-pressed to find a better duo of wideouts than Julio Jones and Calvin Ridley, so it'd be a bit naïve to think that the Ravens secondary will be able to shut them down.
I know that John Harbaugh's men lead the NFL allowing just 18.0 points per game, but a game on Atlanta's turf against a desperate team is no easy task.
Ravens vs. Falcons Prediction
As leaky as the Falcons defense has been in 2018, I think they'll be able to flummox Lamar Jackson enough to cause a couple of turnovers.
The fact that the Falcons absolutely need to win this game to avoid being practically eliminated from playoff contention makes me want to believe in Dan Quinn, plus the Falcons players get to sleep in their own beds.
I'm not saying that Atlanta will score 40 points here, and I'm not saying that the Ravens lay a complete egg. I'm just saying I think the Falcons find a way to win this game.
Ravens 21, Falcons 27
Ravens vs. Falcons Betting Pick
I'm not really concerned with if this one turns into a shootout with tons of big plays or if we see a sloppy and ugly punt-fest.
I'm focusing on a highly-touted veteran QB playing a game at home that his team HAS to win. And it's against a rookie QB getting his first taste of an NFL game on the road.
That's plenty to steer me toward Atlanta's corner.
Buffalo Bills at Miami Dolphins
Neither of these teams is going to make the playoffs, but there still is plenty of AFC East pride on the line in Miami. Buffalo has won two straight games and will be looking to continue trending in the right direction with Josh Allen under center.
Bills vs. Dolphins Betting Lines and Odds
Miami will get a much-needed home game after dropping their last two contests on the road to Green Bay and Indianapolis. If Adam Gase and Co. are looking for a recipe to get things back on track, a home game against the Bills might be just what the doctor ordered.
You can see how little faith Vegas has in these two offenses, as the total is set way down at 40. Considering the way the rules have changed and the insane numbers we are seeing QBs put up, this is an awfully low number.
But then again, Ryan Tannehill and Josh Allen don't exactly knock your socks off, either.
Bills vs. Dolphins Matchup
Rather than go on and on and how "poor to mediocre" these offenses are, let's talk about the defenses.
Because they aren't all that bad.
Miami has intercepted 17 passes, more than every team in the NFL aside from Chicago. On the flip side, the Dolphins generate an anemic pass rush, compiling just 18 sacks (29th in the NFL) through the first 11 games.
The Bills D has been stout at times but has also shown their lack of discipline on several occasions.
They have been fairly competent against the lower-tier quarterbacks in the National Football League, and fortunately for them, that's exactly what they'll see across the line of scrimmage on Sunday afternoon.
Ryan Tannehill has squandered his chances to take this team to the next level, but here's the bottom line, folks.
A win in sunny south Florida in Week 13, and the Fins are back to .500 on the year.
Bills vs. Dolphins – Prediction
A win for the Dolphins is exactly what I anticipate happening.
It's the perfect storm for a bounce-back week. Miami has lost two in a row and needs to right the ship. Buffalo has won two in a row, and it's just a matter of time before they come back down to Earth.
Bills 17, Dolphins 23
Bills vs. Dolphins – Betting Pick
Obviously, if I predicted this game lands on 40, I'm not touching the over/under.
But in a matchup of two bad teams, I'll almost always lean toward the squad playing on their own turf.
Indianapolis Colts at Jacksonville Jaguars
Talk about two teams on the opposite ends of the spectrum. Indy comes in winners of five straight and squarely in the middle of the AFC Playoffs race. The Jags are in the midst of a seven-game losing streak and just pulled the plug on Blake Bortles.
Colts vs. Jaguars Betting Lines and Odds
Indianapolis Colts (-5)
-110
Jacksonville Jaguars (+5)
-110
At the beginning of the year, it would have been blasphemous to think that the Jags would be getting five points at home versus the Colts. But given what has gone on in 2018, the bookies are unable to trust Jacksonville anymore – on either side of the ball!
The Colts offense has been percolating, as they enter this game as the fourth-highest scoring offense in football. Andrew Luck was named as the AFC's offensive player of the month for November and appears to finally be back at full strength.
Colts vs. Jaguars Matchup
How much worse can it really get in Jacksonville?
Offensive coordinator Nathaniel Hackett was fired, and Blake Bortles has been demoted. Running back Leonard Fournette was just getting his feet back under him but will now have to sit this one out after being suspended by the league.
The team is 3-8 and has lost seven in a row, so what is there to look forward to?
Cody Kessler, the 25-year-old former third-round pick out of Southern Cal, is excited about this opportunity and wants to prove to Doug Marrone that he belongs in this position.
Given that the Colts D is nothing to be scared about, Cody should be able to move the chains and sustain some drives.
As for the Jacksonville defense, saying they have underachieved this season could be the understatement of the century. But with everything stacked against them, I think they'll have enough pride to show up for this one.
Colts vs. Jaguars Prediction
Everybody is seemingly going with Indy here.
After all, they are the hot team playing high-quality football and have been steamrolling their opponents over the past five weeks. The Jaguars haven't been able to do anything right.
But it's going to change this Sunday, as I think the combination of moving on from Hackett and Bortles lights a fire in the locker room.
Colts 23, Jaguars 24
Colts vs. Jaguars Betting Pick
I just don't think the Jags are really as bad as everything portrays them to be. And while I've been impressed with what the Colts have accomplished, I have a hunch that this is the ideal spot for them to slip up.
Trap game, anyone?
More NFL Week 13 Picks and Betting Advice
I broke down the MNF matchup, and I dove into three Sunday games that I'll be targeting. Let's finish by taking a quick peek at three more games that may be worth consideration for your football betting this week.
Los Angeles Chargers at Pittsburgh Steelers
The Chargers travel to Pittsburgh to take on the Steelers in what promises to be an electrifying SNF game. Pitt should be plenty angry after losing last week in Denver, especially the position players.
Ben Roethlisberger refused to take any responsibility for throwing the late-game interception that cost his team a chance, but that is now part of the past.
This offense has had no problem scoring a plethora of points at Heinz Field, averaging 35.4 points at home.
Meanwhile, the Chargers score 27.9/game, and Philip Rivers is playing the best football of his career. I'm expecting a shootout on Sunday night and therefore will be pouncing on the over.
Cleveland Browns at Houston Texans
Ever since Cleveland relieved Hue Jackson of his head coaching duties, the Browns are playing some much more inspired football. They didn't beat the Chiefs, but they whooped Atlanta and Cincy the following two weeks.
I think this team is due for another stellar performance.
Houston has somehow won eight consecutive games, and they very well could make it nine in a row this Sunday. But Baker is so fired up right now, I think he does everything in his power to at least keep this game within a touchdown.
San Francisco 49ers at Seattle Seahawks
The 49ers have been atrocious all season long. That's just the truth when it all boils down. Blame it on Jimmy Garoppolo getting hurt. Heck, you can blame it on this or blame it on that – it doesn't change the fact that they are 2-9.
Seattle has won two in a row and is back above .500 (6-5) after starting the year out 0-2. Russell Wilson is playing tremendously, and this offense has found a rhythm. By rotating three running backs, the Seahawks are able to keep fresh bodies on the field and wear out their opposition.
Playing at home in a game they need to win to keep their playoff chances intact, I don't see anyway Kyle Shanahan and his men keep this within shouting distance.
Seattle is the far superior team, and they'll let that be known on Sunday at CenturyLink Field.
Final Thoughts
Are you ready for the action this weekend or what?
If you haven't placed any bets, I'm not really sure what you are waiting for. These lines won't last forever, as the odds will be fluctuating all the way until the games kick off.
If you saw any favorable prices, my recommendation is this. Get online now and get your wagers locked in!

BOVADA IS AN EXCELLENT OPTION FOR ALL YOUR ONLINE FOOTBALL BETTING