NFL Week 1 Betting Lines for 2021 – Breaking Down the Early Odds for Each Game

The 2021 NFL season is still a few weeks away, but that time is going to fly by. Preseason is already back, and suddenly, week one is staring bettors in the face.
The top NFL betting sites are way ahead of us, as they had week 1 NFL betting lines out the second the 2021 NFL schedule dropped.
I waited for things to be ironed out a bit more, though, and also wanted full lines to work with. Now that we know a bit more about all 32 NFL teams, and the week one NFL odds are out for all to see, it's time to break things down and see how you may want to bet.
Betting Lines for NFL Week 1
Dallas Cowboys (+6) -105 @ Tampa Bay Buccaneers (-6) -115
Pittsburgh Steelers (+4) -105 @ Buffalo Bills (-4) -115
Jacksonville Jaguars (-2.5) -121 @ Houston Texans (+2.5) +101
Arizona Cardinals (+2.5) +105 @ Tennessee Titans (-2.5) -125
New York Jets (+4) -105 @ Carolina Panthers (-4) -115
Los Angeles Chargers (-1) -105 @ Washington Football Team (+1) -115
Philadelphia Eagles (+3.5) -110 @ Atlanta Falcons (-3.5) -110
Seattle Seahawks (+2.5) -105 @ Indianapolis Colts (-2.5) -115
Minnesota Vikings (-3) -125 @ Cincinnati Bengals (+3) +105
San Francisco 49ers (-7.5) -110 @ Detroit Lions (+7.5) -110
Cleveland Browns (+6) -110 @ Kansas City Chiefs (-6) -110
Miami Dolphins (+2.5) -110 @ New England Patriots (-2.5) -110
Denver Broncos (-1) -110 @ New York Giants (+1) -110
Green Bay Packers (-2.5) +100 @ New Orleans Saints (+2.5) -120
Baltimore Ravens (-4) -112 @ Las Vegas Raiders (+4) -108
Chicago Bears (+7) -110 @ Los Angeles Rams (-7) -110
The big takeaway when looking at week 1 NFL betting lines? That they're going to change.
There is always going to be a "summer timestamp" disclaimer when you look this far ahead, as injuries, trades, signings, and depth chart changes are going to alter who the top sportsbooks price games, and also how you view them.
One major thread that's been dangling from the proverbial sweater? The Aaron Rodgers saga.
It seems like Rodgers will indeed play for the green and gold this year, but there are still issues in his relationship with Green Bay.
Elsewhere, someone has to win that turd bowl between Jacksonville and Houston, while every single game has a spread of 7.5 or tighter. That still screams blowout potential, but an impressive eight contests are separated by no more than a field goal.
Week one should be pretty fun, but noting the odds is just part of the battle. Let's break each game down and come away with some early week 1 predictions.
Dallas Cowboys @ Tampa Bay Buccaneers
Cowboys (+6) -105
Buccaneers (-6) -115
Cowboys to Win (+240)
Buccaneers to Win (-285)
Over 51.5 (-115)
Under 51.5 (-105)
Dak Prescott sets forth on his journey to win the 2021 NFL Comeback Player of the Year award, and barring something weird, I assume he gets hit.
He's back under center for a potentially lethal Dallas offense, while big-play threat CeeDee Lamb has already told everyone to get their popcorn ready.
'Get your popcorn ready:' CeeDee Lamb channels T.O. with circus catch at Cowboys practice | From @ToddBrock24f7 https://t.co/kLfGZBHoSp

— TheCowboysWire (@TheCowboysWire) June 4, 2021
The Buccaneers won't be afraid, of course. Tampa Bay prepares to defend their title in the league's Thursday night kickoff game, and this is a game that should feature plenty of scoring.
Tampa Bay might do more of it, but I think this 51.5 game total is at serious risk. The Over was 11-9 for the Buccaneers last year, and at full strength, both of these offenses are capable of putting up 30+ points.
Dallas at +6 feels a bit dicey, but I think this game is somewhat competitive, and if so, the Over should easily hit.
Pittsburgh Steelers @ Buffalo Bills
Steelers (+4) -105
Bills (-4) -115
Steelers to Win (+240)
Bills to Win (-285)
Over 50 (-110)
Under 50 (-110)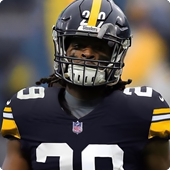 The Steelers are being slightly disrespected here – as they often are – thanks to a playoff meltdown, and fading down the stretch last year.
Trust me, I'm aware that Ben Roethlisberger is old and not quite what he once was, but he's still good enough – and has the weapons – to get the job done.
Pittsburgh's also going to be healthier and nastier on defense, while the offense gets balanced out with the addition of bruising tailback, Najee Harris. Harris was a monster at Alabama, and has underrated versatility; so much so, that some have likened him to Le'Veon Bell.
Buffalo probably still holds serve and gets the win at home, but people seem to forget that the Steelers started off 11-0 last year. They have a very aggressive defense led by T.J. Watt, and Harris balances out a more than capable offense.
Pittsburgh should keep this close, and they honestly aren't the worst upset try at this tempting +240 price tag over at BetOnline.
Jacksonville Jaguars @ Houston Texans
Jaguars (-2.5) -121
Texans (+2.5) +101
Jaguars to Win (-155)
Texans to Win (+135)
Over 45.5 (-110)
Under 45.5 (-110)
If you're betting on the NFL in week one, a good practice is singling out games better off left avoided. Some games just aren't appealing, or there just isn't a clear bet that stands out. When that's the case, just focus your energy and money elsewhere.
This may be one of those games, as both the Jaguars and Texans are teams in transition.
They could both be really bad this year, albeit for different reasons. The Texans and Jaguars have new, inexperienced coaching staffs, they have question marks under center, and they lack a lot of reliable talent in general.
I have slightly more faith in Jacksonville, but hey, this is the same franchise that just brought a 33-year old Tim Tebow back into the league.
It's a wash, but the Jaguars seem a little less dysfunctional, and there's a decent chance Trevor Lawrence makes them better instantly.
I like Jacksonville here, but I wouldn't blame you if you stayed away from this one.
Arizona Cardinals @ Tennessee Titans
Cardinals (+2.5) +105
Titans (-2.5) -125
Cardinals to Win (+130)
Titans to Win (-150)
Over 51.5 (-110)
Under 51.5 (-110)
That Thursday night kickoff game could be explosive, but it may not compare to what we see in this battle in Tennessee.
The Titans already offered immense offensive upside with A.J. Brown and Derrick Henry taking turns punishing opponents, but now the dominant Julio Jones is added to the mix.
Tennessee is suddenly unfair, but it's not like they're an easy call to win here. The Cardinals are also loaded with offensive talent, while Kyler Murray remains one of the most dynamic young quarterbacks in the game.
I can't pick a side here, but in the betting realm, I don't think you have to.
Tennessee ranked 4th in scoring last year, while Arizona put up over 25 points per game. With neither team boasting an elite defense, this game has incredible shootout potential.
Roll with the logical bet here and hammer the Over in week one.
New York Jets @ Carolina Panthers
Jets (+4) -105
Panthers (-4) -115
Jets to Win (+185)
Panthers to Win (-215)
Over 43 (-110)
Under 43 (-110)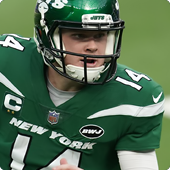 This is a fun one, as the Jets have a new head coach in Robert Saleh calling the shots, and New York also started over under center when they drafted Zach Wilson.
Prior to that, they traded away former franchise passer Sam Darnold, who they get to face in Carolina in week one.
That's awkward, to say the least, but Darnold gets a shot at instant revenge. The cupboard isn't bare when it comes to the weapons the Panthers have, and Saleh's defense probably won't be operating at an elite level immediately out of the gates.
New York could also be thrusting a rookie quarterback into the fire here, so it looks like this is trending in favor of the Panthers. That said, I am just not a fan of this game.
As noted before, if you can find a bet you like, go for it. If not, there are typically 10+ games on any given NFL schedule, so there's no point in forcing it.
The only bet I'd take is Carolina to win, but -215 is a bit rich to latch onto. If it comes down, betting on the Panthers straight up could have some appeal to it.
Los Angeles Chargers @ Washington Football Team
Chargers (-1) -105
Washington (+1) -115
Over 44.5 (-110)
Under 44.5 (-110)
This one should be a bit more straightforward. L.A. moved on from head coach Anthony Lynn, hypothetically scoring an upgrade on the sidelines when they brought in Brandon Staley.
Staley's Rams defense was the top-ranked unit last year, and his potential impact has him atop the 2021 NFL Coach of the Year odds.
Add that to the dynamic Justin Herbert and a loaded L.A. offense, and the Chargers are tough to hate in 2021.
Washington's defense deserves our respect and Ryan Fitzpatrick gives their offense a jolt, but the value with the Chargers is pretty obscene in this spot.
Philadelphia Eagles @ Atlanta Falcons
Eagles (+3.5) -110
Falcons (-3.5) -110
Eagles to Win (+175)
Falcons to Win (-205)
Over 48 (-110)
Under 48 (-110)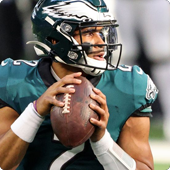 The Eagles and Falcons could give fans a fun shootout in week one. This game has a healthy 48 total, and neither of these defenses are very scary.
Jalen Hurts has a lot to prove as far as being a legit starting quarterback goes, but in his stint as Philly's starter, he was dynamic and entertaining.
Whether he "makes it" or not, he might be good enough to put up points on Atlanta in week one. Likewise, Matt Ryan and co. should have little trouble scoring here, even though they just shipped Julio Jones out of town.
Two first-year coaches in Nick Sirianni and Arthur Smith debut here, but both are sound offensive minds with a lot of talent to work with. Good luck predicting who wins, but I love the Over here.
Seattle Seahawks @ Indianapolis Colts
Seahawks (+2.5) -105
Colts (-2.5) -115
Seahawks to Win (+120)
Colts to Win (-140)
Over 51.5 (-105)
Under 51.5 (-115)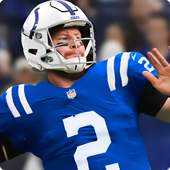 Russell Wilson seems to have moved on from a little offseason scuffle with Seattle's brass, and the Seahawks are committed to operating a more balanced offense.
In theory, the Seahawks still have one of the league's most dynamic quarterbacks, and their balanced philosophy will keep them in just about every contest.
Indy, meanwhile, has to cross their fingers that trading for Carson Wentz is worth it.
At one point a legit franchise star and borderline MVP candidate, Wentz has fallen from grace and needs to earn his way back to the top.
It's arguable Wentz has the best team around him he's ever seen, but I can't bring myself to trust him just yet. Betting against Russ in general is usually a bad idea, too.
Give me the Seahawks as a fun underdog in week one.
Minnesota Vikings @ Cincinnati Bengals
Vikings (-3) -125
Bengals (+3) +105
Vikings to Win (-160)
Bengals to Win (+140)
Over 48 (-110)
Under 48 (-110)
The Vikings will hope to get off to a fast start at Cincinnati this year. On paper, I don't see much reason to assume they won't.
Minnesota struggled defensively last year, and head coach Mike Zimmer was among the first to admit it. In fact, he called that defensive unit the worst he'd ever coached.
"This is a bad defense. Worst one I've ever had."
That infamous quote was in response to coughing up 52 points to the Saints, and Zimmer wasn't wrong.
While true, the Vikings should be better in that regard in 2021, and Dalvin Cook headlines a stacked offense that can mask any defensive issues in this type of matchup.
Cincy is at home and has their own offensive upside, but there are too many question marks, starting with a hopefully healthy and effective return of Joe Burrow.
San Francisco 49ers @ Detroit Lions
49ers (-7.5) -110
Lions (+7.5) -110
49ers to Win (-405)
Lions to Win (+325)
Over 45.5 (-110)
Under 45.5 (-110)
The Niners are owners of the thickest spread for week one, and it's hard to argue against it. Detroit traded away star quarterback Matthew Stafford this offseason, and also allowed top wide receiver Kenny Golladay to walk in free agency.
Detroit lost some serious talent, and then opted to bring in the relatively unproven Dan Campbell as their new head coach.
The brazen Campbell promises to batter a new philosophy into the Lions, but there are two risks here; assuming it works, and betting on it impacting the team right away.
New Lions quarterback Jared Goff knows the 49ers well, but he also just went 3-5 against them as a starter. Now in Detroit, he has a worse system, worse coaching, and worse weapons.
The spread isn't my favorite, but the talent gap may be real here. The 49ers at -7.5 really isn't a bad idea.
Cleveland Browns @ Kansas City Chiefs
Browns (+6) -110
Chiefs (-6) -110
Browns to Win (+210)
Chiefs to Win (-250)
Over 52.5 (-110)
Under 52.5 (-110)
The Browns and Chiefs meet again in week one. The two sides clashed in the playoffs last year, where KC ultimately prevailed in a relatively close battle.
Cleveland returns with more experience, a nasty running game, an improved defense, and a hopefully healthy Odell Beckham Jr.
Even with the NFL regular season pushed to 17 games, however, there is a lot of chatter about the mighty Chiefs going undefeated.
That's a tall order, and it'd be pretty funny if that plight was put to an end instantly in week one. Even if it's not, the Browns are better than people tend to think they are, and they could improve even more in 2021. I love them against the spread if you're betting on the NFL in week one.
Miami Dolphins @ New England Patriots
Dolphins (+2.5) -110
Patriots (-2.5) -110
Dolphins to Win (+110)
Patriots to Win (-130)
Over 45 (-110)
Under 45 (-110)
Maybe I can't quit Bill Belichick's greatness. Perhaps I should. Regardless, I find it hard to believe in Tua Tagovailoa, or Miami coming in and taking out the Pats to start the year.
The Dolphins are a good team headed in the right direction, but I felt better about them when they had Fitzmagic running the show.
History isn't kind to them, as the Pats are 15-7 in this matchup since 2010.
New England has their own unanswered questions, as Cam Newton is inexplicably back under center, and the team wasn't very good last year. That said, it's a B.B. coached team, they're at home, and the value is tough to get away from.
Denver Broncos @ New York Giants
Broncos (-1) -110
Giants (+1) -110
Broncos to Win (-113)
Giants to Win (-107)
Over 42.5 (-115
Under 42.5 (-105)
The Broncos have had loose ties to a potential Aaron Rodgers trade, and judging by the way practice has gone for Drew Lock, they should keep Green Bay on speed dial.
Unless that deal goes down, Denver will have to roll into New York with Lock or Teddy Bridgewater operating the offense, and I doubt it ends well.
The G-Men have their own issues as they hope and pray Daniel Jones takes the next step, but they also have a nasty defense, and are getting Saquon Barkley back.
Betting on the Giants doesn't feel good here, but they're the better team at this point, and they're at home.
Green Bay Packers @ New Orleans Saints
Packers (-2.5) +100
Saints (+2.5) -120
Packers to Win (-130)
Saints to Win (+110)
Aaron Rodgers wants some type of change in Green Bay, but I never saw him retiring or being traded in 2021 and it looks like he'll be staying put.
New Orleans, meanwhile, still don't know who their starting quarterback will be.
Green Bay entered New Orleans and got a win last year, and they did it without Davante Adams. They'll have him this time around, as well as an improved defense.
Provided Rodgers is on hand, Green Bay feels like a great bet.
Baltimore Ravens @ Las Vegas Raiders
Ravens (-4) -112
Raiders (+4) -108
Ravens to Win (-215)
Raiders to Win (+185)
Over 51 (-110)
Under 51 (-110)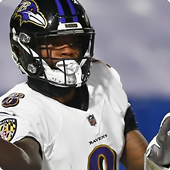 I don't get the constant disrespect Lamar Jackson has to face. Two years ago he quieted the critics en route to a historic season, and last year he still put up big numbers.
Both times, the Ravens won a bunch of games and got to the NFL playoffs.
Jackson can't get any respect, but all the guy does is ball, and in week one, he'll be facing a Raiders defense that has zero chance of stopping him.
On the other side is a fairly talented Las Vegas offense, but one that could run into a brick wall when they face a strong Ravens defense. Las Vegas can surprise at times, but the Ravens were quite good (11-7) against the spread last year, and I tend to trust them here.
The Raiders are also among the 2021 NFL win totals to avoid, so there's that.
Chicago Bears @ Los Angeles Rams
Bears (+7) -110
Rams (-7) -110
Bears to Win (+280)
Rams to Win (-350)
Over 45 (-105)
Under 45 (-115)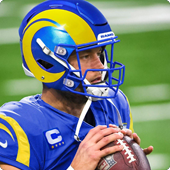 Betting on this week one NFL game could change depending on what the Bears do at quarterback. Right now, Andy Dalton is their guy, but if the more explosive Justin Fields gets the ball, look out.
Chicago also has a solid running game and Khalil Mack leading a fiery defense, so the Bears could be an interesting target when looking at this spread.
Of course, the narrative resides with the Rams, who seemingly upgraded their offense (and Super Bowl odds) by trading for Matthew Stafford.
Never a winner in Detroit, Stafford gets the best defense he's ever seen, plus fantastic coaching and a nice array of weapons. I like Chicago here, but I love Stafford and the Rams.
Bet on Stafford and co. making a strong first impression on Monday Night Football.
Betting on the NFL in Week One in 2021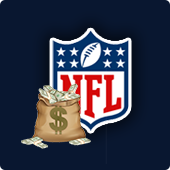 Week 1 NFL betting is always tricky. You really just don't know how all of the changes will take effect with specific teams, and so much can change between now and then.
It may make sense to place certain bets closer to the start of week one. NFL futures, week 1 NFL player props, and some individual game bets could use a bit more information.
That said, some prices are arguably as good as they're going to get. Taking a stand on a spread or moneyline now may maximize your betting value, and make you more money.
However you bet on week one, it pays to take an early look at the odds and matchups. Hopefully this week 1 NFL betting breakdown helped you go over each game, and inched you closer to formulating your ideal bets.
Check out our football betting guide for more general advice on how to find great wagers.
September
Casino of the Month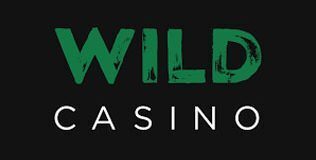 Welcome Bonus
250% up to $5,000