Hide Bonus Offers
| | | | | |
| --- | --- | --- | --- | --- |
| #1 | Bovada Sports | 50% Up To $250 | Visit Site | Bovada Sports |
| #2 | BetUS | 125% Up To $2,500 | Visit Site | BetUS |
| #3 | MyBookie | 100% Up To $1,000 | Visit Site | MyBookie |
| #4 | Everygame | 100% Up To $500 | Visit Site | Everygame |
| #5 | BetOnline Sports | 60% Up To $1,000 | Visit Site | BetOnline Sports |
Will Colin Kaepernick Find a New Team Before a Trump Cabinet Member Leaves Office? 4 Trump/NFL Prop Bets to Consider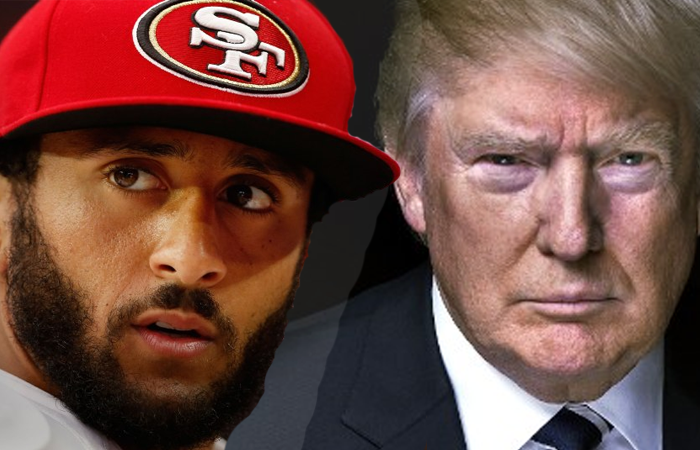 Some people say politics and sports need not mix. Politics can be a harsh reality at times, while sports exist to serve as a break from reality for most people.
There are plenty of examples of politics mixing with sports, however. We've seen countless Presidents throw out the first pitch at a Major League Baseball game. The President often makes an appearance at the annual Army-Navy college football game. We even saw guys like Sammy Sosa and Mark McGwire forced to testify in front of Congress because of steroid allegations.
So, politics and sports are not necessarily mutually exclusive. Over at Betonline, they even have a few prop bets specifically tying politics and sports together. They have four NFL/Trump prop bets available to the betting public, and today we're going to sort them out and identify the right bet.
Politics vs. Sports
Any NFL team to carry 0 wins into Donald Trump Jr. Testimony +350
All NFL teams will have at least 1 win by time Jr. testifies -500
Last season, the Cleveland Browns (surprise, surprise) were the last team to win a game. They had to wait until Christmas Eve, though, as they pulled out a narrow victory over the then-San Diego Chargers. The Browns are expected to be bad again this season, though many have them pegged for improvement. As a result, a 0-16 season does not appear to be on the horizon for the Brownies.
Most expect the New York Jets to be this season's doormat. They got rid of a slew of key veterans during the offseason, including Eric Decker, Brandon Marshall, David Harris and Nick Mangold. Their starting quarterback is going to be 38-year-old Josh McCown, who is awful at football.
There's a pretty solid chance the Jets go 0-16. That doesn't happen often in the NFL, but this roster just looks atrocious. The question is, when will they pick up their first win, if at all? It wouldn't be a shock to see them go into each of their 16 regular season games as an underdog.
They have a decent shot against Buffalo in Week 1, but that game is on the road. They also get easy games against the likes of the Jaguars and Browns on October 1 and 8, respectively. There's a greater than zero chance the Jets win one or both of these games. So, will Donald Trump Jr. testify before Congress before October?
Betonline clarifies that this has to be a public testimony in order to count. So, even though Don Jr. has already reportedly talked to certain congresspeople, we're still having to wait on him to hold a public hearing. Back in July, Jr. and former Trump campaign manager Paul Manafort reached a deal with the Senate to avoid holding a public hearing at the time.
So, we may have to wait a while until the junior Trump testifies before Congress publicly, if it happens at all.
As a result, the smart money is on all 32 NFL teams picking up a W before Trump holds a public hearing.
Which Will Happen First?
Colin Kaepernick is on an active NFL roster +165
Next Trump cabinet member leaves post -205
The Colin Kaepernick saga has been going on for months. In light of his decision to kneel during pre-game national anthems last season, Kaepernick has essentially been blackballed from the NFL. Now a free agent, Kaepernick has reportedly drawn interest from teams like the Seahawks and Ravens, though no deal has transpired. So, he's just sitting around and waiting for a team to give him a call.
Football is fairly violent, so injuries are obviously prevalent. Guys get hurt all the time. We've already seen one team, the Miami Dolphins, lose their starting quarterback for the season. However, rather than seek out Kaepernick, Miami was able to coax Jay Cutler out of retirement and install him as their new starter.
Kaepernick's dual-threat style admittedly isn't a fit for every team's offense. Cutler had already worked in the offensive system run by new Dolphins head coach Adam Gase, so the fit between both parties made plenty of sense. There are not many teams in the league nowadays that feature running QBs, though, so Kaepernick may be free for a while.
Trump cabinet members, on the other hand, seem to shuffle fairly regularly. A number of advisors, including Reince Priebus and Michael Flynn, have already resigned. Trump has also cycled through two communications directors in Sean Spicer and Anthony Scaramucci.
Attorney General Jeff Sessions has already clashed with Trump. Sessions' departure from the administration seemed inevitable as recently as two weeks ago, but things seem to have calmed down since John Kelly was installed as Trump's new chief of staff. For now, Sessions' job in the cabinet seems decently safe.
James Mattis, Betsy DeVos, Ben Carson and Rex Tillerson are a few other names to watch. Last month, Tillerson took some time away from his duties as Secretary of State after reports surfaced indicating that he was frustrated and considered resigning. Tillerson wound up staying on board, but it's not exactly a good sign that he took just a few months to consider leaving altogether.
So, if Sessions isn't the next to go, we think it'll be Tillerson. Will Kaepernick find a new team before one of these guys leaves the Trump administration? As of now, we've heard nothing regarding a team having a legitimate interest in bringing Kaepernick into the fold.
So, we are going to say that a cabinet member will resign first.
Which Will Happen First?
Mike Pence Sworn in as President +1200
First NFL head coach fired and full-time vacancy filled -2500
This one looks pretty easy. Despite numerous investigations and rumors regarding his displeasure with being President, there is no real reason to believe Donald Trump will vacate his post in the Oval Office anytime soon. He's notoriously stubborn, and there's no way he's going to resign this early into the term and wind up looking like a public failure.
He could always be brought down by some impeachment-worthy scandal ahead of time, but there's no telling how long these investigations are going to take. The Watergate investigation took over a year, and we're not even close to a year into Robert Mueller's special counsel investigation. We may not hear of any findings or real developments until 2018, at the earliest.
On the flip side, NFL coaches get fired all the time. Last season alone, the Bills fired Rex Ryan, the Chargers fired Mike McCoy, the Rams fired Jeff Fisher, the Jaguars fired Gus Bradley and the 49ers fired Chip Kelly. Broncos head coach Gary Kubiak also retired. Of those, though, only Fisher, Ryan and Bradley were canned while the season was still ongoing. The Chargers and 49ers waited until after the season ended to seek new coaches.
The key to this one is having the vacancy filled on a full-time basis. When NFL coaches are fired, the teams usually install an interim coach and then undertake a full-on coaching search once the offseason rolls around. It's incredibly rare to see a team fire a head coach and then immediately hire a full-time replacement.
That makes this bet a tad more complicated because it seems doubtful that we'll have a team hire a new full-time head coach until next January or February, at the earliest. Still, though, it seems far-fetched to suggest that Mike Pence could take over as the nation's 46th President before next January or February.
We're still going to side with the NFL half of this bet.
Which Will Happen First?
Any NFL game ends in a tie -1000
Donald Trump suspended from Twitter +600
Back in early July, we discussed the possibility that Twitter could actually suspend the personal account of the President of the United States. While Trump has undertaken a series of personal attacks against people using the social media platform, it still seems rather unlikely that Twitter would actually suspend its most infamous user.
Tie games in the NFL used to be pretty rare, but the new overtime rules unveiled a few seasons ago have made them a bit more common. Rather than having an overtime game end as soon as one team scored, the new rules dictate that both teams are awarded at least one possession if the other team fails to score a touchdown on their first possession of OT.
Between 1974 and 2008, there was a grand total of 17 tie games in the NFL. In the five seasons since the OT rules changed in 2012, though, we've had five ties already. Two of those came last season when the Cardinals tied the Seahawks on Sunday Night Football and the Redskins tied the Bengals just a week later.
Tie games still aren't super common, but we have to believe we're more likely to see one take place than we are to see Donald J. Trump get banned from Twitter. Trump could clearly do something reckless enough to get suspended at some point, but who knows when that'll take place?
The value is on the Trump side here, of course, but once again, we have to make the smart play and take the NFL tie game at -1000.