Hide Bonus Offers
| | | | | |
| --- | --- | --- | --- | --- |
| #1 | Bovada Sports | 50% Up To $250 | Visit Site | Bovada Sports |
| #2 | BetUS | 125% Up To $2,500 | Visit Site | BetUS |
| #3 | MyBookie | 100% Up To $1,000 | Visit Site | MyBookie |
| #4 | Everygame | 100% Up To $500 | Visit Site | Everygame |
| #5 | BetOnline Sports | 60% Up To $1,000 | Visit Site | BetOnline Sports |
NFL Rookie of the Year Odds – Is Baker Mayfield a Lock?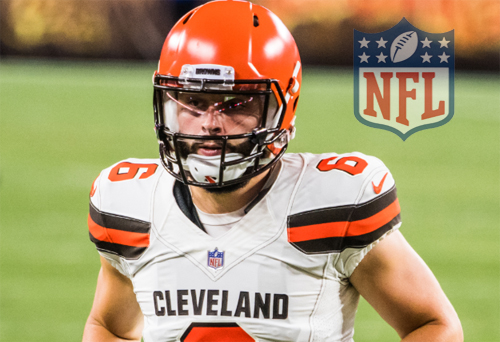 ESPN gets me thinking sometimes.
Recently, they got me back on the 2018 NFL Rookie of the Year train, and I thank them for that. Other things they push out and bring up, of course, not so much.
But this was worth reminding us all about, as this year's rookie crop was pretty special.
Josh Allen, Sam Darnold, Phillip Lindsay, Calvin Ridley, and Darius Leonard were all good to great at their respective positions.
There were other solid first-year players, too, and ESPN did their best to grade them by piecing together their own All-Rookie team.
I can't say I disagree with the list, but while ESPN stirred up debate over who should or shouldn't be on this team, they opened that ROY can of worms again as well.
It probably wasn't intentional, but considering both Baker Mayfield and Saquon Barkley made the first team, bettors and fans alike need to take notice.
First, because they're truly the only viable NFL Rookie of the Year candidates and also because most of the top pro football betting websites aren't offering any wagers outside of them.
You can bet on who will win Rookie of the Year right now at SportsBetting.ag. Before you do, here's a quick case for both Saquon Barkley and Baker Mayfield, along with my pick.
Should Saquon Barkley Win Rookie of the Year?
Saquon Barkley dominated the 2018 NFL Rookie of the Year race for a good portion of the season. He has the numbers to back up a first-place finish, and several of the top NFL betting sites list him as the favorite as well.
That's the situation specifically at SportsBetting.ag right now, where the New York Giants star running back is the pick over Baker Mayfield at a solid -140 price.
Barkley has a fine case. He put up a mind-boggling 2,000+ yards from scrimmage, while also racking up 15 total touchdowns and 91 receptions.
For all intents and purposes, Barkley WAS New York's offense.
Behind an inconsistent offensive line and with a regressing Eli Manning running the offense under center, there's something impressive about that. Unfortunately, Barkley's impact only led to a weak 5-11 mark, which was good for the bottom of the NFC East.
As strong as Barkley's numbers were, his actual impact wasn't felt enough to the point where he pushed the Giants to wins on a regular basis. New York's tendency to checkdown in their passing game also inflated his overall production quite a bit as well.
Overall, Barkley is 100% in the mix to be named the 2018 NFL Rookie of the Year. The problem is that he isn't exactly alone, and while the top NFL sportsbooks suggest he's the favorite, I tend to disagree.
Is Baker Mayfield the True Rookie of the Year Favorite?
Barkley put up monster numbers and was truly a joy to watch. However, it's quite arguable a much better case can be made for Baker Mayfield.
The Cleveland Browns quarterback was made the top pick in the 2018 NFL Draft and lived up to the hype in a hurry. Former head coach Hue Jackson did his best to keep that from happening for whatever reason, and it ultimately got him fired.
Since Hue left town, Mayfield has been officially unleashed. The Browns went 5-3 over the team's final eight games with Jackson out of the picture, with Mayfield dropping dimes and tearing up numerous defenses along the way.
The end result didn't get the Browns to the playoffs, but it saw Mayfield put up 3,725 passing yards and 27 passing touchdowns along the way. The former isn't all that jaw-dropping, but the 27 touchdowns through the air is a new NFL record for rookies.
Both numbers are actually way more impressive when you consider Mayfield didn't see a pro football field until week three and didn't start his first career game until week four. Quite literally, Mayfield ended up putting up 27 passing scores across just 13 of his 14 games (he didn't throw one in his NFL debut).
Had Hue Jackson backed Mayfield from day one and started the Oklahoma product right away, Mayfield would have almost certainly ended the year with well over 4,000+ passing yards and 30+ passing touchdowns.
In addition, it's very possible Mayfield could have done more than just push an 0-16 team to the brink of postseason play. He may have actually gotten them all the way in.
Betting on Baker Mayfield
Barkley is said to have the better numbers, but of these two options for NFL Rookie of the Year, Mayfield is easily the more impressive. He did this in a tough division, too, as the Baltimore Ravens boast one of the stingier defenses in football, and matching wits with the Pittsburgh Steelers is never easy, either.
Mayfield put up crazy numbers in less than a full year, broke a rookie record, got his team more wins, and almost had his team in position for a wild card spot. He also fought back against utter dysfunction and the drama surrounding his now-canned head coach.
Barkley really can't say any of that.
While I'll hear Saquon Barkley Rookie of the Year arguments, I ultimately feel like Mayfield has a stronger case. He also offers more betting value, as SportsBetting.ag has him standing in with surprising +100 odds.
I'm not sure if Vegas simply knows something we don't know here or if they're trying to drum up interest in Barkley. The Giants star rusher seemed to have faded in the Rookie of the Year race, and last I checked, Mayfield felt like the clear winner.
In my opinion, he still is.
Mayfield had a much more challenging job. He lifted a completely dormant franchise the second he stepped onto the field, as he entered Cleveland's week three game against the Jets for an injured Tyrod Taylor and stole a win.
Right off the bat, the Browns were back to being a competent organization, and after years (and years) of trying to find a stable franchise passer, they finally got one.
That isn't something that can be ignored, especially with the added pressure of being a first overall draft pick and being the predetermined savior of a completely dysfunctional NFL franchise.
If this is a pure numbers game, this is admittedly a close call.
Barkley still enjoyed one of the most complete seasons by a running back all-time, much less from a rookie with insanely high expectations. He still did all of this on a bad Giants squad with a weak o-line and a bunch of problems around him.
However, nothing is ever just about the numbers, and even if it were, Mayfield still has an amazing case. All things considered, he felt like the NFL Rookie of the Year during the second half of the season, and at a cool +100, I'm willing to bet he gets the nod.
If you agree with me, visit SportsBetting.ag now and get this price while you still can.