Hide Bonus Offers
| | | | | |
| --- | --- | --- | --- | --- |
| #1 | Bovada Sports | 50% Up To $250 | Visit Site | Bovada Sports |
| #2 | BetUS | 125% Up To $2,500 | Visit Site | BetUS |
| #3 | MyBookie | 100% Up To $1,000 | Visit Site | MyBookie |
| #4 | Everygame | 100% Up To $500 | Visit Site | Everygame |
| #5 | BetOnline Sports | 60% Up To $1,000 | Visit Site | BetOnline Sports |
NFL Props: Who Will Be Patriots Next Starting Quarterback?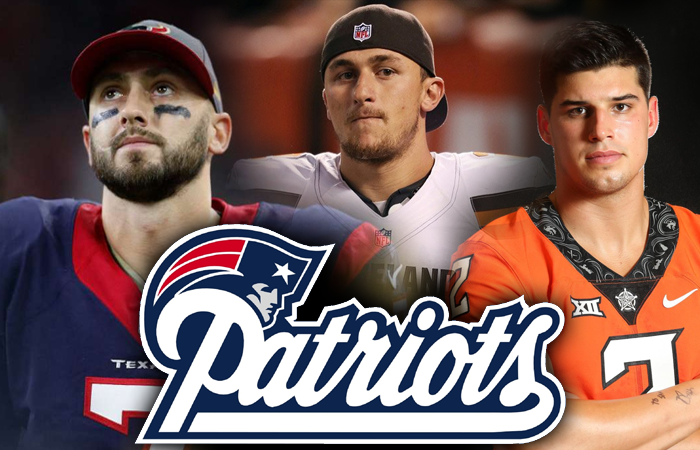 In all honesty, the future of the New England Patriots probably should be Jimmy Garoppolo.
The Eastern Illinois star flashed his long-term viability two years ago while Tom Brady served a four-game suspension and by all accounts, was a guy Bill Belichick and company believed in.
It's clear the 49ers love him and it really didn't take long for them to find that out, either.
Timing can really be everything in sports, though. Loyalty can be, too.
Jimmy G's contract was set to dry up at the end of the 2017 NFL season and as talented as he may be, he wasn't Tom Brady.
The man that literally built New England (in the franchise's current form) is over the age of 40 and will eventually meet up with father time, but he also won five Super Bowls and just this past season got the Patriots to an unfathomable eighth under his watch.
New England's hands were tied.
Whether there was ever a true schism up top in Foxboro, we may never know. However, a living icon has said time and time again his desire is to play deep into his 40's and you can't just cast aside the king in his own castle.
That's like trading Joe Montana or Brett Favre.
Okay, so even a blasphemous thought like dealing Brady or letting him go wouldn't exactly be uncharted territory, but New England probably had good reason to stand pat.
The main reason is they still believe Brady gives them their best chance to win and will do so for at least a few more years.
That's easy to buy, too. Brady has literally been aging for years, but the same skill-set remains and New England just keeps on winning and continues to vie for titles. After all, per Bovada and other top NFL betting sites, they're once again the Super Bowl 53 favorites heading into 2018
At some point Brady will hit a wall, though. That's why the chatter about the Patriots looking for a long-term successor (again) has gotten louder and louder this offseason.
That's especially the case since the team met with former draft bust Johnny Manziel at the Texas A&M pro day (twice).
It's even more compelling when you note that New England just dealt wide receiver Brandin Cooks to acquire two first round picks in a draft loaded with quality quarterback talent.
Needless to say, it is starting to look like the Patriots care about what happens beyond Tom Brady, even if they didn't seem to last season. Because of that, it's time for Patriots fans and sports bettors alike to ponder what the future under center could look like in Massachusetts.
There aren't any actual NFL prop bets out there for this (yet?), but I thought it'd be interesting to look at the most logical options and set my own odds for who will start at quarterback for New England after Brady.
Colin Kaepernick (+3300)
Anytime you talk about quarterback jobs in the NFL, you have to at least consider the guy that people can't stop talking about.
Kaepernick's skills eroded horribly over his final few years with San Francisco, but he can still start games in the league.
If his case against the NFL for collusion doesn't completely end his playing career, perhaps the Pats would kick his tires in the event Brady went down with an injury.
Jay Cutler (+1000)
If New England did have to go get a new starter to replace Brady in 2018, I doubt they'd go get a guy the rest of the league hates.
Instead, they'd go get someone a little more adept in the pocket like Cutler.
He showed everyone he was probably done last year with the Miami Dolphins, but it's not crazy to think he could come in and give the Patriots a reasonable backup plan in a pinch.
Teddy Bridgewater (+700)
This one is of the long-term variety.
Are bettors looking for someone who just takes over when Brady gets hurt, or are they betting on Tom Brady's long-term replacement?
Which side you're on is up to you, but for a future starter in New England, the talented Bridgewater isn't a bad try.
He latched on with the New York Jets for a one-year "prove it" deal this offseason and a year from now, no matter how 2018 goes, he could again go to the highest bidder.
There are concerns about Bridgewater's surgically repaired knee, but if the Pats swoop in and nab him in free agency next year, they could easily have Brady's replacement on the cheap.
Nick Foles (+550)
A slightly better option is Foles, who just got done beating the Patriots in Super Bowl 52. In a lot of ways a poor man's Brady, Foles can beat defenses over the top and win from within the pocket.
Foles turned into an elite passer during a magical playoff run and while that's not really who he is, he could end up being a perfect fit in New England.
Still in his prime, Foles wouldn't be a bad long-term Tom Brady replacement if New England can sidestep Philly's crazy trade demands.
The best way to do that is just wait the process out, as Foles is scheduled to enter free agency in 2019.
Johnny Manziel (+300)
New England literally met with Johnny Football mere weeks ago and seemingly have always been interested in his talent at least on some level.
Maybe they just want to turn him into the next Julian Edelman, but it's possible Bill Belichick loves the idea of grabbing a high level talent that nobody else will touch.
The Patriots are notorious for picking up other team's scraps and using them to win titles,
while Johnny Manziel turning into a success – let alone a champion – would be one heck of a story.
The beauty here is Manziel would come at an extremely cheap price. He's a free agent right now and nobody has been willing to touch him to this point.
If the Pats sign him and he's on the roster, he'd be the next man up should Brady get hurt or retire.
Lamar Jackson (+200)
This one is very interesting, as the Pats have been tied to the Louisville playmaker and obviously seem to be ready to invest in a Tom Brady insurance policy.
Could it be Lamar Jackson? It isn't the move Belichick and company have been known for, but Jackson would be a very refreshing direction for a team that has been winning games with one of the least athletic passers, possibly ever.
Jackson isn't the accurate, poised pocket demon Brady has been throughout his career, but he's about as dynamic and explosive as a quarterback can get.
A new chapter could be turning over in New England and with Jackson a strong bet to slide to the middle of round one or later, the Pats have to be seen as a potential landing spot for him.
Baker Mayfield (+175)
New England has been loosely attached to the Sooners star quarterback as well.
Their interest in a personality so closely aligned with Johnny Manziel is why media outlets put both passers on the map for New England, but at this point Mayfield might come with less baggage.
It's pretty argable Mayfield is the better passing talent right now, too, and he offers a little more size and a clean slate to work with in virtually all respects.
The only problem here is Mayfield is seen as a far better quarterback prospect than Jackson, so it'd take quite a bit of ammunition to trade up and land him in the 2018 NFL Draft.
New England does now have two picks late in round one, so it can't yet be ruled out that they're plotting a huge move up the draft ladder.
Mason Rudolph (+150)
The more logical play as things stand is to just wait and see who slides down to New England's 23rd overall pick. They also pick 31st overall, so depending on who is there and what the Pats want to do, they can weigh their options.
One of those possible moves could be snagging Oklahoma State passer Mason Rudolph, who has long been seen as a potential first round selection.
Rudolph doesn't carry the hype of the top five passers in this draft, but due to this being one of the better passing groups in some time, he could simply be being overlooked.
While not as flashy as some of the other quarterback prospects, Rudolph actually projects very well for New England's system as a big-bodied passer who can read defenses, take the top off the defense and also operate from inside the pocket.
I'm not saying he's the next Tom Brady, but the Pats could get a guy that mirrors their long-time superstar and they could pay a minimal price to get it.
Brian Hoyer (-125)
The other realistic option is simply Tom Brady's current clipboard holder, Brian Hoyer. This would place great emphasis on Brady going down with an injury in 2018 and getting an immediate win on the "who will start after Tom Brady" wager.
Hoyer knows the system and is a veteran presence, so barring a rookie being drafted or a veteran like Manziel being brought in, he makes sense as the next guy up.
Ultimately, the two most likely scenarios for Brady being replaced in the not too distant future are a devastating injury or an abrupt retirement.
Age increases the chance of a big injury with each passing game, while he could eventually be forced into retirement for a number of reasons.
Summary
This wager could be a reality in the near future, largely because New England is being talked about as a team that is in the market for a future franchise quarterback.
For now, I'd say the three bets to really track are the following:
Manziel (+300)
Rudolph (+150)
Hoyer (-125)
Manziel is the most appealing bet right now and offers the most value from this list.
The crazy thing is Brady feels indestructible. He's aging, but his skill-set is intact and as long as he's playing well, it doesn't make sense for him to retire or the Pats to force him out of town.
There isn't a Tom Brady prop bet involving the next Patriots starting quarterback just yet. However, I'll be regularly checking all the best football betting sites and seeing if one pops up. If it does, I like the value Manziel could potentially offer and I'd certainly be looking at the guys listed above.