NFL Props: Which Team Could Actually Go Undefeated?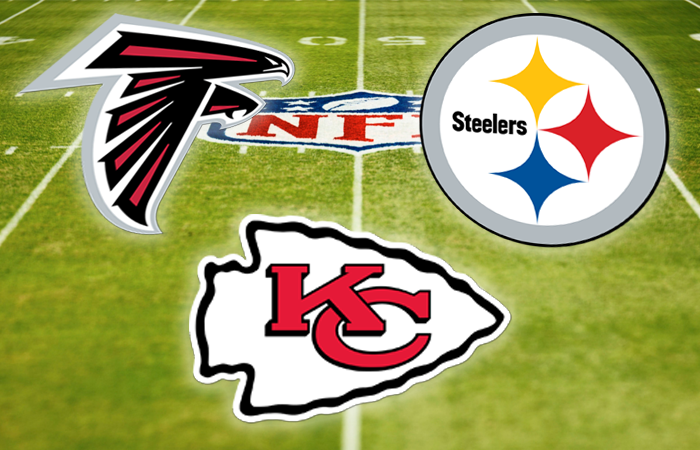 Forgive the 1972 Miami Dolphins for breathing a sigh of relief much earlier than usual this season.
The only team to go through an entire National Football League season without a loss or tie (including playoffs) has long been known to raise a glass (even if that rumor is not entirely true) when the final unbeaten NFL team each season goes down to defeat. Bob Griese, Larry Csonka and company have had to sweat things out a bit in recent years, especially in 2007 when the Patriots rolled into the Super Bowl with a 18-0 record before falling to the Giants.
Many believed the Patriots were capable of taking another run at matching the 1972 Dolphins' feat this season, and BetOnline posted odds as low as +1200 on New England going 19-0. But the Pats' quest for perfection in 2017 ended nearly as soon as it began, with New England falling on its face in an opening-night 42-27 loss at home to Kansas City.
Another of the league's potentially dominant teams, the Seattle Seahawks, also went down to defeat in Week 1. But before the 1972 Dolphins can gleefully crack open the champagne, there are 17 other teams that still need to suffer a loss first (the 15 Week 1 winners, plus the Buccaneers and modern-day Dolphins who had their season openers postponed due to Hurricane Irma).
Can any of those remaining teams threaten to run the table in 2017? Probably not, but the Carolina Panthers went 7-8-1 in 2014, then didn't taste defeat the following year until their second-last game of the regular season.
Which Team Will Be The Last To Lose In 2017?
TopBet.eu has a neat prop right now on which team will be the last to lose this season. Here's a look at who the bookmakers think can give the '72 Dolphins their biggest scare in 2017.
Atlanta Falcons: +850
Baltimore Ravens: +3,000
Buffalo Bills: +10,000
Carolina Panthers: +1,000
Dallas Cowboys: +500
Denver Broncos: +2,500
Detroit Lions: +3,500
Green Bay Packers: +450
Jacksonville Jaguars: +5,000
Kansas City Chiefs: +700
Miami Dolphins: +10,000
Minnesota Vikings: +2,500
Oakland Raiders: +550
Philadelphia Eagles: +5,000
Pittsburgh Steelers: +440
Tampa Bay Buccaneers: +6,500
Please Note:
If the last remaining undefeated teams lose their first game in the same week, ties will be broken based on the time that games conclude. If multiple teams finish the season undefeated, they will all be graded as winners on this prop.
Top 6 Teams That Could Threaten To Go Undefeated
Alright, so the Bills and Jaguars actually started their season on the right foot for a change. But we all know these 2 outfits aren't going to take a run at history, as their massive odds suggest.
In assessing the potential of any team to go unbeaten in 2017, let's narrow things down to the 6 favorites to be the last team to lose this season.
1. Pittsburgh Steelers
The Steelers didn't exactly show us that much in Week 1, scoring just 2 offensive touchdowns and collecting only 16 first downs in a 21-18 victory at Cleveland.
But it's not always easy to get up for a road game when you're a 10-point favorite against an also-ran like the Browns, even when it's the season opener. We all expect better from Pittsburgh, and the Steelers are 5.5-point home chalk this week against a Vikings team that looked really good in its Monday Night rout of the Saints.
Even if Pittsburgh gets through this week unscathed, the schedule doesn't set up that greatly for a lengthy unbeaten run for the Black and Gold.
Yeah, the Steelers get to visit woeful Chicago in Week 3, but then they have to travel to Baltimore for a tough divisional contest with the Ravens. 2 weeks later, Pittsburgh has another difficult road game, this time at Arrowhead Stadium against the Chiefs.
The schedule gets a little easier after that (home to Cincinnati, at Detroit, bye week, at Indianapolis, home to Tennessee). But as good as the Steelers have been over the years, they've lost 4 or more regular-season games in 12 straight seasons and 30 of their last 32. Their division games are always hard-fought battles, and Ben Roethlisberger's recent struggles on the road are well documented. For all of those reasons, I don't see Pittsburgh as a legitimate challenger in the race of unbeatens.
><
2. Green Bay Packers
Green Bay visits Atlanta on Sunday Night Football in what should be a terrific rematch of last year's NFC championship game. Barring a tie, that matchup also guarantees that 1 of the top remaining candidates to go undefeated in 2017 will be eliminated from contention.
Based on the odds (Atlanta is a 3-point favorite), it seems likely that it'll be the Packers whose quest for perfection will come to an early end. I'm not so certain about that, however, as Green Bay will be tremendously motivated to avenge last year's 44-21 defeat at Mercedes-Benz Stadium. The Packers also looked a lot better in their Week 1 win over the Seahawks (limiting Seattle to 12 first downs) than the Falcons did in a 6-point win at Chicago that required a goalline stand in the final seconds.
If Green Bay gets past Atlanta, back-to-back road games in Dallas and Minnesota in early October are the toughest obstacles in the Packers' path until late November, when they visit Pittsburgh.
Green Bay will be significant home favorites against Cincinnati, Chicago, New Orleans, Detroit and Baltimore during that span, and the Pack's only other road game before Pittsburgh is to Chicago, where the Cheeseheads always win.
3. Dallas Cowboys
Full disclosure: I'm expecting some regression from the Cowboys this year after their 14-2 campaign in 2016. And nothing about their 19-3 win over the Odell Beckham-less Giants in Week 1 really changed my opinion on that.
The Cowboys will get tested early and often this year as they're saddled with a first-place schedule. That begins this week as they visit Denver, one of the toughest stadiums for road teams to visit in all of the NFL. Though Dallas is a 1.5-point favorite, I certainly won't be surprised to see the Broncos pull off the mild upset.
The Cowboys also visit Arizona in prime time, then host Green Bay before their bye. But if Dallas can get through this tough early slate, it'll be rewarded with road games in San Francisco and Washington (where Dallas has won 4 straight games and 5 of its last 6), followed by 4 home games in a 5-game stretch.
4. Oakland Raiders
The Raiders are another team I expected to take a step back in 2017, thanks to the high number of close games they won last season.
But you have to be impressed with the way the Silver and Black went into Tennessee in Week 1 and earned a 10-point victory over a Titans team that many project as a playoff team this year in the AFC. Oakland is expected to carry that momentum into this week, where the Raiders are a 13.5-point home favorite over the hapless Jets.
That's just 1 of many very winnable games on the Raiders' early-season schedule. Oakland will visit Washington in Week 3, then play 3 straight home games after an October 1 trip to Denver. After that, the Raiders get to visit Buffalo and Miami, then enjoy a bye week.
Things get a bit tougher after Oakland's week off with consecutive games against the Patriots, Broncos and Giants, but at least the Raiders will be home for all of those contests.
5. Kansas City Chiefs
If the Chiefs are going to go unbeaten in 2017, they already got the tough part out of the way. Kansas City racked up more than 500 yards of offense in a stunning rout of the Patriots on opening night, despite being an 8-point underdog.
The Chiefs are 5.5-point favorites this week at home to Philadelphia, and will probably be small chalk the following week when they visit the Chargers in Los Angeles. They also need to travel to the Texans, Raiders and Cowboys before their bye in Week 10, with home games against the Steelers and Broncos mixed in.
That makes it a longshot for Kansas City to go into the bye undefeated.
But if the slim chance that the Chiefs do, their remaining schedule is actually pretty favorable.
Andy Reid has a tremendous record in his teams' first games after a bye week, which could help KC get by the Giants in New York. Follow that up with games against the Bills and Jets, then home dates versus the Raiders, Chargers and Dolphins, and only a Week 17 visit to Denver would stand in the Chiefs' way.
6. Atlanta Falcons
It may seem surprising to see the defending NFC champions ranked as just the sixth-likeliest team to be the last to taste defeat in 2017. But as I mentioned earlier when discussing the Packers, there's a decent chance that Atlanta suffers its first loss this week.
However, if the Falcons get by Green Bay (don't forget, Atlanta is a field goal favorite), their next 3 games are against the Lions, Bills and Dolphins. Factor in an early bye week and the Falcons stand a decent chance of remaining unbeaten going into an October 22 game in New England.
The Falcons' chances of going unbeaten look much more daunting. Even though they'll be gunning for revenge for last year's Super Bowl loss when they meet the Patriots, a game in New England is still no easy task.
Atlanta also has to visit the Seahawks and host the Cowboys, in addition to its regular division slate of home-and-homes with the Panthers.
Will Any Team Go Undefeated In 2017?
I'm not exactly going out on a limb here, but those 1972 Dolphins might as well start celebrating right now.
Not that New England ever was a serious threat to go 16-0 (even Bill Belichick and his players mocked those projections before the season), but the Patriots were definitely the most likely candidate to do it. Ironically, they're now one of the biggest obstacles in the way of any other team running the table, since Atlanta, Oakland and Pittsburgh all have a meeting with the Patriots remaining on their schedules.
As for Topbet.eu's prop bet of who will be the last team to lose this season, I love the value on Atlanta at +850.
Yes, they have to beat Green Bay this week, but their schedule after that is really soft – plus they have a bye week that is essentially a "free victory" when it comes to this prop. With the tough early-season slates that most of the top teams in the NFL are facing this year, a 5-0 record going into Week 7 might be all that it takes to cash this ticket.