Hide Bonus Offers
| | | | | |
| --- | --- | --- | --- | --- |
| #1 | Bovada Sports | 50% Up To $250 | Visit Site | Bovada Sports |
| #2 | BetUS | 125% Up To $2,500 | Visit Site | BetUS |
| #3 | MyBookie | 100% Up To $1,000 | Visit Site | MyBookie |
| #4 | Everygame | 100% Up To $500 | Visit Site | Everygame |
| #5 | BetOnline Sports | 60% Up To $1,000 | Visit Site | BetOnline Sports |
NFL Futures and Props to Bet in Week 15 – Next Head Coach to Be Fired and More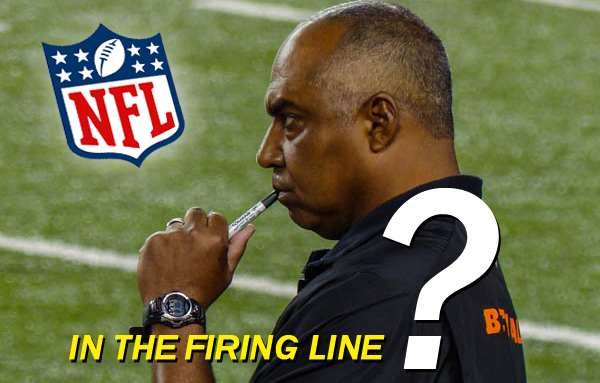 A couple of weeks ago, I took a look at which NFL head coaches would be next in line to get fired.
Mike McCarthy led the way with the best odds, but his strong 13-year tenure and the fact that he won the Green Bay Packers a Super Bowl kept me from pulling the trigger.
I was wrong.
McCarthy was the next NFL head coach to be handed a pink slip, and if he can be sent packing before the regular season is up, pretty much anyone is at risk.
Seriously, McCarthy was one of the most shocking in-season firings I've seen in a while. I know the Packers hadn't been good under his watch lately, but I felt he deserved better than that.
Heck, he earned it.
But apparently not. Due to that, bettors need to ponder which other head coaches could be at risk of a similar fate. Let's take a look at the current climate for NFL shot-callers, as well as some other NFL futures and props that are popping at the moment at football betting sites.
NFL Head Coach Firing Odds
A lot can change in a matter of weeks. I thought the Packers would give McCarthy to the end of the year and that it'd instead be Jets head coach Todd Bowles getting cut loose.
That didn't happen, and now the Packers are looking for a new coach.
New York rallied behind a healthy Sam Darnold and got a win this past week, so for the moment, Bowles may have bought himself some time. To be fair, though, just about everyone has probably saved themselves from being fired during the season at this point.
It'd take a special kind of ineptitude to get anyone else canned with just three regular-season games left. It's not impossible, though, and whether someone gets fired now or immediately when the season ends, it's the bettor's job to figure out who gets let go first.
Bowles is still in play, and Vegas agrees. He's not the coach with the best odds of being fired first, however.
Check out who leads the way at SportsBetting.ag.
Steve Wilks – Arizona Cardinals
+200
Marvin Lewis – Cincinnati Bengals
+300
Todd Bowles – New York Jets
+300
Dirk Koetter – Tampa Bay Buccaneers
+400
Ron Rivera – Carolina Panthers
+500
Vance Joseph – Denver Broncos
+1000
Adam Gase – Miami Dolphins
+2000
Adam Gase probably has bought himself at least another year in South Beach. Not only did he deliver one of the most dramatic wins possibly ever, but he pulled it off against the New England Patriots.
Putting your stamp on league history, taking out your arch rivals, and pushing for a playoff spot all in one week tends to keep you around. Gase isn't worth betting on for this wager, but literally everyone else on this list has their head on the chopping block in some capacity.
While I love this list, and the odds are pretty appealing, I can't help but notice some glaring omissions. Guys like Pat Shurmur, Mike Zimmer, and Dan Quinn should at least make the cut for bettors to consider betting on.
Still, it's a fine list, and the odds are good that one of these guys will be fired in the not-too-distant future.
Which NFL Head Coach Gets Fired Next?
While everyone on this list is at risk to a certain degree, I think this prop comes down to Wilks, Lewis, Bowles, and Koetter.
Rivera has had some questionable decision-making, but his Panthers have been in virtually every game they've lost. He was also recently in a Super Bowl, so I have to think he has at least one more year.
Vance Joseph is definitely on thin ice as well, but Denver still has a shot at the playoffs. I doubt John Elway pulls the plug on him before the season is up.
That's the big question you have to ask yourself: who on this list is in serious danger of being canned before the season ends? I don't really think any of them, as that isn't enough time for anyone to make any bold changes or implement anything for next year.
Because of that, the firings are coming after the season ends, and the guy that has to be done is Marvin Lewis.
It's possible he simply retires, and then we can all laugh at the Hue Jackson rumors, but this collapse was pretty brutal, and he's never won a playoff game in Cincinnati. If Mike McCarthy can get fired, Lewis probably should have been let go years ago.
I think the end of the line has finally arrived for Lewis, and if the Bengals lose again this week, it's not impossible they move on immediately.
Super Bowl 53 Winner
Another popular NFL future is obviously going to be betting on the Super Bowl. It's a very compelling wager this year specifically, just because there are so many viable threats.
The Los Angeles Rams, New Orleans Saints, and Kansas City Chiefs are flat-out elite teams that can rip teams apart offensively. But that trio doesn't stand alone.
You can't ever fully rule out the New England Patriots, while teams like the Los Angeles Chargers and Chicago Bears figure to have the balance necessary to make a title run.
Of the lot, I tend to favor the Saints at +350.
They're tied with the Rams for the best Super Bowl 53 odds over at SportsBetting.ag, but right now, the road to the Super Bowl goes through the dome in the NFC. That's not good for the rest of that conference.
The Rams are also a fine play, while the Bears (+1000) might be a team you'll want to toss some money at right about now. That defense is insane, and Matt Nagy's offense can do just enough to scratch and claw their way to wins.
Kansas City (+500) and New England (+700) also offer insane value right now as two perfectly capable championship contenders.
If you're seeking even more value than what the Bears offer, consider the Cowboys (+2000), Texans (+2000), and Seahawks (+2500). These are three more teams that can run the football and play solid defense.
I'm still sticking with the Saints, but check out Michael Wynn's latest Super Bowl betting advice column if you want a closer look at the options.
PICK
New Orleans Saints
+350
NFL MVP Betting
It seems Patrick Mahomes has finally ascended to the top of the NFL MVP discussion. He has put up dazzling numbers all year long, and then he pulled off this little number last week.
That's a no-look pass, folks. This isn't the NBA, but it darn sure feels like it when this kid is making impossible plays like that look effortless.
Mahomes engineered an impressive fourth-quarter comeback against a good Ravens defense, too, all while Drew Brees regressed statistically over the last two weeks and even lost to the Dallas Cowboys.
Here's how the NFL MVP odds shake out at the moment.
Patrick Mahomes – QB, Kansas City Chiefs
-150
Drew Brees – QB, New Orleans Saints
+110
Philip Rivers – QB, Los Angeles Chargers
+1600
Aaron Donald – DT, Los Angeles Rams
+5000
Donald has a chance at the single-season sack record, but defensive players don't win this award. He also has Jared Goff and Todd Gurley on his team, so it's unlikely he's a strong threat.
Rivers is a mild threat. His numbers are comparable to Brees, and he has the Chargers in position to steal the AFC West, earn a bye, and possibly even win the franchise's first ever Super Bowl.
Should the Chargers do some of those things and should he finish the year strong statistically, he'd certainly be in play. That makes him a viable flier bet, but he's admittedly still a long shot.
This is, quite simply, a two-man race.
Mahomes has the stats, and over the last two weeks, he's continued to wreck even though the Chiefs cut ties with star rusher Kareem Hunt. He continues to get the job done at a high level, and if he leads the Chiefs to a division title and first-round bye, the argument for him is very strong.
Brees is having an amazing year, and there is a strong narrative backing him since he's never won MVP before, but for now, Mahomes is the easy call.
NFL Rookie of the Year Betting
You can (and should) also bet on who will win the 2018 NFL Rookie of the Year. Saquon Barkley entered the year as the odds-on favorite, and thanks to a truly sensational season, he's closing as the top guy to target as well.
I predicted he would win Rookie of the Year back in May, and he's lived up to that.
Barkley has really been dominant, and while his Giants have struggled, they're 4-1 over their last five games largely thanks to him. The former Penn State product has over 1,700 total yards and 13 total scores, and there are still three games to go in the year.
One could make a valid argument that Barkley has been the best running back in the NFL this year, let alone the best overall rookie.
Cleveland's Baker Mayfield has also been quite good and figures to be Barkley's only realistic threat.
Here are the latest NFL Rookie of the Year odds, per MyBookie.ag.
Saquon Barkley – RB, New York Giants
-850
Baker Mayfield – QB, Cleveland Browns
+500
Phillip Lindsay – RB, Denver Broncos
+1800
Nick Chubb – RB, Cleveland Browns
+3300
Sony Michel – RB, New England Patriots
+6600
As you can see, Barkley looks to be the runaway favorite, and the next closest guy is Mayfield. Lindsay has been very good, and he has Denver sniffing the playoffs, while Chubb has been excellent and simply got handed a big role too late in the year.
If both of those guys had their current roles from day one like Barkley did, their teams would probably be better for it, and they might have a decent shot. Unfortunately, that simply isn't the case.
There are other throw-ins like Sam Darnold, Josh Allen, Calvin Ridley, and the like, but nobody offers the consistency and high-level numbers that the guys listed here do.
It's obviously between Barkley and Mayfield, and right now, there's little to suggest Mayfield has much of a chance at the upset.
The Browns could actually make the playoffs if they won out and got a ton of help, though. If Mayfield is the reason why and that happens while he continues to put up huge numbers, he'd have an outside shot at stealing this thing.
Barkley is probably winning ROY, though. The -850 price makes it a questionable bet, but I'm inclined to think there's just about some value here. At the same time, I wouldn't talk you out of putting a few bucks on Baker to cause an upset here.
2019 NFL Draft #1 Pick Odds
Lastly, you can bypass everything in pro football that's going on right now and look to next year. The majority of the league's fans have to do that already, so sometimes it's not the worst idea to do that as a bettor.
I personally love following the NFL Draft, and I also love researching and betting on it. One of the best NFL Draft prop bets to target is the race for the top pick, and right now, Ohio State's Nick Bosa is very much in the lead.
Eventually, you'll be able to find all kinds of 2019 NFL Draft odds at most of the top online betting sites, but MyBookie is the only site I see offering draft wagers right now.
Here are their odds for who will be picked #1 overall.
Bosa is easily in the lead, as he's probably the best overall talent going into the 2019 NFL Draft.
The gap is not absurdly wide, though. Oliver is a different type of player, and there have been questions about his character and drive at times, but he's still just as dominant and certainly just as talented.
You could even make faint cases for Ferrell and Williams, and some NFL mock drafts out there have them sneaking closer to the top spot than you'd think.
The Field bet is pretty enticing at +500, simply because you're not hearing a lot of buzz about defensive backs or quarterbacks right now. However, the race for the top pick in the draft is far from over, and precisely which NFL team finishes dead last will undoubtedly dictate who ends up going first overall.
Oakland, San Francisco, and Arizona appear to be "competing" for the number-one overall pick next year, and based on talent, I'd say the 49ers are a solid bet to finish the year with the worst record in football.
That likely puts the onus on a defensive player, and if I'm the Niners, Bosa is the first guy on my draft board.
You also should factor in the possibility that a team that doesn't finish in last place could trade up into the top spot. Teams like the Jacksonville Jaguars, Washington Redskins, Miami Dolphins, and others could debate making a splash so that they can get a franchise passer like Justin Herbert.
That being said, for now, things favor Bosa going #1 overall.
Summary
That does it for this week's look at some of the top NFL futures and prop bets. There are sure to be more to come, but I find it interesting how fluid pro football wagers tend to be.
Rookie of the Year and MVP are probably set in stone, but there might be enough wiggle room to consider a flier bet. The same goes for the top pick in the draft, while it's safe to say nobody knows for sure what to expect what it comes to predicting Super Bowl 53.
Either way, it's fun to try to project things, and if you can get out ahead of a bet, it can be even better to lay some money down on it.
Hopefully, my breakdown of the top NFL futures helps you figure out your bets and win some cash. And don't forget to check my NFL week 15 picks for each game on the slate!