NFL Draft 2019 – Ranking Kyler Murray and the Best NCAA Prospects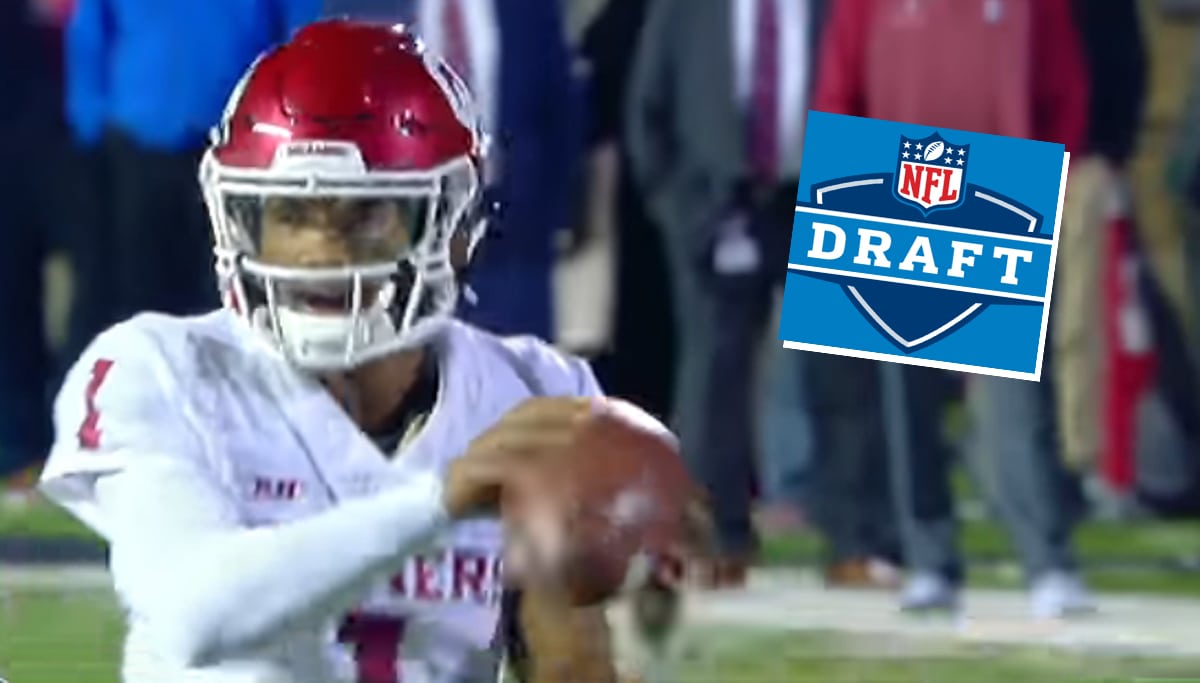 The NFL offseason is a time for relaxation and goal prioritization. The top stars of the most violent sport in the world need to rehab their bodies, refresh their minds, and figure out what needs to be done in order to battle for next year's Super Bowl.
While the actual athletes may be changing gears a bit, bettors can't really afford to. They literally don't want to, either, as the Alliance of American Football has taken over our lives, mere weeks after Super Bowl 53 ended.
It's something we all give into willingly. Even though the AAF isn't the NFL, it's still something, and betting on the AAF can bring entertainment as well as profit.
Betting on football doesn't have to be restricted to a semi-pro league with NFL cast-offs, though. You can keep your eye on the NFL with the coming NFL combine, and more importantly, the 2019 NFL Draft.
One great way to do that is by paying attention to our latest 2019 NFL Mock Draft, while also keeping an eye out for the best NFL Draft prop bets. A few have popped up already, and more are sure to come as the top college football stars begin to rise up the 2019 NFL Draft rankings.
Speaking of NFL Draft rankings, I felt it'd make sense to dive into some of the best players college football has to offer this year with the hope that touching on those elite prospects can get you ready for those coming prop bets and any NFL mock draft contests you may run into.
Best 2019 NFL Draft Betting Sites
To take advantage of any knowledge you obtain (or already have), you need a place to bet on the NFL Draft. That first brings me to the very best NFL Draft betting websites.
You're always going to stumble upon different sports betting sites that offer NFL Draft wagers, but the four sites above are the best options online right now. For US bettors, that is. Readers from other regions should check out the rest of our recommended sportsbooks.
Importantly, the sites I recommend above are safe, secure, and offer some of the fastest payouts. They also happen to specialize in amazing props, specifically some great options for the NFL Draft season.
SportsBetting.ag has already pushed out numerous 2019 NFL Draft props, and of all the sites out there, they tend to do the best job in this betting genre. Bovada is very close behind them in the amount of wagers and odds offered, though, so given their superior standing, I'd give the slight nod to them.
All four of these NFL Draft betting sites are worth a look, and I would suggest you pick the site that you feel the most comfortable with and that also offers the wagers/odds you covet.
2019 NFL Draft Prop Bets
As I mentioned, most of these websites will offer a slew of NFL Draft prop bets. SportsBetting.ag is the main one that has some available to you as I write this, but the draft isn't that far off. Eventually, the top NFL Draft betting websites will all have a ton of NFL Draft futures, and you won't want to miss out.
Right now, those include wagers for who will be the #1 pick in this year's draft, as well as NFL Draft player props featuring massive names like Nick Bosa and Kyler Murray.
Everyone wants to know the rough draft range of these two college football phenoms, as well as which NFL team will ultimately draft them. Vegas wants to know, too, or at least they're offering these types of props because they know you want to know.
Incentive is half the battle when it comes to NFL Draft betting, so kudos to the top NFL Draft sportsbooks for a job well done in that regard.
In an effort to answer both who the top players going into this year's draft are and provide insight for current and future draft props, let's dive into some 2019 NFL Draft player rankings.
Which Quarterback Will Be Drafted First?
I know I'm personally interested in betting on the draft at this point, and the more engaging player futures they have to offer, the better. Ideally, though, they tie into other things pro football fans are looking for, like mocks and player rankings.
We can start the latter conversation under center, as many people will be interested to learn who is near the top of everyone's NFL Draft quarterback rankings.
You'd think Kyler Murray was a lock for the top pick in the draft based on all the buzz surrounding the Oklahoma Sooners star — or at least that he'd be the first quarterback taken this year — but I'd argue that's not close to being the case.
Instead, Murray is at best the second option for NFL teams that are looking for a new franchise passer this offseason. To get a better idea of where Kyler Murray and the top college football quarterbacks stack up, let's take a quick look at my 2019 NFL Draft quarterback rankings.
Dwayne Haskins – Ohio State
Drew Lock – Missouri
Kyler Murray – Oklahoma
Daniel Jones – Duke
Will Grier – West Virginia
Most people had Oregon's Justin Herbert topping this list — and rightfully so — but he returned to school and messed things up for NFL teams hunting down a franchise quarterback.
I still think they can get one in this group, and perhaps even several. While I'm not here to say Kyler Murray is the best quarterback in the 2019 NFL Draft, he's certainly in the top five and in my opinion is awfully close to the top spot, overall.
That being said, Murray is quite small (some believe he'll measure well under 5'10"), and height aside, he's just not a very well-built guy. His overall diminutive stature could be problematic for him at the next level.
Murray's arm talent, playmaking, and athleticism all keep him in the discussion and make him a risk worth taking. He just has red flags (not to mention his ties to baseball) that nobody else in this list carries into the draft.
Haskins is the top overall prospect in this group. He has the size, arm strength, and pocket presence pro scouts drool over, and he was absurdly productive (50 touchdowns, 4,831 passing yards) in his lone full season on the job.
He also just looks the part of a future NFL star.
Stephen A. Smith hilariously said Haskins is "more of a runner" and isn't the top quarterback in this draft class. He's probably in the minority in both beliefs and more importantly is just flat-out wrong.
Moving on, I'd argue that Missouri's Drew Lock is the second-best quarterback prospect in this class. I love his arm and penchant for the big play, and the strengths he brings the table yield flashes of Patrick Mahomes.
That's the best-case scenario, and Lock obviously has his flaws as well. However, he is a big guy that gets the ball out of his hands quickly and really can create a huge play out of nothing.
Consistency is probably the biggest issue here, but Drew Lock has upside in spades. He and Murray are similar with their ability to willingly attack down the field, but one of these guys has superior size and still brings everything you want to the table. That's Drew Lock.
Will Grier and Daniel Jones round out my top-five quarterbacks going into the 2019 NFL Draft. Flip and flop them however you want, as they're actually fairly similar. Jones passes the eye test a little more for me and is a better overall athlete, so he gets the slight nod.
From a mock draft and NFL Draft betting perspective, Haskins is the easy call here. He's the most complete prospect of the lot, and while I really like Lock and Murray, there's (probably) no way a quarterback-needy team bypasses Haskins to take them.
Will a Running Back Be Drafted in the First Round?
Running back is a severely devalued position in the NFL these days. I used to be against this thinking just because I felt that it diminished the elite talents at the position, but it's just so obvious now.
James Conner coming in and putting up amazing numbers while Le'Veon Bell sat out the entire 2018 season was the best example. C.J. Anderson filling in for a banged-up Todd Gurley without missing a beat at the end of the year may even take the cake for some people.
These things happening only devalues the running back position further, and even teams that need a rusher may wait until after the first round. There may be one or two running backs who could hear their name called in the first round, though.
Let's go over my 2019 NFL Draft running back rankings to find out who they might be.
Josh Jacobs – Alabama
Damien Harris – Alabama
Devin Singletary – FAU
David Montgomery – Iowa State
Bryce Love – Stanford
I know that Trent Richardson gives Crimson Tide running backs a bad name, but hey, he's actually doing well in the AAF, and he's just one NFL bust. Jacobs is a total monster, as he's got the size, athleticism, and versatility of a true feature back at the next level.
Jacobs can literally do it all, and I don't see many flaws to his game. The only real issue is that some NFL teams — even the ones that need a running back — could try to wait until round two. However, there is a slew of teams that badly need running back help in round one.
The New York Jets, Oakland Raiders, Tampa Bay Buccaneers, Buffalo Bills, and perhaps even the Green Bay Packers could opt to improve the position. They won't do it inside the top-15 picks, though.
Jacobs is a beast, but he's destined to slide. Still, the Baltimore Ravens, Houston Texans, and the Philadelphia Eagles all pick before the round is up. It's the latter (assuming they don't try to sign Le'Veon Bell) that makes the most sense to me.
While I do think Jacobs gets a running back taken off the board in round one (and potentially wins you some cash via a prop bet), I also think he's the only realistic candidate to make that happen.
You can still marvel at teammate Damien Harris and a collection of other solid rushers in this draft class. Harris is a beautiful combination of bruising and explosiveness, while Devin Singletary and David Montgomery were both shifty college backs with fantastic vision and patience.
Maybe I'm a fool for still being overtaken by Bryce Love fever. The Stanford product was bogged down by injuries in 2018 and ultimately tore his ACL, but when healthy, he's just so darn explosive. He's not built to be a true featured rusher, and he'll have questions about his pass-blocking and of course his health.
But man, can this kid fly.
I'm sure Bryce Love prop bets will turn up at the top NFL Draft betting sites, and one will deal with his draft range. Given his speed and upside, I wouldn't be shocked to see him stay inside the first three rounds.
I like all of these guys, and there are more out there to dissect. But Jacobs is the most complete option and the only one with a realistic shot at going in the first round. I think he will, too.
Who Is the Best Wide Receiver in the 2019 NFL Draft?
Running back isn't nearly as deep as wide receiver, which boasts a handful of options that should hear their name called in the first round of the 2019 NFL Draft. Everyone is always searching for that next Julio Jones, Odell Beckham Jr., or Antonio Brown.
Even though Antonio Brown trade rumors are taking over the NFL these days, teams will often ignore that diva mentality to obtain the game-breaking talent that can help them win games.
Prima donna or not, the following five wide receivers would be great additions to any team, and some may even find themselves selected on day one of the draft.
D.K. Metcalf – Ole Miss
Marquise Brown – Oklahoma
N'Keal Harry – Arizona State
A.J. Brown – Ole Miss
Kelvin Harmon – N.C. State
This is a pretty fun wide receiver draft class, and it's paced by Metcalf, who is a really good weapon down the field that simply never realized his potential in college.
It was there in spurts, though, as Metcalf hauled in 12 touchdowns over the past two years and averaged 21.9 yards per catch in 2018. The big play and dominant talent are there for the taking, and it'd be relatively shocking if he wasn't the first receiver off the board.
Metcalf is far from alone, though, and you honestly could fight to switch this order up a bit. I love Brown as the second-best receiver, however, as the Sooners burner produced a lot of big plays at Oklahoma and was extremely productive.
You can keep talking these guys up right down the line, as Harry is a big-bodied possession guy who can move the chains, make plays with the ball in his hands, and dominate in man coverage.
A.J. Brown is the second-best receiver in this draft class in a lot of people's minds, too, while Kelvin Harmon's production and ability to beat his man with little effort can't be denied.
This is a very nice wide receiver class, but I think Metcalf's got the ability to be the most dominant receiver in this group. He's the consensus top pick here and will almost certainly hear his name called ahead of everyone else at his position.
Will the Patriots Draft Rob Gronkowski's Replacement?
One of the big topics of conversation even before Super Bowl 53 was whether or not New England Patriots star tight end Rob Gronkowski would retire. Some people have speculated that he'll be back in 2019, but injuries and statements he's made to the media at least leave things up in the air.
New England may want to prepare for the future at tight end, regardless of what Gronkowski does. The reality is he's closer to retiring than he ever was at this point, so investing in a young tight end makes sense.
The Pats won't be the only team interested in a tight end this year, especially given how some of the elite players at the position can take over games. Here are my tight end rankings going into this year's draft and whether any of them could be the guy to replace Gronk.
T.J. Hockenson – Iowa
Irv Smith Jr. – Alabama
Noah Fant – Iowa
Kaden Smith – Stanford
Jace Sternberger – Texas A&M
I'm surprised this tight end class isn't talked up more. I know people are mostly interested in whether or not Rob Gronkowski retires and if the Pats draft his replacement, but this position is loaded.
The cut-off is at the top-five, but I could probably keep going. Sternberger ranks fifth here, but he's basically a wide receiver trapped in a tight end's body. He can make impossible catches and is very fluid for a tight end, while he was also very productive (10 touchdowns) in his lone full season as a starter.
And that's just the fifth-best guy at the tight end position. Kaden Smith is more in the mold of a Kyle Rudolph, but he's got a nice build, can make tough catches, and has the size and ball skills you want in a tight end.
Every guy in this top five can be an asset in the red zone and over the middle of the field, while Hockensen might (barely) take the cake just because of his ball tracking and big-play ability.
Patriots or not, somebody is taking one of these guys (if not more) in the first round. Regardless of what Gronk does, New England would be foolish not to find a way to get one of these talented tight ends on their roster.
Of the lot, Hockensen is probably the one they'd target at the end of round one, but I actually love Sternberger as a nice alternative they can get a bit closer to the middle rounds.
Will an Offensive Lineman Be Picked Inside the Top 5?
This draft is loaded with elite defensive talent, and a lot of it comes up front on the defensive line. There's actually a long line of tantalizing offensive linemen in the 2019 NFL Draft, however, and I wouldn't be shocked if one made his way inside the first five picks.
That isn't going to be easy, though.
Forget about the whispers regarding Kyler Murray going #1 overall. Whether that happens or not, the Jaguars (picking 4th) could mess everything up by grabbing a signal caller, while nobody knows for sure what Jon Gruden and the Raiders will do.
Aside from the unpredictable nature of the draft and the need for improved quarterback play, this class has some truly special defensive linemen. More on them in a bit, but seriously, Nick Bosa heads a loaded class where as many as three could find their way among the first five picks in the 2019 NFL Draft.
But one offensive lineman could worm his way up the ladder if things break just right. To attempt to assess who that might be, let's break down the top-five offensive lineman rankings for this year's draft.
Jonah Williams – Alabama
Cody Ford – Oklahoma
Jawaan Taylor – Florida
Greg Little – Ole Miss
Yodny Cajuste – West Virginia
How you look at the best offensive lineman in the 2019 NFL Draft will likely hinge to need at the next level. There are some teams that could use some guard help and may want to think about the future of one of their tackle positions, and then there are the Houston Texans.
The Texans aren't picking inside the top five this year, but the point here is that there will be a great need for pass protection and run-blocking.
Of these options, Jonah Williams stands out the most. He's not the longest tackle out there, but he's got great size, is powerful, and is also extremely balanced off the snap.
He's the most complete tackle prospect and arguably the top OL option in this draft. If you need a second option, that'd be Cody Ford, who is a bit of a freak and projects as a real problem at guard at the highest level.
Of everyone here, Williams has the best shot at cracking the top five picks in the 2019 NFL Draft, where the Cardinals, 49ers, Raiders, Jets, and Buccaneers all reside.
I don't know if any of those teams have a need so great on the o-line that they'll pass up some really tempting defensive talent (as well as quarterbacks), but the one that might is the Raiders.
They're just such a wild card. They could force their way to the top pick, they could sit there and take a quarterback, they could trade down, or they could get really ho-hum with it and beef up their offensive line.
It's not sexy, but maybe grabbing Jonah Williams and trading away Donald Penn is the best decision they could make.
While not impossible, I don't see that happening. This year's o-line class is plenty fine, but I don't foresee any of these guys being picked quite that early.
Is Nick Bosa the Best Defensive Lineman in the 2019 NFL Draft?
Yeah, he is. I don't know if there really needs to be a big debate about it, but due to the fact that there are a few elite defensive linemen, you should probably at least check them all out.
Nick Bosa is dominant off the line, and the beauty of his talent is that he projects very well as a pass rusher and as an asset against the run. Bosa's pursuit, anticipation, power, and underrated athleticism make him an extremely consistent and balanced option up front and are almost certainly making him the top pick in the draft.
He's the best defensive lineman, and those "who will be the #1 pick?" prop bets have an answer already. It's still worth taking a look at the 2019 NFL Draft defensive lineman rankings, though.
Nick Bosa – Ohio State
Quinnen Williams – Alabama
Ed Oliver – Houston
Rashan Gary – Michigan
Jeffery Simmons – Mississippi State
It's tough to rank defensive lineman together, as some are best suited for the inside of a defensive line, some on the outside, and some for very different schemes. Bosa is one of those guys that can probably find success just about everywhere, provided he's not being used as a linebacker and asked to cover anyone in space.
Williams is a monster, but he's confined to the inside of a defensive line or perhaps on the outside of a 3-4. I'd prefer him to be in the middle, though, as he's very disruptive and can control the line from the jump all by himself.
I also love Ed Oliver, who is a terror in pursuit and all too easily gets into the backfield and does so with regularity. This surprisingly hasn't led to all that many sacks during his college career, but the pressure Oliver has generated and the impact he's made against the run is blatantly obvious.
The main knocks on Oliver are that he's not all that big and he's had some character issues in the past. If he is motivated at the next level, though, I don't think his size will be an issue, and with his stock taking a mild hit (he was once in the #1 pick conversation), he could be a massive steal.
Rashan Gary is also very good and will probably find himself inside the top ten. Simmons felt like a first-round lock, but a knee injury could keep that from happening. He's still the fifth-best defensive line prospect in this draft, though, so it just depends on what NFL teams want to do when they're on the clock.
Overall, though, this is Nick Bosa's position, and he's going to be the first DL prospect taken in the 2019 NFL Draft.
Which Linebacker Is a Lock for the Top 10?
This is another spot that can be confusing, as there are different types of linebackers, and they can be asked to do different things depending on their role and system. Regardless, the talent always shines through, and teams will usually find a way to correctly use a player.
Ideally, the top talents go where they belong and operate out of a system they can thrive in, but the starting point doesn't change. Kentucky's Josh Allen (not to be confused with the Bills quarterback) was arguably the best pure pass rusher in 2018 (17 sacks!) and comes in at the top spot in our 2019 NFL Draft linebacker rankings.
Josh Allen – Kentucky
Devin White – LSU
Clelin Ferrell – Clemson
Jachai Polite – Florida
Montez Sweat – Mississippi State
Allen is made in the mold of a Khalil Mack, as he is virtually unstoppable in pursuit, can deliver big hits, is able to get in the backfield, and can get after the quarterback.
The latter is clearly Allen's specialty, but he's proven he can do it all and be a superstar in the NFL. Take a look.
Allen is definitely a guy that will probably need to stay on the outside as a true linebacker, whether it be a 4-3 or 3-4 base defense. I doubt he has the strength to line up as a defensive end in a 4-3 system, while his run defense isn't a strength of his right now. That doesn't mean he can't excel with his hand in the dirt, but that probably isn't the best way to use him.
Devin White is a more traditional linebacker that can probably play just about anywhere but may be best suited to man the middle and quarterback a defense. If you're trying to find the top interior linebacker, this is your guy.
There are more pass-rushing specialists out there in the mold of Josh Allen, as Ferrell, Polite, and Sweat (among others) are going to really tempt teams to load up on edge rushers this year.
All of these guys are capable of taking over games with their burst, pursuit, and unrelenting motors, but none quite touch what Allen brings to the table. Keep in mind some teams may project these guys as defensive ends, but for now, their pass-rushing ability on the outside makes them very appealing as outside linebackers in a 3-4 or hybrid scheme.
In the end, you can make a faint case for one of these four other linebackers cracking the top ten in the 2019 NFL Draft, but Allen is a lock. In fact, he's probably a lock for the top five.
Who Is the Top Defensive Back in the Draft?
Lastly, we come to the secondary, where you can lump the top cornerbacks and safeties together.
As far as high-end talent goes, this isn't the deepest of positions, as only a handful of these guys are looking like locks to be taken in round one of the 2019 NFL Draft.
To be frank, Nasir Adderley almost cracks my top five by default. He's a fine prospect, but you could argue in a handful of options ahead of him. It's hard not to love Greedy Williams as the best cover man in the 2019 NFL Draft, however.
Here, he leads the way in my defensive back rankings.
Greedy Williams – LSU
Deionte Thompson – Alabama
Byron Murphy – Washington
Deandre Baker – Georgia
Nasir Adderley – Delaware
Williams is the top defensive back in this draft, as the LSU product recorded eight interceptions over the past two seasons and has exhibited extremely balanced play.
While thin and not the best against the run, Williams has the talent to be a real problem for passing offenses at the next level. He's a threat to go inside the top five in the 2019 NFL Draft and may be a top-ten lock.
Next up is arguably the draft's top safety in Alabama's Deionte Thompson.
I've seen him graded lower and mocked lower than he should be, especially considering his fantastic ball skills and range. Consistency and controlled play are areas he can work on, but he projects as a very good safety in the NFL.
Depending on who you talk to, it's actually Byron Murphy who is the top cornerback in this year's draft, while others really love Deandre Baker. You can go back and forth with some of these guys, but at the end of the day, it's about raw talent and upside.
All of these guys (save for maybe Adderley) are first-round picks in terms of talent, and Greedy Williams is simply the best prospect of them all. Time will tell for sure, but Williams takes the cake for me right now and will likely be the first defensive back off the board come April.
Summary
The crazy thing about NFL Draft rankings is how subjective they are, as well as how fleeting they can be. Injuries, team needs, player decisions off the field, pro days, combine results, and so much more may play into how a player projects to the next level or is seen by scouts and GMs.
A huge component to the draft is team need and who they have in the front office as their chief decision-maker. The Raiders, for instance, hired a former draftnik in Mike Mayock, who by all accounts is a sound scout of the game but has zero real-life experience as a GM.
That's going to make for a very interesting draft for Oakland, and depending on who each team has in their war room, it can ultimately send shockwaves through the draft. There's also talk of Kyler Murray going to the Arizona Cardinals, while Jeffery Simmons already hurt his stock with an injury.
There are crazy things going on at all times in the weeks leading up to the NFL Draft, and ranking these players (and re-ranking them) is just one small part of the chaos.
It's a fun, wild ride, and this is really just the start of it.
That's the case when it comes to the NFL Draft betting world, too. As fluid and unpredictable as it sometimes feels, however, it's definitely something you can make money off of if you track it closely and figure out what is a smokescreen and what is reality.
Just remember that Mel Kiper and Todd McShay aren't the only people out their prognosticating and that the consensus doesn't always equate to what teams will do.
In the end, all you can really do is find the best NFL Draft betting sites, do your research, and take a shot on wagers that both offer some value and have a solid chance of returning some cash.
Whatever you do, I hope these NFL Draft player rankings find you well and that the draft ends up being a profitable sports betting endeavor for you. Enjoy the rest of the draft season!