NFL Betting Trends to Watch for in Week 3 (2021)

My breakdown of the top NFL betting trends was a bit of a mixed bag last week.
People jumped all over the New England Patriots at (-5.5). However, the Pittsburgh Steelers and Miami Dolphins let a lot of people down on the moneyline.
Well, it's time to look forward to Week 3 and win back some of that money. Remember, you can use the top NFL betting sites for your bets.
In preparation for Week 3, let's check out the early NFL betting trends, and what they might reveal about how you should bet.
Tennessee Titans (-5.5)
After a 38-13 defeat in Week 1, the Tennessee Titans knew they needed a big-bounce back performance just to build some confidence.
Things weren't looking good when they trailed by 14 points in the fourth quarter. However, Derrick Henry came alive and his heroics forced the game into overtime. Tennessee kicked the game-winning field goal to defeat the Seattle Seahawks.
This week, the Titans will have their first divisional matchup of the season, as they host the Indianapolis Colts.
Indianapolis couldn't overcome a Week 1 defeat, falling to the Los Angeles Rams 27-24. The loss is just one game but their team took a big hit moving forward.
Carson Wentz sprained both his ankles late in the game. He was unable to finish the game and his status for Week 3 is up in the air.
Bettors have taken notice of a potential quarterback change this week. Right now, they are all over the Titans as (-5.5) point favorites at home.
Indianapolis Colts (+5.5): 5 percent
Tennessee Titans (-5.5): 95 percent
Colts backup quarterback Jacob Eason didn't look too good late in the game against the Rams. He went 2/5 with 25 yards and an interception. It was a tough spot to be in but he completely overthrew his tight end on the interception.
We've also seen the potential quarterback change affect how bettors view the point total.
Bettors are hammering the under of 48 points. The point total opened at 50.5 but they've had to adjust as bettors continue to side with the under.
On paper, Tennessee is the better team. They have a lot of confidence following a big win in Week 2. If Wentz doesn't play, it's going to be tough for the Colts to keep up.
Bettors may have the right idea with this matchup.
Arizona Cardinals (-7.5)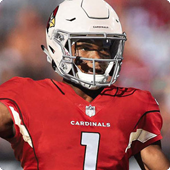 Are the Arizona Cardinals legit contenders? They look like it after two weeks.
Kyler Murray is playing on an MVP level right now. The third-year quarterback has 689 yards and seven touchdowns. He also has 51 rushing yards and two touchdowns.
Coming into the season, all the talk in the NFC West was on the Los Angeles Rams and San Francisco 49ers. I know it's still early but this team may challenge the Rams for the division title.
The Cardinals will head to the east coast for a road matchup. How are they (-7.5) point favorites on the road? Well, they're playing the 0-2 Jacksonville Jaguars.
It has been a terrible start to the season for the Jaguars. Trevor Lawrence leads the NFL with five interceptions, and their offense is averaging the fourth-fewest points.
On defense, they have allowed the fourth-most yards. Despite the big spread, bettors are not afraid to side with the Cardinals.
Arizona Cardinals (-7.5): 91 percent
Jacksonville Jaguars (+7.5): 9 percent
It's a big spread but it's not surprising to see so many people against the Jaguars.
They have lost their first two games by an average of 13 points. And truthfully, they weren't playing great teams.
In Week 1, the Houston Texans dominated the game, while the Denver Broncos won by 10 points in Jacksonville last week.
Arizona got a little lucky last week after the Minnesota Vikings missed a game-winning 37-yard field goal but they still had a great performance.
When you look at the other bets for this game, bettors continue to remain one-sided.
Right now, 100 percent of bettors are favoring the Cardinals on the moneyline.
When it comes to the point total, 92 percent are betting on the game going over 52 points. It's a little high just because we haven't seen much from the Jaguars offense.
The Cardinals look like one of the safest NFL bets this week.
Buccaneers vs. Rams Over 55.5 (-110)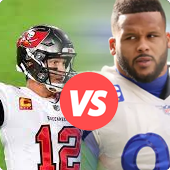 One of the top games to bet on in Week 3 will kick off in Los Angeles. The Tampa Bay Buccaneers will go on the road for the first time this season as they take on the Los Angeles Rams.
Tampa Bay is off to an excellent start as they pursue a second straight Super Bowl title. The Buccaneers defeated the Dallas Cowboys on a last-second field goal before blowing out the Atlanta Falcons.
Dating back to last season, Tampa Bay has won nine straight games, scoring over 30 points in each game.
Los Angeles looks like a new team with Matthew Stafford in charge. Their offense has scored 34 and 27 points, respectively, in their two victories.
While both teams have a great defense, the bettors believe the offenses will continue to shine.
Since the point total opened on Sunday night, 100 percent of bettors have sided with the over. The over has gone from 54.5 to 55.5 but bettors are not budging.
I know each team has an elite offense, but we can't forget about the defenses.
Tampa Bay's run defense is as good as it gets. They ranked number one in 2019 and 2020 and are off to a great start this season. I will say, their pass defense is struggling a bit without Sean Murphy-Bunting.
The Rams defense ranks top 10 in points allowed. Led by Aaron Donald, their defense has the fifth-most sacks.
There is shootout potential with this matchup but I'm starting to wonder if it's one of those matchups where it's too obvious.
Last week, everyone thought the Dallas Cowboys vs. Los Angeles Chargers would be a shootout, and that game ended with 37 total points.
Personally, I don't think it should be this one-sided but at the end of the day, the choice is yours.
Jets vs. Broncos Under 41 (-110)
This matchup represents the lowest point total of Week 3.
The New York Jets offense is off to a terrible start. Check out where they rank through two weeks.
Yards Per Game: 294.0 (26th)
Passing Yards Per Game: 195.5 (29th)
Rushing Yards Per Game: 98.5 (22nd)
Points Per Game: 10.0 (31st)
Last week was an absolute disaster for rookie quarterback Zach Wilson. He threw four interceptions and failed to lead the Jets on a touchdown drive. The Jets lost 25-6.
On the other side, the Denver Broncos' offense looks strong this season. They have scored 27 and 23 points, respectively, in their two games. They have had a pair of easy matchups to start the season, so maybe their offense isn't as strong as we think. However, they won't face a challenge until Week 4.
So, with a terrible Jets offense and a solid Broncos offense, we have bettors going big on the under in this matchup.
Right now, 98 percent of bettors believe the game will not hit 41 points. I think that's a reasonable expectation considering the state of the Jets offense.
Denver has shown us that they are capable of scoring 20-30 points. It's all going to come down to whether New York can score around 20 points. If so, they could break a lot of bettors' hearts.
It's interesting because the two teams the Jets have played this season rank top three in points allowed. Have the Jets just had a pair of brutal matchups or is their offense making defenses look better than they actually are?
The problem for the Jets is Denver has a pretty good defense. Therefore, we probably won't find an answer to that question this week.
It sounds like the under is the way to go for this matchup.
San Francisco 49ers (-185)
I always like to close with the most surprising trend. For me, that comes from the matchup between the Green Bay Packers and San Francisco 49ers.
Green Bay responded from their dreaded Week 1 performance with a big victory against the Detroit Lions. They started a little slow, trailing 17-14 at halftime. However, they kicked it into gear in the second half, outscoring the Lions 21-0 to score a 35-17 victory.
That silenced critics who were concerned about Rodgers and these Packers, at least for the moment.
San Francisco had a victory of their own over the Lions in Week 1. They pulled out the victory in Week 2 against the Philadelphia Eagles, but they didn't look that great.
Their defense held the Eagles down for much of the game but the 49ers didn't score their first touchdown of the game until the fourth quarter. Will that work against an elite offense like the Packers?
So, the 49ers opened as (-3.5) point favorites. It's a little surprising but I get it because they are the home team. I feel like this is a great chance to earn some value with the Packers. However, bettors aren't seeing it that way.
Green Bay Packers (+160): 19 percent
San Francisco 49ers (-185): 81 percent
Maybe I'm in the minority here but I think the Packers are the better team here.
I don't think we can forget that they opened the season as one of the Super Bowl favorites. They had a terrible Week 1 but I think that was an outlier.
Even on the spread, 65 percent of bettors are going with the 49ers at (-3.5). I think people are writing off the Packers way too early.
It's still early in the season but this matchup is going to tell a lot about which team is a Super Bowl contender.
The Packers are among the top NFL upset picks for week three.
NFL Betting Advice for Week 3
It's always interesting to see how the initial trends show so many one-sided bets. Last week, we saw multiple bets not go the way bettors expected them to.
While the NFL betting trends are nice to see, it's a reminder that you always have the final say with your bet.
The public shouldn't sway you – at least not completely – as there is no such thing as strength in numbers when it comes to betting on pro football.
All you can do is look at each matchup, assess the odds, and make the best decision for yourself as a bettor. Each week, that journey begins with a look at every game.
Before you place your initial bets, check out the odds for every Week 3 game.