NFL Betting Lines for Week 15 (2021) – Early Odds Breakdown and Advice

Betting on the NFL in week 15 will be rather interesting. Bettors will be hit with perhaps the biggest game of the week on Thursday night, and then they'll have to wait for Lamar Jackson injury news.
Washington will have to decide as to who starts under center for them this week. Oh, then the schedule even gets weird, with two of this week's games going down on Saturday.
Beyond that, however, week 15 NFL betting may be fairly predictable. That is, of course, until you start looking at some of the wonky pricing at the top sites for betting on the NFL.
To get an idea of what to expect – and how to bet – join me for a look at the week 15 NFL betting lines, as well as a quick breakdown of each matchup.
Early NFL Odds for Week 15
Chiefs (-3.5) -105 vs. Chargers (+3.5) -115
Raiders (+6) -105 vs. Browns (-6) -115
Patriots (+1.5) -110 vs. Colts (-1.5) -110
Washington (+4.5) -110 vs. Eagles (-4.5) -110
Jets (+8) -105 vs. Dolphins (-8) -115
Cowboys (-10.5) -105 vs. Giants (+10.5) -115
Titans (-2.5) -112 vs. Steelers (+2.5) -108
Texans (+3) -115 vs. Jaguars (-3) -105
Cardinals (-13.5) -110 vs. Lions (+13.5) -110
Falcons (+8) -110 vs. 49ers (-8) -110
Bengals (+1) -108 vs. Broncos (-1) -112
Seahawks (+7) -110 vs. Rams (-7) -110
Saints (+11) -115 vs. Buccaneers (-11) -105
These lines can all be found at SportsBetting.ag. That's one of the best NFL sportsbooks across the board, but I love using them for this weekly NFL odds breakdown because they push out pricing as quickly as anyone.
The odds are quite competitive, too. For week 15, though, some odds just aren't available, and that's going to be the case no matter where you bet on sports online.
I touched on the Lamar Jackson injury, and that's undeniably the biggest piece of information to monitor before placing bets this week.
The Ravens want to see how Lamar Jackson feels tomorrow before any decisions or tests go down.
I was told they are expecting it to be a low ankle sprain, per source. Here is Jackson in a boot. pic.twitter.com/0TXXOwk4GV

— Dianna Russini (@diannaESPN) December 12, 2021
Looking at the early lines, it's worth noting that five of these games are priced at a touchdown or greater, which could mean some blowouts are coming. Then again, seven of the games that presently have odds are divisional rivalry games, so really anything can happen.
If you're wondering how to bet on the NFL this week, you can stop by our free NFL picks page for all kinds of breakdowns, predictions, and picks. Before you do, of course, join me for a quick glance at each matchup that has odds at the moment.
Kansas City Chiefs vs. Los Angeles Chargers
Chiefs (-3.5) -105
Chargers (+3.5) -115
Chiefs to Win (-175)
Chargers to Win (+155)
Over 50.5 (-110)
Under 50.5 (-110)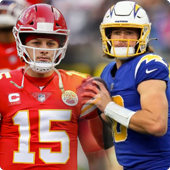 The Chiefs and Chargers get week 15 started off in style with one of the best Thursday Night Football affairs we've seen yet in 2021.
Kansas City has reeled off six straight wins, abandoning all of those "this team is done" critics for good back in week eight.
The crazy part? The Chiefs have been doing it on the heels of a (gulp) suddenly elite defense. Even so, this is a matchup highlighted by marquee offense – not to mention the fun showdown between Patrick Mahomes and Justin Herbert.
KC hits the road here, but is still the logical betting favorite. They're red hot, they are arguably the better team, and they're 12-3 over the last 15 meetings in this series.
L.A. did win the first matchup this year, however, and these games have been awfully competitive. This meeting also figures to decide the AFC West, as well.
I think the spread favors the Bolts. They're at home, they play KC well, and this is a huge game for both sides. However, due to the insane offensive upside in this one, it's hard not to fall in love with the Over.
Las Vegas Raiders vs. Cleveland Browns
Raiders (+6) -105
Browns (-6) -115
Raiders to Win (+6) -105
Browns to Win (-6) -115
Over 42.5 (-115)
Under 42.5 (-105)
If you're wondering which NFL games to stay away from this week, this probably takes the cake. The Raiders and Browns are two incredibly inconsistent teams that seemingly never know who they want to be.
Cleveland is in better form at the moment, though, and they'll be at home after taking care of the Ravens last week. Las Vegas is headed in the wrong direction, too, as they're just 1-4 over their last five, and sit at the bottom of the AFC West.
The Browns are the correct favorites at home, where they've gone 5-2 in 2021. The Raiders are also just 3-3 on the road, while their 26th ranked run defense may not hold up against a very good Cleveland rushing attack.
Neither of these teams are good against the spread (both 5-8 ATS this season), and this game total may tell us all we need to know. I like Cleveland to win, but the spread and total give me nausea.
New England Patriots vs. Indianapolis Colts
Patriots (+1.5) -110
Colts (-1.5) -110
Patriots to Win (+106)
Colts to Win (-126)
Over 44.5 (-112)
Under 44.5 (-108)
This is certainly one of the more interesting NFL games to bet on in week 15. It features two teams in a groove, as Indy has gone 4-1 over their last five games, and the Pats have won seven in a row.
New England has largely been pounding the rock and leaning on their defense. Just last week, they allowed rookie quarterback Mac Jones to throw a grand total of three passes.
That was under specific circumstances, though, and this week he faces a beatable Colts secondary. I like New England's offense to open up considerably more here, while the Pats still have the edge defensively.
Carson Wentz is good for a bozo moment pretty much every game, and you simply can't get away with his weird turnovers against a Bill Belichick-led defense.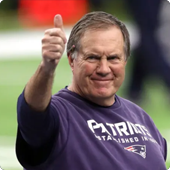 Belichick's unit is obviously on fire, but they're also 9-4 against the spread, and they've gone 3-1 as underdogs ATS.
The backbone of this team is that nasty defense, which is allowing just 15.4 points per game (#1 in the NFL) and doesn't give up much through the air.
It's always possible Jonathan Taylor goes off against their 19th ranked run defense, but Belichick historically pulls out all the stops to slow down your top weapon. New England stands out as an elite upset pick this week.
Washington Football Team vs. Philadelphia Eagles
Washington (+4.5) -110
Eagles (-4.5) -110
Washington to Win (+170)
Eagles to Win (-195)
Over 44 (-105)
Under 44 (-115)
Just when you start to believe in the Football Team, they lay an egg in a huge game against the Cowboys. To their credit, Washington did rally to make it interesting, but it took a Taylor Heinicke injury to give them the jolt they needed.
The good news is his knee injury isn't serious, and he should be ready to rock for another huge game against the Eagles.
WFT QB Taylor Heinicke is expected to undergo an MRI on his knee Monday, but going in, he and the team believe that he should be ready to start Sunday vs. the Eagles.

— Adam Schefter (@AdamSchefter) December 13, 2021
It's worth wondering if Washington should consider the switch to Kyle Allen, who nearly led a ferocious comeback. Heinicke may be the more reliable option at this point, however, and Washington had won their previous four games with him under center.
Washington's defense gives them the leg up here, as Jalen Hurts isn't a consistent threat as a passer. That said, these divisional games are always tough to predict, and this is virtually a playoff game, with the winner eyeing a wild card spot.
It's a dicey one I'd probably look to avoid, but it should be a close one. Washington is a good bet to beat this spread, and they aren't the worst underdog pick in the world, either.
New York Jets vs. Miami Dolphins
Jets (+8) -105
Dolphins (-8) -115
Jets to Win (+300)
Dolphins to Win (-370)
Over 43 (-110)
Under 43 (-110)
Miami is red hot after winning each of their last five games, and they'll be looking for their sixth straight against the Jets in week 15.
Logic says they get it, as Zach Wilson continued his ineffective ways in a blowout loss to the Saints. Now just 3-10 on the year, the Jets are going nowhere fast, and may already need to rethink their future under center.
I mean, seriously.
Does #ZachWilson have a mallet finger injury too? ? pic.twitter.com/mPGJxAkt7P

— David J. Chao – ProFootballDoc (@ProFootballDoc) December 12, 2021
Miami, meanwhile, has a real shot at the playoffs. The Jets should be just a bump in the road, but given that these teams know each other – and the Jets bring in a hefty +300 moneyline – there are things to think about here.
I still lean towards Miami, but the Jets beating an 8-point spread or even staging the upset aren't things sharp bettors can instantly rule out.
Dallas Cowboys vs. New York Giants
Cowboys (-10.5) -105
Giants (+10.5) -115
Cowboys to Win (-465)
Giants to Win (+375)
Over 45 (-110)
Under 45 (-110)
This is a big game for the Giants, who are a sinking ship at 4-9. They've played without Daniel Jones the past two weeks, and it's worth wondering if they just start shutting guys down.
New York hasn't even been competitive lately either, so there just isn't much backing them to mess with bettors here.
Dallas has been very erratic this year, but as they've done historically, they tend to beat up on lesser opponents. I love the Cowboys to win here, and they probably cover.
The Cowboys are the second-best team (10-3) against the spread, so they feel like one of the easiest calls of the week in this spot.
Tennessee Titans vs. Pittsburgh Steelers
Titans (-2.5) -112
Steelers (+2.5) -108
Titans to Win (-140)
Steelers to Win (+120)
Over 42 (-110)
Under 42 (-110)
The Titans have struggled offensively in recent weeks, but their defense roared back to life with a shutout win over the lifeless Jaguars in week 14.
Maybe that isn't saying much, but Tennessee still controls their destiny. They're two games up in the AFC South, and they have to feel good about the possibility of getting Derrick Henry back just in time for the playoffs.
The Steelers aren't as fortunate. Pittsburgh sits at the bottom of the AFC North at 6-6-1, and may need to win out for a shot at a playoff spot.
Perhaps that starts here, but Pittsburgh's offense could have trouble in this spot. Ultimately, I find it difficult to trust the aging Ben Roethlisberger. The Steelers are 4-2-1 at home, but just 1-3-1 over their last five.
Houston Texans vs. Jacksonville Jaguars
Texans (+3) -115
Jaguars (-3) -105
Texans to Win (+135)
Jaguars to Win (-155)
Over 40.5 (-110)
Under 40.5 (-110)
Welcome to the game that decides last place in the AFC South. Nobody cares about the outcome, but it's a fine spot for bettors looking for value.
Houston is bad and may not even want to win, but they're still interesting at their +135 price. After all, there isn't a team more dysfunctional right now than Jacksonville.
The Jaguars probably don't want to win, either, of course.
Jacksonville has seemingly quit on first-year head coach Urban Meyer, and nobody could really blame them. This is usually a game to shy away from, but the Texans feel like one of the better NFL upset picks on the week.
Arizona Cardinals vs. Detroit Lions
Cardinals (-13.5) -110
Lions (+13.5) -110
Over 47.5 (-110)
Under 47.5 (-110)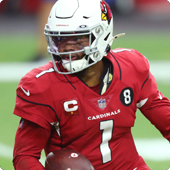 I don't know if the Cardinals win on MNF as I write this, but they're not about to take the Lions lightly, either way. Arizona will either be looking to add to the best record in football, or they'll be looking to make sure they don't lose ground on the Packers.
Whatever the narrative, Kyler Murray should have his way in this matchup.
Detroit, meanwhile, came down off their high after winning their first game of the year two weeks ago. They proceeded to get absolutely destroyed by the Broncos, and they're back to being a team bettors can target with confidence.
This is an awfully thick spread for a Detroit team that had been largely competitive, but it's not one I'm interested in working with.
Atlanta Falcons vs. San Francisco 49ers
Falcons (+8) -110
49ers (-8) -110
Falcons to Win (+295)
49ers to Win (-365)
Over 45.5 (-105)
Under 45.5 (-115)
The 49ers have created a situation for themselves. Jimmy Garoppolo is playing pretty well, and he has the Niners in position to make a playoff run.
Suddenly, San Francisco isn't so sure what to do under center going forward.
That's a good problem to have, of course, and for the moment, it helps keep the 49ers relevant. This is still a team that thrives when running the football, and they also still have a capable defense.
They'll be at home in a borderline must-win game, and they appear to have the edge over Atlanta in just about every category. The Falcons have been competitive lately, so don't be shocked if they can beat this spread, though.
Cincinnati Bengals vs. Denver Broncos
Bengals (+1) -108
Broncos (-1) -112
Bengals to Win (+105)
Broncos to Win (-125)
Over 44 (-110)
Under 44 (-110)
This is quietly one of the biggest games of week 15. Cincinnati and Denver both got off to hot starts, and have hit a snag along the way.
Both teams are very much in the AFC playoff picture, however, as both are technically still in play for their respective divisions, and they'll at least be fighting for playoff positioning.
The point spread indicates we're in for a tight one. Denver prefers to grind things out and dominate on the ground, while the Bengals offer the more explosive offense.
I honestly don't have much of a lean here. I'll side with the Broncos, as they're at home, and have the better defense. This is likely one I'd just steer clear of, however.
Seattle Seahawks vs. Los Angeles Rams
Seahawks (+7) -110
Rams (-7) -110
Over 47.5 (-110)
Under 47.5 (-110)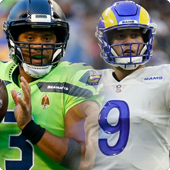 We don't yet know how the Rams fare on Monday Night Football, but this is probably a huge game for them, either way.
Either L.A. is still shooting for first place in their division, or they're trying to make sure they don't start sliding out of the NFC playoff picture.
Seattle is already there. They stopped the bleeding with two straight wins, but they may have to win out to have a serious shot at getting in.
Russell Wilson and Matthew Stafford come together for an intense NFC West tilt, and the ramifications may be a bit understated.
All bets are off with divisional showdowns like this, and the Seahawks are back in a groove. They even rediscovered their running game via Rashaad Penny.
If this is who the Seahawks are, they're going to be a handful down the stretch.
New Orleans Saints vs. Tampa Bay Buccaneers
Saints (+11) -115
Buccaneers (-11) -105
Saints to Win (+405)
Buccaneers to Win (-510)
Over 46.5 (-115)
Under 46.5 (-105)
This is one of the more appealing underdog bets of the week. I'm not saying it's some lock. Tampa Bay is in a groove right now, and with a shot at the #1 seed, it's unlikely they get tripped up.
However, these division rivalry games can go either way, and the Saints defense roughed up Tom Brady and co. on prime-time TV last season.
Tampa Bay's run defense probably keeps Taysom Hill and the Saints offense in check, but this is a tough place to play on the road. If the New Orleans defense shows up, the Saints at +405 looks awfully tempting.
You can play it safe and just bet on the Saints to keep it close. They finally have Alvin Kamara back, and he went off last week against the Jets.
27 rushes
120 rushing yards
1 TD
4 catches
25 receiving yards
If Kamara can ball like that, the Saints have a shot. They also happen to be playing for their playoff lives at 6-7, while they're a respectable 4-3 ATS as underdogs.
Betting on the NFL in Week 15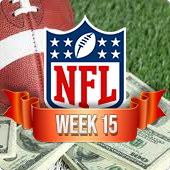 It's very early in the week, so you can go back and forth as to how to bet, and whether or not placing bets right now is worth it.
Part of the point of my early NFL odds breakdown, of course, is to show you the bets that could be worth it, and also explain why the current pricing is or isn't appealing.
Injury situations will be ironed out and lines will change, though. There is no harm in waiting in some spots, but hopefully my week 15 NFL odds analysis shows you some bets that could be worth your time right now.
If you're unsure as to how to bet this week, refine your NFL betting approach with this guide to NFL betting strategies.