NFL Betting Lines Breakdown for Week 7 – Early Odds and Analysis

The 2021 NFL season has been historic for a lot of reasons. Aging star quarterbacks are breaking records just by showing up. Even more records will fall due to a 17th game added to the schedule.
And the league can't stop making hearts skip a beat.
I'm referring to the endless overtime battles. The NFL has witnessed at least one OT thriller in every week this year – just the second time that's ever happened – and this past week we got two of them.
The top NFL betting sites usually allow you to bet on if there will be a game to go to overtime each week, and going into week seven, bettors will have something to think about.
They'll be pondering the weekly NFL betting lines in general, too, and I'm here to help with a look at the early week 7 NFL odds.
Early Week 7 NFL Betting Lines
Broncos (+5.5) -112 vs. Browns (-5.5) -108
Bengals (+6) -105 vs. Ravens (-6) -115
Panthers (-2.5) -120 vs. Giants (+2.5) +100
Washington (+10) -110 vs. Packers (-10) -110
Chiefs (-4) -118 vs. Titans (+4) -102
Falcons (PK) -110 vs. Dolphins (PK) -110
Jets (+6.5) -108 vs. Patriots (-6.5) -112
Lions (+14.5) -110 vs. Rams (-14.5) -110
Eagles (+3) -115 vs. Raiders (-3) -105
Texans (+16.5) -105 vs. Cardinals (-16.5) -115
Colts (+4) -110 vs. 49ers (-4) -110
The week seven NFL schedule feels light, but that's because it is. Just 13 games hit the docket next week, as six teams take a break on their bye.
There are some big names taking a seat, too. Josh Allen and his Bills will be off the schedule, while Justin Herbert and Dak Prescott get the week off, as well.
Two more games aren't given week seven NFL betting lines as I write this, likely due to scheduling or injury implications.
Still, 11 of 13 games have odds, so let's dive into each matchup and see what the initial pricing suggests for bettors.
Broncos vs. Browns
Broncos (+5.5) -112
Browns (-5.5) -108
Over 44 (-110)
Under 44 (-110)
Both AFC squads are headed in the wrong direction. Injuries have ransacked the Browns, who lost yet another key contributor with Kareem Hunt getting hurt in a blowout loss to the Cardinals.
Kareem Hunt left the Browns Week 6 game against the Cardinals with a calf injury. He was carted off and quickly ruled out for the rest of the game: https://t.co/RaCELGc3mI

— Jared Mueller (@JaredKMueller) October 17, 2021
Nick Chubb could be back this week, but this game kicks off week seven on a short week. Like I said, both teams are struggling, though.
Cleveland is just 3-3 on the year, while the Broncos have lost three straight after opening the year at a promising 3-0. Something has to break, but it's hard to go away from the Browns at home with their season hanging in the balance.
Both sides are just 3-3 against the spread in 2021, but the Browns are 2-1 at home, straight up. Assuming Chubb is back, they'll be a very appealing ML bet, but this spread feels a bit dicey at first glance.
Bengals vs. Ravens
Bengals (+6) -105
Ravens (-6) -115
Over 47.5 (-108)
Under 47.5 (-112)
Baltimore has officially exploded. Lamar Jackson was called on for hero ball to save them in an OT classic against the Colts two weeks ago, and last week he was barely even needed.
The Ravens wiped the floor with the high-flying Chargers, suddenly reminding everyone that this team has a defense, and they also can still dominate on the ground.
Cincinnati comes in feeling pretty good about themselves, too, seeing as they just slapped the Lions around in Detroit. This, a week after taking the Packers to overtime.
The Bengals are hard to trust, but Joe Burrow and co. have been cool under pressure. At 4-2, they turn a casual meeting into a showdown to decide first place in the AFC North (for now).
I'd be very interested to see if this line thickens, but it's already intriguing me.
There are points to be had in this matchup, too. Baltimore's defense stifled the Bolts last week, but that was the first time this unit really impressed in 2021.
Due to the magnitude of this one, don't be shocked if it's close and relatively high scoring.
Panthers vs. Giants
Panthers (-2.5) -120
Giants (+2.5) +100
Over 44 (-110)
Under 44 (-110)
Carolina is reeling. They got off to an awesome 3-0 start, but their blazing run has long been forgotten thanks to three consecutive losses.
This is only compounded by the news that franchise running back Christian McCaffrey is out for at least three more games.
Panthers placed RB Christian McCaffrey in injured reserve, meaning he's out for a minimum of at least three more games.

— Adam Schefter (@AdamSchefter) October 16, 2021
C-Mac is the lifeblood of this offense, but hey, hats off to the Panthers for finding new ways to lose. They've been in a rut, but they've remained incredibly competitive, so I'm taking this weak line as a sign of disrespect.
New York is at home, and they do have talent, but they're pretty mangled these days. I don't know about you, but a 1-5 Giants team with a bunch of dead bodies littered across their roster doesn't frighten me.
Carolina feels like the way to go across the board, and the Over is very tempting when you consider the offensive upside on both sides.
Washington vs. Packers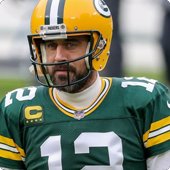 Washington (+10) -110
Packers (-10) -110
Over 49.5 (-110)
Under 49.5 (-110)
The Washington Football Team shocked everyone by winning the NFC East last year, but they did so at 7-9. I'm not sure why they were automatically expected to do much more than that in 2021, but they were.
Washington was at least supposed to be sound defensively, but through six weeks, they've been a mess. Now, they have to go to Lambeau Field and try to stop a red-hot Packers team that has ripped off five wins in a row.
I doubt they can, but this 10-point spread is a slap in the face. Not only is Washington capable of generating some offense or rising on defense, but the Packers haven't exactly been lighting the world afire.
Aaron Rodgers and co. have dealt with a litany of injuries, and while they've been rock solid, they haven't been elite offensively. It's worth noting they're 5-1 against the spread thus far, but 10 points against a hungry Washington team feels like a tall order.
Chiefs vs. Titans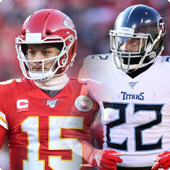 Chiefs (-4) -118
Titans (+4) -102
Over 56.5 (-110)
Under 56.5 (-110)
This game might break the internet. Kansas City did get back on track with a clutch road win last week, and now they're .500. They still need to get over the hill, though, and they'll need to take out the Titans on the road to do it.
Bettors might be reluctant to buy into them here, seeing as the Chiefs have been abhorrent defensively. KC did seem to snap out of their five-week funk a bit this past week, of course, when they limited Washington to just 13 points.
However, KC has even been a bit sloppy on offense. The normally dominant Patrick Mahomes has been a bit more reckless than usual to start 2021, and it's cost the Chiefs dearly.
That said, Kansas City will put up points against a Titans defense that rivals the Chiefs. The question is if KC can contain Derrick Henry and limit Tennessee's passing attack.
All of this points to the Over. Bettors may want to get in on the action early in that regard, however, as it's probably only climbing from here.
Falcons vs. Dolphins
Falcons (PK) -110
Dolphins (PK) -110
Over 48 (-110)
Under 48 (-110)
If you have a lean on this Falcons vs. Dolphins contest, you're looking at a mighty fine price to get week seven going. Good luck, though, as Miami fell to 1-5 last week, and the Falcons are returning from a bye.
Tua Tagovailoa is back, at least, and he played well enough to win in his return in London. He'll be back home in this spot, where he gets to take on a weak Atlanta defense.
Miami's defense hasn't been much better, of course. After being a feared unit a year ago, the Dolphins have allowed the opposition to do as they please. It's led to a five-game skid and week seven could see it continue.
I don't have a great feel for either side here, but this seems to be a solid opportunity to bet on some points. Neither defense is very good, while the Over is 3-2 in Falcons games so far this year.
Jets vs. Patriots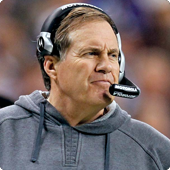 Jets (+6.5) -108
Patriots (-6.5) -112
Over 43 (-110)
Under 43 (-110)
The Patriots weren't very good without Tom Brady for the first time in two decades when he left last year. This season, however, they're unrecognizable.
Bill Belichick's mystique has eroded rather quickly, as New England is trying to win games with a rookie quarterback, and not a whole lot else around him.
It's gone worse than expected. Even though the Pats have been in the majority of their games, they're 2-4 as they prepare to host the Jets in week seven.
The good news? Belichick's history of driving rookie passers to tears still rings true. Zach Wilson was embarrassed in the first meeting, and bettors will have to wonder if a repeat performance is coming.
That explains the early spread and judging by Belichick's dominance against first-year quarterbacks, it's hard to hate the logic.
Lions vs. Rams
Lions (+14.5) -110
Rams (-14.5) -110
Over 49.5 (-110)
Under 49.5 (-110)
Welcome to just the second biggest week seven-point spread. It feels weird to say that, but the Rams are two-touchdown favorites, and it isn't the biggest head start bookies are prognosticating.
Los Angeles has earned this. Sure, they got smoked by the still undefeated Cardinals, but they've won every other game this season, and mostly without much resistance.
L.A. started off with a 20-point win in week one, they were beating the Buccaneers easily before winning by 10, and this past week they topped New York by 27.
The Rams now get the lowly Lions, who have yet to win a game and just got smacked by Cincinnati.
Bettors can probably just hammer the Rams to cover by 15, but there is absurd risk in that.
Let's not forget that the Lions backdoor covered against the 49ers in week one, and nearly did it in week two against Green Bay.
Detroit also covered in two close losses to the Ravens and Vikings. The safer bet may be to bank on the Rams' offense and target this palatable game total.
After all, the Over is 5-1 in Rams games in 2021.
Eagles vs. Raiders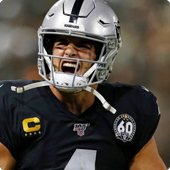 Eagles (+3) -115
Raiders (-3) -105
Over 48 (-110)
Under 48 (-110)
The Las Vegas Raiders appeared to be ready to mail it in. Following the nasty Jon Gruden saga, the Raiders were lifeless in a loss to the Bears, and few could criticize them without their leader.
Derek Carr and company got back to their winning ways, however, as they snapped a two-game skid and destroyed the rival Broncos.
The AFC West remains wide open with the Chargers losing in week six, too, so Las Vegas doesn't appear ready to jump ship just yet.
I don't mind them being the favorites at home because of that. Their offense has some nice balance, and their defense is vastly improved compared to what it was a year ago.
That, and they host a bad Eagles team that isn't getting quality play out of the quarterback position.
Philly does tend to rally late, though, so while the Raiders should be the team to back here in some capacity, the game total is also interesting.
Texans vs. Cardinals
Texans (+16.5) -105
Cardinals (-16.5) -115
Over 48 (-110)
Under 48 (-110)
Arizona can't be stopped. They've survived last second field goal misses, they've overcome ugly defensive battles, and they've won shootouts.
They also have put down some beatings, with their most recent blowout win in Cleveland reminding everyone of what they're capable of.
Kyler Murray and the Cardinals are stacked on both sides of the ball, and it's starting to show. This is yet another spot where the spread makes you sick to your stomach, but it's also still warranted.
This team only got better with the recent trade for tight end Zach Ertz, after all.
This point spread is understandably the largest of the week, and yet bettors still must pay mind to it.
To be fair, Houston did surprise by keeping things tight two weeks ago against the Pats, but turned right around and got lit up by the Colts.
Arizona is probably covering here, but once again, the best route to take in this one has to deal with the over/under. The Cards can pour it on thick against anyone, and could legitimately drop 50 here all by themselves.
Colts vs. 49ers
Colts (+4) -110
49ers (-4) -110
Over 45 (-110)
Under 45 (-110)
Lastly, we come to the week seven Sunday Night Football tilt. Indy was playing in a primetime game two weeks ago and excelled before cacing, but last week made sure they got the win.
The Colts are off to a sluggish 2-4 start overall, but they've spent some time without Carson Wentz, and their schedule hasn't been easy.
They're set to prepare for a fire fight with the Niners, who are equally desperate, will be playing host, and could get Jimmy G back.
I'm not sure bettors can bet confidently until they know who the 49ers will have running their offense, but some feel returning to Jimmy Garoppolo is at least what they should do.
49ers deviated from their original plan due to some early-season inconsistencies, but once healthy at QB I believe they should return to finding a way to mix Trey Lance with Jimmy Garoppolo to maximize efficiency.

Apple: https://t.co/jJSVUXkVMA
Spotify: https://t.co/zuQJNak544 pic.twitter.com/WgBKkmov5y

— David Lombardi (@LombardiHimself) October 14, 2021
For now, this is a sticky situation. I favor the 49ers at home, but would have interest in the Colts if the line softened a bit.
Betting on the NFL in Week 7
The only downside with taking a look at the early week 7 NFL betting lines? Not every game is featured, and as I write this, there were zero moneylines available at BetOnline.
That was the case across the board, really, but those should be updated early in the week. I still think it pays to assess every matchup with the early week 7 NFL point spreads, and you can apply your research to moneyline bets as needed.
This week's schedule is naturally more condensed due to fewer games, but in looking at every matchup, I also think bettors can quickly see which games just seem like a waste of time.
Hopefully, my early week seven NFL betting lines breakdown nudges you in the right direction. For more betting advice this week, hit up our NFL picks page for all kinds of odds, picks, and predictions.