New Orleans Saints Mock Draft for 2021

The New Orleans Saints will hope they can get better without a Hall of Famer directing their offense anymore.
They do not have much of a choice, seeing as aging star quarterback Drew Brees opted for retirement this off-season.
That puts a lot of pressure on head coach Sean Payton to keep adding quality pieces to the roster and to pick the right replacement.
The latter dilemma surely comes down to a camp battle between Jameis Winston and Taysom Hill, but Payton can keep improving the rest of the roster through the draft.
Curious how the Saints can get better, or interested in betting on what they do in this year's draft? Consider all the possibilities via my New Orleans Saints 2021 team mock draft.
Round 1 (Pick 28) – Ka'Darius Toney, WR, Florida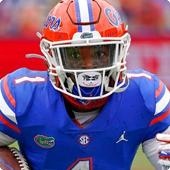 The Saints got by last year despite Drew Brees having a popgun arm and Michael Thomas being hurt most of the season. But nobody wants to just "get by."
New Orleans must get serious about the long-term upside of their offense, and they've needed an upgrade across from MT for a while now.
Emmanuel Sanders left town, and the other guys the Saints have at receiver are so far filed under the "good, not great" category.
Maybe that changes, but is that something an offensive-minded coach like Payton wants to risk?
I doubt it, especially when you are looking at an ultra-deep wide receiver class. My vote is for the Saints to get aggressive early and get their guy in Ka'Darius Toney.
The Florida product turned heads with a 4.39 40-yard dash time at his Pro Day, and that only adds to the intrigue when you note his elite athleticism, wiggle, and versatility.
Just dream up the possibilities of Toney in a Sean Payton offense. Drooling yet? Yeah, he's that exciting, and he's worth the investment with the 28th overall pick in the 2021 NFL Draft.
Round 2 (Pick 60) – Ar'Darius Washington, S, TCU
The Saints are honestly set at safety, and they have a strong and maturing secondary. For now.
The situation with Marcus Williams is fluid. The team extended the franchise tag to him, and he signed it, so he's locked in for 2021.
From NFL Now: The #Saints with a surprise, as star safety Marcus Williams gets the franchise tag. What now? pic.twitter.com/3YK85NLkoL

— Ian Rapoport (@RapSheet) March 9, 2021
But what happens after that? Ideally, the Saints hold onto the talented 24-year-old, but judging by their current financial situation, that's easier said than done.
Then there is the case of an aging Malcolm Jenkins. He can still play, but for how much longer?
New Orleans needs to protect themselves here. They could do it in round one, but I think they'll get better value by waiting and landing on Washington.
The TCU product is ball hawk safety (5 picks in 2019) and offers fluidity, nice athleticism, and physicality. He's not a finished product, but as I mentioned, the Saints don't necessarily need him for 2021.
This is a high upside pick at value for a long-term need, while Washington has the ability to be used in a multitude of ways and drastically improves their depth in the secondary in the meantime.
Round 3 (Pick 98) – Nick Bolton, LB, Missouri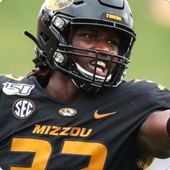 The Saints could use some help in the middle of their defense. They already play the run well and overall have a strong defense, but it never hurts to get better.
In Bolton, they'd get elite instincts and awareness and perhaps the most complete linebacker in this year's draft class.
Why is he sliding to them in round three? Because he's not a great athlete, and he lacks high-level versatility.
Those are worrisome knocks, but the Saints will know how to deploy him, and he'll be masked thanks to the talent around him. If they take him any earlier, it's a bit of a reach. If Bolton slides to them here, it's a steal.
Round 3 (Pick 105) – Aaron Banks, OL, Notre Dame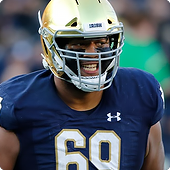 I don't think there is much concern regarding New Orleans' offensive line right now, but the Saints may want to think about two things.
First, that there will be a difference between the sharp, accurate, and quick-passing Brees and whoever ends up replacing him.
Secondly, and perhaps just as important, is that Terron Armstead could hit free agency after this season.
Even if the Saints fully plan on keeping their star offensive tackle, there will be other o-linemen approaching new contracts, as well.
New Orleans needs to continue bulking up their offensive line, and the hulking Banks should be a good way to go about doing that.
Predicting the Saints' Day Three Picks
Round 4, Pick 133 – Talanoa Hufanga, S, USC
Round 6, Pick 218 – Jaret Patterson, RB, Buffalo
Round 7, Pick 229 – Raymond Johnson III, DE, Georgia Southern
Round 7, Pick 255 – Eli Howard, DL, Texas Tech
The first few picks are the most crucial for the Saints, but they can still add some nice pieces on day three.
Hufanga stands out as a nice safety to add to the mix. After all, if they have to look forward to replacing both of their starting safeties, snatching a second capable body makes sense.
I also think adding a running back would be wise. Alvin Kamara is a franchise cornerstone, but he's just one guy, and Latavius Murray is getting a bit long in the tooth.
Patterson lacks size, but he was a menace at Buffalo and could be a key to the Saints' dynamic offense down the road.
Johnson III is a nice pass rusher to add to the mix, while Howard rounds things out with a solid defensive lineman to beef up the depth up front.
New Orleans Saints 2021 Team Mock Summary
The Saints could always look for a true quarterback of the future in this draft, but that could be wasted capital if they believe they have him already, or they think they can retool and win a Super Bowl right now.
Heck, maybe it's both for them.
In looking at this New Orleans Saints 2021 team mock draft, it at the very worst addresses some key needs and adds some marquee talent.
Toney would fit like a glove in this offense and make a deadly offense pretty much unstoppable.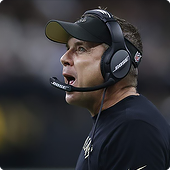 Ditto for Patterson as an elite value pick, while Washington and Bolton serve as solid steals that could help a strong defense get even better for years to come.
The good news is the Saints know what they're doing. They draft well, and they remain in terrific hands with Sean Payton leading the charge.
Even with Brees walking off into the sunset, New Orleans remains a viable playoff contender, and if all breaks exactly right, maybe they can even still dream of a title run.
How you feel about that – and their prospective draft moves – could influence how you bet on them this year. You can bet on what the Saints do in the draft and/or how they fare in 2021.
If you plan on doing so, just make sure you head to the best sites for betting on the NFL.