New England Patriots at Buffalo Bills – NFL Monday Night Football Betting Preview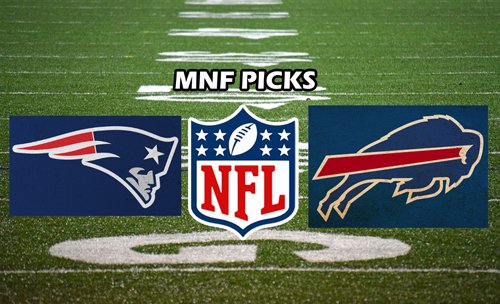 Is this Monday Night Football game going to be as lopsided as everyone expects?
All signs are pointing to the New England Patriots dominating in Buffalo tonight, and the outrageous point spread backs that claim up.
See, having a divisional game in which the road team is favored by 14 or more points just doesn't happen very often. In fact, you'd have to go all the way back to a Week 11 Game in 2007 between these same two franchises to find the last time it occurred.
That week, the Bills hosted the Pats as massive 16-point underdogs in a game that was also played during primetime.
And that turned out horrendously for the home team, as Tom Brady trampled all over Buffalo to the tune of passing for 373 yards and 5 scores in a colossal 56-10 beatdown.
But that was then, and this is now.
Can we find any correlations, or was that perhaps an outlier performance?
First things first – I know that the general public is going to be all over the Pats in this one. And at first glance, it's hard to argue. But before I just sign off on a pick and move toward Week 9's action, I want to take a deep dive into tonight's matchup.
I want to "dot my i's and cross my t's" before recommending any betting advice, which is why it's time to start looking at each squad individually. I'll then transition into what I expect to ensue tonight when the two teams take the field.
I'll kick it off with an assessment of the visiting team, who appears to be hitting their stride as we approach November.
Surprise, surprise.

The New England Patriots
Remember when Matt Patricia and the Detroit Lions spanked the Patriots on Sunday Night Football back in Week 3? The Pats fell to 1-2, and some actually thought New England's reign over the AFC East was coming to an abrupt end.
Well, how's that theory playing out for all of the Patriot-haters?
Because if you fast-forward five weeks, the Pats are still stuck on two losses, thanks to reeling off four consecutive victories in ultra-impressive fashion.
It looks like that loss at Ford Field was the best thing that could have happened to Bill Belichick's squad, as the offense has looked utterly unstoppable over the past month.
Josh McDaniels' unit has scored no fewer than 38 points in each of their last four games, thanks to Tom Brady completing over 70% of his throws during that stretch.
And the scary part is, this offense still isn't at full strength.
Rob Gronkowski is banged up and missed Week 7's game at Chicago, rookie RB Sony Michel has a twisted knee, and they're still working Julian Edelman and Josh Gordon into the mix.
If this offense gets entirely healthy and starts clicking on all cylinders, let's just say it won't be a good thing for other teams in the AFC.
We have seen Brady be effective with a bunch of "no-name receivers" time and time again. Giving "Tom Terrific" a bevy of weapons to play with is just asking for trouble if you are the opposition.
Like it or not, folks, an offense led by a 41-year-old signal-caller is putting up points in bunches.
Don't sit there and act surprised, either.
Anyone who has watched football for the last 18 years knew this was going to happen. What the true Patriot fans are more concerned about is how this defense will hold up as the year progresses.
Because despite being 5-2 and looking good on paper, there are more than a few holes on the defensive side. The proof is in the pudding, as there is some glaring data that demonstrates evidence that Belichick needs to clean things up – especially in the front 7.
New England has accumulated just 9 sacks through 7 games – which ranks 31st in the National Football League. Only the Khalil Mack-less Raiders have recorded fewer sacks, and that's in part because they've played one fewer game than the Patriots have.
The saving grace is that their secondary has been able to cover some things up, as the Pats' 10 interceptions are the fourth-most in the league. Giving up 25.6 points per game is surely nothing to write home about, but I'll leave you with this.
Playing on Monday night means Belichick gets an extra 24 hours to prepare. And the quarterback he'll be facing is a 35-year-old dude who was basking in semi-retirement just three weeks ago.
You can see where this is going.
The Buffalo Bills
I'm going to do everything I can to build this team up.
I'm not a fan of kicking a man when he's down, so poking fun at the current situation in Buffalo is not something I'm keen on doing.
But this is a blog about betting a football game, so it's my job to be unbiased and point out the facts and information that's on the table.
So here we go.
Buffalo is averaging a league-worst 11.6 points per game this season. Their franchise quarterback, Josh Allen, has already been ruled out for this game due to a lingering elbow injury.
The Nathan Peterman experiment was extremely short-lived and unsuccessful, meaning Derek Anderson gets the nod tonight for the second straight week.
Last Sunday against a Colts defense that isn't very good, Anderson looked inadequate and completely overmatched. Derek threw 3 picks, fumbled once, and threw for just 175 yards and no touchdowns.
And now he'll face a defense led by Bill Belichick who has had ample time to prepare.
It'd be one thing if Sean McDermott's team had a reliable running game to depend on, but that hasn't been the case all season long. People want to make a big deal whether or not LeSean McCoy will play tonight, and I'm saying who really cares anyway?
McCoy has been a ghost of himself all season long, as he's rushed for just 244 yards on the year and has yet to hit pay dirt.
LeSean is sporting an abysmal 3.9 yards per carry (YPC) and only has 13 catches on his 2018 season resume.
Most fantasy players were wary of drafting McCoy due to the uncertainty surrounding all of his off-the-field allegations. Little did they know that Roger Goodell standing pat and not suspending LeSean would have nothing to do with the fact that McCoy has been virtually "unstartable."
When you look at the Bills receiving core, you begin to realize just how inept this passing attack is.
I mean, for crying out loud, Buffalo averages just 129.4 passing yards per game in an era where 10 quarterbacks are averaging 300 or more yards per game through the air!
Zay Jones leads the team with 19 catches, and tight end Charles Clay has 16.
This big-mouth WR named Kelvin Benjamin sure gets a lot of publicity for a dude who has brought in just 14 of the 37 passes thrown his way.
The Panthers should be thanking their lucky stars the former FSU wideout is no longer bumping heads in the Carolina locker room.
I'm sure the Bills would love to trade Benjamin, but I can't imagine any teams will show any interest whatsoever.
So I didn't make anything up when I said I would have to go out of my way to find some positives about this football team. It's not easy.
I (along with Bills fans) can at least hang my hat on the fact that they've only played two of their first seven games at New Era Field, and they actually played okay in both instances.
After falling to the Chargers by 11 in Week 2, the Bills actually defeated the Titans 13-12 during a Week 5 home game.
So after unsuccessful trips to Houston and Indianapolis, maybe some home cooking and sleeping in their own beds is just the formula Buffalo needs to get things back on track.
We can be hopeful of this happening, but let's not start holding our breaths.
Tonight's MNF Game
When: 8:15 pm EST
Where: New Era Field, Buffalo, NY
Line: Patriots (-13.5) -110, Bills (+13.5) -110
Total: Over 44 -110, Under 44 -115
Whether this game closes at or greater than the "14 number" still remains to be seen, as I'm sure some of the sharp money is still waiting to pounce.
I wanted to do everything I could to research this game and find ways Buffalo could at least remain competitive.
But I am having a really difficult time doing so.
I'm sure that another week under his belt in Buffalo will allow Derek Anderson to utilize more of the playbook and feel more comfortable in this offense. But let's just be honest and call a spade a spade here.
Derek Anderson was unemployed earlier this month for a reason, and it's not because he didn't want to be playing football.
Anderson lacks creativity, he can't escape the pocket, and he owns a career completion percentage of just 54.3%.
I'm starting to realize that me spending all this time trying to figure out how the Bills can cover the spread isn't doing any good. There is absolutely nothing to suggest that that'll be the case, as the coaching and talent level on Buffalo's sidelines are severely inferior.
New England is 4-0 against the spread (ATS) over their last four games playing at Buffalo, and the Bills look to be as depleted as they've been all year long.
Their defense has been mediocre, but Tom Brady and co. are more disciplined and have more firepower than any offense Buffalo has faced.
So while it's reasonable to think that a divisional clash should offer a closely-contested game, the more logical philosophy is that the Pats annihilate the Bills and make it look easy in the process.
The Wrap-Up
Tonight's game should be exciting. That is if you happen to be a fan of the New England Patriots.
The large percentage of you that can't stand Brady or Belichick probably won't enjoy watching this one, as Buffalo just has nothing positive going for them at the moment.
As a fan of the game and someone who loves seeing games go down to the wire, I'm just not seeing tonight's game as one of those contests. I've watched plenty of slugfests so far in 2018, but suggesting that the Patriots/Bills game tonight should be one of them is ambitious, to say the least.
With that being said, it's still Monday Night Football, and it's still a betting opportunity!