Odds and Prediction for 2022 NCAA Most Outstanding Player

The 2022 NCAA Tournament has completed the first weekend, and we're into the Sweet 16. We've already seen many upsets, with No. 1 Baylor and No. 2 Auburn and Kentucky out of the tournament.
These upsets have caused rippling effects for the 2022 March Madness MVP odds. Four of the five first-team All-Americans are out of the tournament, with Ochai Agbaji the only one remaining. That has affected the NCAA's most outstanding player odds.
Let's see how SportsBetting.ag views the odds to win the 2022 March Madness MVP.
Odds for Who Will Win the 2022 March Madness MVP
If you've been watching March Madness, it shouldn't surprise you to see Drew Timme with the best odds to win the NCAA basketball tournament MVP. He has been the driving force behind Gonzaga's success.
Timme has a few challengers, including Gonzaga teammates Chet Holmgren and Andrew Nembhard. That has a thing or two to do with Gonzaga being the favorite to win the National Championship.
If you feel certain on Timme's odds for Most Outstanding Player, head to SportsBetting.ag to place your bets.
Bet on March Madness MVP on SportsBetting.ag

Visit Site
Why Drew Timme is the 2022 NCAAB Tourney MVP Favorite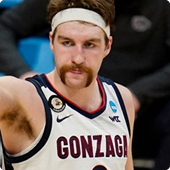 Drew Timme entered the 2021-22 season as the Wooden Award favorite. Timme didn't quite live up to those expectations, but he produced great numbers while leading Gonzaga to the No. 1 seed in the NCAA Tournament.
Timme had four straight 20+ point games in last year's NCAA Tournament. He likely would've been the NCAA Tournament MVP if Gonzaga won the National Championship. This season, Timme is out for revenge.
Surprisingly, Gonzaga struggled with No. 16 Georgia State in the first half. Timme scored 22 of his 32 points in the second half to lead Gonzaga to a 93-72 victory. He added in 13 rebounds while shooting over 50 percent.
Timme's success didn't stop there. He helped Gonzaga overcome a 12-point second-half deficit to defeat Memphis and advance to the Sweet 16.
Drew Timme is built for March Madness ?⁰⁰25 PTS
14 REB⁰4 AST

No. 1 Gonzaga on to the Sweet 16 pic.twitter.com/PMhDZ37d36

— Bleacher Report (@BleacherReport) March 20, 2022
The updated March Madness odds for the Sweet 16 have Gonzaga as the favorite to win the National Championship. I'd say that's a big reason why the 2022 March Madness MVP odds have Timme as the favorite.
I don't think it's unreasonable to say Gonzaga wouldn't be in the Sweet 16 without Timme. Georgia State and Memphis led in the second half before Timme took over. Who knows where'd they be without him.
That leads me to why Timme might not be the MVP of March Madness. It's not as much about him as his team. Gonzaga hasn't looked as overpowering as last year. They need to figure something out as their competition gets tougher.
If they don't make a deep run, Timme won't be the NCAA basketball tournament MVP. Let's check out how the top betting sites view Timme's MVP odds.
It's always important to shop around the best sites for March Madness betting. Bovada gives you the best odds for Timme, but that bonus on BetOnline looks enticing.
That said, Timme's odds aren't the only ones you should pay mind to. Let's take a look at other contenders to win the 2022 NCAA men's basketball Most Outstanding Player award.
Top NCAA Most Outstanding Player Threats for 2022
Drew Timme has the best odds to win the 2022 March Madness MVP, but a Gonzaga loss opens the door for other players. Let's talk about his biggest competitors.
Jaden Ivey (+1400)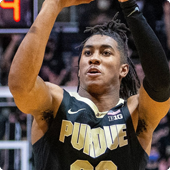 Purdue came into the season as National Championship contenders. Many people believed that would happen if Jaden Ivey performed like an elite player. Ivey lived up to the hype, averaging 17.6 points and 4.8 rebounds. We've seen his strong play carry over to March Madness.
Ivey opened the NCAA Tournament with 22 points, four rebounds, and two steals in a 22-point victory over Yale. They had much stiffer competition in the Round of 32 against Texas.
Throughout the game, Trevion Williams was the star player for Purdue. When it mattered most, Ivey knocked down a pair of late threes to clinch a 10-point victory for Purdue.
.@IveyJaden ICE IN HIS VEINS ❄️ #MarchMadness pic.twitter.com/0Zx3Jl39Tc

— NCAA March Madness (@MarchMadnessMBB) March 21, 2022
He didn't take many shots, going 4-7 from the field, but his 18 points, three rebounds, and three assists helped Purdue advance to the Sweet 16. Has Ivey put up overpowering numbers? Probably not, but this pick goes well beyond his success.
Purdue has multiple playmakers, but Ivey is their best player. He'll continue to step as Purdue makes a deep run. I hate to say anyone has an "easy" path to the Final Four, but Purdue's isn't too challenging.
They should be in the Final Four, and a National Championship would likely make Ivey the NCAA basketball tournament's most outstanding player.
Christian Koloko (+2500)
This season, all the talk surrounding Arizona has been Benedict Mathurin. Mathurin has put up great numbers, but I don't think he presents the best value. That's because his teammate, Christian Koloko, is putting up as good, if not better, numbers.
The 7'1" center averaged 11.2 points and 7.6 rebounds in conference play, but he has taken his game to another level. Check out his numbers in Arizona's two NCAA Tournament games.
| | | |
| --- | --- | --- |
| | Wright State | TCU |
| Points | 17 | 28 |
| Rebounds | 13 | 12 |
| Assists | 6 | 2 |
| Blocks | 5 | 3 |
| Field Goal Shooting | 7-10 | 12-13 |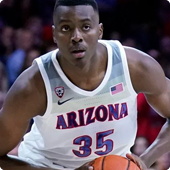 Those look like the numbers of an NCAA Basketball Tournament's most outstanding player. Koloko has been dominating the paint with a combined 25 rebounds. What makes him such a great player is his impact on offense and defense.
Koloko was one of the top shot blockers this season, and it has carried over to March Madness. If he continues this level of play, his NCAA most outstanding player odds will go way up. This could be your last chance to find value with his odds.
I'm sure we'll see Mathurin continue to play at an elite level, but Koloko presents much better value for a team that has National Championship hopes.
Sleepers That Could Win March Madness MVP in 2022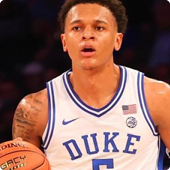 The 2022 March Madness MVP odds have these players as longshots, but can they pull it off?
It seems like everyone wrote off Duke as a National Championship contender, but they're in the Sweet 16 and have a chance to send Coach K out on top. The biggest reason for that is freshman Paolo Banchero.
Banchero's great season has carried over to March Madness. He's averaging 18.0 points, 8.5 rebounds, and 4.0 assists on 53.6 percent shooting. A potential National Championship runs for Duke would put Banchero in line to become the NCAA basketball championship MVP.
Another team flying under the radar is Houston. They made the Final Four last season and look strong this year. Houston's calling card is their defense, but someone has to step up on offense. So far, it has been Kyler Edwards.
Big time game from Kyler Edwards in @UHCougarMBK's 82-68 win over UAB:

25 PTS
7 REB
3 AST
75% 3PT (6-8)

Photo by me, from the AAC match against Tulane ? pic.twitter.com/KkNXGxWSPT

— Sean Thomas (@seanthomas723) March 19, 2022
The senior guard has played with Texas Tech in many NCAA Tournament games. This is his first opportunity to play with Houston, and he's not wasting it.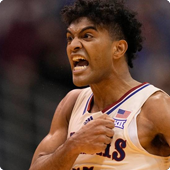 Houston has a tough path to the Final Four with a Sweet 16 matchup against Arizona. If they make it past them, I like their chances to make the Final Four for the second straight year.
Kansas has plenty of playmakers, with Ochai Agbaji, Christain Braun, and David McCormack. However, Kansas' best player in the NCAA Tournament has been Remy Martin.
Martin was very efficient in Kansas' Round of 64 matchups against Texas Southern. He had 15 points, four assists, and two steals on 75 percent shooting. With 20 points, seven rebounds, and four assists against Creighton, Martin looked even better.
There's no doubt Kansas is one of the top National Championship contenders. Martin's odds for NCAA basketball tournament MVP will rise with every win. His March Madness MVP hopes are off to a great start.
My final sleeper for March Madness MVP is Brady Manek. Manek has been the best player in the NCAA Tournament in terms of individual production.
Brady Manek this weekend

54 points
9-10 from two
9-18 from three
9-11 from foul line
16 rebounds
5 assists / 2 turnovers
2 blocks

82.2 true shooting %
80.4 effective field goal %

— chris (@dadgumboxscores) March 21, 2022
Manek's numbers against Baylor could've looked better if not for a questionable Flagrant 2 that led to his ejection. Either way, North Carolina lived to fight another day, and he'll aim to continue his NCAA 2022 MVP bid.
North Carolina was one of my top Final Four bets for 2022. After the first two games, I feel very confident about that selection. That's the only thing holding Manek back from being a favorite to win March Madness MVP.
Tips for Betting on the 2022 March Madness MVP Winner
We've talked about the top contenders and sleepers for the NCAA Tournament MVP. It'd probably help your March Madness MVP prediction if we gave you some betting tips.
Let's talk about what goes into picking the March Madness MVP.
Pick a Player from a National Championship Contender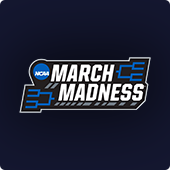 I hinted at this while discussing the top contenders and sleepers. It's essentially a guarantee the MVP of March Madness will come from the National Championship winning team. Akeem Olajuwon in 1983 is the last player to win the award and not win the championship.
That's the primary reason the odds of winning the 2022 March Madness MVP have three Gonzaga players in the top five. Gonzaga entered the NCAA Tournament with the best odds to win the National Championship, and it remains that way.
Drew Timme has put up great numbers, but has he been the best player in March Madness? We talked about Brady Manek's fantastic start to the NCAA Tournament. I'd say his numbers are better than Timme's.
Let's compare Gonzaga odds to North Carolina.
Gonzaga: +200
North Carolina: +3000
Timme is the favorite to win the NCAA basketball tournament MVP, while Manek has (+6600) odds.
Michigan center Hunter Dickinson is another player in this situation. He is averaging 24.0 points and 8.5 rebounds while shooting over 70 percent. Those are great numbers, but Michigan has (+3500) odds to win the tournament.
We see longshot champions, but it makes sense to pick a player on one of the top teams.
Take a Longshot From a National Championship Contender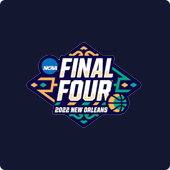 This is an extension of my first betting tip. We talked about picking a player from a National Championship contender is the way to go, but that doesn't always mean the best player. I wouldn't blame you for taking a long shot.
I'd give this advice because the Final Four carries the most weight. A player could post average numbers in the first couple of games. If they step up in the Final Four, they have a solid chance to win MVP.
In 2013, Luke Hancock earned the NCAA Basketball Tournament's most outstanding player. Hancock put up great numbers for Louisville in the Final Four, but he was a non-factor before that.
| | | |
| --- | --- | --- |
| | Region PLay (4 Games) | Final Four (2 Games) |
| Points | 6.8 | 21.0 |
| Field Goal Shooting | 8-15 | 11-15 |
| Three-Point Shooting | 3-9 | 8-10 |
Hancock scored seven points or less in his first three games. In the Final Four, he cleared 20 points in both games.
I talked about Remy Martin starting the tournament with a pair of great performances. Imagine if he had a decent start but put up big numbers in the Final Four. That stretch could be enough to win the March Madness MVP.
Shop for the Best Odds Online
Almost as important as the top two tips – and getting the right Most Outstanding Player pick – is getting the best price. I've already touched on some great sportsbooks to use if you want the odds mentioned in this post, or if you specifically love Timme to win.
That said, there are other great March Madness betting apps you'll want to take a look at, whether just to maximize your earnings via this prop, or to tap into special March Madness bonuses and promotions.
To find the best options online, be sure to read up on the best NCAA tournament betting apps below.
Prediction for Who Wins the 2022 March Madness MVP
March Madness has already brought excitement and unpredictability. Coming into the NCAA Tournament, players like Johnny Davis, Oscar Tshiebwe, and Jabari Smith Jr. were among people's March Madness MVP predictions.
Well, none of them made the Sweet 16.
It's hard to predict who will win the 2022 Most Outstanding Player award because we have no idea who will be in the Final Four. I'm going to take a bit of a chance and go with Jaden Ivey.
Ivey is the best player on Purdue, and they don't have a difficult path to the Final Four. They're the safest pick to make the Final Four, so we'll see what happens from there.
We have plenty of action left in March Madness with the Sweet 16 fast approach. The March Madness betting guide for 2022 will give you all the information for betting on the NCAA Tournament.
2022 March Madness Betting Guide
September
Casino of the Month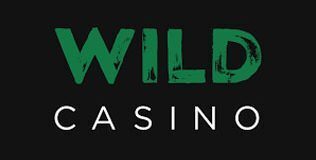 Welcome Bonus
250% up to $5,000