NCAA Football Props: Who Will Coach the Tennessee Volunteers in 2018?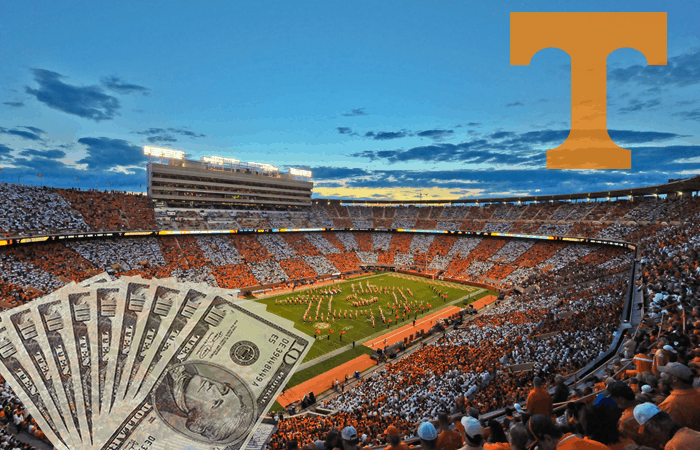 How bad are things for Butch Jones in Tennessee? We're not even midway through the 2017 campaign, and the predictions are already coming in for who his successor will be next year.
In fact, BetOnline has set betting odds on which head coach will be on the Volunteers sidelines when the 2018 campaign kicks off.
I'm not a huge fan of kicking a man when he's down, but I do like money. So let's take a look at the odds on which coach will oversee the Tennessee program next year, then go over a few of the favorites and sleepers for the position and see if we can cash in on Jones' misery in Knoxville.
Who Will Be Tennessee's Football Coach To Start 2018?
Chip Kelly: +325
Jeff Brohm: +450
Bobby Petrino: +450
Mike Norvell: +750
J. Fleck: +800
Bob Stoops: +900
Tee Martin: +900
Les Miles: +1000
Jim Bob Cooter: +1800
Dan Mullen: +1800
Jon Gruden: +2000
Brian Kelly: +2500
Peyton Manning: +10000
Lane Kiffin: +10000
Note: If Butch Jones is still the Tennessee head coach at the start of 2018, or if the next coach of the Volunteers is not on this list, all wagers will be declared no action. Bets placed after the next coach of Tennessee is public knowledge will also be declared no action.
Favorites To Be Tennessee's Coach In 2018
Let's take a closer look at each of the top 3 favorites to be Tennessee's head coach next year, according to the odds at BetOnline.

1. Chip Kelly
A losing record as a National Football League coach did little to damage Nick Saban's reputation as a college football genius, and it appears the same is true of Kelly following a 28-35 record in 4 years with the Eagles and 49ers.
In fact, Fox Sports suggested Kelly as a logical fit with 5 major programs shortly after the 49ers sacked him last winter: Notre Dame, UCLA, Tennessee and Texas A&M, along with an offensive consultant position under Saban at Alabama.
While Notre Dame, UCLA, Texas A&M and Tennessee all still have the same coaches that Kelly was suggested to potentially succeed, Tennessee is the leading candidate to have a job opening before next fall. And as Fox Sports pointed out, the Volunteers' history of investing in their football program, participation in the SEC and the 100,000-seat stadium would all be appealing to someone of Kelly's pedigree. The ability to play in the SEC East, rather than compete directly against Saban in the West, is another reason Kelly might choose the Vols over Texas A&M, assuming the Aggies make Kevin Sumlin walk the plank after this season as well.
However, as CBS Sports' Dennis Dodd noted earlier this month, Kelly may not now be as appealing to major college programs as he was a few months ago.
The recent FBI crackdown on bribery and other violations in college basketball should make schools a bit more cautious about who they hire, and Kelly was suspended 18 months by the NCAA for "failure to monitor" former Oregon 7-on-7 coach Will Lyles' shady recruiting practices.
Dodd pointed out that it's possible that any sanctions against Kelly could follow him to his next gig. Whether that's enough to scare away the Volunteers might be the biggest question about Kelly's potential future in Knoxville.

2. Jeff Brohm
Brohm is just 5 games into his tenure at Purdue, but he's already drawing tons of praise for the work he's done with the Boilermakers. Michigan coach Jim Harbaugh suggested Brohm is an early leading candidate for coach of the year after Purdue played the Wolverines tough in a 28-10 loss, and CBS Sports listed Brohm as one of college football's most underrated coaches going into the season.
A former NFL quarterback, Brohm could help address the Volunteers' biggest issue this season: offense. Tennessee needs to develop a new starting pivot after last year's graduation of Josh Dobbs, and the Vols' passing game (92nd in the nation at 195.8 yards per game) is a big reason Tennessee is 0-2 in conference play after starting the season ranked in the AP Top 25.
It's tough to know, however, whether Brohm would want to leave Purdue after serving just 1 year of a 6-year deal he signed last winter.
Especially if the Boilermakers continue to make progress and earn respect in the Big Ten, a conference that is arguably as good or better than the SEC.

3. Bobby Petrino
To say that Petrino's got a history of bouncing around from job to job is just a bit of an understatement. Granted, not every move Petrino has made has been his decision (he got canned by Arkansas in 2011 after lying about an affair with an employee), but this is a guy who in 2007 left Louisville for the NFL just 6 months after signing a 10-year extension with the Cardinals.
So it shouldn't come as any sort of surprise if Petrino decides to walk out of Louisville once again. Especially after the school put athletic director Tom Jurich on paid administrative leave following the latest Rick Pitino saga related to the FBI's investigation of college basketball. If Louisville fires Jurich, the amount of money that Petrino would have to pay to buy out of his contract would be cut in half.
Petrino definitely comes with his baggage, but the Volunteers athletic department may be willing to overlook it because the guy is a proven winner. He's won at least two-thirds of his games at Louisville, Arkansas and Western Kentucky, and his teams have made appearances in a bowl game in 10 of his 12 full seasons on a sideline.
Sleepers To Be Tennessee's Coach in 2018
Generally, with props like this, the oddsmakers are pretty tuned into the rumor mill and have a decent sense of who is most likely to land the job.
So instead of looking at a few mid-range sleepers that could conceivably get the head coaching position at Louisville next year but probably won't, I've decided to analyze the chances of the biggest names on the board that also happen to pay the fattest odds.

1. Jon Gruden
Gruden may look pretty comfy in the Monday Night Football booth, but it's also pretty obvious that the guy was born to coach. A few months ago, he acknowledged that his TV work helps him stay on top of the NFL and that he was "preparing to come back" to the sidelines, even though he said a few weeks later that he didn't "foresee (himself) coaching anytime soon."
Though Gruden hasn't coached a team in nearly a decade, he earned a ton of street cred with his 5 division titles with the Buccaneers and Raiders, along with his 2002 Super Bowl win over Tampa Bay. That reputation has only grown with Gruden's presence in the public eye on MNF, and any college fan base would be thrilled if their favorite team hired him.
What makes the Gruden-to-Tennessee angle worth considering is that he is actually a former employee of the university, having served as a graduate assistant when he was 23 and 24. And though he has no experience as a NCAA head coach, he did serve as the passing game coordinator at Southeast Missouri State and the wide receivers coach at Pacific and Pittsburgh before becoming the Packers' offensive assistant at the age of 29.
Gruden was pursued by the Vols 5 years ago and is probably on Tennessee's short list of phone calls to make as soon as Jones is fired. It's still a longshot that he says yes, but it's a longshot worth considering.

2. Brian Kelly
Kelly's hot seat in Notre Dame has gotten a bit cooler thanks to 4 straight blowout wins following a 20-19 loss at home to Georgia in the Irish's second game of the season. But the Irish were also a double-digit favorite in 3 of those 4 victories, with the only tough game in that stretch being a visit to Michigan State.
Kelly's job status could get a bit more tenuous over the next month or so, with Notre Dame hosting USC on Oct. 21, NC State the following week and then visiting Miami on Veteran's Day. The Irish will also travel to Stanford to close out the regular season in late November, so there's plenty more opportunity for Notre Dame to stumble down the stretch.
A 3-loss season in a pretty soft independent schedule could be enough to be the final nail in Kelly's coffin at Notre Dame, and his career record (117-54) should make him an appealing candidate to any college program willing to live with Kelly's volatile personality.
If Kelly lands in Tennessee next year, it'd also be a pretty ironic twist. Jones was Kelly's successor at both Central Michigan and Cincinnati, so it'd be funny to see Kelly inherit Jones' recruits for a change.

3. Peyton Manning
Who better than the greatest Vol of all to lead Tennessee's football program back to the glory days it once enjoyed with Manning at quarterback in the mid-'90s?
It's hard to find anyone who doesn't like Peyton Manning, but he's already overwhelmingly popular in Knoxville and you have to think if he expressed interest in coaching the Volunteers, Tennessee would immediately take him up on the offer. Recruiting would be a breeze and though Manning has no coaching experience (outside of working with Dolphins QB Ryan Tannehill last year), he was basically a coach on the field throughout his NFL career.
It's pretty interesting that Manning could basically have any job he wants in football, yet he hasn't taken one yet. He's repeatedly made it clear that he supports Jones and wants the Volunteers to succeed under their current head coach, but Manning has also made a lucrative endorsement career out of always saying the right thing.
Are we really supposed to believe that his opinion is "not that important", as he self-disparagingly suggested to reporters after supporting Jones? Of course it is. It'd be awesome to see Manning back in burnt orange, and I'm not so sure that it's quite the +10000 longshot that it's priced out to be.
Tennessee Volunteers 2018 Head Coach Betting Pick
Let's start with the obvious: Butch Jones is going to get fired. Other than winning with Kelly's leftovers in his previous 2 stops, Jones hasn't shown any ability to build a winning program, and the Volunteers have lost several very winnable games over the past few years due in part to some questionable coaching decisions and strategies.
It definitely wasn't a good sign that after blowing a fourth-quarter lead in a loss in Florida, the Volunteers struggled as 28-point favorites to beat UMass 17-13 the following week. And after that embarrassingly tight victory in what should have been a high-focus bounceback spot, the Vols laid another egg at home, getting pounded 41-0 by Georgia. If Jones can't have the Volunteers looking a lot better this Saturday (they're 2-point home favorites against South Carolina), his pink slip may arrive before the weekend is out.
Who will be his permanent successor in 2018 is a much more difficult question to answer. There are plenty of qualified candidates, and the Tennessee coaching job would have to be tempting to virtually all of them.
Of the 3 favorites, I think Petrino (+450) is the most likely to land in Knoxville.
His first SEC stint was cut short by his firing from Arkansas, and he may be anxious to get back at the Razorbacks and the rest of the conference by joining the Volunteers.
I'm also going to sprinkle a bit on Peyton Manning (+10000) to coach the Vols in 2018 as well.
Maybe it's a donation just to have a little fun with this prop, but you can't deny the ties that Manning has to the university and Peyton returning to Tennessee is a story worth cheering for with your wallet.