NBA Trade Rumors: 8 Playmakers the Cavs Could Add to Appease LeBron James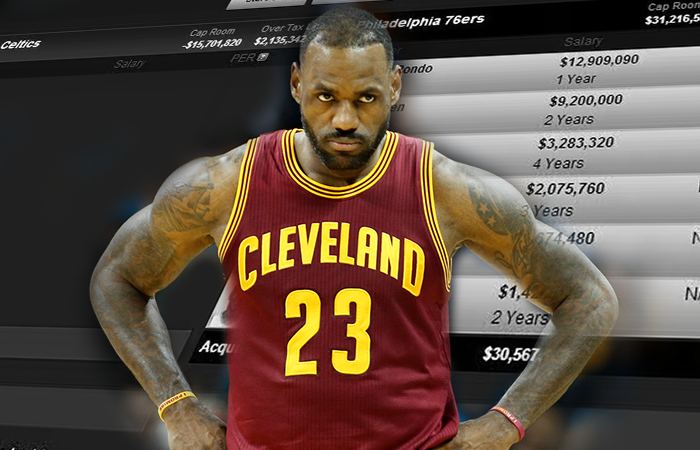 The Cleveland Cavaliers recently swung a trade to land sharpshooting veteran Kyle Korver to boost their offensive depth. According to LeBron James, who went on an expletive-ridden tirade not long after regarding the team's ability to repeat as NBA champions, Korver alone simply isn't enough.
It's hard to argue with James, too, as the Cavs really don't have a backup point guard to turn to behind Kyrie Irving. That means whenever Irving sits, James needs to stay on the court or the Cavs risk losing playmaking ability in their offense – or vice versa.
The point seems clear to many, but the Cavs recently went public to state their belief that the roster as currently constructed is enough to get the job done.
It remains to be determined how that sits with King James, or if Cleveland is just saving face for now until they can nail down one more key acquisition. One problematic issue to it all, of course, is the Cavs simply don't have the wiggle room to do anything huge.
The recent trade rumors involving a swap of Kevin Love and Carmelo Anthony were certainly interesting and added fuel to the fire, but they don't solve the issue. Melo is a scorer and a ball-stopper. He also doesn't rebound or shoot as well from deep as Love, so overall, you're losing too much to gain another ISO scorer.
That move doesn't make sense and it's a good thing the Cavs realized that and denied the deal. That doesn't mean they won't explore other options, of course, and there are certainly a few that could make sense. Let's take a look at our favorite five:
Mario Chalmers, PG, Free Agent
Chalmers starts our list out just because he's a free agent and has played with James before. He's nursing a pretty brutal Achilles injury he sustained last season and it's unclear if he can be the same guy again. Last we hear in late November, he was still rehabbing and wasn't ready to play.
If he can get ready in the next month or so, maybe we hear his name pop up and he's a more realistic option. For now, he's probably lower on the list until we know where he's at physically.
Nate Robinson, PG, Free Agent
Robinson is a guy you have to wonder about, as he's aged and has dealt with several injuries. He's openly applied for the job basically and has a solid past with scoring and running an offense, but how much does he actually have left to give an NBA team?
Robinson is basically an older Kay Felder at this stage in his career, so the key would be convincing the Cavs he still could bring a lot to the table as a scorer and passer. He has never been a good defender and his lack of size limits him across the board. Would he be so much of an upgrade over Felder that he'd be worth the gamble? That's one thing the Cavs would have to decide.
Ish Smith, PG, Detroit Pistons
Smith makes plenty of sense, as he's a pure passer who knows how to set people up, run an offense and score. He just doesn't score or shoot efficiently, so he isn't an ideal starting option in the league. That's fine, because the Cavs would just need him to focus on running the offense and getting other teammates good shots.
Smith leaves a lot to be desired as a shooter and defender, but if the Cavs want an experienced guy they can trust to keep the offense going, they could do a lot worse than Ish.
Sergio Rodriguez, PG, Philadelphia 76ers
Rodriguez makes good sense for a couple of reasons; T.J. McConnell has taken over as the top point guard in Philly and Ben Simmons (who the Sixers want to run their offense) could be nearing his NBA debut. If that happens, Simmons and McConnell will split time at the point and the veteran Rodriguez won't be needed.
Rodriguez could also go play for a contender, where his passing and outside shooting wouldn't go to waste as much. Sergio would know coming in he has a bit role and a defined one, at that. But he can run the offense, set others up and even provide a little offense. He'd be an upgrade over DeAndre Liggins and Kay Felder and could be enough to appease LeBron's cries.
Rajon Rondo, PG, Chicago Bulls
Rondo is probably the biggest name that makes the most sense, as he's been delegated to third string duties in Chicago and has already suggested he'd pursue an exit if his role stays this way. It looks like it will, so Rondo leaving the Bulls in one way or another may be a foregone conclusion.
If so, it could make sense for Rondo to seek a trade to the Cavs or be granted his release so he could latch on with the team for the veteran's minimum. The latter is the most likely if the Bulls agree to it, although it's worth wondering if Rondo's ego is too big for that.
The other issue is if adding Rondo would even be a good thing. He's always been a great passer and rebounds well for a guard, but he's a huge liability due to awful shooting percentages and has proven to be a distraction in the locker room. Can Rondo be trusted to stay in his lane for a title contender? Cleveland would get their playmaker, but could be sacrificing ideal chemistry in the process.
Jarrett Jack, PG, Free Agent
Jarrett Jack is a very interesting option, as he's currently a free agent due to a knee injury he suffered last year. The key here is his health, as the 33-year old could easily be slow to recover from a torn ACL. If he's healthy, however, Jack can still hold a lot of value as a guy who can score and run an offense.
Jack would be one of the easiest upgrades to nab, as the Cavs would simply have to talk him into signing for the veteran's minimum. If Jack can still ball and is fine with latching on with a title contender on the cheap, he could be the perfect fit.
Jameer Nelson, PG, Denver Nuggets
A similar option could be Jameer Nelson, who is smaller than Jack but is a better shooter and a solid option to run an offense. He's currently needed in Denver due to an injury to Emmanuel Mudiay, but the Nuggets also have rookie Jamal Murray and really don't need Nelson, long-term.
What it'd take to get Nelson is unclear, but the Nuggets would certainly listen to offers. Nelson is aging, but he has still proven to be effective and would be a fine upgrade in a reserve role.
Deron Williams, PG, Dallas Mavericks
The best option out there might be Deron Williams. He did hurt his toe in his last game, but once healthy, he could try to work his way out of a losing Dallas club. The Mavs are going nowhere fast and Williams probably wouldn't mind the idea of playing for a title contender.
The real issue here would be trade compensation, money that's going to Williams and D-Will's role. He is a guy who can still be a viable starter in the league, so it'd be interesting to see if he's ready to take a pay and role cut in order to chase a championship. Right now, that doesn't seem to be the case.
Who Will the Cavaliers Add?
Right now, based on Cleveland's actions, it doesn't look like they'll be adding anyone. However, the guy that stands out the most is probably Jarrett Jack. He still looked great last we saw him healthy and if he is back to his old form, he'd be an amazing upgrade off of the street.
Jack can do it all and while he doesn't offer much defense, he'd really only be needed in a bit role to spot Irving and James in the playoffs. Cleveland could play it slow and talk with Jack as he continues to rehab, and then perhaps sign him just before the playoffs.
It's clear James doesn't think the Cavs are ready to repeat as NBA Finals champs as they stand. If they don't make any extra moves, he might be right.