NBA Speculation: Where Will Damian Lillard Play Next?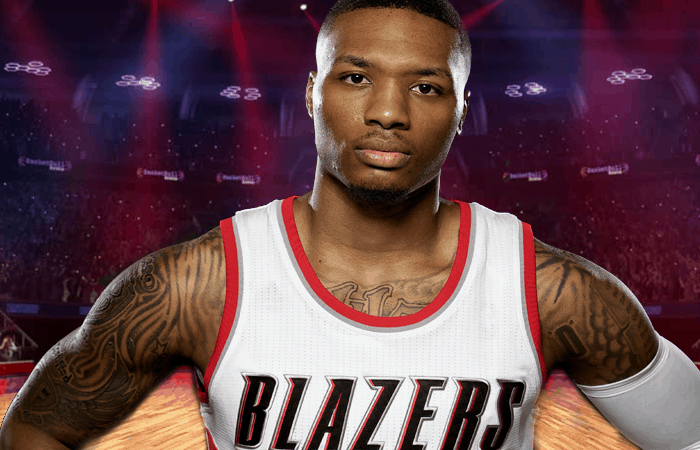 For whatever reason, sports fans are highly entertained by the notion that players may decide to leave their current team in order to play for another. There's a reason things like the NFL Draft and the NBA free agency period generate so much buzz every year. Now that the 2018 NBA Finals are in the books, fans are looking ahead to the draft and subsequent free agency period, which will get underway in July.
Portland Trail Blazers superstar guard Damian Lillard is not going to be among those seeking a new contract in free agency, but he did stir up a little buzz about his future on social media Wednesday morning. Some guy on Twitter casually asked Lillard what team he would want to play for if the Blazers (for whatever reason) told the guard he was no longer wanted, and Lillard had an interesting reply.
The Los Angeles Lakers aren't a huge surprise considering they seem to be atop just about every free agent's wish list. But the Utah Jazz? That's a new one. So, let's say the Blazers were to tell Lillard he was no longer a part of their future plans. What are five potential destinations that would make sense? Let's try and handicap this thing.
Los Angeles Lakers +250
Lillard hails from Oakland, but he's already been vocal in the past that he would not sign with the Warriors and their current superteam. So, if he were looking to head back to his native California, perhaps the Lakers are a team that makes sense. Evidently, Lillard is a fan of the glitz and glamour that comes with playing for the NBA's most prestigious franchise.
LA is currently in the midst of a dark period, but they appear to be headed in the right direction. There's no telling how much damage Magic Johnson will do running the show, but in terms of young talent they seem to be on a positive track. D'Angelo Russell, Brandon Ingram and Julius Randle is a nice core with which to start.
There have also been murmurs regarding Paul George's potential interest in returning to LA to play for his hometown team. PG13 will be a free agent in the summer of 2018, and he doesn't appear all that interested in inking a new deal to stay with the Indiana Pacers. If Paul were to bail on the midwest in favor of the west coast, the Lakers would suddenly have an attractive All-Star in the midst of his prime around which to build.
Lillard joining the Lakers as currently constructed wouldn't make a ton of sense, but if George is already in the fold then the team all of a sudden becomes a much more appealing free agency destination. Pairing Lillard and George wouldn't be enough to topple the current superpower in the Bay Area, but it's a start. Stars have a way of flocking together in today's NBA, and Lillard and George joining forces would surely attract even more top-level talent to Hollywood.
There are a lot of things that have to happen for this to all come together, but it's not unreasonable to imagine it happening.
Utah Jazz +500
While we don't really believe that Lillard gave his answer serious thought, his comment is forcing us to list the Utah Jazz here, nevertheless. Interestingly, Utah may just be a top-tier point guard away from being one of the league's truly elite teams. That said, they do have their work cut out for them this summer. Both the Boston Celtics and Miami Heat are expected to make strong pushes to pry star swingman Gordon Hayward out of Salt Lake City. Hayward's potential departure would certainly put a serious damper on enthusiasm surrounding the Jazz heading into next season.
However, for the purposes of this piece we're going to assume that Hayward sticks it out with the Jazz for the time being. George Hill may well leave this summer for greener pastures. Unless Dante Exum makes a serious leap and becomes what they hoped he would be as an ex-lottery pick, Utah could stand to upgrade the PG spot.
They'd still probably have to add another high level wing talent in order to really give the Warriors a go, but adding Lillard would definitely put them in the conversation out West. The Jazz don't seem as realistic a destination as the Lakers would be, but Lillard mentioning them does make things interesting. We're not a huge fan of their chances, though.
Minnesota Timberwolves +750
This one would be fun. Ricky Rubio really came on strong at the end of last season, so there's no telling where his future with the Timberwolves lies. Still, Lillard would be an upgrade. Karl-Anthony Towns has wasted no time in emerging as perhaps the league's brightest young center. Andrew Wiggins and Zach LaVine still have a ways to go as far as development, but this is a potential sleeping giant in Minnesota.
Lillard could potentially be the missing piece that brings everything together. He's still been a pro for just five years, but he's already become an excellent leader and seems to have a calming presence on his teammates. The Timberwolves certainly need all the shooting they can get around Towns, and Lillard obviously would provide plenty of that.
Lillard named the Jazz, which seems to indicate he likes their long-term upside and collection of young talent. He stopped short of mentioning the Timberwolves, but they may have a higher ceiling over the next decade than Utah does. Get Lillard to the Timberwolves! Somebody make this happen!
New Orleans Pelicans +1000
Speaking of teams that need shooting, how about the Pelicans? They've already got DeMarcus Cousins and Anthony Davis in place, and now they need somebody to tie everything together. Jrue Holiday may be back as a free agent this summer, but adding Lillard would take the franchise to new heights altogether. Holiday is a nice player, but he's no Lillard.
The Pels should dedicate the upcoming summer to finding shooters to dot the perimeter around their pair of all-NBA big men. Lillard-Cousins-Davis would rival any trio of any other team in the league, and they're all just beginning to hit the primes of their respective careers. Adding Lillard to the team already in place could lead the Pelicans to serious contention sooner rather than later.
Does this vault New Orleans above the Warriors? Likely not, but it could have a similar star attraction quality that a PG13/Lillard pairing would with the Lakers. If the Pelicans emerge as the hottest thing going, ring-chasers out there will take less to hop on that bandwagon. If Lillard is seeking a team he can help turn a doormat into a contender, New Orleans certainly qualifies.
Miami Heat +1000
The Heat don't appear to have a long-term superstar already in place, but they do have some interesting pieces in Hassan Whiteside and Justise Winslow, among others. What they need is another superstar to really help them get to the next level. Goran Dragic is a nice player, but he's not the point guard of the future on South Beach.
The allure of playing in Miami is nothing new. Pat Riley is perhaps the most convincing executive in the league and seems to wield amazing power in that organization. If he wants you to do something, you'll probably do it. It wouldn't take much to convince Lillard to start anew with the Heat. If Lillard has the opportunity to become the face of that franchise, one would imagine he'll jump at the chance.
The Heat are essentially Lakers East. They obviously don't have the lengthy history that the Lakers do, but it's become one of the league's most glamorous organizations. They're not very good these days, but it won't take them long to rise back to the top of the Eastern Conference once again. They're reportedly going to be in the market for Hayward this summer, and moving on to Lillard at some point in the near future wouldn't be a surprise, either.
Lillard is under contract through the 2020-21 season, so we're doing quite a bit of projecting here. Still, it's a fun topic to debate. If the Blazers tell him goodbye, these five clubs make sense as potential landing spots.