Hide Bonus Offers
| | | | | |
| --- | --- | --- | --- | --- |
| #1 | Bovada Sports | 50% Up To $250 | Visit Site | Bovada Sports |
| #2 | BetUS | 125% Up To $2,500 | Visit Site | BetUS |
| #3 | MyBookie | 100% Up To $1,000 | Visit Site | MyBookie |
| #4 | Everygame | 100% Up To $500 | Visit Site | Everygame |
| #5 | BetOnline Sports | 60% Up To $1,000 | Visit Site | BetOnline Sports |
NBA Rookie of the Year Odds: 3 Players Not Named Ben Simmons That Can Win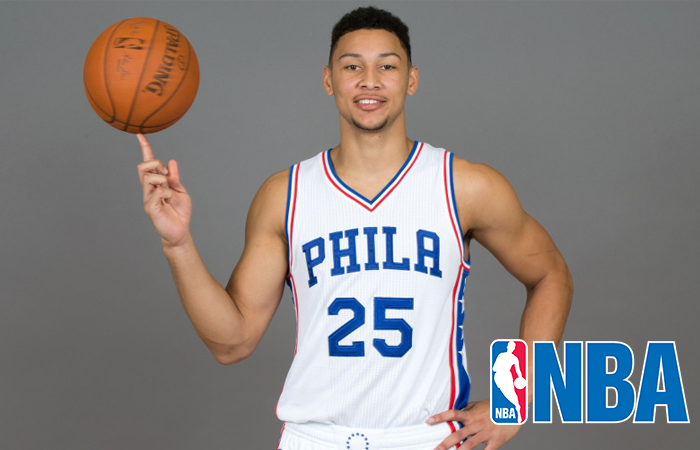 Ben Simmons has been the talk of the NBA to start the 2017-18 NBA regular season. Drafted a year ago, the second-year big man is technically a rookie this year after sitting out last season with a foot injury and has fully taken the league by storm.
The expectations were high for Simmons entering this season and most sportsbooks pegged him as the odds-on favorite to claim the Rookie of the Year award.
Simmons entered with +150 odds at BetOnline to win the award and has torched opponents while helping Philadelphia slowly turn into a playoff threat. Simmons mentioned that he felt like he was in the NBA2K video game in his debut, a game in which he dropped 18 points and 10 rebounds on the Washington Wizards.
There is no downplaying Simmons' hot start. He's close to averaging a triple-double in the early going – something that was done last year but is still a rarity. The fact that he's doing it instantly in his first season on the job makes it even more impressive.
As awesome as this start has been for Simmons, NBA bettors may still be wondering if there is upside to be had elsewhere.
2017-18 NBA Rookie of the Year Odds
Bovada has been kind enough to release updated NBA Rookie of the Year odds. It should surprise nobody that Ben Simmons (-300) is the heavy favorite, but it's a little surprising how big the gap is. Check out the latest odds:
Ben Simmons – 76ers (-300)
Lonzo Ball – Lakers (+700)
Dennis Smith – Mavericks (+1000)
Jayson Tatum – Celtics (+1200)
Lauri Markkanen – Bulls (+1200)
De'Aaron Fox – Kings (+1800)
John Collins – Hawks (+2500)
Josh Jackson – Suns (+2800)
Malik Monk – Hornets (+3300)
Donovan Mitchell – Jazz (+4000)
Kyle Kuzma – Lakers (+5000)
Justin Jackson – Kings (+5000)
Mike James – Suns (+5000)
Markelle Fultz – 76ers (+6600)
Bogdan Bogdanovic – Kings (+6600)
Dillon Brooks – Grizzlies (+6600)
Milos Teodosic – Clippers (+6600)
It's pretty wide open after Simmons, which just goes to show just how heavily he's being favored right now. It's hard not to get sucked into his glory, though, as he's been even better than advertised en route to a staggering 18.5-9.6-7.9 line.
The kid is close to averaging a triple-double in his first year on the job and provided he stays healthy, there isn't much about his game that suggests he'll experience a massive drop-off.
Of course, there are a few drawbacks. For one, fellow rookie Markelle Fultz was the #1 pick in the draft for a reason. He's sitting at the moment with a bum shoulder, but once he gets healthy and reacclimated, who is to say he can't level the playing field a bit?
That notion at the very worst makes Fultz the mother of all flier bets at +6600 and it could contribute to some of Simmons' numbers taking a hit.
Aside from Fultz, Simmons could be due for some mild regression as the season goes on, regardless.
Simmons is not a great shooter from the charity stripe and his shot doesn't consistently extend out to the NBA three. That could force more defenses to sell out to keep him out of the paint, which would impact his scoring and assist numbers.
3 Biggest Threats
Last year showed us one massive reason why we can't always bank on the early front-runner, as Joel Embiid was feasting on NBA defenses, but then was shut down with a knee issue.
Just like that, the ROY lock went from winning to barely being part of the betting process. The honor would ultimately go to Malcolm Brogdon of the Milwaukee Bucks in what was a severely watered down field.
Injury could stop Ben Simmons from reaching the rookie promised land this year, or his play could slow down and a stacked rookie class could complicate matters.
That's the real problem here; Simmons is the clear favorite right now but in due time, a loaded draft class could force us to consider alternative options.
Because of that, we need to look at all possibilities. There is value to be had across the board, but these three guys make the most sense, should somebody end up unseating the Sixers star:

Lonzo Ball – Lakers (+700)
Ball undoubtedly leads the way, as he's the next guy up in terms of elite versatility among rookies. Ball is running the show in L.A. right now and doing a solid job, putting up over 10 points, 7 rebounds and 7 dimes per game.
Those aren't the eye-popping numbers Simmons is producing, but Ball might actually have more long-term upside due to superior outside shooting ability.
That hasn't shown itself yet, but if Ball becomes more assertive and efficient on the fly, he could have comparable numbers to Simmons whilst leading the Lakers to a playoff push.
Simmons has a huge lead because Ball hasn't been consistent, nor at the same level as Simmons to this point. If that changes, we could be getting insane value at +700.

Dennis Smith Jr. – Mavericks (+1000)
Smith is the face of the future for Dallas, but his progress in year one has been slowed by the Mavs struggling to win. In addition, he's been dealing with knee issues that have had him miss some time.
There is no way Smith is going to truly compete for the NBA Rookie of the Year award if he's not healthy and logging big minutes, but there's also no denying his upside.
Smith has flashed his elite athleticism at times and we saw right away in his pro debut (16 points, 10 assists) just how big of an impact he can make.
Getting and staying healthy is objective number one, while Smith also needs to improve his efficiency. If he can do that and be part of the reason why Dallas starts to turn their season around, he'll quickly be in the mix for this year's ROY award.

De'Aaron Fox – Kings (+1800)
I'd be open to arguments for a few other guys (to be discussed shortly) to slide in ahead of Fox, but long-term, he's one of the best bets in this list.
The problem with Fox has little to do with his actual ability or his impact thus far as a rookie. Rather, the Kings oddly brought in a slew of veterans to mix in with their young talent during the offseason.
That's quickly become a troubling development, as it's held some of their young talent back even though some of the young guys have performed better.
Fox is one of those young guys who has excelled despite a bench role, as he's already averaging over 12 points, 5 assists and 4 rebounds per game in just 27 minutes per game.
It's not crazy for Sacramento to slowly unleash their prized rookie, but considering how well he's played, they might want to think about handing him the starting job. Once/if that happens, Fox will get the same opportunities guys like Smith, Ball and Simmons are getting and there is an argument he could impress as much or more as any of them.
The best part? Fox is an elite talent waiting to happen and we'd be getting insane value with him at +1800 odds at Bovada.
Honorable Mentions
We just went over the best bets, but that doesn't eliminate a few other contenders. Jayson Tatum (+1200) and Lauri Markkanen (+1200) have been surprisingly consistent scorers for their respective clubs and could improve as they get more comfortable.
Tatum has been more impressive in terms of versatility, but Markkanen stepped into a big role earlier than anyone expected and has yet to have a game where he hasn't scored in double figures.
Neither of these guys has gotten to Ben Simmons' level of elite consistent and impact yet, but they're not as far off as some may have you think.
One level down we can look at two elite scorers in Charlotte's Malik Monk (+3300) and Utah's Donovan Mitchell (+4000). These guys aren't at all consistent and don't do enough beyond scoring to be serious threats yet, but they've certainly had their moments in the early going.
Overall, this is a very deep rookie class and as big of a lead, as Ben Simmons has, he is not without his competition.
Who Will Win ROY?
We always want to cover all of our bases and there are certainly guys worthy of some flier bets, but we know the answer. Ben Simmons is running away with this thing and what was once a pretty tight race between Simmons and Lonzo Ball doesn't feel all that close anymore.
These fliers bets offer betting value and protect us from Simmons getting hurt or dealing with sharp regression because of his flaws. However, the kid is an utter natural and when you watch him, the game comes to him easily in an effortless way.
Simmons isn't by himself, either. He's blessed with good coaching and a loaded roster of stellar talent in Philly. As long as the likes of Joel Embiid, J.J. Redic, Dario Saric, Robert Covington and Markelle Fultz are there to help him, he's bound to get open looks and easy dimes.
There is some faint competition beyond him, but it's going to take something borderline catastrophic to pry the Rookie of the Year away from Simmons. The -300 line doesn't offer much upside, but we can go hard on this wager and give ourselves a few outs with some fliers elsewhere if need be.