Hide Bonus Offers
| | | | | |
| --- | --- | --- | --- | --- |
| #1 | Bovada Sports | 50% Up To $250 | Visit Site | Bovada Sports |
| #2 | BetUS | 125% Up To $2,500 | Visit Site | BetUS |
| #3 | MyBookie | 100% Up To $1,000 | Visit Site | MyBookie |
| #4 | Everygame | 100% Up To $500 | Visit Site | Everygame |
| #5 | BetOnline Sports | 60% Up To $1,000 | Visit Site | BetOnline Sports |
NBA Power Rankings for February 2nd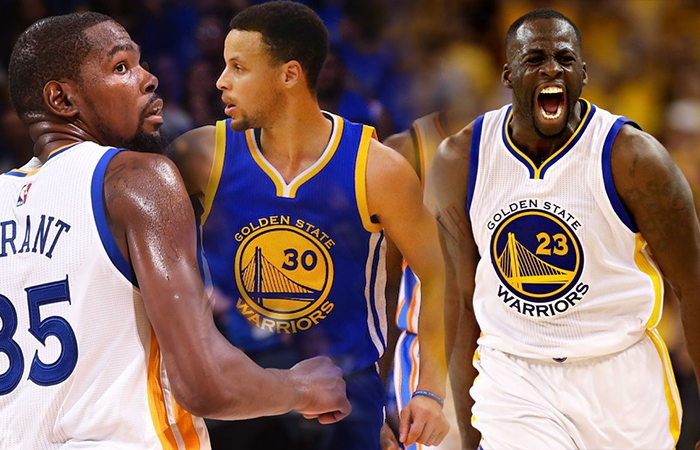 We're almost to the All-Star break, which means we are a little more than halfway through the 2016-17 NBA season. This season has flown by, and there have been plenty of surprises, both good and bad thus far. Now, it's time for our weekly ranking of all 30 teams in the Association.
Golden State Warriors (42-7)
As you may expect, the Warriors have a sizable lead on the San Antonio Spurs for the best record in the league. They are unlikely to come close to last season's ridiculous 73-9 regular season mark, but considering they went on to lose in the Finals, one would imagine the Dubs are far less concerned with making regular season history this time around.
Stephen Curry has exploded in each of the last two games and looked like the MVP we got used to seeing on a nightly basis last season. In his last two appearances against the Clippers and Hornets, respectively, Steph has connected on an absurd 20 of his 30 three-point attempts and scored 72 points in just 49 minutes of play.
San Antonio Spurs (37-11)
"Don't sleep on the Spurs!" has been a theme throughout the Gregg Popovich era, though it may have never rung truer than it does this season. Everyone is talking about the Warriors and Cavaliers again, yet here are the Spurs just coasting along with the league's second-best record. The No. 1 seed out West is not even out of range at this point, which is crazy to say considering Golden State's overall dominance.
Kawhi Leonard will not win MVP, but that certainly is not a knock on him. The sleepy former San Diego State great is averaging a career-high 25.6 points per game and continues to play the stellar defense he has become known for. To say that he might not even finish the season in the top-five in MVP voting just goes to show how many insane individual performances we have seen elsewhere around the league.
Cleveland Cavaliers (33-15)
The defending champs are still the Eastern Conference's top team, but things are far from rosy in that locker room these days. LeBron James has entered into a public war of words with Charles Barkley of all people, and has apparently privately been at-odds once again with the Cavs' owner, Dan Gilbert. James is evidently disappointed that Gilbert will not spend more money to help the team improve its roster this season.
However, what are they supposed to do? Cleveland has very little money to spend and already tried to shore up a hole by adding Kyle Korver in a trade from the Hawks. Korver has been solid in his first 12 games in the Wine and Gold, as he is connecting on better than 42 percent of his three-point attempts. The Cavs will figure it out, but they look largely lost at the moment.
Houston Rockets (36-16)
Houston still owns the league's third-best record at 36-16, but they, too, are looking a little wobbly. The Rockets are just 5-5 over the course of their last 10 games after losing just two games in all of December. They did face quite the tough schedule in January, and February is looking a tad friendlier for them. Houston will face just two teams with a record currently at .500 or better this month.
Russell Westbrook's 24 triple-doubles on the season have drawn the most headlines, but James Harden's 14 to this point are nothing to sniff at. He is just one away from equaling Hakeem Olajuwon's CAREER total of triple-doubles this season alone. With the Thunder teetering and plummeting down the standings right now, The Beard is looking like the odds-on favorite to capture his first career MVP award.
Washington Wizards (28-20)
A month ago it would have been insane to have the Wizards this high on the list, but they have been the best team in the Eastern Conference over the last several weeks. The Wiz currently boast a whopping 15-game winning streak at home and have climbed all the way up to the No. 4 spot in the conference They are just a game back of Toronto, and it would not be shocking to see them wind up with the second seed if they are able to keep the momentum going.
John Wall often gets overlooked in the discussion of the league's best point guards, which is a total shame. The 26-year-old All-Star is in the midst of a career year, averaging 22.7 points, 10.3 assists, 4.5 rebounds and better than two steals per game. He is another guy that should be right in the thick of the MVP race if Washington is able to land a top-three seed in the East.
Boston Celtics (31-18)
Any discussion of the Celtics begins and ends with the insane season Isaiah Thomas is having. The diminutive guard has exploded in his second full season in Celtics green, as he's going for a hair under 30 points per game along with 6.4 assists and 2.7 rebounds. The way he is able to score is mind-boggling considering he's 5'9" on a good day. He is able to slither his way to the bucket at will, and he has been particularly clutch in crunch time.
Thomas is averaging 10.5 points in fourth quarters alone on the season, which is easily the top mark in the league. No player has averaged double digits in any single quarter in more than 20 years, so what Thomas is doing is rather unprecedented. He helped Boston overcome a 17-point double-digit deficit to beat the Raptors at home on Wednesday night.
Utah Jazz (31-19)
Nobody is talking about the Jazz, but the way they have been able to keep their heads well above water despite a rash of injuries is rather impressive. This is a team that has not made a playoff appearance in a number of years, yet is threatening to nab a top-four spot in the top-heavy Western Conference.
Rudy Gobert likely has as strong a case as any other player that was snubbed from the All-Star Game. The Stifle Tower has established himself as the best paint patroller in the league, and he is also averaging career-highs in points (13.1), rebounds (12.6) and blocked shots (2.5). The West is loaded with premier centers, and Gobert belongs in that conversation.
Los Angeles Clippers (31-18)
The poor Clippers were completely overmatched by the Warriors over the weekend, and the 46-point defeat was the most lopsided for the franchise in a number of years. They were able to rebound with a solid win over the Suns on Wednesday, but unfortunately have to face the same juggernaut Golden State team at home on Thursday night.
Blake Griffin fortunately returned to the lineup last week and dominated the Clips' aforementioned win in Phoenix. In 34 minutes of work, Griffin finished with 29 points, eight rebounds and five assists and contributed a handful of highlight plays, for good measure. Once Chris Paul returns, this team will be a force in the playoffs.
Toronto Raptors (30-20)
Toronto is another team whose wheels have come off a bit in recent weeks. DeMar DeRozan has missed a few games with a bad ankle, which has put even more of the offensive load on Kyle Lowry's shoulders. Lowry is more than up for the challenge, but he's going to need some help if the Raptors want to keep the Cavaliers' No. 1 seed in sight.
Norman Powell has started each game that DeRozan has missed and has looked quite solid. In five games as a starting guard on the year, Powell is going for 17.2 points and nearly five rebounds per game on 50 percent shooting from the field. The former UCLA standout is looking like a second-round steal, and he deserves more minutes moving forward.
Memphis Grizzlies (30-21)
Like the Spurs and Jazz, the Grizzlies are another team in the West that few are talking about. They are never the most aesthetically pleasing team in the league to watch, but they have notched some impressive wins on the year. They are the only team in the league to have toppled the Warriors twice, and they have also beaten Utah (three times), Houston (twice) and Cleveland.
Marc Gasol has taken more of a scoring role for the Grizz this season. The big Spaniard has clearly fully recovered from the foot problem that ended his 2015-16 season prematurely. His 20.8 points per game mark is easily the best of his career to this point, and his new three-point stroke has clearly added a new and lethal wrinkle to his offensive repertoire. Gasol is taking nearly four long balls per game and is hitting them at a near 42 percent clip.
Atlanta Hawks (28-21)
The Hawks went on an impressive seven-game winning streak spanning from December into January to help vault themselves right back into the top half of the Eastern Conference. They have essentially treaded water since then, but perhaps trading Kyle Korver to a conference opponent was a tad premature. This team does not look strong enough to truly challenge the Cavs at the top, but they could be a frisky opponent for someone once the playoffs roll around.
All eyes will be on Houston tonight when Dwight Howard makes his first appearance in H-Town since leaving for Atlanta as a free agent over the summer. Despite giving the Rockets three solid years, one would imagine the big man will be serenaded with a chorus of boos after a disappointing 2015-16 campaign. In his first meeting against the Rockets earlier this season in Atlanta, Howard got a measure of revenge with 20 points and 15 rebounds.
Oklahoma City Thunder (28-22)
The Thunder were dealt a serious blow last week when Sixth Man of the Year candidate Enes Kanter broke his arm after slamming it against a bench chair in frustration. The big Turk will be sidelined for the next several weeks, which has stretched an already-thin OKC bench even more.
In spite of the shortcomings of the rest of the roster, Russell Westbrook remains ridiculous. We are 50 games into the season and the man is still averaging a triple-double (30.7 points, 10.4 rebounds, 10.3 assists). If he can get through the remaining 32 games with that mark intact, he will become the first player since Oscar Robertson in 1961-62 to average a triple-double for a full year.
Indiana Pacers (26-22)
The Pacers are just kind of…there. They have been lingering around .500 all season long and nothing really jumps off the page about them. They have surged a bit since a lackluster start, but nobody expects this team to make much noise once it's playoff time. There is plenty of interesting talent here, but this roster will need some sort of shake-up before the Pacers can really be taken very seriously.
On the bright side, Paul George has finally found the stroke of late. Before a mediocre offensive showing on Wednesday against the Magic, PG13 had scored at least 31 points in each of his last four games, including a 33-point, nine-rebound showing in Sunday's demolition of the Rockets.
Denver Nuggets (21-27)
Amazingly, the Nuggets are currently tied with the Trail Blazers for the eighth and final playoff spot in the Western Conference. The top seven teams are essentially already locked into a postseason spot, but that eighth seed will be up for grabs between a bunch of teams that likely do not belong in the tournament.
Nikola Jokic is currently dealing with a hip problem, but he has been a revelation since Mike Malone finally decided to make him Denver's starting center. The second-year big man has emerged as one of the very best passing centers in the league. In the month of January, Jokic averaged an absurd 23.9 points on 60.6 percent shooting to go along with 11.1 rebounds and a shade under five assists per game. It appears as though the Nuggest have finally found their post-Melo superstar.
Portland Trail Blazers (22-28)
The Blazers were likely the league's most pleasant surprise last season, but this year they are in the running for the league's biggest disappointment. Damian Lillard led this team to an easy playoff berth and advanced to the second round of the playoffs. This year, they will be lucky to nab the No. 8 seed and be the first round's sacrificial lamb at the hands of Golden State.
In an attempt to keep the good vibes from last season going, GM Neil Olshey splurged on some contracts he would probably like to have back. They gave $75 million to Evan Turner, who has been awful, as well as $75 million to Allen Crabbe and $15 million to Festus Ezeli. Ezeli has not played a minute this season due to injury.
Philadelphia 76ers (18-30)
The 76ers do not have a good record, but they have already won eight more games this season than they did all of last year. They have impressively gone 6-4 over their last 10 games despite being without the legendary Joel Embiid for a handful of those contests. They are currently just four games out of a playoff spot. It is still a longshot, but it isn't the impossibility that it appeared to be even a month ago.
Embiid is obviously the butter and egg man for the Sixers, but they may have found something in undrafted point guard T.J. McConnell. He essentially Wally Pipped Sergio Rodriguez for the team's starting point guard spot, and averaged a solid 8.1 points, 9.3 assists, 4.0 rebounds and 1.6 steals per game in January.
Chicago Bulls (25-25)
The Knicks always have their fair share of drama, but nothing going on in New York can hold a candle to the ridiculousness that is the Chicago Bulls this season. Jimmy Butler and Dwyane Wade publicly chided the rest of the roster to the media last week, only to have out-of-favor point guard Rajon Rondo come to the defense of the Bulls' youngsters in a lengthy Instagram post. As a result, Butler and Wade, not Rondo, were punished by the team.
There is just no way this is going to end happily for Chicago. Wade sounds like he is already planning on bailing after just one year with the team, and there are rumors swirling that Butler could also be had in a trade for the right price. Even if Chicago makes the playoffs, they have all the makings of a team that will be done after one round.
Charlotte Hornets (23-27)
The Hornets have been a difficult team to figure out this season. They got off to a solid enough start, but a six-game losing streak has dropped them into the final playoff spot in the conference, just a half-game ahead of the Pistons entering play Thursday.
Nicolas Batum's counting stats (14.9 points, 7.3 rebounds, 6.0 assists) have been solid, but he's shooting just over 40 percent on the field this season, which is rather underwhelming. Charlotte will need him to step it up in that department if they have any plans of showing out on the postseason stage – if they make it.
Miami Heat (20-30)
The Heat have spent the majority of the season being a terrible, injury-riddled mess, but something has suddenly clicked. Miami notched an easy win over the Hawks on Wednesday night, which was their eighth consecutive tally in the win column. The streak has brought them to within just three games of the Hornets' No. 8 seed in the East, so perhaps a playoff appearance is not out of the realm of possibility.
Of all players, the Heat have gotten excellent play out of journeyman Dion Waiters of late. The former lottery pick has spent the first several years of his career looking like a bust, but he has apparently found a home in Miami. During the winning streak, Waiters is averaging 22.1 points along with 4.8 assists and 4.6 rebounds while shooting 51 percent from three-point range. He earned Eastern Conference Player of the Week honors last week.
Detroit Pistons (22-27)
The Pistons are another team that came into the year with high expectations that has struggled unexpectedly. They have really struggled away from home, with a record of just 9-17 away from the Palace of Auburn Hills.
Andre Drummond posted stellar individual numbers in the month of January, as he went for 16.1 points, 14.8 rebounds, 2.2 steals and nearly two blocks per game on 56 percent shooting from the field. Kentavious Caldwell-Pope was particularly stellar in Wednesday's win over the Pelicans, as he finished with a career-high 38 points in 39 dominant minutes.
Sacramento Kings (19-30)
The Kings had dreams of a playoff berth after opening a new arena this season, but it did not take long for those aspirations to go flying out the window. The season-ending Achilles injury to Rudy Gay may have been their death knell, but that did not stop them from enjoying a solid week last week.
Sacramento is just 3-7 in their last 10 games, but they did earn impressive road victories over the Pistons, Cavaliers and Hornets in that stretch. They will now get to enjoy a stretch of eight straight games in the state of California, six of which will come at home in their sparkling new building.
Dallas Mavericks (19-30)
The Mavs appeared to be headed for their worst season in quite some time before turning it around a bit lately. They have won each of their last three games, including surprising back-to-back victories over San Antonio and Cleveland. Dallas is still facing injuries to several key cogs, but Steph's little brother, Seth Curry, has stepped up big time.
The younger Curry brother has scored at least 20 points in three of his last five games, including 22 points on Wednesday in Dallas' win over Philadelphia. He is currently knocking down better than 42 percent of his three-point tries on the season, which is only two percentage points worse than his older brother's current mark.
Milwaukee Bucks (21-27)
Milwaukee was considered a disappointment last season, but they have been much more fun to watch this year despite not boasting the greatest record out there. However, they have dropped nine of their last 10 games to fall into the cellar of the underwhelming Central Division.
Khris Middleton, who has yet to play this season after tearing his hamstring in the offseason, is set to return soon. Milwaukee is in dire need of some sort of shooting presence, which he can certainly provide. The Bucks are an impressive ninth in the league in three-point percentage, but only 24th in attempts.
New York Knicks (22-29)
In spite of all the trade bluster surrounding him, Carmelo Anthony is enjoying one of his finest stretches of play on the year. He was miserable against the Nets on Wednesday, but before that he averaged better than 25 points per game on 47 percent shooting from the field in January. That included a 45-point effort in the insane quadruple-overtime loss to the Hawks on Sunday.
In spite of all that has gone wrong with them, New York still sits just a game-and-a-half behind the Hornets for the last playoff spot out East. Trading Anthony would likely torpedo their chances of qualifying for the tournament, but the writing seems to be on the wall there. Getting rid of him now is likely the best course of action for the Knicks' future.
New Orleans Pelicans (19-31)
The Pelicans have enough talent on the roster to nab that final playoff position in the West, and they are currently just three games out. However, their current 3-7 stretch is casting doubt over whether they will have enough juice to actually earn their second postseason appearance in three years.
Anthony Davis has gotten bumped and bruised lately, and has been forced to leave a slew of games early due to injuries. Regardless, he is still enjoying the most prestigious statistical season of his young career. The Brow is going for 27.9 points, 12.3 rebounds, 2.4 blocks and 1.3 steals per game.
Minnesota Timberwolves (19-30)
The young Wolves have seen an uptick in play recently, but they are still going to come nowhere close to the 41-win projection that Las Vegas set for them prior to the year. That always felt like a real longshot for a team with so little experience, and even Tom Thibodeau has been unable to get the best out of them defensively.
In spite of the team's overall struggles, Karl-Anthony Towns has certainly rebounded from a fairly sluggish start to the season. The second-year big man is averaging 23 points and nearly 12 boards per game after going for 25.4 points and 12.9 rebounds a night in January.
Orlando Magic (19-32)
There might not be a team in the league as anonymous as the Orlando Magic right now. They made a bunch of splashes in the summer by bringing in Serge Ibaka, Bismack Biyombo and Jeff Green, but those moves have not translated into wins. Now, with Ibaka set to become a free agent in just a few months, it seems likely that Orlando will look to cash-in and deal the shot-blocker ahead of the upcoming trade deadline.
Despite Ibaka being a rental, the list of suitors should still be substantial. Teams like the Raptors, Rockets and Celtics stand out as potential fits for a shot-blocking big that has the ability to space the floor, as well.
Phoenix Suns (15-34)
The Suns are just cruising along at the bottom of the Western Conference, but they have enjoyed some phenomenal backcourt play in the last several weeks. Devin Booker is currently riding a 14-game streak of scoring at least 20 points, which is remarkable considering he just turned 20 years old a couple of months back.
Phoenix is also getting a phenomenal individual season from Eric Bledsoe. Finally healthy, the 27-year-old has now scored at least 40 points in three of his last six games after dumping 41 on his former team, the Clippers, on Wednesday. It will be interesting to see if the Suns decide to stick with Bledsoe in the long term or if he will be a hot commodity on the trade market in the coming weeks.
Los Angeles Lakers (17-34)
The Lakers' 10-10 start to the season feels so long ago. They have gone just 7-24 since then, yet are
still
just five-and-a-half games out of the West's final playoff position. That still feels like a longshot, though, especially considering the number of injuries the roster has sustained over the last few months.
Rookie big man Ivica Zubac has been unleashed by Luke Walton, and there is plenty to like about what he has been giving the Lakers. The Bosnian seven-footer is incredibly polished for a 19-year-old, and he has notched three double-doubles in his last six games entering play Thursday.
Brooklyn Nets (9-40)
The Nets play hard, but there is just no overcoming the general lack of talent on the roster these days. It is really just Brook Lopez surrounded by a bunch of guys. What makes it particularly sad is that they will not even get to reap the benefits of their struggles.
The Celtics own the Nets' first round pick this year, which means Boston is almost surely going to land a top-five pick in the upcoming draft. Boston has aspirations of competing this season, though, so it will be interesting to see if they can pawn that asset off for a high-level player that can help them immediately.