Hide Bonus Offers
| | | | | |
| --- | --- | --- | --- | --- |
| #1 | Bovada Sports | 50% Up To $250 | Visit Site | Bovada Sports |
| #2 | BetUS | 125% Up To $2,500 | Visit Site | BetUS |
| #3 | MyBookie | 100% Up To $1,000 | Visit Site | MyBookie |
| #4 | Everygame | 100% Up To $500 | Visit Site | Everygame |
| #5 | BetOnline Sports | 60% Up To $1,000 | Visit Site | BetOnline Sports |
NBA MVP Betting 2019 – Latest Odds, Analysis, Predictions, and Pick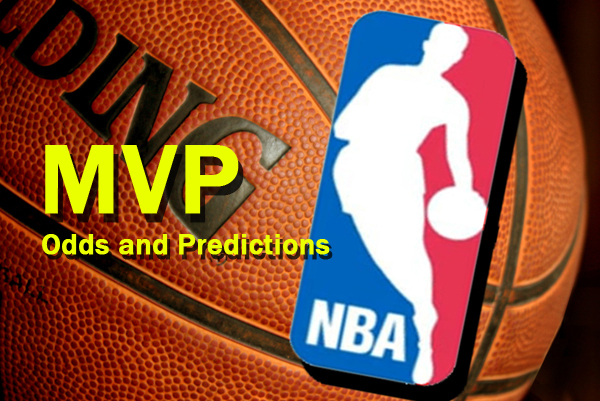 The race for the 2018-19 NBA MVP is in full force. Depending on who you ask, the favorite is obvious, yet somehow always changing.
Some say it has to be LeBron James with how he's transformed the Los Angeles Lakers back into winners.
Others suggest it's the freakish Giannis Antetokounmpo for putting the Milwaukee Bucks amongst the league's elite, while many balk at how we're not seriously considering Kawhi Leonard in Toronto.
It's tough to ignore Stephen Curry and Kevin Durant in Golden State, too. Not at least giving James Harden a cursory glance in Houston feels blasphemous as well.
But who should bettors actually wager on?
The odds don't tell the whole story, and neither do preconceived notions. I personally already took a look at who will win the 2018-19 NBA MVP award back in September and came away pretty safely convinced it was King James or bust.
Upon further review, I've changed my mind. James is still very much in the race for league MVP, but he's no longer who I'd bet on.
Updated 2018-19 NBA MVP Odds
I initially felt that if James could put up the same impressive numbers as he usually has and got the Los Angeles Lakers back to the playoffs, nobody would have much of a case against him.
Maybe that's still true to an extent. However, he's missing time with injury as I write this, and the performance by both King James and his La La Land counterparts as a whole has been a little uneven.
The Lakers are still right there in the thick of a playoff race in the stacked Western Conference. I'm just not convinced James offers the best combination of stats and team success anymore.
Before we get too deep here, let's first see how Vegas views this race. Here's a look at the latest NBA MVP odds, per SportsBetting.ag.
Giannis Antetokounmpo – Milwaukee Bucks
+165
LeBron James – Los Angeles Lakers
+500
Anthony Davis – New Orleans Pelicans
+600
James Harden – Houston Rockets
+600
Kawhi Leonard – Toronto Raptors
+750
Stephen Curry – Golden State Warriors
+750
Joel Embiid – Philadelphia 76ers
+1000
Kevin Durant – Golden State Warriors
+1600
Paul George – Oklahoma City Thunder
+2500
Nikola Jokic – Denver Nuggets
+3300
Russell Westbrook – Oklahoma City Thunder
+3300
Damian Lillard – Portland Trail Blazers
+5000
Kyrie Irving – Boston Celtics
+6600
My main beef with any NBA futures bet is forever going to be either a lack of a "field" wager or extended odds. I am actually pretty pleased with this list, especially since recent NBA MVP odds out there did not have the likes of Dame, Kyrie, or PG-13.
Those guys are now at least options for bettors, regardless of their validity in your eyes. I don't really deem any of them – or most of the guys here – as legit threats, but they all do at least have a mild case.
In fact, I'll present a quick-hitting case for every single option listed here.
MVP Contender Analysis
Giannis Antetokounmpo – Milwaukee Bucks (+165)
The Greek Freak does it all for the Bucks, as he presently averages an insane 26-12-6 line and has the Bucks sitting pretty with (gulp) the best record in basketball.
If this isn't the year of The Greek Freak, when is?
LeBron James – Los Angeles Lakers (+500)
King James has comparable numbers to The Freak, as he's averaging a staggering 27-8-7 line, all whilst keeping the formerly lowly Lakers in play for a postseason run.
They've slid with him sidelined with a groin injury, too, which understandably only strengthens his case.
Anthony Davis – New Orleans Pelicans (+600)
The Brow is a man-eater that continues to wow us nightly, while also piecing together a disturbing 28-13-4.4-1.7-2.6 line on the year.
The numbers scream MVP, but Davis has been unable to lift the Pels, who are the second-worst team in the west at the moment.
James Harden – Houston Rockets (+600)
Harden won the award last year and appears to be back for more. He said as much recently, and with how driven he appears, his gaudy 33-8-5 line might get even better.
It's arguably made more impressive thanks to Harden keeping the Rockets (4th) in contention for a top seed in the Western Conference.
Kawhi Leonard – Toronto Raptors (+750)
Leonard never seems to get the respect he deserves. Apparently, he was simply a product of the Spurs, yet he left town and continues to drop a nasty 27-8-2.8-1.6 line with his new team.
Toronto was already good before they got Leonard, but he puts them in legit title contention (second-best Finals odds).
Stephen Curry – Golden State Warriors (+750)
Curry shares the same odds as Leonard, yet his team has been inferior from a record and overall performance perspective.
Still, he's standing out on a stacked squad with a nice 28-5-5 line. As a previous two-time MVP, Curry has the league on alert.
Joel Embiid – Philadelphia 76ers (+1000)
Embiid may have the worst NBA MVP odds of any legit contender. The arrival of Jimmy Butler curbed his upside a bit, but his season stat line of 27-13-3.5-1.9 is pretty disgusting.
He's not doing all of the heavy lifting by himself, but he's still a huge reason why the 76ers (+2000 Finals odds) are one of the best title threats to bet on.
Kevin Durant – Golden State Warriors (+1600)
I do hear the cries about a league MVP again emerging from such a loaded Warriors roster, but KD is averaging the quietest 28.5 points I have ever seen.
Golden State probably needs to take back the top spot in the NBA for bettors to confidently back him, though.
Paul George – Oklahoma City Thunder (+2500)
PG-13 is one of my favorite NBA MVP sleepers. Russell Westbrook is the big man on campus in OKC, but it's actually been the red-hot George who has lifted the Thunder to third place out west.
Voters shouldn't ignore his 26.7 points per game, nor his clutch play over the course of the year.
Nikola Jokic – Denver Nuggets (+3300)
The Joker doesn't have the flash of the other top NBA MVP favorites, as he's just averaging 18 points per game. However, he's quite arguably the most gifted passer when it comes to big men, and he's chipping in with 7.6 dimes, nearly 10 rebounds, and 1.5 steals per game.
It's all helped to move the Nuggets from a fringe playoff threat to #1 in the Western Conference.
Russell Westbrook – Oklahoma City Thunder (+3300)
PG-13 is correctly placed ahead of Westbrook, who will be the first to tell you he hasn't been quite his usual self this year. Still, the guy is playing a big hand in OKC's rise and is once again on pace to average a triple-double.
It's almost like the oddsmakers have grown bored by his insane stat-stuffing ability, and that just doesn't seem fair.
Damian Lillard – Portland Trail Blazers (+5000)
We've obviously hit the portion of this list that isn't in serious contention but still deserves to be mentioned.
I'm not sure why Thrillard doesn't generate more buzz, though. Not only is he flirting with a 27-5-5 line, but he also has the Blazers just 3.5 games outside of the best record in the west.
Kyrie Irving – Boston Celtics (+6600)
Lastly, you can bet on Irving, who has returned to the Celtics and staved off an early-season drought to keep Boston among the league's elite.
Irving is quietly putting up a career-high 6.6 dimes per game, along with 23 points per contest. His Celtics will again have a shot at the Finals, and he's a huge reason why.
The Ones They Forgot
I really do think the top NBA sportsbooks are getting the list right for the most part, but I always like to look to the "field" bet or assess any other options bettors may want to consider.
I have done this in the past and was pleased to see it get addressed once new NBA MVP odds were released.
Still, there are some glaring omissions. The biggest one is without a doubt Kemba Walker, who is putting up 25 points per game and may have a shot at reaching a new career high in assists when it's all said and done, too.
That will mean very little if he can't lift up the Hornets, but if the playoffs started today, Charlotte would indeed be in postseason play, and that has to count for something.
I'm also a little surprised we're not getting odds for Victor Oladipo, DeMar DeRozan, Blake Griffin, Bradley Beal, and Luka Doncic.
That isn't to say I actually like any of them to win the award, but having those crazy long-shot plays is what betting on sports is all about. There is a mild case to be made for those guys, assuming things somehow break completely their way.
Overall, SportsBetting.ag seems to have it right. It's just the order that I feel needs some adjusting.
Why James Harden Will Win NBA MVP (Again)
All too often, we tend to be prisoners of the moment. I was guilty of that in the summer and at the beginning of the year. I was swept up in the LAbron drama, and I sold myself on him being the MVP if he could deliver big numbers and get the Lakers into the playoffs.
The numbers are obviously there, and the Lake Show is probably getting in, but my stance has changed. I think it's enough as it stands to keep James in the conversation, but with everything else that is happening around him, I no longer think he has to be the favorite because of it.
Not when other guys are putting up numbers that are just as good, if not better. Especially not when they're doing that and also lifting their teams just as much.
LeBron's two biggest threats when you look at it that way appear to be Giannis Antetokounmpo and James Harden. The Greek Freak just keeps getting better and better, and he has the Bucks looking like the best team in the league.
The only problem is that the man known as Alphabet lacks a reliable jumper, and his team success is honestly just as much about coaching and a fantastic supporting cast as it is his own impact.
Don't get me wrong; Milwaukee would regress sharply without him. But the Bucks have a good system and plenty of bodies to ease the pressure off of their star player.
Harden doesn't have any of that. Despite an injury to Chris Paul, Carmelo Anthony not working out, and Trevor Ariza leaving in free agency, he somehow is still dominating the league and keeping the Rockets near the top of a nasty conference.
Not only that, but Harden is blowing everyone away as a scorer and also getting his teammates involved. He's making sure pedestrian offensive talents like P.J. Tucker, Gerald Green, and Danuel House have a voice in this offense, and even with the modest production they offer, he's still getting the job done.
I didn't think Harden could repeat as the league MVP. I remember touching on it this past summer, and I basically said the only way he would make it happen was if he put up ridiculous numbers and carried the team all on his own again.
Touche.
For the longest time, all anyone could talk about was Mike D'Antoni's system. As it turns out, James Harden is the system.
He controls the tempo of games and dictates how the Rockets play. In even the most dire of matchups, he's cool and collected, whether he's popping deep three-pointers, breaking his man down, or setting up teammates.
The Wrap-Up
The fate of the Rockets is directly in Harden's hands. He's not wilting under the pressure. In fact, he's thriving. If that's not the league MVP, I don't know what is.
The best part? Bettors can get Harden at a blistering +600. That price was even better just a few weeks ago, but you don't have much time to cry over spilled milk in the sports betting world.
Hop on that elite betting value and don't look back.