Hide Bonus Offers
| | | | | |
| --- | --- | --- | --- | --- |
| #1 | Bovada Sports | 50% Up To $250 | Visit Site | Bovada Sports |
| #2 | BetUS | 125% Up To $2,500 | Visit Site | BetUS |
| #3 | MyBookie | 100% Up To $1,000 | Visit Site | MyBookie |
| #4 | Everygame | 100% Up To $500 | Visit Site | Everygame |
| #5 | BetOnline Sports | 60% Up To $1,000 | Visit Site | BetOnline Sports |
NBA Finals Matchups for 2018/9 – 4 Bets to Consider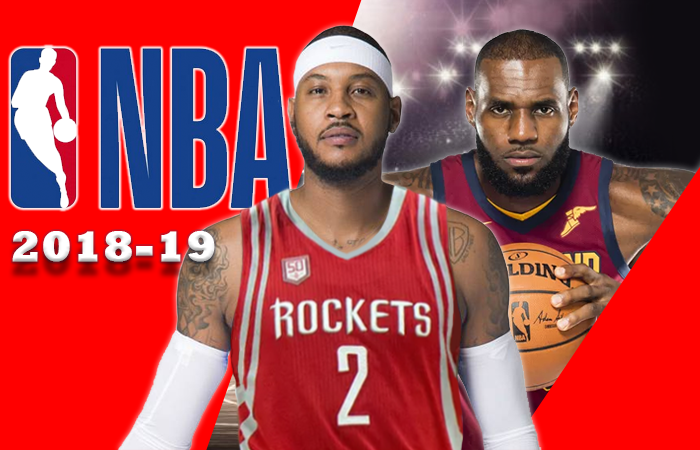 The 2018-19 NBA Finals probably won't be the same as what fans have gotten accustomed to. For an astonishing four straight seasons, the Cleveland Cavaliers and Golden State Warriors faced off for the league's title series.
Cleveland got one "for the land" one of those years after falling into an 0-3 hole, but the Dubs prevailed the other three times.
Suffice it to say, big change was needed, and when LeBron James left Ohio (again), it guaranteed a much-needed shakeup for the league and for the Finals.
I'm assuming, at least.
Cleveland barely got back to the NBA Finals with King James playing out of his mind last year, so it's probably safe to say they're not getting back without him.
That breaks the suddenly stacked Eastern Conference wide open, while you have to at least give the Los Angeles Lakers a look when gauging how next year's Finals could go down.
Nothing is guaranteed, but a Cavs vs. Warriors rematch for the fifth year in a row is about as close as it gets. That got me to thinking, which NBA Finals matchups actually are realistic and could end up being profitable for bettors?
Here are my favorite four.

Toronto Raptors vs. Golden State Warriors (+700)
This is the only NBA Finals matchup where I'll be touching on the Dubs. They are insanely loaded and even brought in DeMarcus Cousins, so there isn't much logic to persuade me to believe they won't be defending their title.
The only real question for me is who they'll be going up against.
Your best bets are the Sixers, Celtics, and Raptors. You can look at the Wizards, Bucks, and Pacers, but you're almost certainly wasting your time. Golden State is 99.9% going to the Finals again, and I'd say it's 99.9% that one of the top three teams in the East joins them there.
Boston is the clear favorite to do so, while the Sixers looked amazing last year and should only be better.
Don't sleep on the Raptors, though. Toronto was already a top-five team both offensively and defensively, and they are stacked across the board. They happened to earn the #1 seed in the Eastern Conference last year, and for a second there, they had some thinking about a championship.
It didn't happen, and the front office made bold moves in firing head coach Dwane Casey and trading away superstar scorer DeMar DeRozan.
Those seem like knee-jerk reactions, but when you consider they led to the team getting a top-five guy in Kawhi Leonard, they may prove to be the right calls.
Leonard is a vastly superior player compared to DMR. Not only can he score just as efficiently, but his shot stretches out to the three, and he is arguably the best defensive stopper in the game. In trading for Leonard, the Raptors also acquired viable 3-and-D guard Danny Green.
Already tough to beat at both ends of the floor and a contender in their conference, the Raptors just got better, and it doesn't feel like the top NBA betting sites really acknowledged it too much.
Toronto is being graded out as the third-best team in their conference, and the NBA Finals matchup odds you see at MyBookie and other sites make that plain as day.
I suggest we don't brush them aside, though. At +700, you don't need Toronto to win a title. You just need them to get there and have the Warriors be on the other side.
Boston Celtics vs. Los Angeles Lakers (+1500)
I completely understand why the Celtics are favored over the Raptors and everyone else in the East.
Not only have they made it to both of the past two Eastern Conference Finals and not only were they one win away from the Finals last year, but they did it last season without both Kyrie Irving and Gordon Hayward.
Nobody is better coached in the league at this point, and not many teams have the star power, versatility, and depth the Celtics boast.
Boston is on the verge of being a title winner, and it easily could happen this year. I still think this is Golden State's NBA world, and we're all just living in it, but that could change eventually, and Boston may be the team to hit the reset button on the entire league.
The Celtics not only defend at a high level and have the pieces necessary to match up with an offense as loaded as Golden State's, but they also have the dynamic offense to adapt to any style necessary.
I do think Irving's future could be a distraction, but providing it doesn't act as a dark cloud over this team, he should be the catalyst for another magical season.
It's easy to vouch for a Celtics vs. Warriors series (+110). That's the lowest price you're going to get at MyBookie, but while it's probably the safest play, it's not much fun.
Toronto's price is worth a roll of the dice, but with Boston, I'd rather go with them playing someone else.
The Celtics vs. Houston (+800) is certainly plausible, and it moves the needle plenty, but why not go all the way up to a classic Celtics vs. Lakers showdown at nearly double the price?
I highly doubt LeBron James will turn the Lake Show into a title contender his first year in La La Land, but he certainly could. All the guy knows is winning on a high level, and the Lakers did just add a slew of veterans to a core of young, talented players.
Crazier things have happened, and if the Lakers have a shot at getting to the Finals, you don't really need to worry about who wins. Just cheer LA on and hope the Celtics (and not the Warriors) come through as a chalky pick. At +1500, it's certainly worth your trouble, and you know it's a series everyone wants to see.
Obviously, another title showdown between two legendary, historic franchises would be amazing. But Kyrie vs. LeBron for all of the marbles? It just doesn't get much better than that.
Philadelphia 76ers vs. Houston Rockets (+2500)
Of course, perhaps the Celtics get distracted by Irving's contract situation, Golden State suffers a rash of injuries, and narrative street propels the Sixers and Rockets to the promised land.
Even if the Dubs remain as good as ever, you can't forget that the Rockets are also pretty stacked, and they could have been an untimely CP3 injury away from ousting them in last year's Western Conference Finals.
It's not the most logical series, but it sure is a fun one thanks to a solid +2500 price at MyBookie.
Houston could very well be ready to take that next step.
They lost some key role players, but they brought in Carmelo Anthony and remain a very dynamic offensive team. I don't know if they'll be able to get defensive stops at the same rate they did a year ago, but they'll be able to score with anyone.
If the Warriors are going to fall somehow this year, the Rockets are the next logical pick to step up and make a run for the title.
Philly isn't the team they'd necessarily face, but they're the matchup that is going to offer the most betting value. They're also not an unrealistic option, seeing as both of these teams are trending in a very positive direction and are absolutely loaded offensively.
Ben Simmons and Joel Embiid offer the star power necessary to win a title right now, while the Sixers still have one of the deepest and most versatile rosters in the league.
This matchup is far from a lock, but at +2500, you can cross your fingers that these two contenders step up their game and leave the favorites in the dust.
Cleveland Cavaliers vs. Oklahoma City Thunder (+300000)
If it wasn't made clear, be sure to consider some pivot wagers off of the previous three NBA Finals matchups. If you don't love the Raptors and Warriors, consider pivoting to Celtics/Warriors or 76ers/Warriors and so on.
I just like the value associated with these other bets, and I think based on logic and upside, they make for fun and potentially profitable gambling.
This last one is just a fun roll of the dice, and the upside is out of this world.
Oklahoma City is actually going to be quite a bit better than they were a year ago. Carmelo Anthony was a black hole on offense and a sieve on defense. Losing him is actually addition by subtraction.
OKC also brought in a defensive ace in Nerlens Noel, will be getting a healthy Andre Roberson back, and traded for spark bench scorer Dennis Schroder. Most importantly, they retained Paul George to pair with Russell Westbrook to give the Thunder one of the league's best duos.
On paper, the Thunder still have the tools to put up points, and they could be even better defensively than we've seen from them in the past.
Golden State and Houston are the top dogs in the West, and some will be quick to crown the Lakers. However, the Thunder could quickly be in position to make a huge leap and challenge for a top spot.
It won't be easy, and it's far from a guarantee, but OKC vaulting to the top and forcing their way to the Finals isn't completely unrealistic.
That's admittedly still far-fetched, which probably makes hoping the Cavs get back to the Finals for a fifth straight year virtually impossible.
I can't disagree that it's unlikely and that this bet as a whole is almost surely a waste of time.
However, two things keep it in play: this price is simply amazing, and there is still a ton of uncertainty in the Eastern Conference.
First off, the Cavs (for the moment) seem like they want to try to win. Kevin Love is still a star worth building around, Collin Sexton could make a big impact as a rookie, and Cleveland does have some interesting young talent around these guys in Rodney Hood (should he stay in town), Jordan Clarkson, and Larry Nance.
It's not even impossible that former sad sacks like George Hill, Kyle Korver, J.R. Smith, and Tristan Thompson stay around to join together and try to prove to everyone that they can win at a high level without King James.
They probably can't, but let's consider one more thing: James left the East wide open, and before he did that, the only thing we knew for sure was that his team was the best in the conference.
Toronto traded for Kawhi Leonard, but it's not crazy to think he sours on the team and gets traded again before next year's deadline. It's hard to imagine the Raptors doing much of merit if he's not there or ends up checking out mentally.
Boston is the favorite for a reason, but what if Irving ends up forcing his way out via trade? He's also constantly dealt with injuries, so he and Gordon Hayward could be tough to trust simply from a health perspective.
Should Cleveland battle back and keep their head above water, it's not impossible that they could make the playoffs and fight their way back to the Finals. Extremely unlikely, but not necessarily impossible.
Well, it kind of is, but at this insane +300000 price tag, I don't mind giving it a shot. Of the wagers like it, it's probably the only one at MyBookie.ag I'd waste my time building a case for.
Who Will Play in the 2018-19 NBA Finals?
The top pro basketball betting websites usually get this stuff right. It's not really because they're geniuses, but more because the NBA is painfully predictable.
Everyone knew the Dubs would win the title the past two years, and they did. They're as stacked as ever, so barring a fluke injury, I can't see them not making it back.
Whether they win again or not, I guess it isn't locked in. I do think the East has three very tough outs in Philly, Boston, or Toronto. Any of those teams could conceivably give the Dubs a full seven-game series.
Of the trio, the Celtics still stand tall above everyone else.
I'm not predicting Boston wins it all this year, but they're as good of an upset pick as anyone. The beauty here is that you don't need them to win to see a profit. This matchup is quite likely, yet you get $110 back for every $100 you put on the line.
Taking a crack at a few value wagers is always fun to do, but going hard after the most logical outcome tends to be the smart thing to do. Give me the Celtics vs. Warriors all day.
PICK
Celtics vs. Warriors
+110