NBA Division Winner Bets Offering Value – Top Picks for 2018/9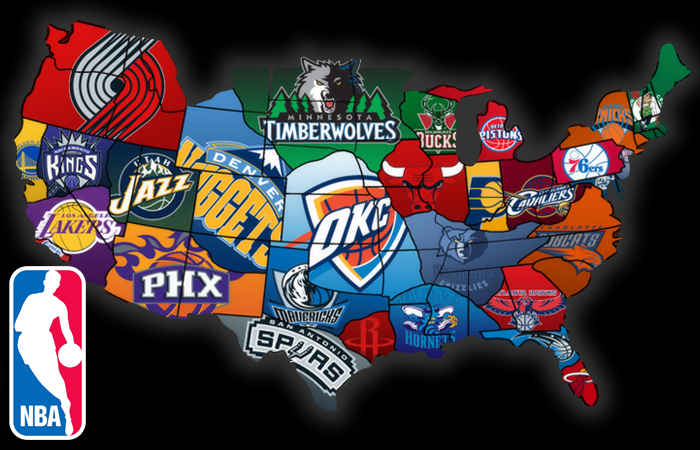 The 2018-19 NBA season isn't quite here, but it'll arrive a lot faster than you think. With all of the noise (and changes) going down this past summer, that leaves NBA bettors with precious little time to figure out how they're going to bet going into the new year.
There's quite a bit to sort through, too.
I'm sure the Golden State Warriors are winning it all again (Vegas expects them to, at least), but there are other ways to win cash via NBA betting.
The daily grind is one good way, but if you want to throw down some potentially profitable bets before the season starts, consider seeking value in some tempting NBA division odds.
Most of the divisions are spoken for. Golden State isn't losing the Pacific Division, and I don't really think the Rockets are in trouble in the Southwest Division, either. Elsewhere, however, there exists some very interesting value.
Here's a look at my favorite NBA division value wagers you just might want to consider betting on.
Central Division – Milwaukee Bucks (+125)
The Bucks go into the new season tied with the Indiana Pacers for the best odds to win the Central Division. This division is undoubtedly broken wide open with LeBron James now in La La Land, while it's tough to get around these two teams now being 1A and 1B here.
You can prop up faint cases for the regressing Cavs or the Detroit Pistons, but I'm not hearing them.
Indy has a strong argument. Victor Oladipo blew up as a superstar last year, and the Pacers have the goods to run with you, as well as defend. I'm not sure they can touch Milwaukee's upside, though.
Giannis Antetokounmpo trumps Oladipo's star power, and he simply has more weapons around him with guys like Khris Middleton, Eric Bledsoe, and newly acquired center Brook Lopez helping him out.
Just as important, the Bucks went out of their way to shore up their depth, drafting explosive guard Donte DiVincenzo and bringing back versatile scorer Ersan Ilyasova.
Cleveland was the class of this division for years, but now they're not. It looks like Milwaukee's got next.
Southeast Division – Miami Heat (+200)
Truth be told, I'm not sure there's a way around the Washington Wizards (-150) winning this division. However, if you want to stray from the obvious favorite, your best overall value in the Southeast Division has to be the Heat.
Miami has been reluctant to kick star center Hassan Whiteside to the curb, while there's also a chance the ageless Dwyane Wade returns for one more run through the league. Joined with him are Goran Dragic and a sea of viable role players which help Miami remain dynamic and actually fairly pesky on the defensive end.
The Heat just won't go away, is the thing. They actually won the division last year, too, while trusting the Wiz (and any team Dwight Howard latches on with) is admittedly pretty dicey.
I don't KNOW if Miami can repeat as division champs, but if you don't trust Washington to do it, this is without a doubt your next-best bet.
Atlantic Division – Toronto Raptors (+275)
The Boston Celtics are favored to win the Atlantic Division (-120), and maybe they will. However, it's the Toronto Raptors who took the title a year ago, and after trading for Kawhi Leonard, I'm not exactly sure why they're being overlooked so much.
Leonard is quite the get for the Raptors, who were more fluff than anyone cared to admit last season. While they once again fell limp when it mattered most, hats off to Toronto for finishing inside the top 5 in efficiency at both ends of the court.
Adding a top-5 talent makes the Raptors locks to do that again, while Leonard can lift up their offense and defense even more. With solid two-way guard Danny Green also along for the ride, the Raptors are insanely sneaky, both as a +275 division winner bet and a title contender (+1600 at SportsBetting.ag).
Boston is lauded as the more stacked team with better depth and superior coaching. Perhaps that's true, but they don't have Kawhi, and the Raptors are just as deep.
Factor in Boston's injury issues via Kyrie Irving and Gordon Hayward, and the Raptors start to look appealing in a hurry.
Northwest Division – Portland Trail Blazers (+600)
Moving out west, I admittedly was about to single out the Denver Nuggets (+450) as the best overall value play in this division, but then I realized last year's Northwest champs – the Blazers – had an even better price.
Somebody needs to tell me what I'm missing here.
Portland won the division last year, still has one of the best guard tandems in the league, brought back defensive anchor Jusuf Nurkic, and upgraded their bench scoring by bringing in shooters like Nik Stauskas and Seth Curry.
It's true the team still hasn't figured out the small forward position, and Sauce Castillo himself isn't anything to get excited about, but the same team that finished in first staved off regression.
Maybe it's just me, but I never feel great about betting against Damian Lillard, either.
Denver is worth a look at +450, and the Jazz and Thunder are going to be in the mix. But you're getting the Blazers as the worst-priced team in this division. That's just crazy to me.
Southwest Division – New Orleans Pelicans (+800)
As I mentioned before, I don't really see anyone storming the castle and dethroning the Rockets. They lost some key pieces and are a gross -400 favorite, but they're still stacked and can explode against anyone.
Things can change quickly, however.
If I'm betting on Houston being toppled over, I'm not going with the Kawhi Leonard-less Spurs, though. No, instead I'm banking on Anthony Davis finally figuring it all out and becoming that next superstar to lead his team to greatness.
The beauty here is that The Brow is a monster and can do so much on his own, but he simply doesn't have to. He's got star power next to him via Jrue Holiday, while talented role players like Nikola Mirotic, Julius Randle, and Elfrid Payton look to find their place on a winner.
New Orleans made major strides as a free-flowing offense after losing DeMarcus Cousins to injury last year. It will be quite interesting to see how good they look with a full season playing this kind of basketball.
With slightly more value than the Spurs, the Pelicans would be the best play in the Southwest if you end up straying from the Rockets.
Pacific Division – Los Angeles Lakers (+1000)
Lastly, we come to the Pacific Division, which has been run by the defending champion Warriors for each of the past four seasons.
I don't at all think that's about to change, but if you want to pull off a shocking wager, the Lake Show is your only real option inside this division.
The Clippers should be competitive, but they're still pretty far away, while the Kings and Suns remain pure trash.
Los Angeles, however, got markedly better this summer.
Obviously, King James coming to Hollywood is a pretty big deal. He alone puts the Lakers on the playoff radar, and his presence brought in veteran talents like Rajon Rondo, Lance Stephenson, and JaVale McGee.
The Lakers also held onto Kentavious Caldwell-Pope and still have a nice core of young players that includes Lonzo Ball, Josh Hart, Kyle Kuzma, and Brandon Ingram.
Will all of this fit together perfectly and allow the Lakers to take down the Dubs? Probably not, but LA will be better, and they seem overpriced here.
Backing the Lakers at +1000 is risky, but this is one of the most fun NBA flier bets you can make this year.
Summary
The main point here is to seek value whenever it stands out and makes sense.
Things can change drastically over the course of an NBA season, with injuries often being a driving force behind a lot of free falls.
Boston was an exception last year, but for the 2018-19 NBA season, we have an entirely new problem in the Eastern Conference: the disappearance of LeBron James.
I do think the east is wide open, and I absolutely think all of these value picks are worth a look. That being said, I don't think they're all winning. Here are my flat picks for each division.
Atlantic – Raptors
Central – Bucks
Southeast – Wizards
Northwest – Jazz
Southwest – Rockets
Pacific – Warriors
I don't think the Lakers will upend Golden State in LeBron's first year on the job with the purple and yellow. They'll be an interesting team to monitor if they crack the playoffs, but that's about it.
Nobody is taking out the Rockets in the Southwest Division, either. New Orleans has my money if I throw up a prayer, but Houston remains the cream of the crop there.
I see a ton of value in the Northwest Division, but ultimately the star power of Donovan Mitchell and Utah's stingy defense make them the team to beat for me.
I gave you my actual picks for the Atlantic and Central Divisions. It won't be easy, but Toronto still looks like the best team in their division, and I will gladly take the more diverse Bucks over the Pacers.
Washington is probably taking back the Southeast Division as well. John Wall will finally stay healthy, and additions like Dwight Howard, Austin Rivers, and Jeff Green make the Wiz deeper and stronger than ever.
It's still Golden State's world, and everyone else is just living in it, but there's enough value to go hunting with this year. Happy betting!