NBA DFS Advice for Thursday, May 6 (2021)

The NBA keeps rolling on Thursday, pushing out a seven-game schedule. You can bet on the games, and if you're looking for some advice, hit up Thursday's NBA picks.
For the daily fantasy side of things, I've got you covered with my favorite NBA DFS picks, sleepers, and top lineup.
Best NBA DFS Picks for May 6th
LaMelo Ball, PG, Hornets ($7.9k)
Fred VanVleet, SG, Raptors ($8k)
Saddiq Bey, SF, Pistons ($6.3k)
Pascal Siakam, PF, Raptors ($8.1k)
Isaiah Stewart, C, Pistons ($6.5k)
Russell Westbrook continues to offer the best floor and ceiling of anyone, so I won't stop you from paying up for him. Heck, I might join you.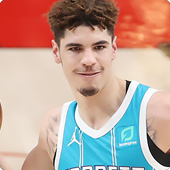 For now, though, I can't get past LaMelo Ball's cheap price tag. It's gone up considerably since he returned from a broken wrist, but he's still coming in at a discount.
Ball has been sensational all year, and feels like a lock to win 2021 NBA Rookie of the Year. I still think there's an argument for Anthony Edwards, but for NBA DFS purposes, I can't ignore him at this low salary.
FVV also stands out. You can pivot to him, or pair them together. VanVleet is getting monster minutes and is in a smash spot against a fast-paced Wizards team that doesn't defend.
I honestly have intentions of stacking this game in some capacity, as the top NBA betting sites will have it coming in with one of the highest totals of the night.
That has Pascal Siakam on my radar, and he and FVV are simply too cheap. Feel free to include Kyle Lowry in your builds, and I'll poke at some value in a second.
Lastly, the Pistons continue to offer value. They have not actually produced lately, but if Detroit insists on sitting most of their usual starters, these young guys have to be in our player pool.
Saddiq Bey is getting monster minutes, and Isaiah Stewart still projects well as the interim starter. Their floors are low in a somewhat tough matchup against the Grizzlies, but I'm still game to use them if they fit in without forcing it.
NBA DFS Sleepers for Thursday
J. McConnell, PG, Pacers ($5.8k)
Alex Caruso, SG, Lakers ($4.1k)
Josh Green, SF, Mavericks ($3.1k)
Sekou Doumbouya, PF, Pistons ($3.5k)
Khem Birch, C, Raptors ($5.4k)
McConnell could remain a solid value/core play in the event Malcolm Brogdon misses more time. He isn't always the safest play and his price is on the uptick, however.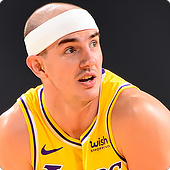 I'd rather get the savings with Caruso. His matchup with the Clippers stinks, but he's going to see an increased role for the next little while.
Dennis Schroder is out for this game, and LeBron James is resting, as well. Bald Mamba is a solid source of value on this slate.
I can't guarantee that Josh Green is going to be viable, as he only got 24 minutes off the bench in his last game. He was pretty useful, however, and he garnered loads of praise.
If Dallas gives him the start and/or keeps giving him run, though, he's close to the minimum and may have an easy path to smashing his price tag.
Sekou may be considerably more stable based on concrete run. He's getting starts for the Pistons right now, and it's also led to 30+ minutes in two straight games.
Doumbouya is a raw but versatile player, and he showcased his upside with a nice 35-point fantasy outing in his last contest. That saw him drop a nice 20 points on the Hornets.
At this price, he's easily the top Pistons value to eye on this slate.
I mentioned some Raptors value, and the guy that stands out is Birch. Chris Boucher is still out, and that should equate to 30+ minutes once again.
Birch has a shaky floor, but he does have the ability to notch a double-double, and it's hard to ask for anything better than a matchup with Washington.
Thursday's Top NBA DFS Lineup
PG: Russell Westbrook – Wizards ($7.9k)
SG: Alex Caruso – Lakers ($4.3k)
SF: Saddiq Bey – Pistons ($6.3k)
PF: Sekou Doumbouya – Pistons ($3.5k)
C: Khem Birch – Raptors ($5.1k)
G: LaMelo Ball – Hornets ($7.9k)
F: Jalen McDaniels – Hornets ($5.1k)
UTIL: Isaiah Stewart – Pistons ($6.5k)
There are already a bunch of different ways you can go on this slate. For now, my top spend is Russ, and I love Ball as a secondary elite option.
The value calls to me on this slate, so you could entertain dropping from Russ and spreading things out a bit more. It's also worth considering getting away from the potentially chalky Pistons values.
I like how this lineup plays out, but I'll absolutely have interest in getting more exposure to Toronto players (although I do have Birch), while studs like Luka Doncic, Stephen Curry, and Kevin Durant are also very appealing.
KD's price has come up and the other studs aren't a crazy discount compared to Russ, who probably has the best floor/ceiling of anyone.
More than anything, you should definitely let the ownership numbers and general projections do the talking if you're entering single entry tourneys. If you're maxing some contests, consider all of my NBA DFS picks, and get a little crazy.
Thanks for stopping by. Enjoy the games, and good luck!