NBA Betting: How Will The Thunder Big 3 Fare Next Season?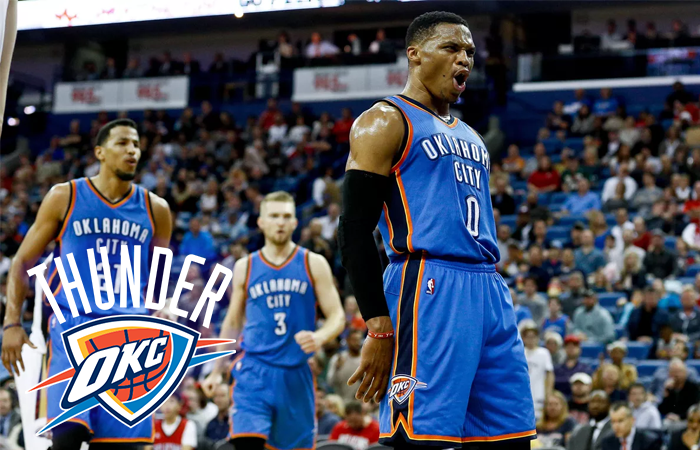 To say the Oklahoma City Thunder were a one-man show last season would be quite the understatement. The 2016-17 Thunder season was little more than Russell Westbrook going insane. Westbrook wound up leading OKC in scoring, rebounding and assists and would be named league Most Valuable Player for his efforts.
While Westbrook did enough to lead his team into the playoffs, the Thunder were quickly ousted in the first round by a deeper Houston Rockets squad. This summer, Thunder general manager Sam Presti has delivered on his goal to get his star player a little more help. Despite not being heavily linked with either player for quite some time, OKC wound up snagging both Paul George and Carmelo Anthony via trade.
Now, Westbrook will be flanked with two of the game's premier wing scoring threats. George is just now entering the prime of his career at 27 and should be in for a huge season as he seeks a new long-term deal next summer. Anthony, meanwhile, is out to prove that he's more than a ball-stopping, isolation scorer.
BetOnline has a few props regarding what will go down with the Thunder's new "Big 3" this season. Let's break them down.
Which Player Will Lead the Thunder in Scoring?
Russell Westbrook -175
Paul George +150
Carmelo Anthony +800
Field (Any Other Player) +1400
Scoring points shouldn't be much of an issue for Oklahoma City this season. In Westbrook, George and Anthony, the team now has three of the top-22 players in terms of scoring average from last season. Westbrook led the league with 31.6 points per game, George ranked 15th with 23.7 points per game, while Melo tacked on 22.4 points per game with the Knicks.
First off, we can go ahead and write off "field" here. Westbrook, PG13 and Melo are going to eat up so much usage for this team that it's hard to imagine any other player on the roster averaging even 10 field goal attempts per game. Plus, nobody else on the team is what you'd call much of a scorer, anyway. Steven Adams is there to protect the paint and rebound. Andre Roberson is an elite wing defender and an awful shooter. Patrick Patterson is a fine offensive player, but he's certainly not going to be scoring tons of points.
The first answer that comes to mind here is Westbrook. He's still the Thunder's alpha male, and, frankly, he's going to have the ball in his hands more than anybody else. He was the king of usage last season. 40.8 percent of OKC possessions concluded with Westbrook shooting last season, which shattered Kobe Bryant's previous all-time record.
Of course, Westbrook had to pretty much do everything himself. Without Kevin Durant around, the Thunder lacked a capable secondary option. Enes Kanter (now a Knick) and Victor Oladipo (now a Pacer) ranked second and third on the team in usage at a distant 27.5 percent and 21.3 percent, respectively.
Obviously, Westbrook's usage rate will come down quite a bit with PG13 and Melo in tow. Russ can't risk irritating his two new star teammates, so the ball will be moving more than it was last season. In fact, it may fall on Westbrook to serve as the team's primary facilitator. Neither George nor Anthony has much experience initiating an offense, while Westbrook has been doing it for years.
We like the value on Paul George at +150 here.
He's playing for a contract, and he's going to come out guns blazing. He should find himself with all sorts of wide open looks now that he's not alone on offense like he was in Indiana. He'll get more spot-up opportunities thanks to the gravity Westbrook brings, which should mean a jump in shooting percentage for PG13.
Melo is certainly appealing at +800, but he's the oldest of the trio at 33 and one would imagine he won't see as many minutes. He'll still be a featured part of the offense, to be sure, but we also think he'll wind up taking the third-most shots of the team's superstar threesome.
The smart play is Westbrook at -175, but there isn't much profit potential there. The value play is George at +150, and that's the bet we're endorsing here.
Which Team's Big 3 Will Score More?
Thunder Big 3 +170
Warriors Big 3 -200
So this bet is pretty straightforward. They're asking whether the Thunder's new big 3 of Westbrook, George and Anthony will combine to average more points per game next season than the Warriors' big 3 of Kevin Durant, Stephen Curry and Klay Thompson.
As mentioned previously, OKC's trio all ranked inside the top-22 in scoring last season. Of course, the fact that they were all on separate teams matters plenty. Logic suggests that all three will see a dip in field goal attempts per game now that they're having to share the ball with one another.
In their first campaign together last season, Golden State's big 3 ranked 10th (Curry), 12th (Durant) and 24th (Thompson) in scoring average. If you add them together, the Warriors' trio combined to average a whopping 72.7 points per game. On separate teams, OKC's three stars averaged 77.7 points.
Despite having to integrate a new, high-usage player in Durant, the Warriors didn't miss a beat last season. The team looked as though it had been playing together for years even early in the season. Unfortunately, the Thunder's transition may not be as smooth.
The Warriors' familiarity with one another figures to make them a pretty safe bet here. Last year's championship team is still largely intact, and they're heavily favored once again to win another title. It would be quite the surprise if KD and Steph didn't average 25-plus again, while Klay hovers around 22 or 23 per game.
Who knows how the Thunder trio will gel? They've played with one another for Team USA in the past, but that's obviously a different setting altogether. There will be some growing pains here, which could hamper their season-long scoring averages in the end.
We're going to side with the safe bet and take the familiar Warriors here.
The Thunder are fully capable of outscoring Golden State, but we trust the Dubs' talent more here. Bet on Golden State.