NBA Betting: 3 Upsets to Consider Targeting on Friday Night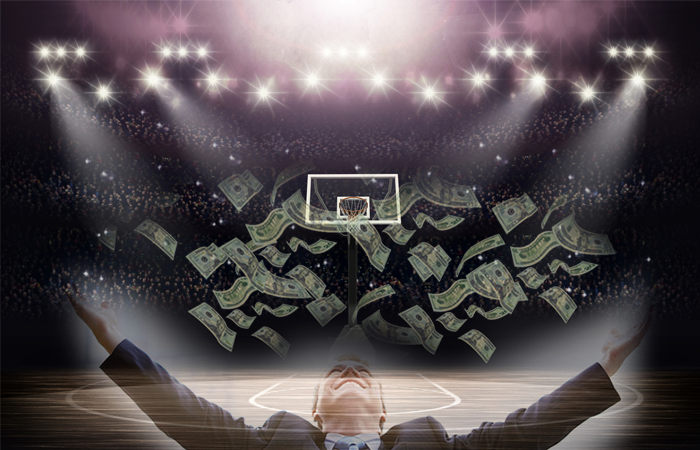 We took a look at three NBA upset picks to consider targeting on Wednesday and had a little success. The Bucks upended the Celtics to give us a win if we dared to chase it, while the Kings and Nets both gave their opponents scares.
The idea here isn't to necessarily chase every underdog. It's not even to always bet hard on the three teams we point out. However, on bigger NBA slates like Friday's 10-game schedule, we will want to consider taking chances we don't always take.
The NBA season is a long grind and so is the process of profiting. We still want to take tight lines and ride favorites when it makes sense. We get another batch of interesting underdog picks for Friday. Let's see which three games could be worth our cash:
Utah Jazz (+160) vs. Minnesota Timberwolves (-180)
The Utah Jazz looked pretty good in their opener on Wednesday, when they took down the Denver Nuggets. They'll be heading up to Minnesota tonight, where Ricky Rubio could seek some serious revenge against the franchise that traded him away this summer.
Rubio was solid in his first game with Utah, who continue to play stellar defense and enforce their will in terms of pace. Rookie scorer Donovan Mitchell even offers upside on offense, so it's possible Utah might not miss Gordon Hayward as much as people thought they would.
Utah is a good, tough team. That alone makes them a threat here, especially since the T'Wolves aren't used to each other yet. Minnesota has three new players in their starting five and couldn't take down the Spurs sans Kawhi Leonard.
Minnesota makes sense as a home favorite, but there's a lot of logic working against them, too.
Sacramento Kings (+190) vs. Dallas Mavericks (-230)
The Kings made our first NBA upset picks post of the year, as they're well-coached, and have a really nice mixture of feisty veterans and young talent.
That collectively nearly led to an upset over the Rockets on Wednesday and it could help them get their first win in Dallas tonight, too.
The Mavs are the understandable favorite at home, but this is still a slow team that may struggle to score at times. That might not be the case against a poor defensive team like the Kings, but Dallas is rolling out a rookie point guard and a 38-year old center these days.
That, and the Mavericks fell to a bad Hawks team in their season opener. The odds are decent Dirk Nowitzki and co. get back on track with a nice home win, but the Kings play hard and offer a lot of value at +190 at NBA betting sites like Bovada.
New Orleans Pelicans (+315) vs. Golden State Warriors (-430)
There are a few other interesting upset picks to consider tonight. I don't hate the Lakers (+130) over the Suns, nor do I hate the Pacers (+170) as a home underdog.
L.A. did look awful last night, though, and Indiana should be without star big man, Myles Turner:
Due to all of that, we're aiming high for our last NBA underdog pick to target. That's going to be none other than the Pelicans at +315, who are massive home underdogs against the 0-1 defending champion Warriors.
But should they be? Golden State's defense didn't show up in a 122-121 loss at home to start the year, while this matchup has historically been quite explosive. Golden State is the better team on paper, but both teams have easily topped 100+ points in each of their last six meetings.
The Dubs own this series. They've ripped off 7 straight wins and at one point swept the Pels in the playoffs, too. They're probably winning again tonight, but there is enough doubt to have us look closer at this game.
For one, the value is clear. The Pelicans get us $315 back for every $100 spent at Bovada and they're on their own floor. They did fall to the Memphis Grizzlies in their season opener, but the combination of Anthony Davis and DeMarcus Cousins is a lot for anyone to handle – even the Dubs.
The potential absence of defensive ace Draymond Green is probably the biggest reason why you might want to look at New Orleans, though. Green suffered a knee injury in Tuesday's tilt with the Rockets and is iffy for this matchup. Once he left, things didn't go so well for Golden State:
#Warriors were up 99-88 when Draymond Green left the game. Outscored 34-22 the rest of the way. Still as important as ever.

— Gerald Bourguet (@GeraldBourguet) October 18, 2017
Dray does so much for the Dubs. He initiates offense, he drives to score and he is a huge presence on the defensive end. Without Dray at 100% to battle two of the best bigs in the league, the Warriors are absolutely at risk of being a disappointing bet and falling into an 0-2 hole.
Again, we're not picking these games to go this way. We're singling them out as very worthwhile underdog targets, should you wish to risk your cash on some high upside bets.
We nailed one all on Wednesday and might do it again among these three selections. Regardless of which way you bet, good luck!