Comparing NASCAR and Formula One for Sports Bettors

People love to compare the best sports. Is baseball really America's favorite pastime when football is the most popular sport? Soccer isn't popular in the U.S., but it reigns supreme worldwide. Depending on where you live, this can be a very interesting debate.
There is another worthwhile discussion; deciding which is better between NASCAR and F1. These sports aren't as popular as some I just mentioned, but in the realm of auto racing, they're as big as it gets.
This debate will focus on which sport is better for betting. Why does one have the upper hand?
NASCAR is an American sport, while Formula One is worldwide. How does that affect the betting landscape of each sport? Let's find out in this NASCAR vs. F1 breakdown.
Best Sites, Bonuses, and Promotions for NASCAR and F1
Before we break down NASCAR vs. Formula One from a betting standpoint, we should discuss the best sites, bonuses, and promotions for each sport.
The best sports betting sites do a great job releasing odds for NASCAR and F1. Typically, we'll see Formula One have odds quicker, but NASCAR has many betting opportunities by the end of the week.
It's hard to go wrong with any of the top betting sites for motorsports betting. Check out the top bonuses for each site below.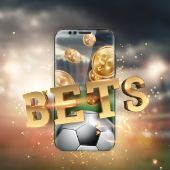 Bovada: 50% up to $250
BetOnline: 60% up to $1,000
BetUS: 125% up to $2,500
MyBookie: 100% up to $1,000
Those represent the bonuses for making your first deposit. Imagine having an extra $100 to wager on NASCAR or Formula One. Who would pass up an opportunity to basically have free money?
Unfortunately, you won't typically see promotions for NASCAR and Formula One. They'll plan them around marquee races, which rarely happen.
The best opportunity for a NASCAR promotion is the Daytona 500. It kicks off the Cup Series season and marks the biggest race of the year. Formula One's biggest race is the Monaco Grand Prix on Memorial Day Weekend.
Still, you can bet on both sports throughout the season. There are multiple sites to scan before finding the best value. Here's a list of the best options you should consider using.
Best Auto Racing Betting Sites
How We Rate

Safety & Security
You should be able to gamble online without fear. So we only recommend licensed sites that use the latest security and encryption techniques.

Bonuses
Maximize your bankroll with fantastic bonuses. Our recommended sites offer valuable bonuses with fair terms and conditions, including manageable wagering requirements.

Games & Betting
The best sites have the best wagering options. That's why you will find extensive games and betting opportunities on our recommended sites.

Banking
Getting your money to and from your account shouldn't be a hassle. We only recommend sites with a variety of convenient banking methods, including cryptocurrency and e-wallets.
Key Differences Between NASCAR and Formula 1
NASCAR and Formula One are motorsports, but they're far from the same thing. For starters, the sports feature different cars. NASCAR has a stock car that weighs over 3,000 pounds.
Formula One cars weigh less than 2,000 pounds and have an open cockpit. Because of that, you'll see the cars easily reach speeds over 220 MPH.
A stock car is capable of 200 MPH, but it's uncommon. That's why the Formula One schedule consists exclusively of road courses. That car is far too fast to do 300 laps around a 1.5-mile oval.
F1 vs. NASCAR equivalents –

Box = Pit
Slip Stream = Draft
Paddock = Garage
Engineer = Crew Chief
Safety car = Caution
Post race report = Simpson's reruns

— Mike Clay (@MikeClayNFL) June 12, 2022
The top speed NASCAR vs. F1 speed won't make a significant difference from a betting standpoint. It's not like they're racing against each other. Still, the F1 vs. NASCAR speed comparison could sway you towards one sport.
NASCAR has a much longer schedule and more drivers in a race. They have more races to bet on, but you'll typically see more betting opportunities for an individual Formula One race.
We'll take a deep dive into the betting opportunities for each sport, but the best NASCAR betting sites are the place to visit for wagering on NASCAR.
Both sports feature a team aspect, but Formula One often features team orders. It's every driver for themselves in a NASCAR race. That's important to consider for NASCAR betting vs. F1 betting.
Which Sport Has Better Drivers?
This isn't an easy question because we've only seen a few drivers compete in both sports. The two drivers that come to mind are Mario Andretti and Juan Pablo Montoya.
It doesn't take a diehard fan of either sport to know Andretti. He's probably the greatest motorsports driver ever because of his accomplishments in IndyCar, NASCAR, and Formula One.
Andretti won the Formula One World Championship in 1978. He had a brief NASCAR career but won the 1967 Daytona 500. Montoya is a better modern-day comparison for Formula 1 vs. NASCAR.
Juan Pablo Montoya winning in F1, NASCAR, and IndyCar during some of their most competitive years doesn't get talked about enough

— BrakeHard (@BrakeHardBlog) June 13, 2022
Montoya won seven Formula One races in the early 2000s before moving to NASCAR. He captured a pair of road course wins in his seven-year career. Montoya finished eighth in the standings in 2009.
The best Formula One drivers produce better numbers than the top NASCAR drivers because there's less parity.
Lewis Hamilton won 8+ races for eight straight years. An eight-win season would be great for a NASCAR driver. It's uncommon to see a driver with that many wins in two or three straight seasons.
That may make it easier to bet on a Formula One race, but you know someone like Hamilton has low odds. It's much tougher to find value for a Formula One race than for NASCAR. The top-tier F1 drivers are better, but NASCAR has more depth.
Betting Opportunities for F1 vs. NASCAR
Now it's time for the true comparison for NASCAR vs. F1 betting. Both sports allow you to make your basic wagers on winning a race and end-of-season championship. However, you won't see much more overlap.
NASCAR betting opportunities feature top-three, top-five, and top 10 props. You'll typically see driver matchups and occasionally the pole winner. That covers your typical NASCAR race. It's not uncommon to see more betting options for the Daytona 500.
Is F1 better than NASCAR? They offer a similar style to NASCAR betting but look at the other options.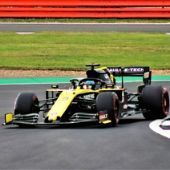 Practice/Qualifying Matchups
Last-Place Finisher
Qualifying Winning Margin
Fastest Lap
First Driver to Pit/Retire from Race
That doesn't cover all the betting opportunities. Formula One goes so in-depth with its options that it's hard not to give them the edge in the Formula One vs. NASCAR debate. You can learn more about the best Formula One head-to-head matchup betting tips to put your over the top as a bettor.
This likely has to do with the lack of value in a Formula One race. The favorite typically has odds in the (-120) range. NASCAR will rarely have a favorite with odds lower than (+500).
It's also much more common for a NASCAR winner to have (+2000) odds. It'd be a big surprise if someone outside the top five or six contenders won an F1 race.
What Makes Formula One More Interesting?
Why should Formula One top the F1 vs. NASCAR debate? We've talked about Formula One having much faster cars. That means they have the upper hand with F1 vs. NASCAR pit stops. Sometimes, people want to watch cars go fast.
F1 has always been popular worldwide because they race all over the world. It wasn't trendy in the U.S. because they only had one race. Formula One's popularity has grown in the last few years because of the Netflix series "Drive to Survive."
The documentary series gives viewers an in-depth look at the drivers and races as they battle for the championship. Last year's champion, Max Verstappen, should have a bigger role in the series moving forward.
Good news DTS fans!

Reigning #F1 champion Max Verstappen could feature in the new series of Netflix documentary Drive to Survive after positive talks with the producers https://t.co/VgtbufiZUe

— Crash F1 (@CRASH_NET_F1) July 5, 2022
You won't have much betting interest on a sport that isn't popular. Drive to Survive has made F1 much more popular in the U.S. In turn, it has brought more betting interest.
We talked about the betting opportunities for a typical Formula One race. You can wager on anything F1-related by visiting the top F1 betting sites.
Many people dislike NASCAR because the majority of races are on an oval. Formula One fans don't have to worry about that, as every race is on a road course. That should bring more interest to the sport.
The NASCAR vs. Formula One debate isn't looking good for NASCAR, but they have a few tricks up their sleeve.
Why Is NASCAR More Compelling for Sports Bettors?
We know that Formula One has more betting opportunities for a particular race. However, NASCAR wins in the end because they have a 36-race schedule. Formula One only has 22 races.
The NASCAR Cup Series only had a one-off weekend in 2022. That's almost non-stop action from mid-February to early November. F1 has a similar schedule, but their schedule features many more breaks.
Perhaps the biggest argument for NASCAR is better than F1 is finding value. We've discussed the difficulty of finding a long shot to win a Formula One race. Check out the biggest longshot winner in Daytona 500 history.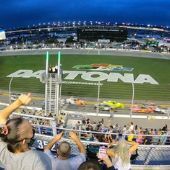 Michael McDowell (2021): (+10000)
Trevor Bayne (2011): (+8000)
Michael Waltrip (2001): (+5000)
That's exclusive to the Daytona 500. It's surprising to see a NASCAR driver win with (+3000) odds, but it's not out of the ordinary. We can't say the same for Formula One.
We don't always see an exciting championship battle in F1. NASCAR has plenty of excitement with the playoffs. The final ten races are crucial, with 16 drivers battling for the championship. That number shrinks by four until four drivers remain.
Everyone wants to wager on the biggest races of the season. NASCAR has the upper hand in that department. Check out the greatest playoff runs in NASCAR history to see which drivers came through for bettors.
Can Knowledge of One Sport Help with the Other?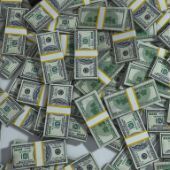 NASCAR and F1 are forms of motorsports, so it's easy to think the sports interchange with each other. There is some overlap between the two, but it'd be challenging for a diehard NASCAR fan to bet on Formula One without previous knowledge.
We talked about the different betting props with Formula One. You might know the best drivers because of the odds, but you find value with the prop bets. That's where you need to know about Formula One.
A Formula One fan may look at NASCAR odds and assume the favorites are the only drivers that can win. In reality, NASCAR has plenty of races where the winner opened with odds in the (+1000) range.
Personally, I've been a NASCAR fan for 15+ years, but I wasn't into F1 until a year or two ago. I couldn't have wagered on F1 before because I didn't know much other than the top drivers.
We've examined the key differences between NASCAR and Formula One. It's not like NFL, College Football, or the MLS and Premier League. They're both racing, but you need to know both sports to wager.
I am saying that you don't need to be a diehard fan of either sport. Having a general background will go a long way toward betting. You might need to watch a few races, but it won't be long before you feel comfortable.
Is NASCAR or F1 Superior for Sports Bettors?
There are so many factors that go into betting on NASCAR and Formula One. There are pros and cons for both sports. The best way to answer this question is to ask which betting method you prefer.
NASCAR gives you a better chance to find value with a longer schedule. Formula One has more props for individual races.
I prefer the value for NASCAR, but I wouldn't blame anyone for taking F1 over NASCAR.
The NASCAR vs. F1 debate is about which suits your betting style. And no one says you can't bet on both. It'd be wise to make your wagers with the fastest paying online betting sites.
AUGUST
Casino of the Month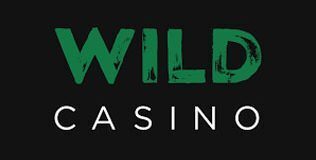 Welcome Bonus
250% up to $5,000
Read Review
Visit Site