Hide Bonus Offers
| | | | | |
| --- | --- | --- | --- | --- |
| #1 | Bovada Sports | 50% Up To $250 | Visit Site | Bovada Sports |
| #2 | BetUS | 125% Up To $2,500 | Visit Site | BetUS |
| #3 | MyBookie | 100% Up To $1,000 | Visit Site | MyBookie |
| #4 | Everygame | 100% Up To $500 | Visit Site | Everygame |
| #5 | BetOnline Sports | 60% Up To $1,000 | Visit Site | BetOnline Sports |
NASCAR Cup Series Odds: Who Will take First in 2018?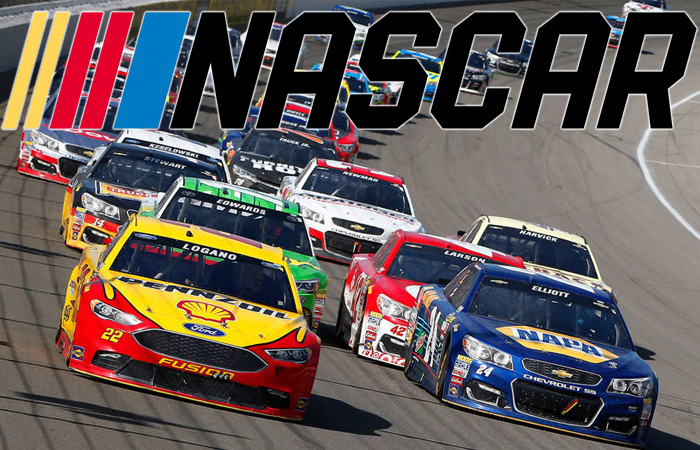 It's hard to believe that it's racing time again already. It was just three short months ago when Martin Truex Jr won his first season title in beautiful Homestead, FL. The two Kyle's weren't far behind all year, while the young and hungry Chase Elliott showed us some of his Father Bill's DNA with but with more aggression.
Hot-headed Brad Keselowski may be the most talented driver in the series, but he likely can't win it all on his own. Brad is known to be rather disagreeable whether he's in his car, or in the face of another driver outside of victory lane. He may need to play a bit nicer with others in hopes he doesn't get spun-out of contention.
For the second year in a row, Jimmie Johnson will be driving in hopes to claim a record 8th NASCAR Season Title. Many southern purists refuse to put the Johnson in the same conversation with Petty and Earnhardt. If he can somehow win the Monster Energy Cup Series, even North Carolinians will have to rethink their opinion.
The following odds are to for each driver to win the 2018 Series. Now, let's go ahead and pop the hood on the 2018 Monster Energy Cup Series.
Odds to Win the Monster Energy Cup Series
Martin Truex Jr +350
Kyle Busch +400
Kyle Larson +500
Kevin Harvick +600
Chase Elliott +800
Joey Logano +900
Brad Keselowski +1000
Jimmie Johnson +1000
Denny Hamlin +1400
Clint Bowyer +2500
William Byron +3000
Kurt Busch +6600
Austin Dillon +10000
Kasey Kahne +20000
J. Allmendinger +25000
Everywhere I look, and everyone I talk to is telling me Martin Truex Jr will repeat as champion. If he's not their pick, it almost certainly is either Kyle Larson or Kyle Busch. It was primarily a three horse race this past year as these three drivers led the field a combined 46% of laps.
It's a very long season at 9 months, and anything can happen. These three could kick everybody's butt all year, and lose on the last lap to Chase Elliott in Homestead. So, I don't see anything wrong with spreading your money around the field of drivers for a better shot at predicting the champ. After all, every odd is plus money.
Today, I'm going to give you my favorite value bets, a sleeper, and my pick to win the Monster Energy Cup.

Value: Brad Keselowski +1000
Brad, as I mentioned above, is a fiery guy who wears his emotions on his sleeve. While this level of competitiveness serves him well 99% of the time, it minimizes his options for drafting help or a shotgun pass when he needs it.
You can't have the shake without the bake! Keselowski would be well served to implement the golden rule of treating others as he would like to be treated. He has the ability to be the best driver on the track at any time
I respect his hustle. He wants to do it on his own, and not change himself for anybody. While there is a correlation, winning isn't a product of respect.
Brad understands what it takes to win a season title as he brought home the cup to Michigan back in 2012.
One reason for Keselowski having 10 to 1 odds is that he will again be driving a Team Penske Ford. The Toyotas did seem considerably faster in 2017. Brad stated earlier in the offseason "We are all in for a rude awakening. Haven't seen NASCAR let a manufacturer get this far ahead since the 70s."
Is this just a front-loaded excuse or a driver sticking up for himself and others? Either way, Brad is a valuable pick at +1000. Not to mention, you'll be the most unpopular fan in the house if you're rooting for Brad. This could be especially sweet if he wins it all.

Value: Jimmie Johnson +1000
Old man Jimmy is going for his 8th title again this year. Looking at the guy, you wouldn't guess he's 42 years old. Heck, we know he's been under some stress.
Reaction time begins to slow around 40 years old, but aside from dodging a wreck, NASCAR drivers are primarily acting and not reacting. I love the value with this pick.
The only reason I think his odds are as high as they are is his age, and more so his perceived attitude towards winning. Many fans have the belief that Johnson doesn't want it as bad as he once did.
Johnson wants to win, and if the Camaro performs as well as it has in tests we could see an 8th title and a possible retirement on top for the famous #48.

Value: Denny Hamlin +1400
My last value pick for this season is the driver of the #11 Toyota from Joe Gibbs Racing. Gibbs has always been a highly competitive coach and now NASCAR owner. His team continually puts their drivers in a position to win.
Denny has been looking to get over that proverbial hump and into victory lane for a while now. Last year, he had 2 wins. Not bad, right? Not good either because he had 15 top 5 finishes. He has been walking the fine line of very good, but not great.
This could be the year for Hamlin to break out. According to NASCAR Stats | FOX Sports, Denny completed the season just behind Kyle Busch for 4th with an average finishing position of 11.6.

Sleeper: Kurt Busch +6600
Wake up Kurt! It's almost racing time! Kurt Busch is a wildman on the track. His aggression has been his Achilles heel in the past. He has managed to control it in the past, as he was the winner of the Cup Series in 2004.
Having a brother in the field doesn't hurt his chances to win races this year. That is, of course, if it doesn't come down to sibling war in the end. Most of us know that competitiveness increases when it's a loved one contesting for your spot.
66-1 odds are very unlikely, but you'll be hard-pressed to find a former champ with higher odds.

Pick to win the Series: Martin Truex Jr +350
Usually, when you pick a betting favorite, you have to put up more money than you could win. This works out well for the sharps who have the money to spare. For us common folk, this is an excellent opportunity to grab a favorite at 3.5 to 1 odds.
Truex Jr dominated the field last year leading all other drivers in points, laps led, top 5's, top 10's, wins, and average finishing position.
Yes, Kyle Larson should have a better year and Kyle Busch is hungrier than ever. With their odds not that far off of Truex Jr's at +400 for Busch and +500 for Larson, I don't see much reason to go with anyone but the champ for your pick to win.
Look for Truex Jr in victory lane at Homestead in November!
Driver vs Driver: Season odds
Do you have a favorite driver in the Monster Energy Series? How about a driver you just love to see fail?
With these head-to-head season-long odds from Sports Betting & Online Betting at BetOnline Sportsbook, you can have a driver to root for and one to root against for the entire season with just one wager.
If you don't see your favorite driver matched up with a driver you dislike, I'll give you some matchups to look at, and a driver to pick with the most value.
What Driver Will Finish With the Most Points?
Martin Truex Jr -115
Kyle Busch -115
Kyle Larson -135
Chase Elliott +105
Kevin Harvick -145
Brad Keselowski +115
Jimmie Johnson -125
Denny Hamlin -105
Larson over Elliott at -135
Kyle Larson would be my pick for 2nd this year. Fans and oddsmakers are loving Chase Elliott, but he is yet to prove himself under pressure. 15 drivers won at least one race last year. Elliott is not one of those guys, while Larson found himself parked in victory lane 4 times.
Larson can match Elliott's youth and ceiling for growth. The difference is Larson is proven, and Elliott simply is not. Remember this bet is about the most points at the end of the season, and Larson more than doubled Elliott's points last year.
At only -135 for Larson, this may be your best bet of all.
What Driver Will Finish With the Most Wins?
Jimmie Johnson -130
Chase Elliott +100
Martin Truex Jr -130
Kyle Larson +100
Kyle Busch -170
Denny Hamlin +140
Kyle Larson -145
Jimmie Johnson +115
Johnson over Elliott at -130
Here I am picking on Chase Elliott again. I'm starting to feel like a bully. I just can't help it. He is going to have to prove me otherwise.
Johnson has 7 more season titles than Elliott has wins on Sunday in his career. I will take craft, experience, and numbers any day over a good name with ZERO wins!
While the point totals for these two drivers were very similar, Johnson led Elliott in wins 3-0. I really like Jimmie here at an affordable -130.
The 2018 NASCAR season is shaping up to be as exciting as always. Will youth and aggression be enough to topple craftiness and experience? Or will the youth and aggression of the field topple half the drivers by causing wrecks?
Look out for Truex Jr to continue his dominance with a few wily veterans likely to be around when it comes time for The Chase.
I could be wrong about Chase Elliott, but I can't help but pick on him in the matchup bets against Larson and Johnson. He may be the driver of the future, but he's going to have to win a race before we have this conversation.
If the Fords and Chevys can get caught up to the Toyotas at least by mid-season, look out for the vets. Keselowski and Johnson are as talented, competitive, and as smart as anyone in the field.
Until next time race fans, I'll see you in victory lane.