Hide Bonus Offers
| | | | | |
| --- | --- | --- | --- | --- |
| #1 | Bovada Sports | 50% Up To $250 | Visit Site | Bovada Sports |
| #2 | BetUS | 125% Up To $2,500 | Visit Site | BetUS |
| #3 | MyBookie | 100% Up To $1,000 | Visit Site | MyBookie |
| #4 | Everygame | 100% Up To $500 | Visit Site | Everygame |
| #5 | BetOnline Sports | 60% Up To $1,000 | Visit Site | BetOnline Sports |
May Update for the NASCAR Cup Series Odds (2022)

The 2022 NASCAR Cup Series season is closing in on the regular season's halfway point. Nine drivers have clinched a spot in the playoffs, while William Byron and Ross Chastain are the only two-time winners.
The Next-Gen car has brought some much-needed parity to the Cup Series. The 2022 NASCAR Cup Series odds will reflect that, as no one has a big edge over the field.
Who will win the 2022 NASCAR Cup Series Championship? We'll answer that later but let's start with the odds.
Updated 2022 NASCAR Cup Series Odds
This list includes all nine winners from the 2022 Cup Series season. Everyone else has (+4600) odds or worse.
Kyle Larson has the best NASCAR Championship odds. Larson had a historic 2021 season, winning ten races en route to the championship. He hasn't been as dominant in 2022, but he has finished sixth or better in four of his last five races.
The NASCAR title odds have Larson's teammates, Chase Elliott and William Byron, as his top challengers. Elliott has been the most consistent driver, while Byron has two series-leading victories.
NASCAR odds don't typically favor longshot champions, but there has been a ton of parity in 2022. It wouldn't surprise if someone with (+2000) odds or worse won the championship.
MyBookie gives us the 2022 NASCAR Cup Series odds. Please visit the site to place your wager.
Bet on NASCAR at MyBookie
Visit Site
Top Contenders for the 2022 NASCAR Cup Series Title
The updated Cup Series odds have seven drivers with (+1000) odds or better. There's no shortage of top contenders, so let's see which ones present the best value.
Chase Elliott (+580)
Before the 2022 season, I had Chase Elliott as one of my top contenders for the Championship 4. The 2020 Cup Series Champion was a little behind last season, but his numbers have him on pace for another championship.
Elliott kicked off the season with a solid 10th-place finish in the Daytona 500. He overcame an early-race issue at Auto Club to contend for the win. Unfortunately, contact with Kyle Larson relegated him to a 26th-place finish.
LARSON PUTS CHASE IN THE WALL! pic.twitter.com/aXUfQUCtCc

— NASCAR (@NASCAR) February 28, 2022
Following a solid finish at Las Vegas, Elliott was in contention to win at Phoenix and Atlanta. He led a combined 79 laps but failed to score a top-five finish. He scored his first top-five the following week at COTA.
It appeared Martinsville would mark his first victory of 2022. Elliott started on the pole, leading the first 185 laps, and winning both stages. Unfortunately, a late pit stop led to a disappointing 11th-place finish.
Following back-to-back top 10 finishes, Elliott improved his NASCAR Championship odds with this performance at Dover.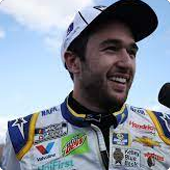 Starting Position: 4th
Stage 1 Finish: 2nd
Stage 2 Finish: 10th
Race Finish: 1st
Laps Led: 73 of 400
Driver Rating: 132.9 (1st)
Elliott fell back during Stage 2 but quickly worked his way back to the front. He took the lead from Ross Chastain on the final restart and pulled away to pick up his first victory of the season.
The victory gave him a 50-point lead in the regular-season standings. Winning the regular-season title is important because it gives you 15 playoff points. He should continue to add to that total during the summer months.
Elliott has done a great job avoiding bad finishes. His consistency will be key to winning the regular-season title. That would greatly help his NASCAR title odds.
William Byron (+710)
Last season, Hendrick Motorsports was the team to beat. Kyle Larson and Chase Elliott qualified for the Championship 4, but we can't forget about William Byron. He didn't make the Round of 8, but he was a top driver. Byron has looked at the part in 2022.
He had a rough start to the season, crashing in his first two races. Byron's crash at Auto Club came while running top 10. He recovered to score a top-five finish at Las Vegas.
Two weeks later, Byron led 111 laps at Atlanta. He held off the field to capture his first victory of 2022.
THE 24 WINS AS CARS CRASH BEHIND HIM. Retweet to congratulate William Byron on his Atlanta victory! pic.twitter.com/MlgxU1hDKJ

— FOX: NASCAR (@NASCARONFOX) March 20, 2022
Byron wasn't a contender at COTA, but he was in control at Richmond and Martinsville. He used pit strategy to take the lead at Richmond. He was in a position to score the victory, but pit strategy came back to haunt him. Byron lost the lead with under five laps to go, finishing third.
He avenged that defeat with his second victory of the season at Martinsville. Byron led 212 laps en route to the victory. The win was a big boost for his 2022 NASCAR Cup Series odds.
Lately, we haven't seen Byron perform up to his potential. He has three straight finishes of 15th or worse, but he did lead a race-high 38 laps at Talladega. His numbers are among the best in the Cup Series.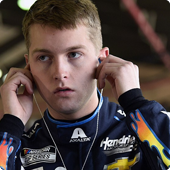 2 wins
4 top-five finishes
4 top 10 finishes
3 stage wins
520 laps led
His two victories and 520 laps led him to lead the Cup Series. We'd like to see more consistency but running out front, and leading laps will win you a championship.
Byron is in an excellent position to make his first Championship 4 appearance. More consistency will help him make a run at the regular-season title.
NASCAR Cup Series Title Sleepers for 2022
It's tough to win the Cup Series Championship as a long shot, but it'd be this one if it'll happen in any season. The NASCAR odds have plenty of quality options, so my favorite championship sleepers are here.
Martin Truex Jr. (+1200)
I don't think people realize how close Martin Truex Jr. has come to winning multiple championships. He won the 2017 championship and came up one spot short in 2018, 2019, and 2021. We haven't seen him perform as strong in 2022, but you can never count out someone of his caliber.
Truex won both stages in the Daytona 500 but failed to score a top 10 finish. In fact, his eighth-place finish at Las Vegas was his only top ten finish in his first four races.
He started to show signs of life with top 10 finishes at Atlanta and COTA. Then came this performance at Richmond.
Starting Position: 6th
Stage 1 Finish: 4th
Stage 2 Finish: 1st
Race Finish: 4th
Laps Led: 80 of 400
Driver Rating: 123.2.2 (1st)
Truex's car came to life in Stage 2. There were varying pit strategies in the final stage, with Truex in a position to win. Unfortunately, his strategy didn't work out. Without that, there's a strong chance he will earn his first victory in 2022.
Following a pair of finishes outside the top 20, Truex scored a fifth-place finish at Talladega. He was on pace to finish top-five at Dover, but a last-lap crash moved him into 12th.
Ross Chastain vs. Martin Truex Jr. on the final lap in Dover ? pic.twitter.com/l1Ku30tTfT

— FOX: NASCAR (@NASCARONFOX) May 2, 2022
Despite the inconsistency, Truex is seventh in the standings. His three-stage wins trail only William Byron. He is in a good playoff spot, but he'll need a victory to improve his NASCAR Championship odds.
We know Truex is capable of winning big races. He has come through in the clutch before, including the 2017 Championship 4 race at Homestead. Our guide to NASCAR races shows the season finale is among the season's biggest events.
Once Truex captures his first victory of 2022, he'll no longer be a sleeper.
Christopher Bell (+2600)
Christopher Bell is only in his third full-time Cup Series season, but most fans expected him to take a bigger step forward. He made the playoffs last season but was never a factor.
Bell had a pretty rough start to the 2022 season. He started on the pole at Las Vegas, leading 32 laps en route to a 10th-place finish. However, that was the only time in the first five races Bell finished top 20.
It wasn't looking good as he sat 29th in the standings. Over the last six weeks, we've seen Bell help his 2022 NASCAR Cup Series odds. He has a pair of rough finishes, but check out his other four results.
COTA: 3rd
Richmond: 6th
Bristol Dirt: 7th
Dover: 4th
Resilience has been big for the No. 20 team. He overcame a power steering issue to score a third-place finish at COTA. Bell was deep in the field after Stage 2 in the Bristol Dirt race. Last week, he had to make an unscheduled pit stop and went two laps down.
His recent stretch has moved him to 10th in the standings. Bell isn't a championship contender yet, but it wouldn't surprise me if he reached that point. The best NASCAR betting sites have him as a sleeper, so I'm looking to jump the curve.
Bell drives for one of the top teams in Joe Gibbs Racing. We've already talked about Martin Truex Jr., and Kyle Busch is top five in the standings.
He has shown speed on road courses throughout his NASCAR career. Five more are on the schedule, including a playoff race at the Charlotte Roval. Like Truex, I expect his NASCAR title odds to rise after he scores a victory.
Betting Tips for the 2022 NASCAR Cup Series Championship
The uncertainty of the 2022 Cup Series season means it wouldn't hurt to check out a few betting tips for the Championship.
Starting Looking Ahead to the Playoffs
We're less than halfway through the regular season, but the playoffs will be here before we know it. Nine drivers have won their way into the playoffs, and it's safe to assume Ryan Blaney, Martin Truex Jr., and Joey Logano will be in the playoffs.
We can start mapping out their best tracks and rounds among those drivers. A driver can run great in the regular season, but if they struggle on playoff tracks, it won't matter.
We talked about Chase Elliott being a top championship contender. The final two races of the season are Martinsville and Phoenix. Please take a look at his combined numbers at the tracks since 2020.
10 races
2 wins
6 top-five finishes
8 top 10 finishes
1,100 laps led
3 average finish
Looking at past success at a track goes into NASCAR betting strategy. It's crucial to look at playoff success before making your championship prediction.
Value Laps Led Over Wins
This is an interesting betting tip because winning is more important than ever in the NASCAR Cup Series. It clinches a spot in the playoffs and gives you five playoff points. Playoff points are crucial at the end of the season.
We've seen multiple cases of a driver winning a race without leading many laps this season.
Richmond: Denny Hamlin (5 laps)
Bristol Dirt: Kyle Busch (1 lap)
Talladega: Ross Chastain (1 lap)
I hate to say anyone has a lucky victory, but these drivers didn't have the best car in a particular race. Ryan Blaney and Tyler Reddick rank sixth or better in laps led but haven't visited victory lane.
Then you have Denny Hamlin and Austin Cindric. Both drivers have won in 2022, but their laps led to ranking outside the top 10. I have more faith in Blaney and Reddick.
Predicting the NASCAR Cup Series Champion in 2022
The 2022 NASCAR Cup Series season has featured many wild and unpredictable moments. There's no reason to believe that won't continue through the remainder of the regular season.
As we approach the halfway point in the regular season, it's hard to pick anyone other than Chase Elliott to win the 2022 Cup Series Championship.
Elliott has been the most consistent driver, and now he has a win. It won't be long before his 2022 NASCAR Cup Series odds have him as the favorite.
The best online sports betting sites will update you on the latest NASCAR Championship odds. Feel free to check them out to make your prediction.