Hide Bonus Offers
| | | | | |
| --- | --- | --- | --- | --- |
| #1 | Bovada Sports | 50% Up To $250 | Visit Site | Bovada Sports |
| #2 | BetUS | 125% Up To $2,500 | Visit Site | BetUS |
| #3 | MyBookie | 100% Up To $1,000 | Visit Site | MyBookie |
| #4 | Everygame | 100% Up To $500 | Visit Site | Everygame |
| #5 | BetOnline Sports | 60% Up To $1,000 | Visit Site | BetOnline Sports |
Mystery Bettor Walks Away After Winning $14 Million on World Series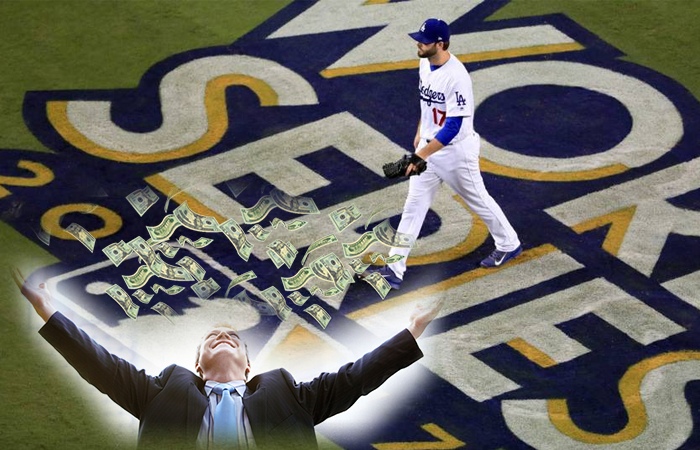 The notion of whether "hot streaks" exist is an oft-debated topic when it comes to gambling. While some tend to believe that you can ride the hot hand, those that take a more scientific approach to things know it's called the "hot hand fallacy" for a reason. Hot streaks are random.
Every now and then, we'll hear about a bold bettor that is willing to risk insane gobs of money betting on big sporting events. Millions upon millions were bet on the highly-anticipated Floyd Mayweather-Conor McGregor bout this past summer, while the Super Bowl is obviously the biggest sports betting event in the United States every year.
We don't typically hear about extravagant baseball bets, but one gambler just enjoyed quite a run during the recently-completed World Series.
Let It Ride bettor wins again. 6 for 6 in WS! Expected to have $14 Million in action tomorrow!! I'll let you know who he's betting ASAP …

— RJ Bell (@RJinVegas) November 1, 2017
According to RJ Bell, a Las Vegas-based radio show host and Associated Press betting odds provider, an unknown bettor amassed $14 million in winnings after correctly predicting the outcomes of each of the first six games of the series between the Houston Astros and Los Angeles Dodgers.
What Do We Know?
Per Bell, the bold gambler is fairly new to the sports betting scene in Las Vegas. He is reportedly under 30-years-old and came from Eastern Europe. He would bet on a game, and then let it ride on the next game. That means that he took all of his winnings from his previous bets and went all-in on the next game. Through the first six games of the series, he was up to $14 million in winnings.
There are some questions regarding this person's intentions and background. Bell noted that one of his sources was adamantly claiming that the bettor was just a front working for a bigger syndicate. On the other hand, others felt that there's no way a larger, serious group would back the questionable odds that this bettor was fine accepting.
We also know that the only previous known bets this bettor made were a few huge bets on various UFC events. Amazingly, he was undefeated on those wagers, as well.
By the time the end of the series was near, the bettor was forced to spread his bets across various sportsbooks, because no one book would accept a single bet as large as he was wanting to place. He reportedly tried to bet $2.8 million at one Vegas sportsbook, though it is unknown whether the book accepted the wager.
His Results
The Astros and Dodgers were so evenly-matched that no team was faced with incredibly long odds to win any single game. The favored teams (on the moneyline) in the first three games were the Dodgers, Astros and Astros. Assuming he bet the moneyline, the bettor, siding with the favorite, nailed those bets. He reportedly bet somewhere between $400,000 and $500,000 on Los Angeles to win Game 1 and continued to let it ride with those winnings.
Games 4 and 5 were less predictable, though, as the Astros and Dodgers were listed as odds-on favorites. However, the Dodgers won Game 4 before the Astros triumphed in a wild Game 5 against Clayton Kershaw and the vaunted L.A. bullpen. The bettor took a risk with underdog picks in both games, and it paid off.
By the time five games had been played, the mystery bettor had already made a few million bucks. He then bet it all on the Dodgers to win Game 6 at home, which they did by the score of 3-1. That win, which netted him an additional $8 million, brought his total to the $14 million in winnings we mentioned above.
On Wednesday morning, before Game 7, it had been erroneously reported that the bettor planned to bet all $14 million on the Dodgers to close out the series. Some outlets reported that the bets had already been placed, but Bell reported just before noon Pacific time that no bets had been confirmed.
Just before 4 pm, Bell confirmed that the bettor would not bet on Game 7, and instead had made the decision to simply walk away with his $14 million in winnings.
CONFIRMED by my most trusted source – Perfect World Series "Let It Ride" bettor NOT expected to bet Game 7 … Walking away w/his winnings!

— RJ Bell (@RJinVegas) November 1, 2017
Obviously, walking away with $14 million rather than betting it all on the Dodgers to win Game 7 turned out to be a good decision. The Astros breezed their way to a 5-1 win for their first World Series title on Wednesday night.
Vegas Impact
We know that betting odds have a way of fluctuating based on where the money is going. If the betting public is betting heavily in favor of one side, the odds are naturally going to get worse and worse. According to Bell, the mystery bettor was able to impact the betting odds for the World Series almost by himself.
Bell posted an image to Twitter on Wednesday that showed the way the line on Game 6 moved after the bold bettor had placed his wager.
The bettor decided to place his Game 6 bet on Monday, the day before the game. At the time of the bet, the Astros were actually listed as slight favorites to win Game 6 at -107 on the moneyline at Southpoint Casino. The Dodgers were priced at +105 as of 7:19 pm.
Then, something quickly changed. Bell reported that the odds quickly shifted heavily in the Dodgers' favor once the bettor was seen entering the casino. He didn't even have to place a bet before the odds changed. As of 7:51pm, the Dodgers' line had shifted drastically to -150, while the Astros went way down to +115. Unfazed, the bettor bet the maximum amount allowed ($250,000) and walked out. Once he left, the line moved back down.
Vegas casinos were scrambling at the mere sight of this guy. Betting that much money, and winning constantly, had them worried. That's almost unheard of, especially in Las Vegas.
Was He a Shark?
A huge aspect of the aura surrounding this bettor is that we simply have no idea who he is. He was reportedly a complete unknown to those that regularly spend time on The Strip, yet he sure seemed confident in betting huge amounts on World Series games.
While one would imagine that someone willing to bet such huge gobs of cash on anything would have to be something of a professional, bookies that spoke with the man seemed to believe that he was a novice that knew very little, if anything, about sports or gambling.
It's also worth noting that baseball is an incredibly tough sport on which to gamble. While stats can be predictive much of the time, there's an element of randomness to baseball that simply doesn't exist in sports like football or basketball. The fact that this man was able to string together six consecutive wins is rather amazing in its own right. The fact that he was able to do so in a series pitting two evenly-matched powerhouse teams against one another is even more remarkable.
Could he have been a front for some sort of shady European syndicate? It's possible. You don't need to know anything about anything to place a bet in Vegas. They're more than happy to take money from novice bettors. If he was someone simply working on behalf of a larger group of bettors based elsewhere, though, it does take some of the fun out of the story. We'd like to believe that he was just a random dude with cash to spend that hit a six-game streak of insane fortune.
The reality surrounding the mystery bettor's situation is probably a lot less exciting than the idea that he's a Joe Schmo just letting it ride.
Will We See Something Like This Again?
It's hard to imagine a run like this happening again, but anything is possible. As we mentioned previously, correctly picking one baseball game using the odds to your advantage is a tall task. Reeling off a six-pack of wins in a row is completely unheard of, especially given the sharpness of Vegas bookmakers. Even Bell, who has seen a thing or two in Sin City, said that he had never seen anything like this.
Cheers to you, mystery bettor.