Reviewing MyBookie's Blackjack Offerings at Their Online Casino

MyBookie is an online casino and sportsbook featuring hundreds of slot machines, table games, blackjack, and offers odds on just about any sport you can name (Sorry buzkashī fans, maybe next year!).
While we have a MyBookie review for its overall performance, this review highlights its treatment of a game that many would consider the acid test of any casino: Blackjack.
To help you decide if MyBookie deserves to be your go-to online casino for all things blackjack-y (sorry, the batteries are dead on my thesaurus), I'll be looking at everything the gambler wants to know about it.
We'll take an in-depth look at the various blackjack offering at MyBookie and the play, the betting options, the bonuses—pretty much everything you'd expect from a MyBookie blackjack review.
I'll be rating each of the features and attributes of MyBookie's blackjack offering with a score between one and five, with five being "best" and one being "run away."
Blackjack Game Variety (Score: 5)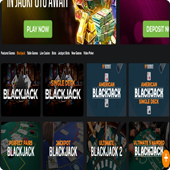 Blackjack is well-known for offering the house one of the thinnest edges of all banked games: less than half of 1% (don't worry, that's based on perfect play, which is not what most people do at the blackjack tables—or so I've heard).
MyBookie offers a wide range of regular blackjack games and live dealer blackjack. The standard blackjack games are licensed by well-known gaming software developers like Arrow's Edge and BetSoft, both well-known online game developers. The live dealer games are provided by Visionary iGaming.
Among the online versions are a few bubblegum-flavored blackjack games—the sort of gimmick games that attract attention and offer some additional excitement. They also give the house a better advantage. Some of these are jackpot blackjack, ultimate blackjack, and perfect pair blackjack.
But if you're looking to grind blackjack until it's fine dust, plenty of "standard" single and multi-deck games are among the offerings.
Regardless of your preferences, MyBookie has them all, most of which offer free-play versions if you want to familiarize yourself with the rules and the gameplay without risking your bankroll.
Here's a run-down of the differences between their various versions of blackjack.
American Blackjack
If you're a gringo, this is the version of blackjack you are most familiar with and maybe the only one you knew existed.
The player is dealt two cards face up, while the dealer (representing the house) is dealt one card up and one card down.
If the dealer's up card is an ace, the game pauses as each player is offered the opportunity to buy "insurance" that the dealer does not have 21 (an ace, worth 11) and a face card (ten through king, worth 10).
If the dealer's hole card does, in fact, give him a blackjack, the hand is over. Nobody wins, although players who also have blackjacks are given their initial wagers back (a push).
If you've played this version of blackjack before, you'll have no problem using the basic blackjack strategy to play this game on MyBookie successfully.
European Blackjack
So similar at first glance that it is easily confused with American blackjack, European blackjack does not reveal the dealer's hole card until all other play is finished.
MyBookie offers a multi-hand, a 6-deck variant that provides the usual 3:2 blackjack payout, insurance, and dealer stands on 17 and hits anything less.
The minimum bet here is $1, with a maximum bet of $100. Late surrender is not permitted.
Incidentally, the deck is shuffled after every hand.
Multihand Blackjack (Both American and European Versions)
The house edge here gets a healthy boost with the added distraction of multiple hands, which require faster thinking, ideally resulting (ideal for the house, that is) in less well-considered choices.
Single Deck Blackjack
Players who know blackjack strategy love single-deck blackjack, which offers the house a microscopic 0.15% edge.
A solid understanding of blackjack strategy coupled with the enormously better chances of keeping track of the cards already dealt (none dare call it counting) gives the player the best of all possible worlds.
Perfect Pairs Blackjack
This otherwise vanilla blackjack game (multi-deck) offers a side bet based on whether you think your first two cards will be a pair. Payout is for a perfect pair (suited pair), a colored pair (the paired cards are of the same color), and a red-black pair.
Jackpot Blackjack
This multi-deck blackjack game features a hot-drop progressive jackpot that randomly triggers after the progressive has reached $5,000. While betting higher amounts on your hands increases your chances of hitting the progressive, the trigger is random.
Ultimate Blackjack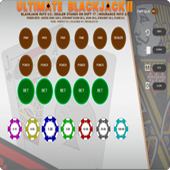 This version of the game is for those who prefer their multideck blackjack with a side of poker and maybe a dash of rummy.
Let me explain. In addition to wagering and playing the game as in regular blackjack, the player can also place several side wagers based on his first two cards and the dealer's first two cards.
One option is the poker side wager, paying on suited three of a kind, straight flushes, three of a kind, straights, and flushes.
The other side wager option is Pairs—either for your hand or the dealers. This also involves your first two cards—or the dealer's first two cards—and pays on the perfect pair (suited pair), colored pair (both cards of the same value are the same color), and red-black pair.
Blackjack Tournament
If you were concerned about there being such a thing as a MyBookie blackjack tournament, your worries are over.
On the other hand, if you've never heard of such a thing, here's the skinny: Tournament blackjack pits you against other players rather than the house. You pay an entry fee and sit at the blackjack table.
There's still a dealer, however. And play continues as you would typically expect at a blackjack table, with your primary job being to beat that dealer.
Your chip pile is what puts you on the tourney leaderboard, however, and you will soon find yourself making choices you might not make during a regular blackjack session. Your goal is to outlast everyone else at the table.
For a better idea of how to make that happen, be sure to read our handy blackjack tournament guide.
21 Burn Blackjack
This blackjack variant offers the player the intriguing opportunity to burn (discard) the second card dealt and replace it with a new card. The player pays a "burn bet" equal to half his initial wager to exercise this option. A blackjack in 21 Burn Blackjack pays even money (sad emoji).
Pontoon Blackjack
This is a misnomer because while pontoon shares some similarities with blackjack, it has many significant rules that counter everything you've learned about blackjack.
Sure, the fact that getting a score of 21 with your first two cards is a "pontoon" rather than a "blackjack" isn't a shock or a surprise.
Both dealers' cards being dealt face down are different and perhaps a bit concerning.
Important
Oh, and there's no such thing as a "push"—if your hand is equal to the dealer's hand, you lose.
On the other hand, you can double down nearly as often as rabbits fall in and out of love. In fact, doubling down—even on three or more cards—is a major feature of the pontoon.
Pirate 21 Blackjack
Played like regular blackjack, pirate 21 blackjack is unique in that it uses the Spanish 48-card deck rather than the more universal French deck of 52 cards. What's missing in the Spanish deck, you ask? The tens, of course. Sure, the jack, the queen, and the king are still there, but the ten-spot cards are missing.
This alters the odds of getting a blackjack since there are only 16 cards per deck to pair with an ace to score a blackjack. On the other hand, there are fewer cards to bust your hand.
Live Blackjack
As you would expect, MyBookie is one of the live online casinos that offers Live Dealer Blackjack.
The game offers multiple tables of play at three wagering levels: Bronze, Silver. and Gold.
The live dealer action allows players to play both the European and American style blackjack games. Added to those casino staples is the newest variant: Blackjack Early Payout (BJEP was designed and patented by Visionary), which takes the "surrender" feature to new levels.
BJEP permits early payouts on a player's hand determined by the likelihood of winning the hand. That likelihood is based o the player's cards and the dealer's single-up card. Unlike a surrender, which only returns half the original wager, an early payout can be greater than the original amount of the player's bet.
Banking (Score: 4)
MyBookie handles deposits and withdrawals professionally and provides a multitude of payment options, including BitCoin, BitCoin Cash, Visa, Mastercard, Person 2 Person, and litecoin.
There are fewer options on withdrawals—Bitcoin or wire transfer. While reports say the system is easy to understand and use, some reports say withdrawals are sometimes a bit slow.
Please Note
Withdrawals may be made once a week (per withdrawal method), and MyBookie accepts these requests seven days a week.
MyBookie itself recommends players request withdrawals via BitCoin, which they say results in a review time (for verification) of two days, a delivery time of one day, and the processing is free.
As with all online casinos and sportsbooks, MyBookie expects players to fulfill any rollover obligations before requesting a withdrawal. Be sure to read all of MyBookie's terms & conditions and its policies and procedures.
For more banking options, check out the best crypto gambling sites.
Security and Licensing (Score: 5)
MyBookie has been a fixture of the online gambling world since 2014. It is licensed and regulated by Curaçao, a tiny island nation that is one of the more active licensers of online casinos and sportsbooks.
All play on MyBookie is in US dollars, although other currencies can be converted on site. Those wishing to use different currencies may want to handle the conversion themselves rather than accept MyBookie's conversion rate.
All data that moves between the player and MyBookie.ag is via SSL (secure sockets layer, for those who care)—a very high level of encryption.
Mobile Access (Score: 2.5)
Unlike some online casinos and sportsbooks, MyBookie does not require a special app to be downloaded to play.
Instead, it functions entirely in the browser (Chrome, MS Edge, Opera, Firefox, etc.). On mobile platforms like Androids and iPhones, it simply resizes its screens to fit the smaller screen of your phone.
This may work for some games, such as slot machines, but the resulting visual is too small for some to read clearly for a game like a blackjack. The game itself plays well, but it can be pretty challenging to drag a $1 chip the size of a mosquito across the screen with your index finger to place a bet.
This is my least favorite attribute of MyBookie. As the HR people like to euphemize, it is MyBookie's biggest "area of opportunity". You can always check out more viable options with a look at our best blackjack mobile apps.
Bonuses and MyBookie's Rollover Requirements (Score: 4)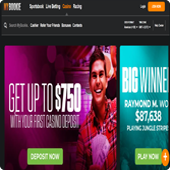 No MyBookie online blackjack review would be complete without a look at the operation's various bonus offers and its rollover requirements.
The bonuses offered by MyBookie range from fair-to-middlin' right up to quite generous. They include seasonal promo codes, sign-up bonuses, reload, and referral bonuses. These can add hundreds (sometimes thousands) of dollars in play to your account.
Of course, to earn that bonus play, the player must roll over the deposit and bonus amount several times.
MyBookie's terms and requirements for rollover are consistent with the competition—and are a bit more liberal in some areas.
For Instance
Unlike many other online casinos, MyBookie does indeed count play on their blackjack games to fulfill rollover requirements for bonus withdrawal. Of course, it's low (10%)—reflecting the thin house edge blackjack affords.
For the sake of comparison, In comparison, MyBookie gives the player 100% credit for rollover on most of its slot games.
One caveat: MyBookie separates its bonus rollover requirements between the sportsbook and the casino. If you get a sign-up, welcome, or reload bonus from one side (e.g., the sportsbook), playing in the casino does not count for the sportsbook rollover. And vice-versa: Casino bonus rollover does not accrue through wagers in the sportsbook.
I don't see this as particularly worrisome, but separation could lead to misunderstandings if you aren't aware of it.
Should You Make MyBookie Your Go-To Place for Blackjack?
Without a doubt, MyBookie is well worth adding to your portfolio of solid and trustworthy online casinos.
It's on our list of legitimate online casinos and is regularly ranked among the top online casinos by many independent reviewers.
I give MyBookie an overall grade of 4.1 out of 5, with what I consider its most important feature—a variety of blackjack games offered—earning a solid 5.
Frankly, the site's only weakness is the mobile version—and if you don't usually play blackjack on your mobile phone, the low Mobile Access score shouldn't affect your decision to make MyBookie a regular stop.
Ready to play some blackjack? First check out this breakdown that reminds us all that the game isn't just about pure luck.