My Top Five Tips for Betting on Super Bowl 53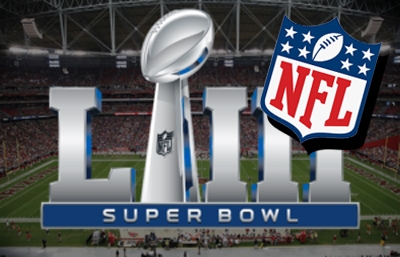 Super Bowl 53 is fast approaching.
After the championship games over the weekend, we now know that the Los Angeles Rams will be facing the New England Patriots on February 3rd at the Mercedes-Benz Stadium.
As Atlanta readies itself for an influx of football fans, it's time to think about the betting possibilities surrounding the big game.
There are plenty of factors to take into consideration before even thinking directly about the two teams taking part.
So here are my best general tips for betting on Super Bowl LIII.
Do Your Research
Although some of the more ridiculous prop bets – the color of Gatorade poured over the winning coach, anyone? – are just random guesses, if you want to succeed with your Super Bowl 53 wagers, then you need to do some serious research.
It's a bit late to mention this now, but this doesn't haven't to wait until the Conference Champions are known, either. There is a lot of information available before that stage that can point you in the right direction way ahead of the world-famous spectacle.
Obviously, your bets can be refined once you know who will be competing, but by studying the form of how Super Bowls usually pan out, you can give yourself a head start on finding the value in the markets nearer the game.
As all bettors should know, anything can happen in sports, but there is a reason why bookmakers price up events in the way they do.
The trick is to use your knowledge and expertise to beat the odds, and that is where extensive research will be a great help. Looking at the statistics from previous Super Bowls and seeing where the patterns emerge, for example, can be very useful.
Remember, this is an individual game, but there are enough factors that could inform you in some betting markets. Once you have done your research, you can then move on to placing your bets. But make sure you do spend PLENTY of time on that research.
Use the Right Betting Sites
The thing about the Super Bowl is that everyone wants to watch the game – even if they don't really have an interest in football during the rest of the season.
This also means that there will be thousands of people betting on the game who are not familiar with sports betting – and even with where to go to make a selection.
Bookmakers know that this is one of the biggest days on the sports betting calendar, so it won't be hard to find a place to make a bet.
The problem is that there will be a LOT of places that you should avoid.
Make sure that the bookmaker or sportsbook you use is trustworthy. If you have used them before, then that is a good sign. You don't necessarily have to stick with the most established sites, but it is important that they are reputable and are not just capitalizing on unknowing, inexperienced football fans.
The best approach here is to check out our list of recommended Super Bowl betting sites.
A really important thing to look out for when it comes to choosing a betting site is that they have a good range of Super Bowl markets – and that they are offering good prices.
If you don't have much experience sports betting, then you may think that the odds are much the same wherever you go. It is true that, at first glance, Super Bowl odds will be very similar – but it is in the small margins that the money can be made.
Point spreads and totals will be fairly uniform, but look for differences with other odds – particularly in the prop bet markets. These betting sites will want to stand out from a very busy crowd, so you could find that they lengthen certain prices to attract attention.
One final note here is that you are not obligated to use just one betting site anyway. In fact, I'd recommend looking around and using a number of different sites to give your bets variety and get the benefit of longer odds in different markets.
There may even be lots of special Super Bowl bonuses and promotions to take advantage of. Most people will just use the one betting site that they are comfortable with, but it pays to shop around.
Focus on Recent Form
Betting on the Super Bowl is different than betting on regular-season games in many ways, but one of the biggest differences is where to get your information.
In the middle of the season, you need to be looking at factors like whether a team has just played a Monday night game or has more important divisional matchups coming up.
There is definitely a more long-term feel to regular-season betting strategies. But for this one-off event, it's far more important to look at how a player or team has been doing in the games immediately prior to the big game.
It doesn't really matter that a quarterback was winning at home in November using primarily a running game. How he has performed in the wild card, divisional games, and conference championship is of much greater importance.
I would much rather back a team that has improved as the playoffs progressed than a number-one seed who has limped through those games thanks largely to home field advantage.
This doesn't mean that all early-season form is completely irrelevant – it just means that current form is vital.
Don't Place Too Many Bets
This is good advice whatever sport you are betting on – and at any time of the season. But it is especially important when the Super Bowl comes around because there is just so much you can bet on.
Bookmakers take advantage of this special event to flood their markets with all kinds of betting opportunities. But just because there are so many doesn't mean that you need to bet on all of them!
There will be all the usual spreads, totals, and moneyline bets to look into – as well as the regular prop bets.
The Super Bowl brings out the imagination of the bookmakers, and this means hundreds of outlandish prop bets covering everything from the color of coaches hats to forgetting the words to the national anthem.
My best advice when faced with this mountain of betting opportunity is to face it in the same way that you do during the rest of the season. Do your research, find where the value is, and go for those wagers.
By all means, enjoy the range of prop bets – but go for them with that firmly in mind. They are just a bit of fun and part of the carnival of the Super Bowl. If you are looking to make a profit through serious wagers, make sure you concentrate as usual.
Don't Be Swayed by Specifics
This piece of advice possibly goes slightly against what has just been said, but it's also important to not use statistics and seemingly important factors as definitive proof that an event will occur.
If you want to be successful with your long-term betting, you obviously need to take stats into consideration. But if sports were so predictable, there wouldn't be any sports betting in the first place.
Take Super Bowl LII, for example.
Perceived wisdom suggests that you should never bet against Tom Brady – even if he only has a few minutes to come from behind at the end of a game.
Against the Eagles, he was up against backup quarterback Nick Foles, and everyone took the injury to first pick Carson Wentz as a sign that there was no way the Eagles were going to win the big prize. Those bettors had seemingly forgotten how well Philadelphia had done since Foles took over (which backs up my earlier point about recent form).
Injuries are important, but even a star player pulling out just before a Super Bowl doesn't have to mean the end of that team's chances. If anything, the remaining players will rally around – and more importantly, the bookmakers will definitely overreact to big injuries, so it's a good time to keep an eye on shifting odds.
Final Words on Super Sunday
The Super Bowl is the pinnacle of every player's career – and the highlight of most football fans' season.
The game itself can sometimes be forgotten in the razzmatazz of it all (Janet Jackson, I'm looking at you), but there is no doubt that for sheer spectacle, it is a major highlight of world sport.
Personally, I enjoy the game a lot more when I'm betting on it. If you're also looking forward to placing a few wagers, make sure you take in the advice above.
And make sure you keep checking our blog, too. The advice in this post was pretty simple and very generalized, but there'll be lots more posts coming between now and the game. There'll be some more specific advice in those, along with some more advanced tips.