My Top College Football Betting Picks for Conference Championship Week – Texas vs. Oklahoma and More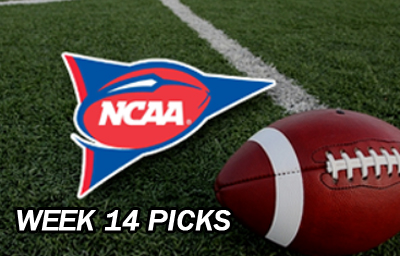 Conference championship week has arrived!
Georgia will face Alabama in the SEC Title game in what is a rematch of last year's National Championship. The Bulldogs can stamp their ticket back to the College Football Playoff, but they'll have to knock off the most talented team in the country first.
The Sooners and the Buckeyes will no doubt be rooting for the Crimson Tide, but they also have to take care of business in the Big 12 and Big 10 respectively. If Oklahoma can beat Texas at AT&T Stadium, then they appear to be first in line to jump Georgia, assuming 'Bama gets the win.
So where does that leave Ohio State?
And what else is on tap for this weekend?
Well, the slate of games isn't as vast as a typical week, but that shouldn't stop you from placing any wagers. The leading college football betting sites have released their odds for Week 14, and the time to pounce on some lines is right now!
Here is what's grabbing my attention.
The odds referenced in this post were taken from various sports betting sites on 11/28. They may have changed subsequently.
Texas Longhorns vs. Oklahoma Sooners
Texas Longhorns Season Record
9-3
Oklahoma Sooners Record
11-1
It's a rematch of the Red River Showdown, and it's a game in which Oklahoma has a whole bunch on the line.
Not only will the Sooners be trying to avenge their mid-season loss to Texas at the Cotton Bowl, but they'll be trying to make a statement to the committee that they belong in the College Football Playoff.
Being that the game kicks off at 11:00 am local time, they have the advantage of playing before Alabama and Georgia take the field. That means Lincoln Riley's squad doesn't have to worry about any "what if" scenarios. They can just concentrate on the task at hand.
I like that we don't have to worry about OU being disincentivized to play well should Georgia win the SEC Championship. In fact, we should actually fully expect the Sooners to do everything in their power to let the voters know they deserve a shot in the playoff.
That means leaving everything out on the field and letting quarterback Kyler Murray go to work.
The Sooners signal caller might be on his way to a career in MLB with the Oakland Athletics, but that won't stop him from torching the Longhorn defense this Saturday in Arlington.
Here's a guy who has thrown for nearly 3,700 yards and 37 touchdowns, plus he has rushed for 853 yards and 11 scores. Not only he is a Heisman Trophy contender, but he's really the only guy outside of Tua Tagovailoa that has a legitimate shot at capturing the award.
Murray threw for 304 and four TDs against Texas back on October 6th, not to mention ran for 92 yards and found pay dirt.
With this much up for grabs should Oklahoma win in dominating fashion, I just don't see any way Tom Herman's Texas Longhorn slow them down.
I know the OU defense has been shaky at times, but they have enough speed and can make enough plays to stunt the play of Sam Ehlinger and the Texas offensive attack.
I'm looking for the Sooners to score a myriad of points on Saturday afternoon, and I imagine Texas will be just trying to play catch up.
Texas at Oklahoma Prediction and Betting Pick
Sooners win this one by double-digits.
By shopping my lines here, I only have to lay 105. Bovada.lv is my destination for this bet.
Fresno State Bulldogs vs. Boise State Broncos
Fresno State Bulldogs Season Record
10-2
Boise State Broncos Season Record
10-2
Like the one above, this game is a rematch from an earlier season matchup.
And just like the first time these two squads went head-to-head in 2018, this matchup will be contested in Boise, Idaho, on the "blue field" at Albertsons Stadium.
The Broncos edged out the Bulldogs by a touchdown (24-17) just three weeks ago when they were a 2-point underdog, so now the bookies have made an adjustment. Boise State is sitting at -2.5/-3, depending on which college football betting site you are looking at.
And I should also point this out.
The Broncos and Bulldogs faced off in the 2017 MWC Championship game which was also held on the blue turf. Boise State was fortunate to escape with a 17-14 win.
Add everything up, and it sure seems like these two programs are pretty evenly matched. This could be anyone's ballgame.
The reason I like the home team here, aside from the fact that they are playing at home, is because the Broncos have really picked up their play recently and seem to be on a bit of a mission.
Since losing to San Diego State back on October 6th, Bryan Harsin's team has reeled off seven straight victories, including some very impressive performances. Aside from defeating Fresno State, Boise State beat Nevada on the road and upended both BYU and Utah State.
Senior QB Brett Rypien has tossed 29 touchdowns compared to just seven picks, all while amassing a shade under 3,600 yards through the air.
I understand that Fresno State's greatest strength lies within the play of their stout defense, so I'm certainly not suggesting that Rypien has a career day this Saturday.
I just think Boise State is playing just a little bit better at the moment, and I can't ignore the distinct advantage they have built in by playing in their own building.
Fresno at Boise Prediction and Betting Pick
I'll give kudos to Jeff Tedford and his staff for what they have done with the program, as Fresno State is no doubt a university on the rise in the college football landscape.
But I'm not quite ready to pick them in a game of this magnitude, especially considering it's virtually a true "away game." Boise State covers a small spread here, and I'm backing them at SportsBetting.ag.
PICK
Boise State (-2.5)
-110
Georgia Bulldogs vs. Alabama Crimson Tide
Georgia Bulldogs Season Record
11-1
Alabama Crimson Tide Season Record
12-0
Well, here we go. It's pretty simple, ladies and gentlemen.
If Georgia wins this game, they are in the College Football Playoff. That is a certainty. Alabama is likely to still get in, meaning the only thing on the line for Nick Saban is which seed his team will be.
Now, if 'Bama wins, then we open up a whole can of worms, and teams like Oklahoma and Ohio State burst back into the mix.
Now, I'll be the first person to tell folks how imposing the Crimson Tide have been in 2018, as there is absolutely no question as to who the best team in college football up to this point has been. Sophomore QB Tua Tagovailoa is putting up video-game-like numbers, as his 36/2 TD/INT ratio is mind-boggling.
It'd be hard to argue that any school in America has a better wide receiving core than the one in Tuscaloosa, and Alabama's stable of running backs will all be playing on Sundays at the next level.
Nick Saban commands a defense that gives up just 13.8 points per game, good for the third-fewest in all of FBS. Led by a defensive tackle in Raekwon Davis who nobody has been able to contain thus far, this unit is fearsome, to say the least.
But with all that being said, I'm not seeing a "walk in the park" on Saturday in Atlanta for the crew in Alabama. The Bulldogs and their fans will make the short 70-mile trek west to the Mercedes-Benz Stadium, the same venue in which they blew out the Auburn Tigers in the 2017 SEC Title game.
And don't forget, Kirby Smart's team barely lost to the Crimson Tide (26-23 in OT) just 11 months ago in last year's National Championship.
While nobody in the country has been able to keep up with the product that Nick Saban puts on the field, I feel fairly confident that Georgia can.
Being that a spot in the College Football Playoff is right in front of them should they win this game, I imagine Kirby will leave no stones unturned and have his men completely ready and prepared for the battle that promises to ensue.
Jake Fromm has faced this type of pressure before, and I don't think the moment is too big for him. Plus, he has a bevy of speedsters in the backfield to rely on, like D'Andre Swift and Elijah Holyfield, neither of which will be afraid nor back down from this challenge.
Georgia at Alabama Prediction and Betting Pick
Taking everything into account, I just think 13 and a half points is way too much for Georgia to be getting in a game on a neutral field in which they have good memories on.
And remember, they don't have to win this one outright. All the Bulldogs have to do is remain within shouting distance, and we'll end up cashing in! The best line for this bet right now is available at MyBookie.ag.
Buffalo Bulls vs. Northern Illinois Huskies
Buffalo Bulls Season Record
10-2
Northern Illinois Huskies Season Record
7-5
I gave you three picks for conference championship games on Saturday, but now it's time for a prediction of Friday night's MAC Championship.
Northern Illinois found its way into this game in Detroit by way of winning the West division with a 6-2 in-conference record. The Huskies rely on running the football with the two-headed attack of Tre Harbison and quarterback Marcus Childers.
Unfortunately, Childers isn't much of a threat in the passing game, as the sophomore QB averages a measly 141.3 passing yards per contest. And when you look at the 130 offenses at FBS (I-A) level, Northern Illinois is one of just nine teams that averages less than 20 points per game.
Not much to get excited about there.
Flip the coin, and you'll see a much stronger and balanced attack from Buffalo.
Tyree Jackson has thrown for more than 2,600 yards and 25 TDs, yet the Bulls still find a way to rush for 200.3 yards every time they march onto the field.
Perhaps the fact that Buffalo is 0-10 against Northern Illinois since 1999 has something to do with the fact that the Bulls are just a 3.5-point favorite. It sure looks to me like they should be laying 5 or 6 points here.
Have faith knowing that Buffalo has continued to impress Vegas all season long, as head coach Lance Leipold's bunch is 9-3 against the spread (ATS) in 2018.
Buffalo at Northern Illinois Prediction and Betting Pick
Northern Illinois is a decent football team, but they are just that. Decent. Mediocre.
Buffalo is the better team, and I expect that to be on full display Friday evening at Ford Field. They'll cover the 3.5-point spread I need them to for this pick to come good.
A Quick Review
The Bowl Season is coming. The College Football Playoff is not far behind.
But don't forget about conference championship week.
I gave you a tip for Friday night's game in Detroit, and I offered betting advice for three of the biggest title games on Saturday. All that's left to do is fire these wagers and sit back and enjoy the action!