Hide Bonus Offers
| | | | | |
| --- | --- | --- | --- | --- |
| #1 | Bovada Sports | 50% Up To $250 | Visit Site | Bovada Sports |
| #2 | BetUS | 125% Up To $2,500 | Visit Site | BetUS |
| #3 | MyBookie | 100% Up To $1,000 | Visit Site | MyBookie |
| #4 | Everygame | 100% Up To $500 | Visit Site | Everygame |
| #5 | BetOnline Sports | 60% Up To $1,000 | Visit Site | BetOnline Sports |
Top 5 Most Unlikely Winter Olympics Heroes – The Real "Cool Runnings" and More

Who are the unlikeliest Winter Olympics heroes of all time?
If I asked you to name the greatest Olympians, I'm sure you could give me ten off the top of your head. You could be undergoing a root canal and still reel off five. But what about those that aren't exactly remembered for being the best in their field?
Throughout history, we have seen some incredible feats of human endurance and perseverance. A lot of the time, those ventures come to nothing. Unless you're counting absolute ridicule. But sometimes, when the stars align, strange things happen.
Here are the most unlikely heroes in the history of the Winter Olympics.
Elizabeth Swaney
Representing: Hungary
Games: PyeongChang 2018
Event: Women's Halfpipe
What does the word "hero" mean to you? For some, it sums up the achievements of an outstanding example of human bravery. For others, it is the perfect four-letter term used to describe a person's courage against all odds.
The bottom line is that this expression is typically bestowed on those who have attained something special or sacrificed it all in their efforts to achieve it.
In Elizabeth Swaney's case, she became one of the most unlikely heroes in Winter Olympics history for different reasons. There was no gold medal to tilt toward the watching world. Nor any outstanding exhibition of flair or technical brilliance. Swaney, to be brutally honest, stunk.
Born in Oakland, California, the future Olympian showed early promise as an athlete and was active in sports while attending Berkley. Her dream was to represent the United States in the bobsleigh category, but her diminutive stature ultimately worked against her.
With her dreams of wearing the colors of her country of birth shattered, Swaney then set her sights on representing Venezuela, where her mother was born. Despite years of grueling training with a view to competing in the skeleton event in the 2014 games, it ultimately came to nothing.
In 2018 at Pyeongchang, Swaney's dream was finally realized. Representing Hungary — the land of her grandparents — the 33-year-old's chance to achieve greatness finally came. Unfortunately, her efforts were shockingly bad.
Scoring 30.00 and 31.40, Swaney ended up finishing last. What's worse, she trailed second last by a full 13.60 points behind Denmark's Laila Friis-Salling, who had fallen twice in her qualifying runs. Having failed to pull off anything resembling a successful trick, she was lambasted and mocked rather than lauded as a hero.
It would have been easy for Swaney to bury her head in the snow, but something incredible happened. Rather than being scolded by her peers, the California native was actually praised by the likes of gold medalists Cassie Sharpe and David Wise.
One of the most unlikely heroes in Winter Olympics history, Swaney's performances might have culminated in little. But her efforts, determination, and bravery against all odds pretty much embodied the spirit of what these games are all about.
Either that, or she was a complete fraud that scammed her way into the games to get some of that lovely attention. What do you think?
The 1980 United States Ice Hockey Team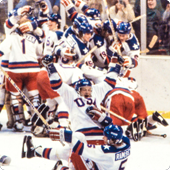 Representing: USA
Games: Lake Placid 1980
Event: Men's Hockey Medal Round
A bit of a controversial addition here, given that the United States hockey team of 1980 can hardly be counted among the minnows of the competition, right?
Well, strap in and I'll explain how that wasn't exactly the case. This team deserves recognition on my list of the most unlikely Winter Olympics heroes for the magnitude of its efforts, despite what some unaware of the "Miracle on Ice" might think.
More than just a sporting event, this matchup had a little bit of politics behind it. The United States and Russia were neck-deep in the Cold War following the Soviet Union's invasion of Afghanistan the year before. The United States had led a boycott of the 1980 Summer Olympics just weeks before the US and the Soviet Union would play.
The Soviets were the outstanding side in the competition, coming into the medal round game as four-time defending champions. The team was stacked with professional talent while the US could only boast young, amateur players.
To suggest that this was considered a David vs. Goliath scenario would be untrue — at least David had a chance, right?
Some Vegas oddsmakers at the time had the Americans as +10000 underdogs to win the match against the mighty Soviets. Can you imagine looking over the prices on the top Olympic betting sites today and even wagering a dollar on the upset?
Despite the politics and the gulf in talent, the United States prevailed in what would go down as one of the greatest Olympics upsets of all time. The youngsters came through to win 4-3, and take the gold.
Now, if you still don't think the 1980 US ice hockey team deserves to be among the most unlikely Winter Olympics heroes of all time, there must be something wrong with you.
You can read more about where this upset ranks in the greatest longshot wins in sports betting history.
Michael "Eddie the Eagle" Edwards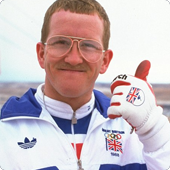 Representing: Great Britain
Games: Calgary 1988
Event: Normal Hill and Large Hill Ski-Jumping
Like many before him, Michael David Edwards dreamed of representing his country at an Olympics games.
But despite years of effort and hard work, he failed to make the downhill skiing team for Great Britain. The goal he had set himself following a taste of skying on a school trip as a 13-year-old was pretty much dead in the water. Edwards, however, was not prepared to accept defeat just yet.
One of the most common traits of unlikely Winter Olympics heroes is determination. For Eddie the Eagle, he had it in bags. This passion to achieve greatness spurred the Gloucester-native on to try his hand at ski jumping, much to the amusement of those around him.
After all, there were no ski jumpers of note in his homeland. But rather than see this as a reason not to chase his ambitions, he interpreted it as a positive.
Heavyset and with thick glasses for his shortsightedness, Edwards turned to John Viscome and Chuck Berghorn in Lake Placid. Self-funded, he had no financial contribution from any athletics associations in his homeland. Still, his will would see him smash every obstacle in his way.
"I'd like to say I flew like an eagle, but I was probably closer to the ostrich."
Eddie the Eagle made the 1988 Winter Olympics in Calgary. He would finish last in both the 70m and 90m events. Despite this, he would go down as one of the most unlikely heroes in Winter Olympics history, becoming an overnight celebrity in his homeland.
Nicknamed "Mr. Magoo" by the press, he was also the subject of ridicule by some. But for others, he embodied the true spirit of being an Olympian. That being the never say die attitude. The will to keep going when all around you think you're nuts. The…ah, you know the rest.
For the record, Edwards failed in his efforts to make subsequent Winter Olympics appearances following an "Eddie the Eagle Rule" which prevented fellow amateurs qualifying for tournaments in a similar fashion.
Killjoys.
The 1988 Jamaican Bobsled Team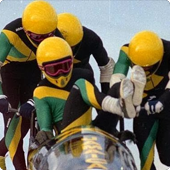 Representing: Jamaica
Games: Calgary 1988
Event: Two and Four-Man Bobsleigh
You might remember these guys from such films as Cool Runnings and, erm, Cool…Nah. That's the only one.
Regarded as arguably the most unlikely Winter Olympics heroes of all time, the legend that surrounds the Jamaican Bobsled Team of 1988 was amplified by that Disney flick.
At the time, however, many perceived the idea of a tropical nation entering a bobsled tournament as humorous. Entering two events seemed to tickle some observers even more.
Dudley 'Tal' Stokes and Michael White competed in the two-man with Devon Harris and Chris Stokes joining hopping in for the four-man event. Funnily enough, Chris was initially at the Olympics just to support his brother. Today, he serves as both a legendary figure as well as the president of the Jamaican Bobsleigh Federation.
Much of what the film depicts is far removed from what happened in Calgary back in the late 1980s. First, the team was warmly welcomed, per George Fitch. As one of the co-founders of the Jamaican bobsled outfit, he was there to see it all. Including the love for alternate, Freddie "Reggae" Powell.
"By and large we got a pretty good reception. Freddie was easily the most popular guy on our team. We were there training, and people would come up to us, and say 'Hey, have you seen Freddie?' And we'd say: 'Have you seen him!?'"
The movie was a huge success and shone a light on one of the most memorable, unlikely Winter Olympics hero stories of all time. But few are aware that this was not the first and only time that Jamaica competed in the games.
Games
Athlete
Final Position
1988
Dudley Stokes
Michael White
30
1992
Devon Harris
Ricky McIntosh
35
Dudley Stokes
Chris Stokes
36
1994
Dudley Stokes
Wayne Thomas
DQ
1998
Devon Harris
Michael Morgan
29
2002
Winston Watts
Lascelles Brown
28
2014
Winston Watts
Marvin Dixon
27
The men's team competed in every Winter Olympics from 1988 until 2014. The Jamaican women's bobsled team also appeared at the 2018 games.
Steven Bradbury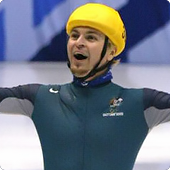 Representing: Australia
Games: Salt Lake 2002
Event: 1000m Short Track Speed Skating
For many of the unlikeliest heroes in Winter Olympics history, it's the taking part that counts.
But what separates Steven Bradbury from almost every other cult story is the fact that this guy came away with the most coveted prize available to an individual athlete — a gold medal.
On the balance of things, Bradbury's story is insane. While not being a complete no-hoper or rank outsider — he did, after all, win a bronze medal at Lillehammer 1994 — nobody could have predicted the Aussie would come away with the gold at Salt Lake 2002.
The manner of how Bradbury won was just as crazy as the fact that he became the first athlete from his homeland — as well as the entire Southern Hemisphere — to win gold at a Winter Olympics. It was one of the craziest endings to an event that has ever been witnessed, and I'm not going to spoil things by describing it for those who have never seen it.
Take a look.
Bradbury fell into the category of a mostly underapprciated athlete before the games in 2002. These days, he is a national legend and one of the most unlikely Winter Olympics heroes of all time.
Given all that this man put on the line for what he loved over the years, you would need a heart of stone not to appreciate this triumph. If anything, it proves that you could be trailing far behind in life, but if you keep going, an unexpected opening can present itself if you are there to take it.
Unbelievable stuff.
More on the Most Unlikely Winter Olympics Heroes
That brings about an end to my list of the most unlikely heroes in the Winter Olympics.
From 'perfect mediocrity' to triumph against all odds, there are some significant morals to be found in all five stories. The glue that holds them all together, however, is that they all got up off their behinds and gave it a shot.
I don't know about you, but I certainly feel inspired. There is a chicken sub in the fridge with my name on it and I will get up and grab it!
Why not check out some more Olympic reads while I set a personal best?