Hide Bonus Offers
| | | | | |
| --- | --- | --- | --- | --- |
| #1 | Bovada Sports | 50% Up To $250 | Visit Site | Bovada Sports |
| #2 | BetUS | 125% Up To $2,500 | Visit Site | BetUS |
| #3 | MyBookie | 100% Up To $1,000 | Visit Site | MyBookie |
| #4 | Everygame | 100% Up To $500 | Visit Site | Everygame |
| #5 | BetOnline Sports | 60% Up To $1,000 | Visit Site | BetOnline Sports |
Meet the 8 Most Physically Imposing Athletes of All Time

If I was writing a blog about the strongest athletes of all time, I'd be touting guys who can deadlift over 1,000 pounds. If the goal was simply to present the meanest individuals in sports, I'd be discussing names like Tie Domi and Tonya Harding. That's neither here nor there.
The idea of this post is to shed light on the most physically imposing athletes in history. Athletes who were frightening to go up against due to their size and/or physical nature.
Narrowing the list down to eight names, here's what I've come up with.
Randy Johnson, MLB
Height: 6'10"
Weight: 225 pounds
Facing powerful left-handed pitchers is a daunting task in its own right. Now imagine that southpaw stood 6'10" and was armed with the nastiest slider you could dream of.
Among the most decorated pitchers in MLB history, Randy Johnson won 5 Cy Young Awards and led the Majors in strikeouts eight times. He won the pitching Triple Crown in 2002 (league leader in wins, ERA, and strikeouts) and has both a no-hitter (6/2/90) and perfect game (5/18/04) on his resume.
Accounting for the "Big Unit's" massive stature and utter dominance on the mound, I can't think of a single pitcher I'd be more afraid to face.
Have you ever seen another MLB pitcher kill a bird live on national television?
Ray Lewis, NFL
Height: 6'1"
Weight: 240 pounds
Ray Lewis was 6'1"/240 pounds and built like a brick house. Lewis figured out early on that taking care of his body would lead him to the Promised Land.
"Bottom line, your body is a temple, and you have to treat it that way. That's how God designed it."
As far as the necessary attributes to become an imposing middle linebacker, Ray checked every box. And then some.
After bullying running backs and wide receivers for three years at The U, Lewis was selected in the first round of the 1996 NFL Draft by the Baltimore Ravens.
Lewis enforced his will immediately upon arrival and put together one of the most complete careers in the history of defenders.
A 13x Pro Bowler who was honored as a First-Team All-Pro seven times, Ray relentlessly sought out contact and made life hell on his opponents.
If players weren't already concerned about getting hit by Lewis on the gridiron, the fact that Ray was indicted on murder charges in early 2000 didn't ease the situation.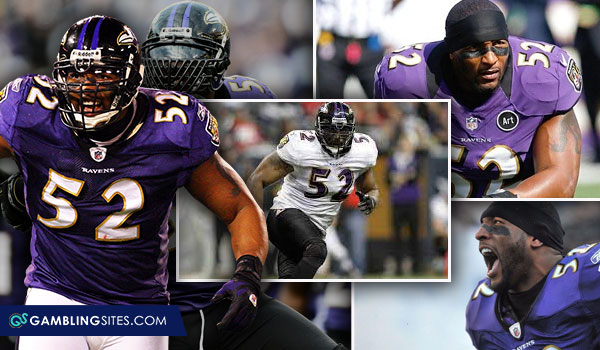 Shaquille O'Neal, NBA
Height: 7'1"
Weight: 325 pounds
A discussion about the most intimidating athletes ever can't be had without paying homage to Shaquille O'Neal. He's 7'1" 325 and wears a size 22EEE shoe.
With his back to the basket and rear parked into his defender, Shaq was assertive in getting to the rim. Once he got there, the cleanup crew oftentimes found themselves sweeping up shards of glass.
Drafted first overall in 1992, O'Neal's size and strength were striking. From the moment he stepped onto the NBA hardwood he was a force to be reckoned with.
Averaging 23 and 14 and nearly 4 blocks as a rookie, O'Neal dominated the post from the get-go and never looked back.
Shaq averaged 27.6 points and 12.1 rebounds across his first 11 years in The Association. He's undoubtedly one of the top 10 NBA players of all time.
Lawrence Taylor, NFL
Height: 6'3"
Weight: 237 pounds
Dubbed the greatest defensive player in NFL history by Bill Belichick, Lawrence Taylor was a menace on the football field. The New York Giants middle linebacker from 1981-1993 wasn't a dirty player, but that doesn't mean he didn't like a bit of extra physicality.
When asked about his passion and forceful nature, LT was upfront with the way he looked at the game.
"You try to stay within the rules for the sake of the game, but you can always turn up the intensity."
And boy did he turn that intensity up a few notches.
Utilizing his speed and athleticism to penetrate the gaps, Taylor amassed 142 sacks on his way to winning three DPOY Awards. One of two defensive players to win the NFL MVP, Lawrence's most famous hit was the one that ended Joe Theismann's career.
Christian Okoye, NFL
Height: 6'1"
Weight: 253 pounds
You don't earn the nickname the "Nigerian Nightmare" unless you're a scary individual. Christian Okoye, a six-year member of the Kansas City Chiefs, was that indeed.
Trucking over opponents was Okoye's specialty – why not when you're 250+ pounds running straight downhill at full speed?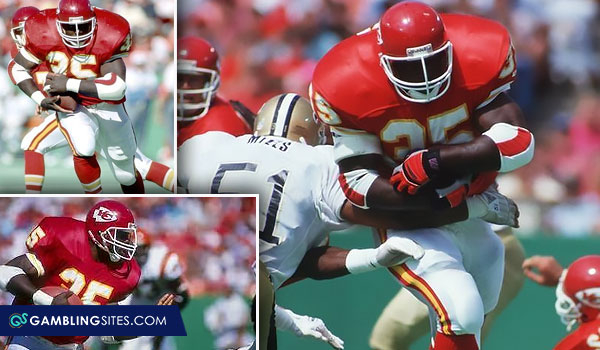 Imagine trying to tackle a man that size wearing shoulder pads as big boulders. Talk about broad shoulders and burly traps, I sometimes wonder if Christian even had a neck.
Journeyman quarterback Steve DeBerg offered the following about Okoye.
"Christian actually intimidated and punished defenses. Defensive linemen were OK with hitting him, and he was bigger than linebackers. Defensive backs absolutely did not want to have anything to do with him. He was just an extremely physical runner who had extraordinary speed for the size that he was. He was different."
Mike Tyson, Boxing
Height: 5'10"
Weight: 220 pounds
The only athlete featured under 6' on this page, Mike Tyson might just take the cake among the scariest athletes of all time. After all, he took a chunk out of Evander Holyfield's ear and told Lennox Lewis that he wants to eat his children.
After thumping Lou Savarese in under 40 seconds in a 2000 fight in Scotland, Tyson sounded off like a madman during his post-fight interview with Jim Gray. Here's an excerpt from that exchange.
"I was gonna rip his heart out, I'm the best ever. I'm the most brutal and vicious and most ruthless champion there's ever been."
Rather than try and find adjectives descriptive enough to portray the pummeling Tyson's opponent's endured, check out the following compilation of Mike Tyson knockouts.
Just be happy you were never on the receiving end of one of these ferocious hooks or jabs.
Francis Ngannou, MMA
Height: 6'4"
Weight: 250 pounds
Before I attempt to describe how physically imposing Francis Ngannou is in the octagon, look at what happens when you get caught by one of Ngannou's left-handed uppercuts.
WOOOW!

What was your reaction to THIS @Francis_Ngannou KO? #UFCMinneapolis pic.twitter.com/8nZiEQp0KC

— UFC (@ufc) June 28, 2019
Can somebody say lights out?
The mixed martial artist from Cameroon has an aura about him that just screams violence and destruction. Hence, there's a detailed piece out there titled "5 reasons why Francis Ngannou could be the scariest fighter in UFC history."
During a UFC 220 press conference, Dana White couldn't help but chuckle when trying to define Francis' punching power.
""Francis Ngannou has the world record for the most powerful punch…It's more powerful than a 12-pound sledgehammer swung full force from overhead. Holy Sh**."
Derrick Henry, NFL
Height: 6'3"
Weight: 247 pounds
The NFL's most merciless runner, Derrick Henry is built like an edge rusher but gifted with the skills of an All-Pro running back. Opposing players talking about having to make a "business decision" when trying to tackle Henry at full speed, and they're not kidding.
We're talking about 240+ pounds of pure steel running straight downhill with agility.
We've seen lots of running backs stiff-arm DBs and safeties – that's child's play for "King Henry." Derrick can make defensive linemen fall flat on their faces unlike any other RB I've ever seen.
It's ok to do this to a Defensive back but this….?? https://t.co/EnG0N3YEX3

— Shawne Merriman (@shawnemerriman) November 13, 2020
Truth be told, I'd be remiss if I went an entire page talking about the most physically imposing athletes of all time and didn't allude to Derrick Henry. He's as intimidating of an athlete as you'll ever see.
Are you interested sports betting content? Be sure to check out the top sports betting sites.