Hide Bonus Offers
| | | | | |
| --- | --- | --- | --- | --- |
| #1 | Bovada Sports | 50% Up To $250 | Visit Site | Bovada Sports |
| #2 | BetUS | 125% Up To $2,500 | Visit Site | BetUS |
| #3 | MyBookie | 100% Up To $1,000 | Visit Site | MyBookie |
| #4 | Everygame | 100% Up To $500 | Visit Site | Everygame |
| #5 | BetOnline Sports | 60% Up To $1,000 | Visit Site | BetOnline Sports |
The Most Delicious Breakfast and Brunch Places in Las Vegas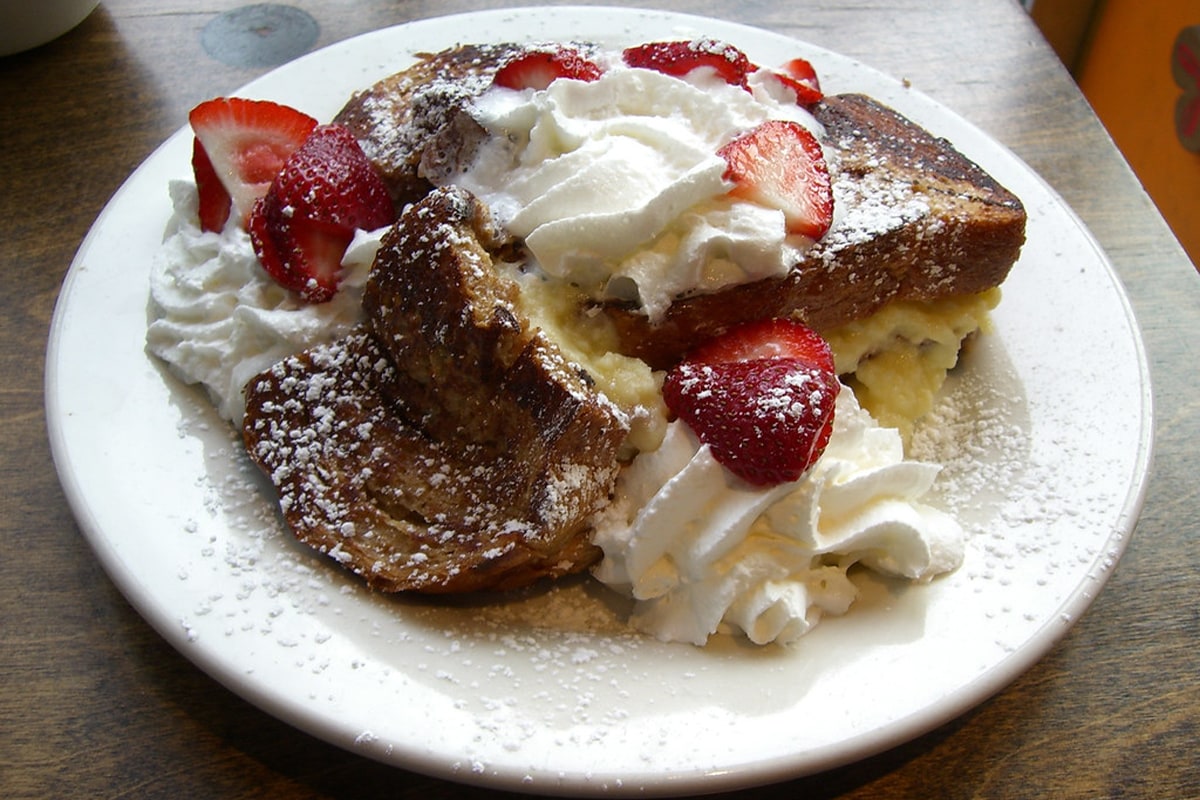 Hungry for a mouthwatering breakfast or brunch in Sin City? You can find just about whatever you want to eat in Las Vegas, and for the most part, you can track it down 24/7.
But if you are looking for the tastiest and most satisfying stomach-stuffing breakfasts in town, there are five places that jump out. Take it from someone who has spent his entire life chowing down all over the "702."
I've eaten a high-end French brunch at Bouchon at the Venetian, and I've been fortunate enough to crush several morning buffets on the Strip at casinos like the Bellagio and the Cosmopolitan. You'll certainly leave with a full tummy, but you'll also burn a hole through your wallet in the process.
Those of you who want an absolutely delicious breakfast or brunch in Vegas without costing yourself an arm and a leg should check out the following spots! These are the best breakfasts and brunches in Vegas.
The Original Pancake House – "OPH"
4170 South Ft. Apache Rd. – (702) 433-5800
Open 7 Days a Week, 7am-2pm. 7am-3pm on the weekends
Don't get this confused with the International House of Pancakes, although I have nothing against the chain commonly known as IHOP. But the Original Pancake House is the real deal, and I'd call it the best breakfast joint you'll encounter anywhere in town.
The crazy part is, as delectable as the food is at OPH, you can argue that the service is even better. Talk about consistency; the last three times my wife and I sat down, we had paid our check and left within 25 minutes on each occasion.
Obviously, when you order the Bacon Lover's Bacon and Eggs every single time and polish off the plate like there was no tomorrow, it doesn't take long to get in and out.
However, if you are looking for a relaxing environment where really good people serve you really delicious food, check out this hidden gem in the southwest part of town. They are known for their German Pancakes that fluff up over the edge of the plate, not to mention there are a whole bunch of crepes to choose from that are among the best I've ever had.
Rise & Shine: A Steak & Egg Place
9827 W Flamingo Road – (702) 873-0155
10690 Southern Highlands Pkwy – (702) 202-4646
Venues Open 7 Days a Week, 7am-3pm
Rise & Shine: A Steak & Egg Place has two locations in town, and regardless of which one you show up at, be prepared to have one heck of a meal.
Your brunch will begin with a waiter or waitress approaching you draped in their favorite PJs — and yes, I do mean their pajamas. Once you open their menu and start browsing through their selections, you'll quickly notice that they have a little bit of everything.
My personal favorite is their Ham-N-Eggs Benedict, although I swap out the ham for crispy bacon instead. But the way they drizzle on aged balsamic takes their hollandaise sauce to a whole other level.
I generally see kids ordering S'Mores Campfire Waffles or the Red Velvet Chocolate Chip Pancakes, but I recommend not sleeping on the Buffalo-Style Crispy Chicken Breast and Eggs skillet that comes with hash browns.
No matter what you order for your main dish, don't leave Rise & Shine without trying their Pot of Bread side item. This miniature Cinnabon-like donut comes with a maple cream cheese dipping sauce, and I promise, you won't be disappointed.
Hash House A Go Go
Inside the Rio Casino – (702) 777-2761
Inside the LINQ Casino – (702) 254-4646
Inside the Plaza Casino – (702) 384-4646
Henderson – 555 North Stephanie Street – (702) 898-4646
6800 West Sahara – (702) 804-4646
Hours vary at each location.
Know that when you arrive at any of the five Hash House A Go Go's Sin City locations, you won't be going home hungry. The portions are massive, the food is tasty, and the prices are within reason. Add all that up, and I'd call it a gratifying brunch!
I usually go for the Tractor Driver Combo but have no qualms with anyone who wants to tell me the Machaca Farmhouse Egg Scramble is the best item on the menu. Vanilla waffles are available, as is a griddle French toast that gets dipped in banana cinnamon cream, but my favorite thing of all when I go to Hash House is ordering their chocolate milk.
Yes, I am an adult, and no, I don't care if you make fun of me.
Imagine your server giving you a humongous glass with chocolate syrup squirted up and down the sides of the glass. The ice-cold white milk they pour in settles over the pool of chocolate syrup puddled in the bottom of the glass, and it's up to you to mix everything together.
It's quite possibly the "chocolatiest" and richest chocolate milk you'll ever take a sip of, and I guarantee you'll slurp the entire thing down!
Egg Works/The Egg & I
4533 West Sahara – (702) 364-9686
2490 East Sunset – (702) 873-3447
6960 South Rainbow – (702) 361-3447
9355 West Flamingo Rd. – (702) 368-3447
2025 Village Center – (702) 445-7330
10839 S. Eastern Ave. – (702) 485-5585
All locations are open 7 Days a Week, 6am-3pm
As you can see, there is no shortage of Egg Works locations around the valley. They are actually in the process of founding a seventh location in the northwest portion of the city that should be open by the summer of 2019.
If you walk in and think you see a bunch of people drinking coffee and reading the newspaper, you are only half right. The coffee at Egg Works is hot and smooth, but those "newspapers" you see are actually the menus.
Open one up, and you'll find all sorts of classics, and their omelettes are an absolute thing of beauty. But turn the page, and you'll run into loads of pancakes, waffles, and French toasts, all of which are pushing 10 out of 10 on the palatability scale.
With that being said, I almost always order one of the skillet breakfasts, normally the meat-lovers one that comes with bacon, ham, and sausage. Creating your own huevos rancheros is also something that can be entertained, and there are at least seven types of "Egg Benny's" to choose from.
Of the egg benedicts on their menu, you can't go wrong with their Country Benny that's topped with sausage patties and sausage gravy. But the Smokey Chipotle Pork Benny is nothing to balk at, either.
The bottom line is that the toughest part of the experience will be figuring out what you want to order!
Lazy Dog
Town Square – 6509 Las Vegas Blvd. South – (702) 941-1920
Downtown Summerlin – 1725 Festival Plaza Dr. – (702) 727-4784
Weekend Brunch – Saturday and Sunday 9am-2pm
I'm a bit spoiled working in an office located within a stone's throw of one of their two Las Vegas locations. That means I know how good the food at Lazy Dog is — especially for brunch on the weekends. Those of you who have dogs, feel free to bring your four-legged friends to this restaurant because they aren't just welcome — Lazy Dog has a "Doggie Menu" and is more than happy to serve your puppies fresh water and home-cooked food.
The ability to bring your canine to the eatery is nice, but the deliciousness of the food is what will keep you coming back. Typically, I opt for the Country Chickens + Biscuit, which comes with two sunny side up eggs, crispy fried chicken, and homemade chicken sausage. But that's not all.
It also comes with a buttermilk biscuit and Cajun gravy, along with spiced maple syrup. I dare you to try and order that dish and leave a morsel behind. It's not possible.
If you have a bit of a sweet tooth and are craving something that isn't quite so savory, you are in luck. Lazy Dog's Almond Butter French Toast is to die for.
Envision French toast served with almond butter cream cheese and local hive honey. Now throw some candied almonds, bee pollen, fresh berries, and whipped cream on top of it all.
Does that sound like a dish you might be interested in?
Enjoy Your Brunch!
They say that breakfast is the most important meal of the day, as a healthy and hearty meal in the morning sets the tone for you to have a productive and fruitful day.
In Vegas, brunch is used to cure the hangovers and satisfy the stomachs so that individuals can go out and accomplish whatever it is they need to do.
For a laid-back family guy like myself, having a yummy meal to start my weekends is exactly how I want to begin my day.
If you happen to be looking for me on a Saturday or Sunday morning and I'm not on the golf course, these are the five places where you're most likely to track me down!