Hide Bonus Offers
| | | | | |
| --- | --- | --- | --- | --- |
| #1 | Bovada Sports | 50% Up To $250 | Visit Site | Bovada Sports |
| #2 | BetUS | 125% Up To $2,500 | Visit Site | BetUS |
| #3 | MyBookie | 100% Up To $1,000 | Visit Site | MyBookie |
| #4 | Everygame | 100% Up To $500 | Visit Site | Everygame |
| #5 | BetOnline Sports | 60% Up To $1,000 | Visit Site | BetOnline Sports |
The Most Costly Sports Injuries of the Last 10 Years

There's nothing worse than an injury in sports. Depending on the severity, a bad injury can end a player's season and even crush a team's hopes for high-level success.
It can ruin championship runs, it can cancel would-be guaranteed paydays, and it can even end careers.
Suffice it to say, for so many reasons, sports injuries are a real bummer. Some have been worse than others, though, with some big names suffering injuries at the worst possible time.
Whether it killed a big contract, ended playoffs hopes, or even derailed a career, here's a look at the most costly sports injuries of the last 10 years.
Andrew Luck – Ankle Sprain (2019)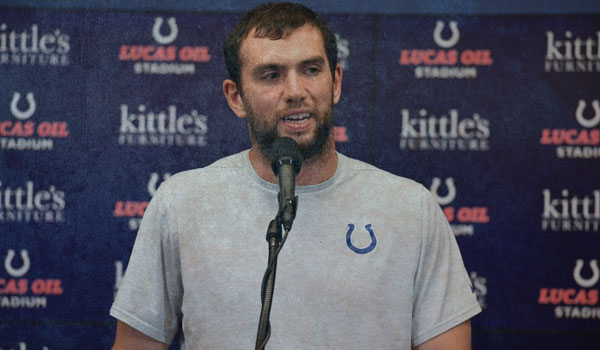 Luck didn't suffer one catastrophic injury that sent the train off the tracks. He dealt with a myriad of them.
For a guy who dealt with a bum shoulder, concussions, a lacerated kidney, and other ailments, you'd think he was virtually indestructible.
That wouldn't be the case, however, as a lingering ankle/calf injury forced the longtime Indianapolis Colts quarterback into an abrupt retirement.
Drafted first overall in the 2012 NFL Draft, Luck also shouldered the mental weight of being Peyton Manning's direct replacement. He was also tasked with carrying the hopes and dreams of a fanbase accustomed to winning.
A long line of injuries ultimately robbed Luck of his joy for football, while his random retirement at the age of 29 took the Colts from sneaky Super Bowl sleepers to missing the playoffs entirely in 2019.
Beyond that, a brilliant career was cut short. Had Luck kept playing, he could have potentially chased NFL passing records or, down the road, helped the Colts win another title.
Kevin Durant – Torn Achilles (2019)
Kevin Durant was set up to be the hero. The Golden State Warriors were also eyeing history, trying to become one of only a handful of NBA franchises to win three consecutive championships.
Staring into the face of elimination, down 3-1 in the NBA Finals, Durant returned from a calf strain to try to put his team on his back one more time.
Golden State ultimately stayed alive in that series with a 106-105 victory, but it didn't come without a massive loss. That loss would be Durant, who ruptured his Achilles after a hot start to the game.
No NBA fan will forget that moment when Durant's Achilles popped, for all to see, leaving Golden State shaken to its core. To their credit, the Warriors bounced back, forced a game six, and very nearly got to a game seven.
While storming back down three games to one was always going to be difficult, the return of KD ending with a torn Achilles still goes down as one of the most devastating injuries ever.
Alex Smith – Broken Leg (2018)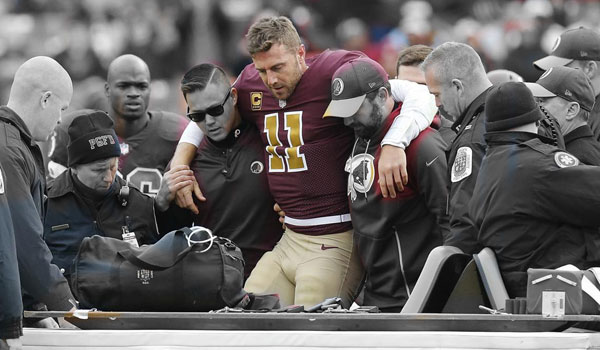 Not every devastating sports injury happens to a huge superstar. Alex Smith's unforgettable injury is as troubling and iconic as any, perhaps partially because it forced everyone to deal with a serious case of deja vu.
Seriously, just look at the uncanny similarities between Smith and former Washington Redskins quarterback Joe Theismann.
Both quarterbacks played for the Redskins and suffered compound fractures to their tibia and fibula. The injuries took place in the exact same location, in the same city, and under the same circumstances.
Heck, even the final score of the game was the same.
Eerie, to be sure.
Smith wasn't regarded as even a top-10 quarterback, but he was an elite game-manager, having gone 88-62-1 in his previous two NFL towns before arriving in DC.
Once there, Smith had the Redskins thinking playoffs, as the team was 6-3 going into their showdown with the Houston Texans.
Washington lost that game and went on to miss the playoffs from there. Smith, meanwhile, is still not fully recovered at the time of this writing and very well may never play in the NFL again.
DeMarcus Cousins – Achilles (2018)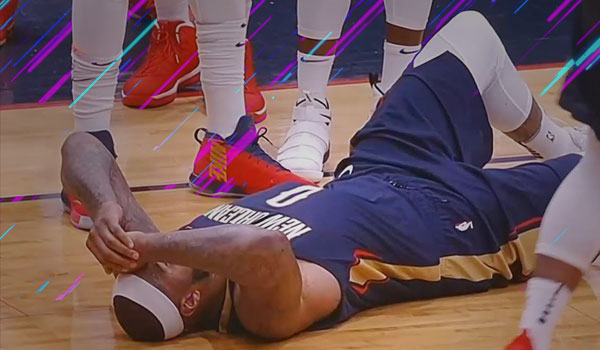 Boogie succumbing to a torn Achilles by itself wasn't that devastating. Very much in his prime and putting up monster stats (he averaged 25.2 points per game the year he got hurt), the road back to a productive career wasn't riddled with obstacles.
Of course, teams didn't exactly want to put their trust in Cousins from a financial perspective. Cousins had the horrible fate of suffering a career-altering injury in a contract year, with the New Orleans Pelicans opting not to pay for him to stay in town.
Boogie took the next best option, as he signed a one-year "prove it" deal with the Golden State Warriors in an effort to chase a title.
That didn't transpire as hoped, as Cousins suffered a quad injury during the playoffs, and the Dubs ultimately lost the NBA Finals.
A year later, he tried another comeback with the Lakers, only to tear his ACL.
Collectively, Cousins couldn't stay healthy following one monstrous injury, but that Achilles tear didn't just derail a promising career. It sacked the former Kings star financially, as it kept him from landing the huge max contract his talent demanded.
Chris Paul – Pulled Hamstring (2018)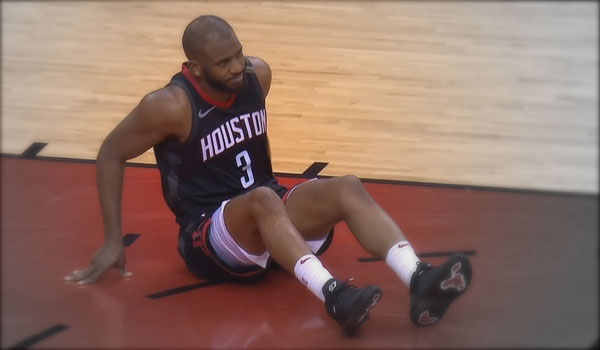 The Houston Rockets made the ambitious move to upgrade the point guard position in 2017 when they traded a considerable haul to land Clippers star Chris Paul.
By all accounts, the trade was a smashing success. CP3 averaged 18.6 points and 7.9 assists per game, while the Rockets thrived during a 65-17 run.
Houston owned the best record in the Western Conference and advanced to the Western Conference Finals, where they seemed poised to upset the Golden State Warriors.
It wasn't to be, however, as CP3 went down with a hamstring injury near the end of game five. Houston still won that game to take a 3-2 series lead, but without Paul directing the offense and defending Stephen Curry, the Rockets collapsed.
Houston's best shot at a title run in years went up in smoke, and the team didn't gel nearly as well the following year. Soon after, Paul was dealt to OKC in a blockbuster trade for Russell Westbrook.
Gordon Hayward – Ankle (2017)
This one was brutal just because of the fashion it happened and when it took place. Gordon Hayward had just signed on with the Boston Celtics, reuniting him with former college coach Brad Stevens.
It was a match made in heaven, as Boston also traded for superstar point guard Kyrie Irving. Together, the two gave Boston a real shot at making a title run the year before LeBron James left Cleveland.
Unfortunately, it never transpired, as Hayward lasted just five minutes in his Celtics debut.
His injury was of the horrifying variety, too, as he came down awkwardly on an alley-oop attempt. His fall resulted in a dislocated ankle and a fractured leg, which understandably ended his first season with the team.
Irving would also succumb to injury later in the year, turning Boston's title hopes into a pipedream.
Kawhi Leonard – Ankle (2017)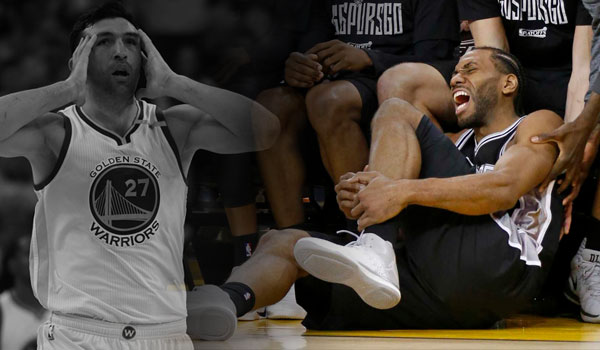 This is a slightly obscure one, as most will shrug Kawhi Leonard's injury off since he went on to lead the Toronto Raptors to a title. But before that happened, Zaza Pachulia helped lay the groundwork for Leonard's San Antonio exit.
In game one of the 2017 Western Conference Finals, the Spurs held a large lead, only to see Leonard suffer an ankle injury in a controversial play involving Pachulia.
Leonard was forced from the game, and Golden State rallied to win. With Leonard then sitting out the remainder of the series, the Warriors went on to win all four games and advance to the NBA Finals.
Not only did this injury potentially keep the Spurs from winning another title, but it also played a hand in his deteriorating relationship with the franchise.
The following year, Leonard had a lingering quad issue and only played nine games before demanding a trade the next summer.
Kyrie Irving/Kevin Love – Knee and Shoulder (2015)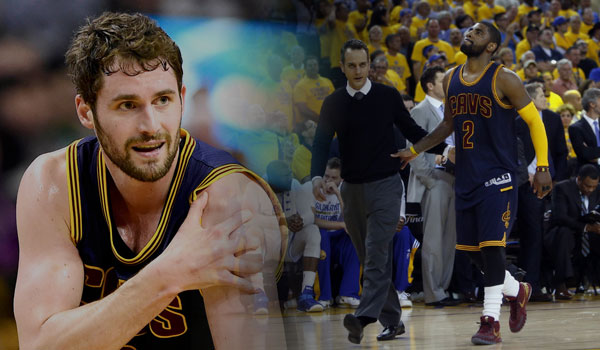 Irving makes this list again, albeit not in such painful fashion as Hayward. Both he and teammate Kevin Love were bounced from the playoffs while playing together on the Cleveland Cavaliers.
Love was the first to go, as he got tangled up with Boston big man Kelly Olynyk. The end result wasn't pretty.
That little on-court fiasco gave Love a dislocated shoulder and knocked him out of the playoffs. Incidentally, Cleveland still advanced to the NBA Finals, where LeBron James proceeded to have the series of his life.
Sadly, King James was left to fend for himself. After losing Love earlier in the playoffs, he watched helplessly as Irving hurt his knee and exited the Finals for good.
Had those injuries not happened, it's arguable the Cavs earn their first-ever NBA championship a year early.
Chris Bosh – Blood Clot (2014)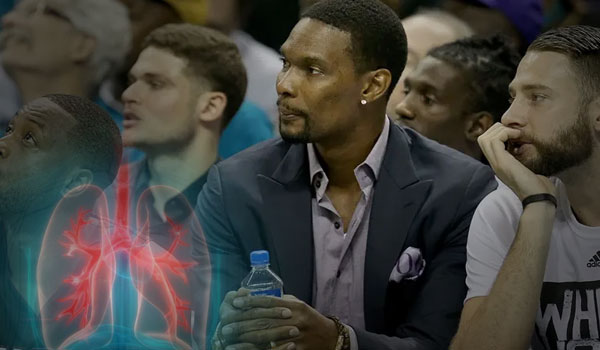 Two years after LeBron James left South Beach to go back to his hometown Cavs, the Miami Heat still felt like they could contend without him.
They'd be wrong in the end, largely due to big man Chris Bosh being sidelined with blood clots twice in his final two seasons. Both occurrences ended his season, with the 2015-16 campaign being particularly disappointing for Bosh and Miami.
The Heat took a year to bounce back from LeBron James' departure but went 48-34 and won the Southeast Division. Bosh's clot issue began in his lungs but came back in his leg, raising serious doubt he could continue his playing career without any more setbacks.
Bosh never got to find out, as Miami wouldn't clear him, and nothing ever materialized with another NBA franchise.
A strong Miami squad bowed out of the 2016 NBA playoffs without Bosh, losing in seven games to the Toronto Raptors in round two.
Paul George – Compound Leg Fracture (2014)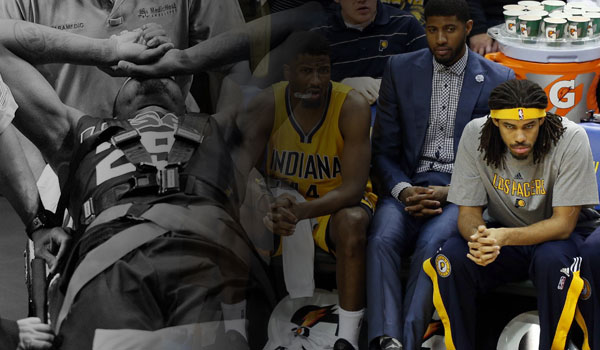 One of the most devastating sports injuries ever occurred during the summer of 2014 when Indiana Pacers star forward Paul George broke his leg.
The man known as PG-13 went up in the air in an attempt to block a shot and came down awkwardly, breaking both bones in his leg.
That horrific injury ended up being a blip on the radar for one of the NBA's best players (he even returned later that same year to play six games), but it shook Indiana to its core.
A team that had reached the previous two Eastern Conference Finals series couldn't even make the playoffs without their superstar on the court.
Could the Pacers have taken that next step and secured a championship with a healthy George on hand? Indiana fans will never know.
Russell Westbrook – Torn Meniscus (2013)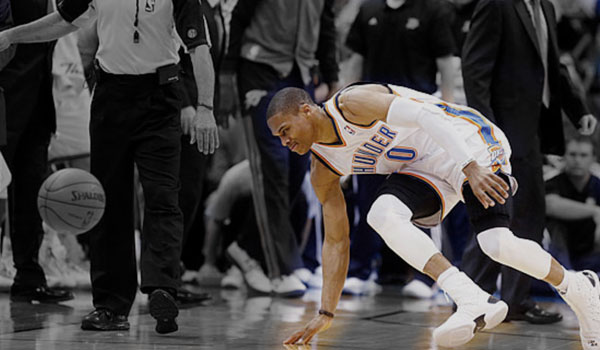 The otherwise indestructible Russell Westbrook finally met his match in game two of a 2013 NBA playoff series with the Houston Rockets.
A run-in with the physical Patrick Beverley resulted in a knee injury that was later revealed to be a torn meniscus.
This was telling both because Westbrook would be forced to miss his first game ever (yes, ever) and also because his Oklahoma City Thunder had serious title aspirations.
OKC had just lost to the Miami Heat in the 2012 NBA Finals. After winning 60 games and taking first in the Western Conference, they had a clear path to their first championship.
Of course, Westbrook's injury derailed them before they could ever get going. A few years later, Kevin Durant left town, and Westbrook was traded out of OKC in 2019.
Derrick Rose – Torn ACL (2012)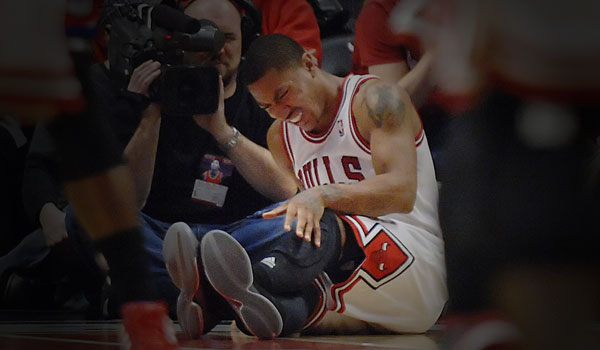 A rising legend and the league's reigning MVP, Rose had his playoffs ended and his entire career sideswiped by one unlucky play.
Well, stupid would fit it a little better.
Chicago Bulls head coach Tom Thibodeau was notorious for grinding his starters to a pulp, and it was no different in a first-round playoff game against the Philadelphia 76ers.
Even with the top-seeded Bulls up by 12 with just over a minute to go, their best player remained on the floor.
It was still Rose's ridiculous explosiveness and awkward landing that did him in, but many will forever wonder what could have been, had Thibs just benched his superstar.
That season specifically was killed on the spot. Chicago had the best record in the Eastern Conference and could have had a real shot at a title, but with Rose sidelined, they couldn't even take out the 8th-seeded Sixers.
Chicago really never recovered, as Rose played just 10 games the following season and struggled to regain his previous form from there.
Eventually traded out of Chicago, Rose found his place as a bench spark years later, but his injury in that playoff game lives in infamy.
Peyton Manning – Neck Injury (2011)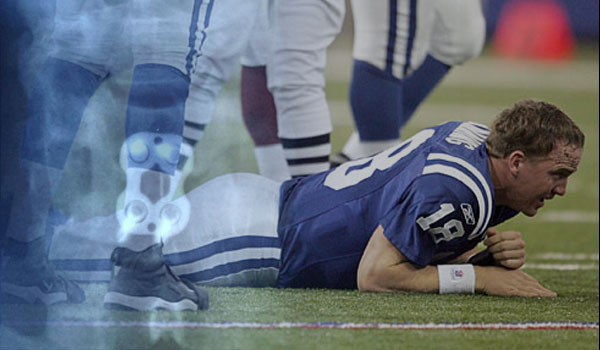 Most will point out that Peyton Manning kept playing after a nagging neck injury robbed him of an entire season back in 2011. Heck, he even broke records, reached two Super Bowls, and even won a title while with the Denver Broncos.
But before Manning hit the reset button on a storied NFL career, he watched everything he built with the Indianapolis Colts go up in flames.
The year before a neck injury knocked him off the football field, Manning had tossed 33 touchdowns, compiled 4,700 passing yards, and reached the playoffs.
Had he been healthy, he could have tacked on more stats for his Colts career, perhaps won one more title with the team that drafted him, and maybe even retired in Indy.
It wasn't to be, however. Manning's neck injury marked the end of his time with the Colts, as Indy went 2-14, drafted Andrew Luck, and decided to move on from their franchise passer.
Summary
There are so many horrible injuries to remember throughout sports history. That's easy to see if you just look at the past decade via the injuries mentioned above.
It's one thing to just point to some horrific injuries, though. The aforementioned injuries weren't just brutal. They weren't just ill-timed. They were flat-out devastating.
They derailed or ended careers. They cost franchises a real shot at a championship. They even cost some star players some major coin.
All of these injuries are tough to stomach in a lot of regards, especially depending on how well you remember them. If you were fans of the player or any of the mentioned teams, it was perhaps even worse.
For more sports content and advice on how to bet on sports, check out our sports betting blog.