Monday Night Football Betting Preview – New York at Detroit and Los Angeles at Oakland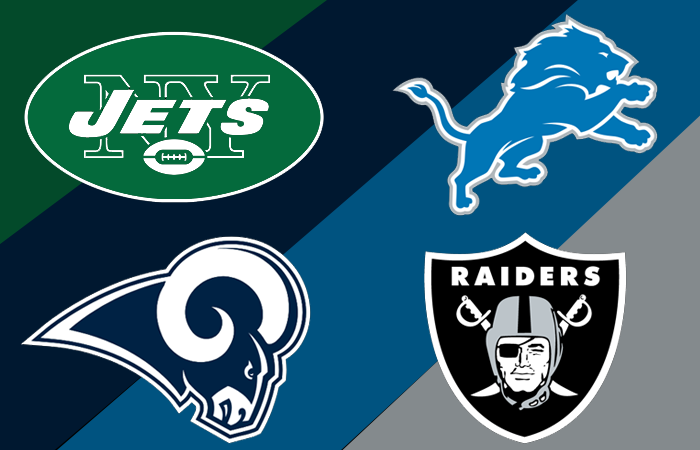 Just like that, the first Sunday of the NFL season is in the books.
Whether you won or lost money on the games yesterday, today is a new opportunity. In fact, today is even better than most Mondays because we get a double dosage of Monday Night Football!
That's right – things kick off in Motor City when the Detroit Lions host the New York Jets, and there are a lot of people who can't wait to see the Sam Darnold era commence.
And when that game ends and folks on the east coast are passing out on their sofas, the Los Angeles Rams and the Oakland Raiders get their seasons started in a matchup that promises to have plenty of highlights.
The only thing more enjoyable than relaxing and watching the games this evening will be if I'm on the winning side of my bets! I'm going to share with you all of my thoughts on tonight's action, as I will do every Monday for the entire NFL season.
I know you are itching to bet at least one of the contests tonight, so use this page as a foundation to get your facts in order.
Let's start with the first MNF game of 2018.
New York Jets at Detroit Lions
Before I get into how these two teams match up against one another, let's look at both squads individually first.
The Jets
It's a new start in the Big Apple for the J-E-T-S, and it's all about their rookie quarterback. The Jets officially named Sam Darnold as their starter, meaning his career gets underway tonight against a Lions defense who should be hungry to get after it.
As far as who will be running routes for the former USC signal-caller, it could be a little scarce. With Jermaine Kearse battling a lingering abdomen injury, I'm expecting Darnold to lean on Robby Anderson and Quincy Enunwa fairly heavily.
Considering his top-two tight ends, Eric Tomlinson and Neal Sterling, have combined to catch 26 passes over 8 seasons in the NFL, I'm not sure Darnold even has a safety blanket to rely on.
What will be interesting to see is if Terrelle Pryor can get back to the production level he displayed in Cleveland when he caught 77 balls for over 1,000 yards (2016).
Pryor could emerge as the #1 WR for this team, or he could be nothing more than a WR4 who just fills in for a handful of plays per game.
The unfortunate thing about the Woody Johnson-owned team is that Pryor is far from the only "uncertainty" on this roster. Longtime defensive end Muhammad Wilkerson signed a one-year deal in Green Bay, and their leading tackler from 2017, Demario Davis, is now with the Saints.
Who is going to take over and lead this defensive charge?
Are Isaiah Crowell and Bilal Powell enough to give Darnold the boost he needs in the backfield?
These are questions with answers that are yet to be determined.
As for the Lions, they at least have a much clearer plan for what they'll be trying to accomplish.
The Lions
Matt Patricia will coach his first game in the NFL tonight, and I'm pretty intrigued to see how he'll handle all the responsibilities. Given that his background is all about defense, I suspect he'll play a big role in deciding how the defensive game plan is managed.
As far as the offense goes, that'll be up to Matt Stafford and his offensive coordinator, Jim Bob Cooter. Stafford has never had a sufficient running game his entire career in Detroit, but perhaps the tide starts turning in 2018.
LeGarrette Blount was brought in to handle much of the 1st and 2nd down work, not to mention be a bell cow inside the 5-yard line.
The Lions' front office also drafted Auburn RB Kerryon Johnson in the second round, and I'm pretty sure that Detroit has big plans for the 2017 SEC Player of the Year.
As long as Golden Tate and Marvin Jones are in uniform, I know Stafford will have at least a pair of trusted options on the outside. We know how effective Theo Riddick can be out of the backfield catching screen passes, so I feel like this Lions offense should have no issues moving the chains.
Assuming that this defense improves under the tutelage of Patricia, the Lions could be a sneaky pick in the crowded NFC that challenges for a playoff berth.
The Matchup
Now that I've briefly unveiled each squad, how do I see this playing out when the two teams step onto the gridiron at 7:10 pm EST?
I have to give the Lions a pretty significant edge.
They are playing at home under Stafford's leadership, as opposed to a team playing on the road with a rookie quarterback who couldn't even order an alcoholic beverage up until a few months ago.
I think the football community in Detroit is excited about this new chapter, and I expect Ford Field to be noisy, to say the least. This won't be the easiest environment for Sam to begin his career, but he'll have to get used to it as some point.
I think all the energy and excitement in and around the Lions locker room will be too much for Todd Bowles to handle, as I think the Jets HC is on a very short leash. After back-to-back 5-11 campaigns, I'm afraid I see another long and disappointing year in store for "Gang Green."
PICK
Detroit Lions (-6.5)
-111
Los Angeles Rams at Oakland Raiders
I'm just going to say it – I am PUMPED for this football game.
As a Las Vegas native, I have no choice but to start jumping on the Raiders bandwagon and rooting for this team. On the other hand, I really like everything about the Rams and their organization, and I have them on my very short list of Super Bowl contenders.
The fact that I get to spend my Monday evening on the couch soaking this one up has me elated.
Let's take a quick peek at the teams so that we have a good idea of what to expect tonight.
The Rams
It's already been well documented, but the Rams had one heck of an offseason.
After an electric 11-5 mark and the NFC West crown, all the Rams did was give both sides of the ball enormous boosts. Todd Gurley exploded into an absolute beast, totaling over 2,000 yards from scrimmage and a league-high 19 touchdowns a season ago.
All HC Sean McVay needed was a deep threat for Jared Goff to air it out to.
That problem was solved when Brandin Cooks was acquired from New England, giving the Rams quarterback another toy to play with. Robert Woods and Cooper Kupp round out a wide receiver trio that is nothing to balk at.
As for what the Rams did to get better on defense – how about what DIDN'T they do?
First, on March 8th, they addressed their secondary woes by trading for Aqib Talib and signing Sam Shields. Less than a week later, Kansas City Chiefs shutdown corner Marcus Peters was on his way to La La Land via trade.
With the back end bolstered, the Rams then made a huge splash by signing defensive tackle Ndamukong Suh to a one year/$14 million deal. With Aaron Donald now locked in for six years, we're looking at one of the fiercest defensive groups in all of football.
I'm looking at the Rams to be even better than they were in 2017, and that means the goal is to get to Atlanta in February.
The Raiders
This is a big year for the Oakland Raiders franchise. With Las Vegas looming in the near future, I'm curious as to how the men and women in the Bay area will feel about their team.
Surely the addition of Jon Gruden immediately makes this an interesting story, but I'm wondering how much substance is really there.
You already know about the Khalil Mack trade to Chicago, but ready for another debacle?
This front office relinquished a coveted third-round draft pick to Pittsburgh for Martavis Bryant on Day 1 of the draft. And here they are about to kick off their Week 1 game, and they've already released Bryant from the team!
But now for some positives.
I believe in quarterback Derek Carr, as I know his arm talent and desire to be great are obvious. I think having an advanced football mind like Gruden looking over his shoulders could do wonders for the trajectory of his career.
Sure, Amari Cooper will need to bounce back from a disappointing 2017 season, but Gruden's presence should do nothing but put that plan into acceleration. This will be Jon's 12th year as a head coach in the NFL, and he's never had a season without a 1,000-yard receiver on his roster.
Having Jordy Nelson alongside to help Amari develop toward being a consummate professional will only help expedite this process.
I'm excited to see how this thing plays out, but you may want to be cautious trusting this team early on.
The Matchup
The Oakland Coliseum is the sight of the festivities tonight, as the new-look Rams take on the Jon Gruden-led Raiders in the final game of the Week 1 slate.
When I look at the matchup closely, here's what I know right off the bat.
The Rams' goal this season is simple – they want to win the Super Bowl. They have the talent and leadership in place, and anything short of a ring on their fingers at the end of the season will be considered a disappointment.
Now flip the coin.
Oakland is coming off of a six-win season, and now they have new coaches all around. General manager Reggie McKenzie has turned this roster upside down, as there are new faces in nearly all positions.
I want to believe the future is bright for this nucleus of players and the new coaching staff that has been put in place. But I'd be naïve to think there might not be some growing pains early on in the season.
I look for some good signs of things to come from the Raiders, but I think the Rams get the best of them pretty convincingly tonight.
Have Fun Tonight!
Seriously, I think Monday Night Football is one of my favorite times of the entire week.
Just when you thought the NFL action was behind you after an action-packed Sunday, you get treated to a pair of captivating stories.
How will Sam Darnold look during his first game under center?
How will the Raiders respond when Jon Gruden coaches his first game in 10 years?
All you have to do is tune in to ESPN tonight, and you'll find out!