Hide Bonus Offers
| | | | | |
| --- | --- | --- | --- | --- |
| #1 | BetOnline Sports | 60% Up To $1,000 | Visit Site | BetOnline Sports |
| #2 | Bovada Sports | 50% Up To $250 | Visit Site | Bovada Sports |
| #3 | BetUS | 125% Up To $2,500 | Visit Site | BetUS |
| #4 | Everygame | 100% Up To $500 | Visit Site | Everygame |
| #5 | MyBookie | 100% Up To $1,000 | Visit Site | MyBookie |
Mobile Gambling Is Steadily on the Rise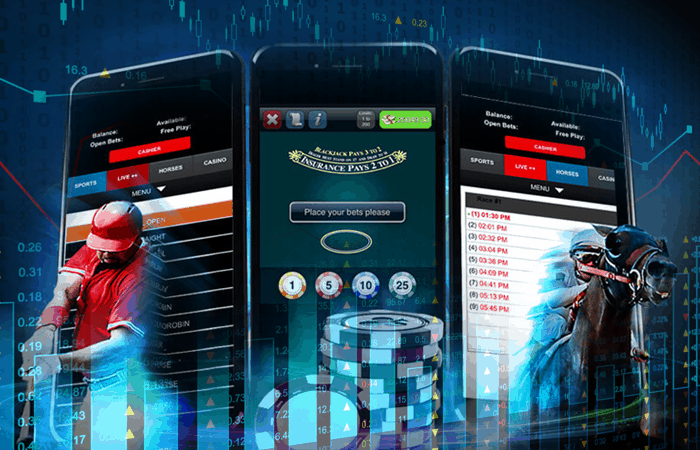 With 2.3 billion smartphone users around the world, you'd have to expect that to be an appealing number for an online casino, sportsbook, or any other web or app-based business. That's a huge potential customer base to target.
Even though online casinos launched back in 1996, the mobile revolution didn't start to fly until 2011 when Apple allowed for gambling apps for its iPhones and iPads in the Apple Store and iTunes. The Google Play store was even more of a latecomer to the party.
Google Play just started an approval process for gambling apps in August of 2017, and only in their initial test markets of the United Kingdom, Ireland, and France.
Now that doesn't mean that mobile betting hasn't still been in the game. Even now, more sites are mobile compatible and accessible through a mobile browser rather than providing dedicated apps. But, it wasn't until recently that the mobile version was worthwhile. The previous platforms carried just a small sampling of the full website's collection.
But, these days, 50% seems to be the benchmark. You'll find at least half of what the regular websites carry available on your smartphone and tablet. In some cases, you'll even have access to nearly every game regardless of how you're accessing the casino or book.
The Appeal of Mobile Gambling
In 2017, Statistica did some polling of mobile users around the globe and compiled a list of the most popular activities on tablets and smartphones.
The email service was number one for smartphone users with 59% of the respondents saying that, aside from communication, they use their phone for email more than anything else. Tablets are a different story as most people, like me, use them for watching videos or movies.
Some of the other smartphone activities included online shopping at 43%, and 35% chose online banking. Non-casino online gaming came in at 28% followed by dating site users at 17%.
Online gambling and betting are next with 10% for smartphone users and 5% for tablets. Now, that may not seem like an impressive number to you. But, if that percentage holds true for most people, then you're looking at 10% of 2.32 billion or 2,320,000.
Keep in mind, too, that those are regular users. These are respondents that are saying that their number one activity on their smartphone is online gambling. That figure doesn't include the 90% of the other people that may not consider online betting to be their top activity, but some of them still participate anyway.
Why Do so Many People Prefer Mobile Gambling?
Convenience
Smartphone use has been continuously rising for one primary reason – it's convenient. Think about how often you have your phone right by your side. Or, how many times have you forgotten your phone and quickly realized how inconvenient it was to be without it?
It's your trusty sidekick that gives you directions, allows you take and store photos, and lets you pull up a coupon while you're standing in a checkout line. And, yes, it also opens the door to casinos and sportsbooks even if you don't have a brick-and-mortar one within 100 miles of your home.
Great Way to Pass the Time
Do you remember how boring it could be to stand in line to get your driver's license renewed or be held up at your bus or train stop after you just missed the last one? How about the wait in a doctor's office? I've hit the 2 or 3 hour mark a few times and, let me tell you, it wasn't all that much fun.
For many people, "waiting" now converts to "betting." You can now study the odds from wherever you are with a mobile sportsbook that provides you with big, bold lines and touchscreen bet slip submission. If you like slots, you can pull up your favorite casino and play a few games until your name is called or your ride appears.
Boredom is a word used less and less these days when you're armed with your good ol' phone.
One Account – Multiple Ways to Use It
While you have convenient access to your phone, you also have the same luxury with your betting account. You could have set it up on your PC or laptop, but you have access no matter where you go. One login is all you need.
Unlike in-person gambling, betting sites don't require you to cash out every time you leave. So, you can keep a credit balance running and then just pull up the casino or sportsbook and place your bets. You don't have to worry about money transfers because you're already pre-funded.
Wi-Fi Is Everywhere Now
Do you remember the "old" days when you would need to find a local Starbucks or other coffee shop to get a Wi-Fi signal, so you didn't blow through your data? That's certainly a thing of the past now, isn't it?!
If you're not on an unlimited data plan, you're covered now anyway. Practically anywhere you go, you're in range of a Wi-Fi signal. That includes grocery stores, airports, shopping centers, and even your local McDonald's.
Without the worry of overusing your data, you're more apt to give those reels a spin. The signals are also nowhere like they used to be, even a few years ago. You can get a strong signal through most free service areas, so you don't have to stand on one foot and hold your phone in the air anymore.
Special Bonuses
Mobile player bonuses may not be all that common yet, but they are out there. I've seen more associated with mobile sports betting than with casino play. But, some sites just want their players to use their service on the go so they'll entice them to give it a try.
When there is a dedicated mobile promotion, you can typically take advantage of it in addition to the standard rewards offered on the full site. It's not an either/or situation so you can receive additional benefits from accepting them.
Free or Practice Play Is Available
I recognize that there are numerous apps out there today for casino gaming without any betting involved. There are social casinos, and they even allow 13-year-olds to get hooked on slots because there's no real money betting.
These apps tend to feature pop-ups and other ads encouraging you to buy some extra spins along the way. You're typically given an allotment each day and replenished every few hours. But, you're not betting a few pennies or a few dollars, you're staking hundreds of thousands of credits at a time. So, you can go through those freebies quickly and then be left without even a spin.
Many online casinos offer players a practice or demo play option. While you may still have to register an account, you aren't required to bet any cash. You can try out the games without any financial commitment. It's just like the social casinos, but you're not typically cut off at a certain point. You can play longer and still not have to reach for your wallet.
Touchscreen
Instead of having to use your computer keyboard and mouse, mobile gambling allows you to use touchscreen play. In fact, many casino games are specially formatted for touchscreen use, so the user-interface is high quality and your chances of making a mistake are relatively low.
It can be a lot easier to play without a mouse, and it's also gentler on your hands. I don't know about you, but after a few hours, that mouse needs to go away for awhile.
Apps vs. Browser
I started out by saying that apps aren't always available. I'm not even a fan of apps, but I know that many people are app-dedicated and don't even like to go near their mobile browser.
Apple has already been in the gambling app game for more than 6 years now. Although Google Play didn't allow gambling products in its store until 2017, that doesn't mean that Android apps were entirely unavailable.
Some casinos have built their own versions, making them available through a download right from the website. So, while you won't find every casino or sportsbook listed in the Apple or Google Play store, that doesn't mean that a site doesn't still provide an app.
The only real benefit to an app over the mobile browser version that I can identify anyway, is the quality of some. If a casino is taking the time to produce its own app and go through the extensive approval process, it's more likely to add some bells and whistles that the mobile formatting lacks. You may find a better design or more straightforward navigation. The buttons may be larger, and the graphics could have enhanced resolution.
However, mobile formatting has also come a long way. Today's mobile gambling sites are almost near identical replicas of the originals. If you only looked at the screen and not the equipment, you may not even be able to tell the difference in many cases.
As far as questioning whether to use an app versus a mobile site, it's a matter of personal preference.
iOS vs. Android
Just as you may see a few minor variations between an app and a mobile formatted site, there are some differences between iOS and Android casinos and sportsbooks.
First of all, Android runs on an open-source platform, and Apple retains its source code. That means that depending on the Android device you use, your casino may not look like it would on another Android device. They're not all the same.
iPhones and iPads may have a few subtle differences but, what you see on one iPhone will look the same on every other iPhone. The same goes for iPads. You get more consistency with Apple devices.
Also, you'll most likely have a better experience through an iOS system as it has a higher rate of Frames per Second (FPS). That means your image quality will be sharper and loading may be a bit faster as well.
Just as it doesn't matter if you use an app or a mobile browser, it's not all that impactful if you choose an Android over an Apple or vice versa. Gambling providers are focusing on both of the "big guys" and are cranking out new apps and better mobile platforms for all users.
You see an increase in mobile gambling because casinos and sportsbooks are doing their best to accommodate all users regardless of their smartphone or tablet preference.
Sports vs. Casino
Are there more mobile sportsbooks or mobile casinos?
Today, nearly 100% of every online gambling operation converts over for mobile use.
It doesn't matter if the site carries one or the other, or a combination of both, you should be able to find a quality mobile experience with at least half of the regular gaming options available to you on your smartphone or tablet.
Are there more mobile sports bettors or casino players?
When it comes to mobile versus online betting, the exact figures are still a bit fuzzy. Casino and sportsbook operators have just recently started doing more accurate tracking.
Based on an average of what's being reported, though, 72% of online sports bettors use mobile books. Casino players run at 50-50.
So, even if the figures aren't entirely accurate, you would have to assume that more sports bets are being made on the go.
It would make sense as sports punters don't need to spend as much time placing their bets. They're not sitting down at a table and buying virtual chips or hitting spin time and again to keep the reels in motion. They can submit a bet slip and call it a day as their next step is waiting for a result.
Because sports betting is becoming so mobile dominated, the big books, like William Hill, are doing more extensive research and putting a greater focus on their mobile services.
What Online Providers Are Doing to Up Their Game
While I did already mention that 2017's figure suggested that there were 2.32 billion smartphone users in the world, I didn't get into future projections, which show a steady rise. In 2018, 2.53 billion is the estimation with 2.71 billion in 2019.
Whenever a business is faced with an increase in use and popularity, its best move is to accommodate that trend. It's apparent that online gambling providers are intent on doing just that.
There are three current focuses in the online gambling community:
Mobile access to gambling services primarily relies on keeping up with technology. The site developers are taking advantage of innovations in mobile formatting as well as mobile payment options and app development.
The Software Giants
The services aren't entirely in the hands of the individual sites, though. The gaming software developers like Microgaming, NetEnt, Playtech, Yggdrasil, and dozens of others also need to have a focus on mobile use, so their games transfer over flawlessly.
Remember, you're dealing with a real money investment here so errors can't be part of the equation. Every member of the online gambling team has to be on board with the mobile compatibility standards and offer as much of the regular casino or sportsbook as possible.
I would think that, within a few years, it won't matter if you are sitting at your desktop computer or you're standing in line with your phone in hand; you'll probably soon have 100% of the betting options available regardless.
Other Mobile Considerations
In addition to providing more games, gambling operators are also looking at integrating more mobile payment options that can be used for easier funding of betting accounts.
Using services like Apple Pay makes it a lot easier as it's a one-click process rather than inputting credit card numbers on a small screen.
Additionally, I've seen more information aside from the games being transferred over to mobile players.
Not all casinos or books have been providing all banking resources, promotional information, and terms and conditions for smartphone and tablet users. But, with the increase in popularity, the demand for a one-stop shop on a mobile device needs to be met.
Some players no longer want to use their PC or laptop. They're looking for the entire service to be available regardless of their hardware choice.
Conclusion
Mobile gambling has huge growth potential.
In fact, there's an 18.84% increase expected in mobile betting from now through 2021.
The reason that both online and mobile gambling has been proven to be so successful relies heavily on the younger population. The average age of a casino visitor is 48. But, online bettors are in the 35-year-old range, and mobile bettors are even younger at 32 years of age.
The younger the player is, the more likely he or she is to opt for a smartphone over a PC or laptop.
So, with smartphone use steadily climbing, a younger demographic to be targeted, and the incredible potential for casinos and sportsbooks to bring on more players, you can be sure that mobile gambling will continue its expansion and it may be even more significant than experts are anticipating.